How will COVID-19 Vaccine Actually Bring a Change in Your Wedding Timeline?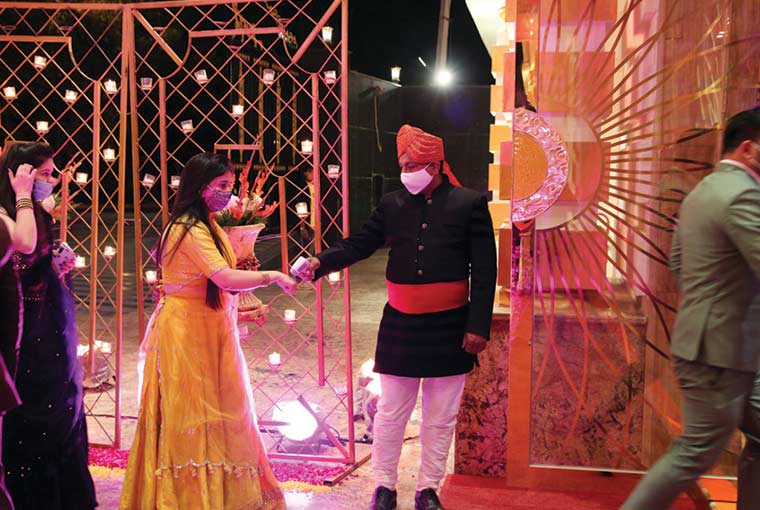 COVID-19 has affected all our lives especially of the couples who were planning to get married in the year 2020. But, now as we have entered the year 2021, there is a glimmer of hope for couples who want to have a wedding of their dreams. The experts have suggested that if 75 or 80 per cent of the population gets vaccinated over the second quarter of 2021, by the time we reach the end of summers… we may actually have enough herd immunity that will protect the society by end of 2021. In this way, things will surely be as normal as they were before the pandemic.
It is also been said that the COVID-19 vaccine introduced in India will be as effective as any vaccine developed by other countries. Therefore, we hope things get back to normal as soon as possible this year. Here are some expectations from weddings and wedding planning in 2021 that we have once we all are vaccinated.
Social Distancing and Masks will still be a part of our lives
Until and unless everyone including your wedding vendors as well as guests is vaccinated, face masks and social distancing needs to be maintained throughout the year 2021. This would be necessary as someone can still spread the virus even with vaccination. Safety needs to ensured which would be the most important thing while planning your event. It will go on through Fall 2021.
We may still have to stick to virtual meetings and planning
During the year 2020, lockdown weddings were a rage! Many of the couples opted for intimate weddings as only 50 people were allowed at social gatherings. This also gave birth to virtual meetings as well as planning as we couldn't go out shopping and meet vendors. People even opted for virtual venue tours, online dress shopping experiences and so on to complete their checklist conveniently. We are expecting people to stick to this approach even after COVID is over as it's not only convenient but it also saves time and energy.
Outdoor Weddings will still remain a rage
As suggested by doctors the "highest risk" of spreading COVID-19 at events is because of large-gatherings. It gets more challenging if you book indoor, small and enclosed spaces for your events as it gets difficult to maintain social-distancing at such places. Even if you reduce the number of people it will still be considered a riskier activity as hosting smaller outdoor and in-person gatherings in which individuals. Therefore, people switched to outdoor venues and it will be the best option until the majority of the public is vaccinated, outdoor weddings will continue to be the likely option for couples marrying in 2021.
The Year 2021 will be all about weddings
People waited a lot for this new year after the COVID madness in 2020. It will be a popular year for weddings as there are mass postponements of weddings in the spring and summer. The number of to-be-weds is rising, and the postponements of the last year will also get added to the numbers of this year. Therefore, make your bookings as soon as possible for all the vendors.
We're setting expectations first so that you can prep yourself if you are planning to get married this year.