Top 20 Banquet Halls in East Delhi
It is said "Marriages are made in heaven". Even in present times, when science rules everything, people still love to believe that. Once the date of the wedding is fixed by the families, they start preparing themselves for hosting a larger than life wedding ceremony. They go out of their way to ensure that they arrange a grand and lavish affair. The first thing that comes to the mind at this time is the venue as this plays a very important part in giving the wedding a heavenly and dreamy appearance. So, if you are getting married in East Delhi and running from pillar to post to find the venue of your dreams, following are a few options one might choose from.
Our Nearest Venues :- FNP Venues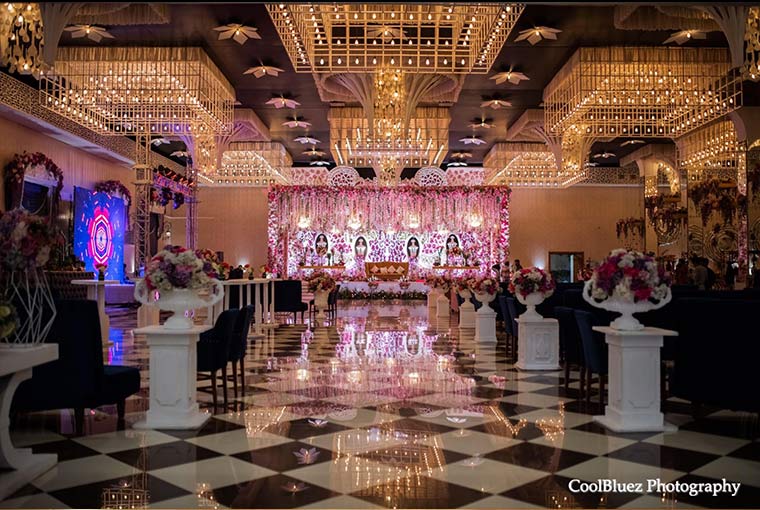 Address: Near, Plot No R-1, Builders Area, P-3 Circle, Greater Noida, Uttar Pradesh 201310
Nothing is more comforting than not travelling here and there during your wedding functions. Therefore, people are getting more inclined towards booking a resort that offers multiple spaces under one roof and rooms for a comfortable stay. If you are also looking for the same near East Delhi, then Udman, Greater Noida should be a go-to choice. It has 2 banquets, 1 open space, 2 lawns and a hangar setting. All the setups are specially designed to host the most extravagant celebrations.
Wedding Venues And Best Banquet Halls in East Delhi
Red Carpet Grand
Address: NH58 Bypass, Sehani Khurd, Ghukna, Ghaziabad, Uttar Pradesh 201017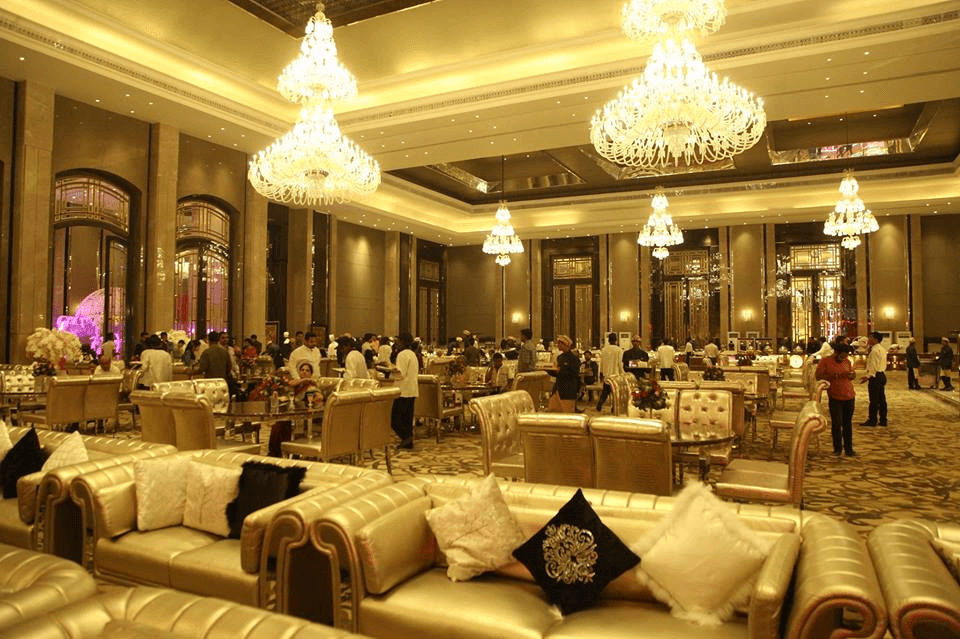 Located in Ghaziabad, Red Carpet Grand offers luxurious banquet facilities and great hospitality that will help you create a memorable and lavish wedding experience. It provides an indoor and outdoor venue and an expansive lawn. And if you have a long guest list, you can wishlist this place as this venue can accommodate about 1500 guests at a time.
Leela Ambience Convention Hotel
Address: CBD, 1, Maharaja Surajmal Marg, Near Yamuna Sports Complex, Vishwas Nagar Extension, Vishwas Nagar, Shahdara, Delhi, 110032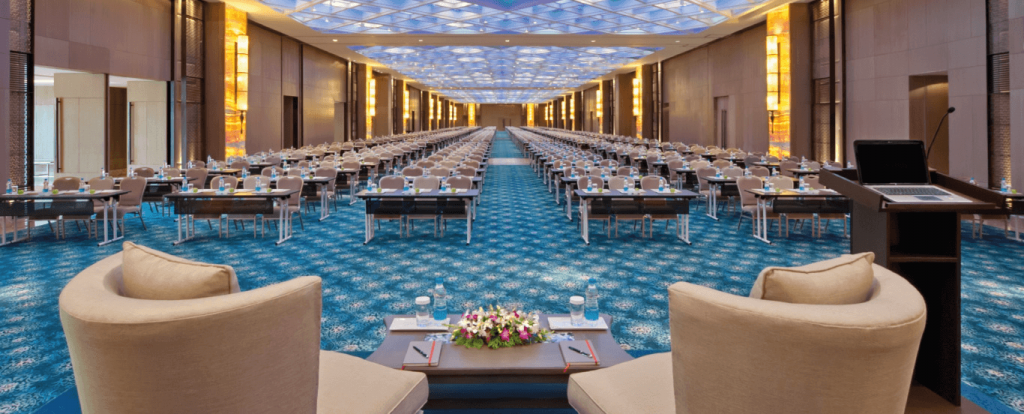 Located in Shahdara, Delhi, this is one of the most popular venues that help you create timeless, elegant weddings. They not only serve multi-cuisine delicacies both in vegetarian and non-vegetarian food but also take care of all the arrangements and decorations so that you can sit back and enjoy your function.
Crowne Plaza
Address :-Plot No. 1 Community Centre, Okhla I, Okhla, New Delhi, Delhi 110020•011 4646 2000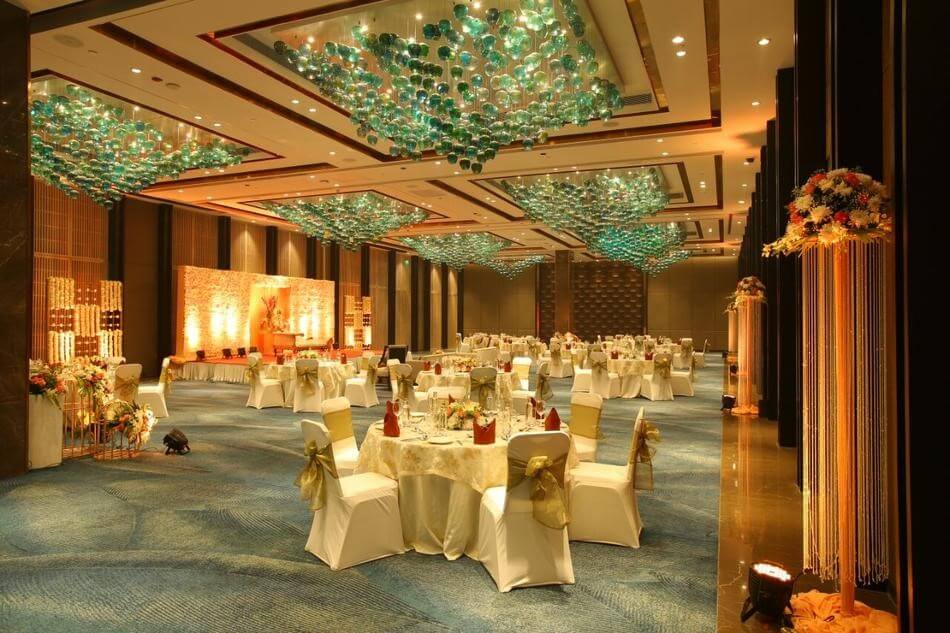 Located in Mayur Vihar, Delhi, Crowne Plaza is a luxurious hotel that is ideal for pre-wedding, wedding and post-wedding functions. Having all the modern amenities and services, this venue is one of the most sought-after venues in the city. They have a variety of banquet hall, terrace and community hall venues which can easily accommodate up to 700 guests at a time. Also, they provide personalised services with the help of their professional team which becomes an important reason to choose this place as your venue.
Wedding Villa
Address: Gate Number 2, c3, opp. kendriya vihar, Sector 51, Noida, Uttar Pradesh 201301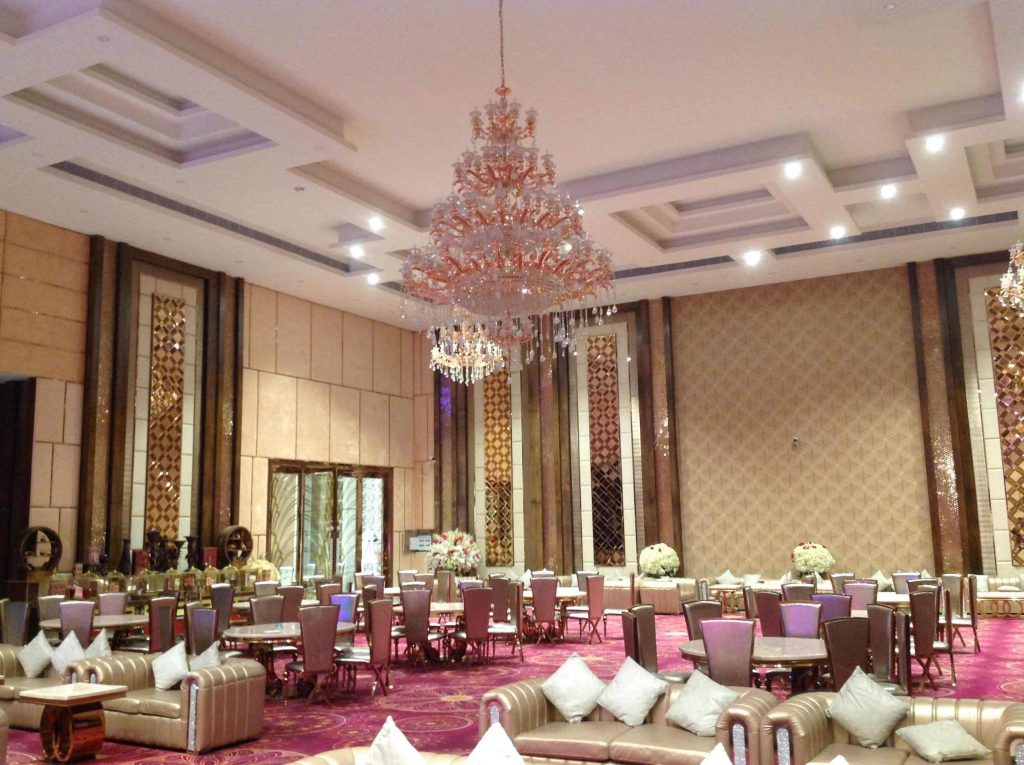 Located in Sector 51, Noida, this is an exceptional venue that offers warm, elegant wedding celebrations. With both banquet halls and lawns, this venue provides a huge space and is ideal for big, fat weddings.
Read Also :- Wedding Venues in Greater Noida
Anandee Home Banquets
Address: Plot No C4, Sector-51, opp. Kendriya Vihar, Society, Noida, Uttar Pradesh 201301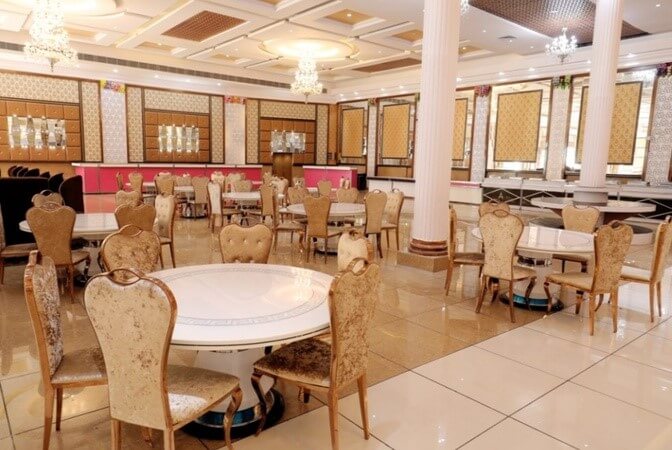 Located in the city of Noida, this venue offers amazing indoor and outdoor spaces to arrange scenic wedding celebrations. Apart from various other amenities, this place is popular among the Jains, as they offer a Jain specific menu along with fusion food choices.
Also Read: Top Banquets in South Delhi
Hotel Lotus Grace
Address: Plot Alpha, Sahibabad Industrial Area Site 4, Sahibabad, Ghaziabad, Uttar Pradesh 201012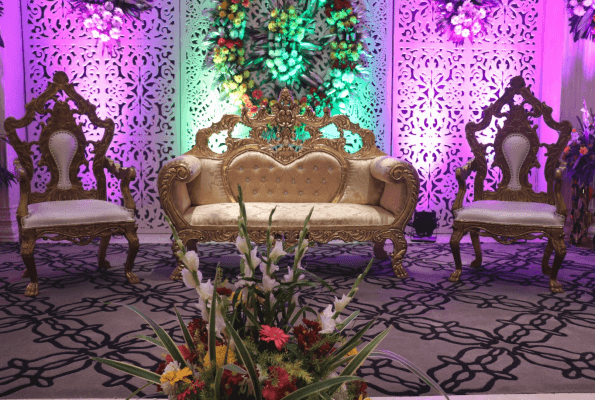 Located in Sahibabad Industrial Area Site 4, Sahibabad, Hotel Lotus Grace is famous for hosting beautiful and extravagant wedding ceremonies. This hotel provides numerous event spaces and adding to it, they also offer in-house catering that includes a lot of cuisines. Offering a lot of facilities, this venue is also recommended for its exquisite food items.
Exotic Garden
Address: Canal Cut, Kinawani Bridge, Indirapuram, Ghaziabad, Uttar Pradesh 201001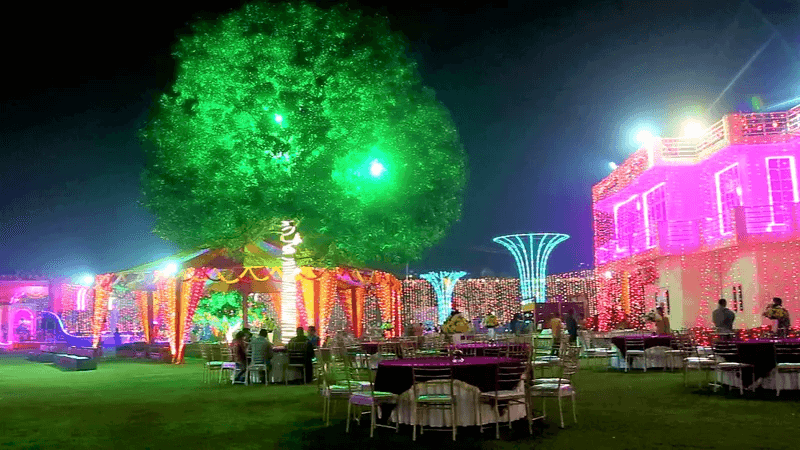 With its interiors and decorations, Exotic Garden is a perfect venue for grand and lavish weddings. Located at Indirapuram, Ghaziabad, this venue is quite popular for both small intimate functions and big gatherings. In addition to excellent banquet facilities, this venue also offers a professional and personalized experience for its guests.
SK Wedding Bells
Address: B 17 PART A, behind JHILMIL METRO STATION, Jhilmil Industrial Area, Jhilmil Colony, Delhi, 110095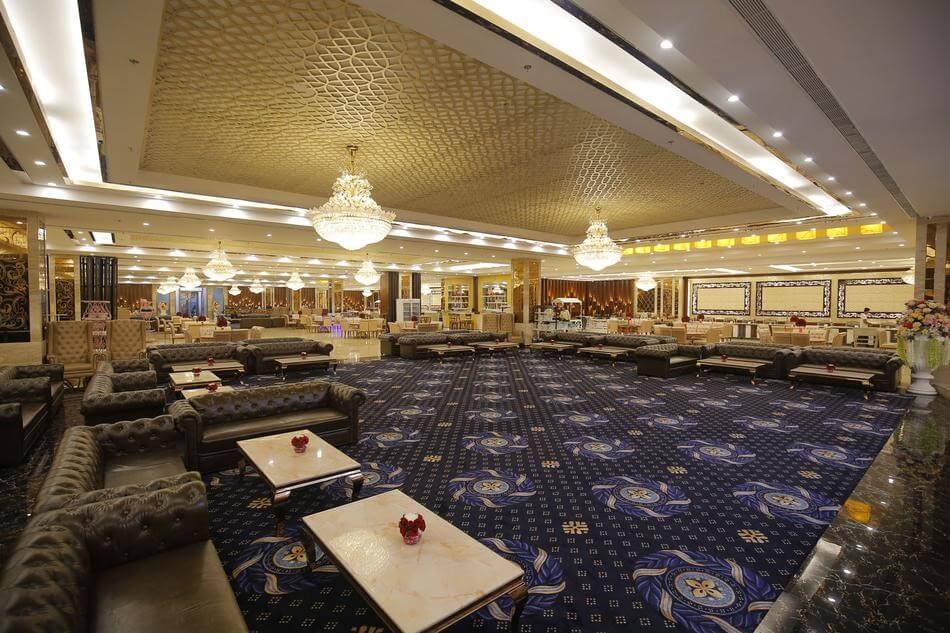 Located in Jhilmil Industrial Area, Delhi, SK Wedding Bells is mostly popular for pre-wedding functions such as haldi, mehndi, sangeet, cocktail party etc. They have huge hanging chandeliers that add to the elegant decor of this venue. This venue is also popular for serving pure vegetarian food.
Grand Milan Regency
Address: Dr Burman Rd, Ram Nagar, Kaushambi, Ghaziabad, Uttar Pradesh 201011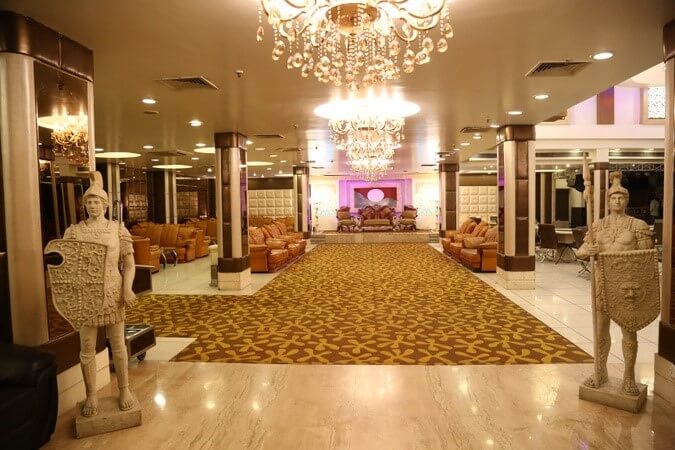 Located near Westend Mall, Kaushambi, this venue is famous for its banquet services. This venue offers stylish interiors and modern facilities so that one can have a royal and luxurious wedding experience
Silver Spoon Banquets
Address: C 7, Vasundhara, Sector 18, Vasundhara, Ghaziabad, Uttar Pradesh 201012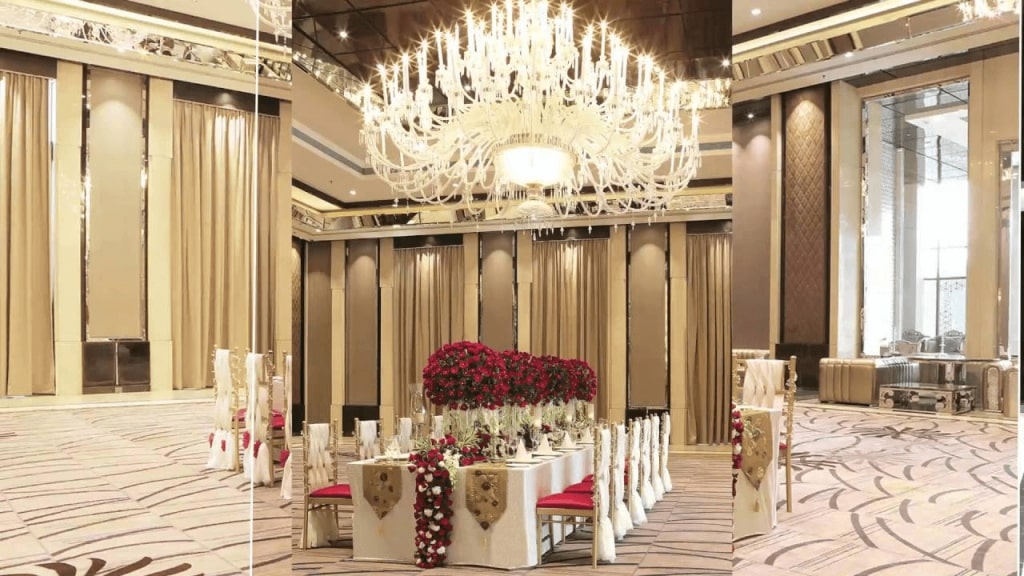 Located in Vasundhara, Delhi, Silver Spoon Hotel has the advantage of multiple banquet halls of contrasting sizes. Be it wedding, reception or any other ceremonies, this venue ensures that its clients do not have to compromise on any rituals. Other than various other facilities, this venue offers ample parking space for its guests.
Also Read : Top wedding venues in west delhi
Pulse Impulse
Address: Opp, 2, Ring Rd, Kilokri, Maharani Bagh, New Delhi, Delhi 110014
Located in East Delhi, Pulse Impulse is recommended by the people for its simple yet pleasant atmosphere. This venue is one of the best for the ones who choose to have small intimate weddings.
Satyam Farms
Address: Canal Cut, Kanawani Bridge, Vasundhara – Indirapuram Rd, Ghaziabad, Uttar Pradesh 201014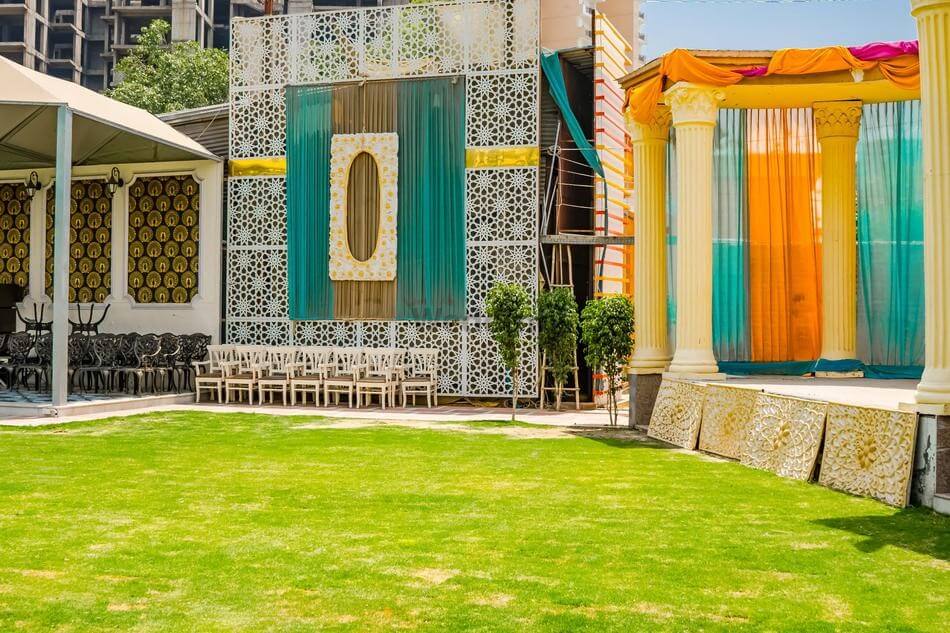 Satyam Farms offer themed decors for weddings and related occasions. This venue provides everything from the elegant decor to delicious food so that the client can conduct an event of class and elegance.
Holiday Inn, Mayur Vihar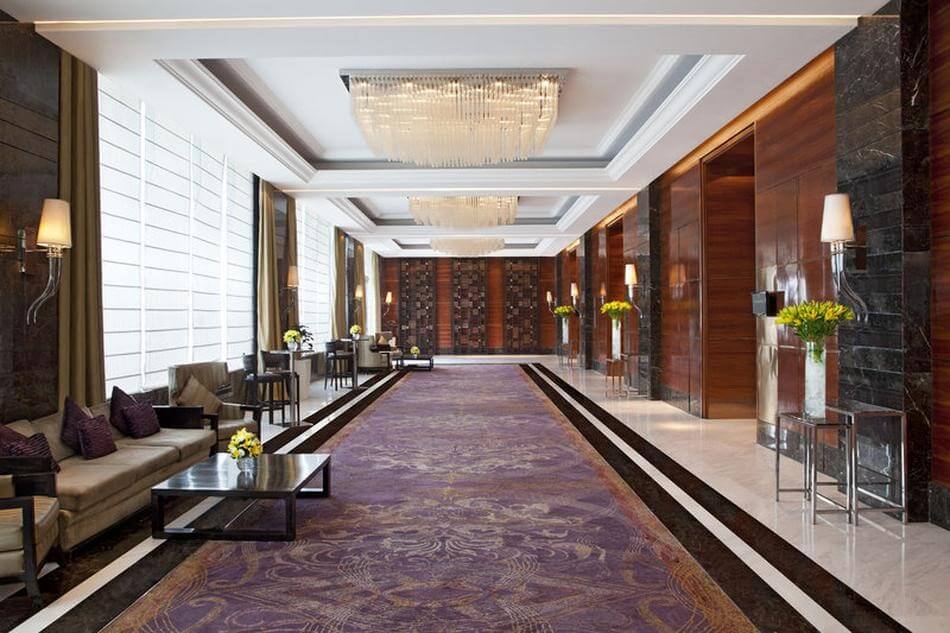 Located in Mayur Vihar, Delhi, this is a hidden gem. This hotel ensures that your wedding, a lifetime event becomes a truly successful and memorable one. The spacious rooms with spectacular decor also add to the charm of this venue.
Park Ascent Hotel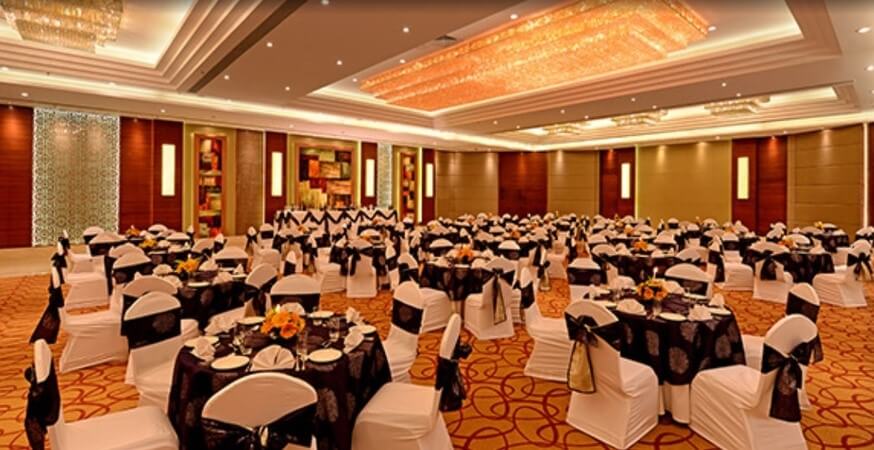 Located near Sector 62, Noida, this hotel offers you deluxe amenities and comfortable arrangements. This venue is also popular for its world-class customer care. They have pleasant and well-experienced staff who ensure that all your guests feel welcome.
Clarks Inn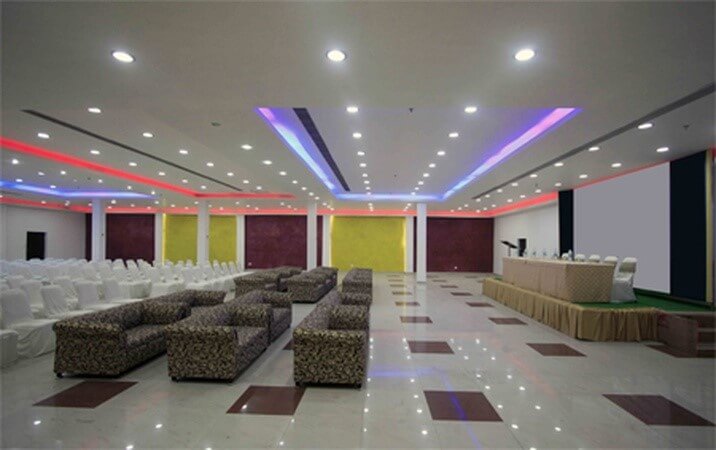 Located in Sahibabad, Clarks Inn is a famous leisure and business center which provides stunning banquet facilities and exceptional accommodation. From exquisite service to stunning decor, this venue is a go-to option if you are planning for a big fat Indian wedding.
Stardom Convention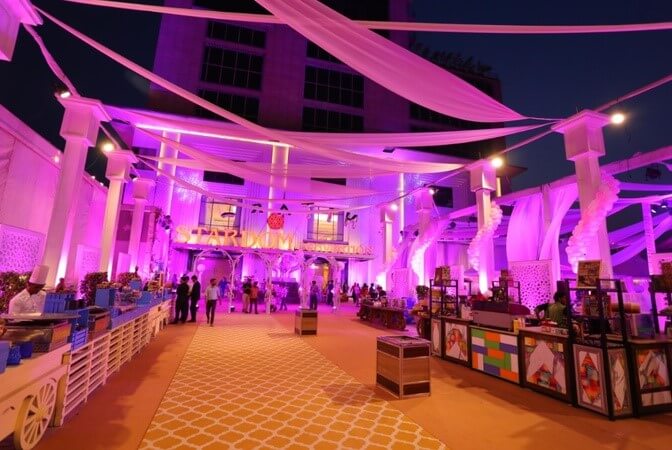 Located in Sector 16, Noida, Stardom Convention is a luxury banquet with glamourous and stunning interiors with elegant surroundings. They offer four venues, indoors and outdoors. One additional advantage is that they customize the food palette based on the food preference of the client.
Read Also:-wedding venues in Gurgaon
Country Inn and Suites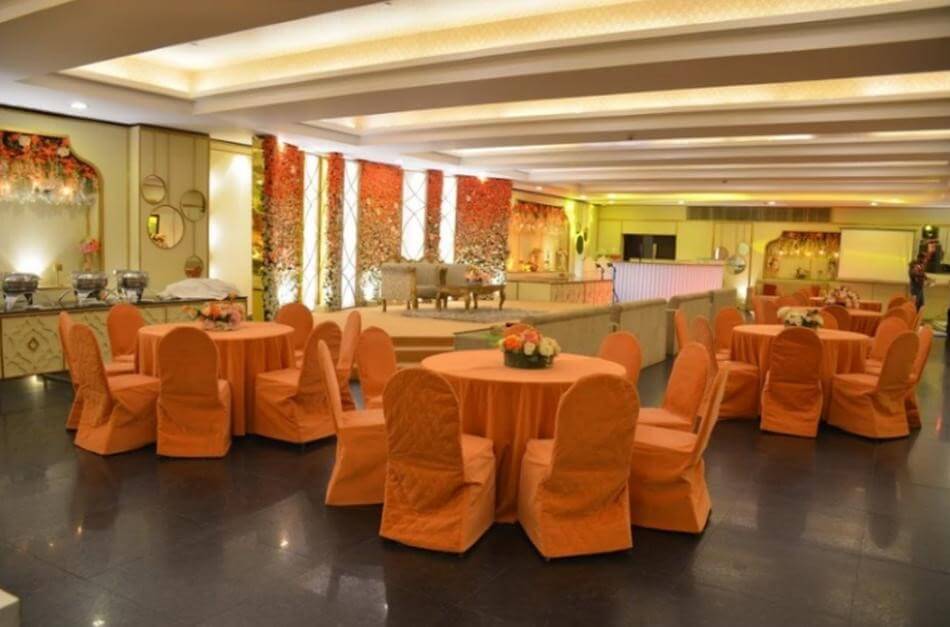 Located in Sector 29, Gurgaon, this is an eco-friendly five-star hotel that offers all the amazing facilities, services and details. They line up a variety of services to make your weddings delightful and gorgeous. They take care of all the decorations and planning so that the client can forget all the worries and instead enjoys the function.
Royal Ambience Party Lawn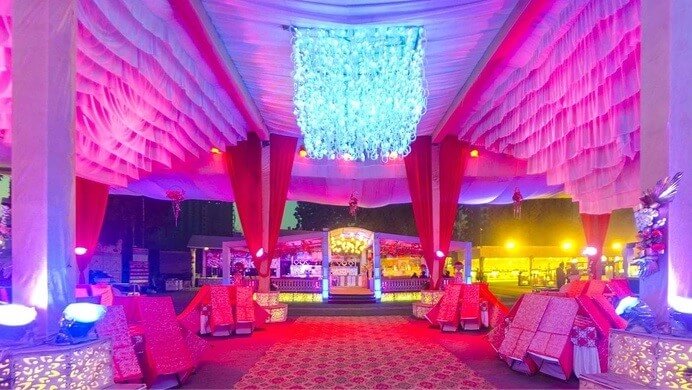 Royal Ambience offers great ambience and picaresque settings for hosting grand weddings. They have a team dedicated to this purpose. They help clients with the best theme and decoration ideas so that they can host the best parties. Other than two lawns, this venue also offers a banquet hall for indoor functions.
Orchid Grand Banquet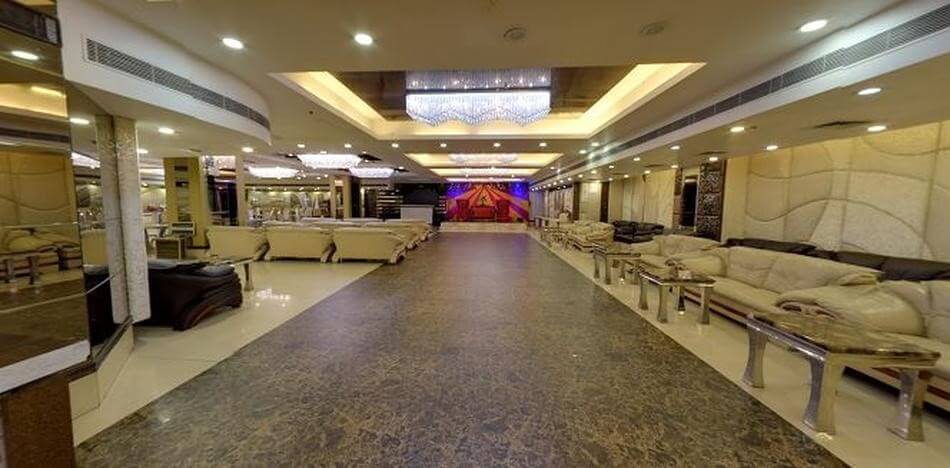 Located near Karkardooma Metro Station, Anand Vihar, this place offers all the wedding venue arrangements. This premium banquet with luxurious interiors is perfect for a fancy wedding. This place is also famous for people who want vegetarian food at their weddings. These are some of the options one might consider before making a choice. Apart from the ones mentioned above, there are various other venues you might come across and choose. However, one must always keep their requirements in mind while making a final choice
Subhadra Greens
Located near the Bhagwan Budh Chowk, Indirapuram, this is a lavish venue to host your wedding and reception ceremonies. Other than the ornate and luxurious interiors, this venue also offers a comfortable stay to the invitees who come a long way to attend the wedding. This venue is also popular for its pure vegetarian delicacies.
Also, check out – Top-Rated Luxury Banquet Halls in Delhi NCR