Top 20 banquet halls in West Delhi
Here is a list of top twenty banquets in West Delhi, that can help you to make your occasion exciting, joyous as well as memorable.
Visit Also:- Banquets hall in south delhi
Udman Resort
WANT TO BOOK THIS VENUE?
Call At
Address: Shiv Murthi Complex, National Highway 8 Adjacent, Mahipalpur, New Delhi, Delhi 110037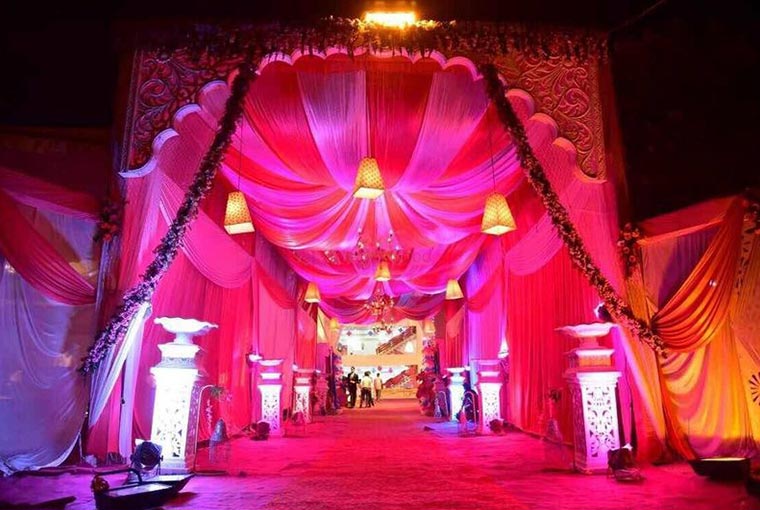 Sanskriti Banquet
Address: 888, Rohtak Rd, Gulshan Park, Mundka, New Delhi, Delhi 110041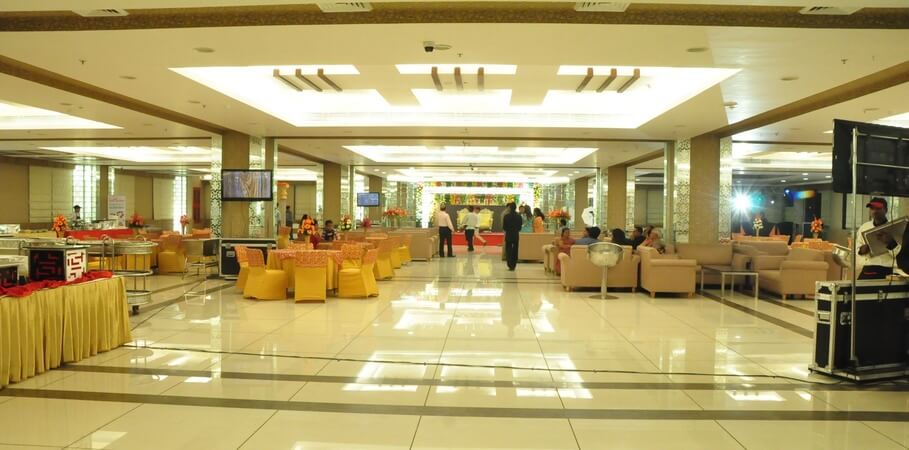 The extremely convenient location, which is very near to Rajdhani park metro station Dheli, Sanskriti Banquet, offers exclusively vegetarian food only. With the guest capacity of a minimum of 100 to a maximum of 2000 guests, the banquet is ideal for small functions like havans or grand weddings. The A/C changing rooms with clean and well-maintained washrooms make the banquet in the number one position.
Victoria Banquet
Address: B-7, near hospital Shankar, Shankar Garden, Vikaspuri, Delhi, 110018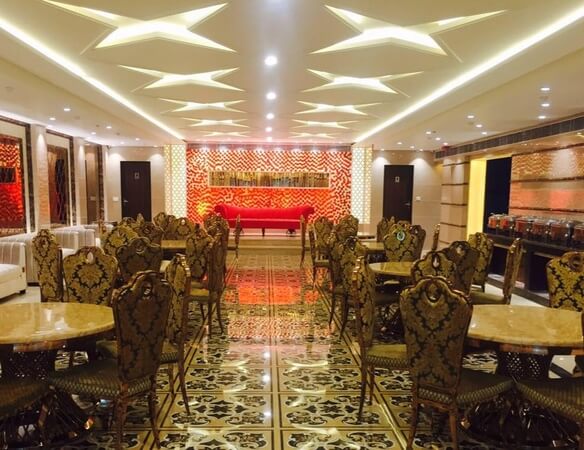 For any memorable event, Victoria Banquet offers inhouse decorators with the best vegetarian as well as non-veg food items there is also the permission to serve the liquor too. The ability to serve the guest can vary from 50 guests to a maximum of 200. The food courses offered here include welcome drinks,  soups,  starters, a wide chose of vegetables, assorted bread, and desserts too. The delicious food, stylish ambiance, and well-trained staff all help in making the event a memorable one.
Read Also:- Wedding Venues In Greater Noida
Chandelier by Sandoz
Address: 33/33a, Rama Road, Block C, opposite Apollo cradle hospital, Kirti Nagar Industrial Area, Kirti Nagar, Delhi, 110015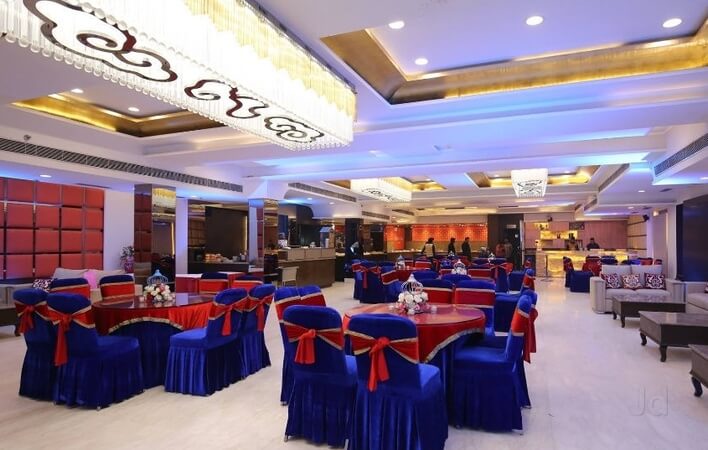 With the ability to handle the guest flow, from as low as 50 guests to a maximum of 500 guests, Chandelier by Sandoz is famous for its elite and stylish interiors. The expert chefs can serve vegetarians as well as non-veg multi-cuisine. The in house staff make sure that your guests are comfortably enjoying the event. As the name suggests, there is a glass chandelier in the middle of the hall, which helps to enhance the beauty of the already pleasant interior.
The Jalsa Banquet
Address: C 3178 c block road, Greenfield Colony, Haryana 121010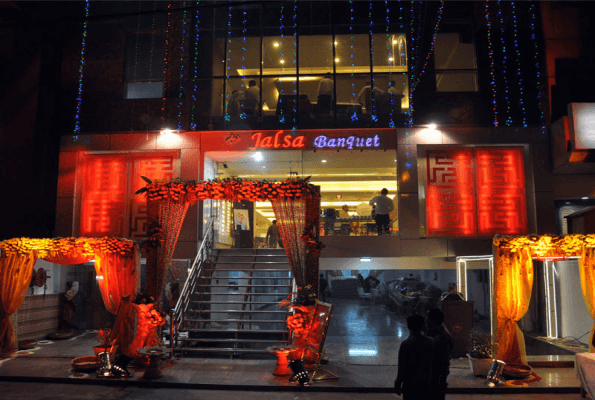 The ability to catch the attention of the guests by the magnificent decorations, the Jalsa Banquet offers very delicious vegetarian food only. The in house staff and the chefs can handle the flow of the guests varying from a minimum of 70 to a maximum of 400 guests. The main attraction is the ambiance of the interiors of the Jalsa Banquet, and the guests will find it difficult to take their eyes off the whole venue.
Also Read: Top Banquet Halls in East Delhi
Golden Gate Banquet
Address: B-18, Satguru Ram Singh Rd, Block B, Mayapuri Industrial Area Phase I, Mayapuri, New Delhi, Delhi 110064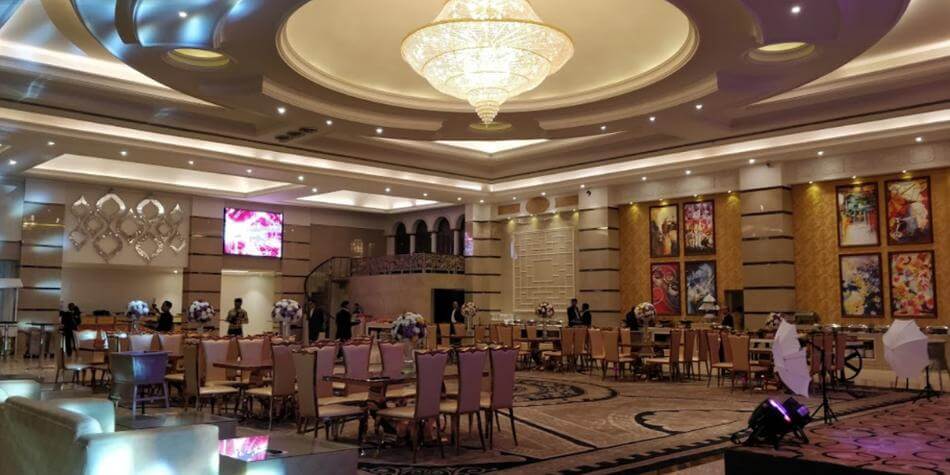 With the capacity of a minimum of 150 guests to a maximum of 650 guests, the venue is ideal for those who want to have something different fro the others. Expert in house decorators can give you an out of the world theme and make your precious event unforgettable. The expert chef's ample parking place, well-trained staff, can offer the best of the best services. A customized theme, according to the wishes of the client, can also be presented by the decorators.
Priyanka Party Hall
Address: Dabri – Gurgaon Rd, Sector 10 Dwarka, Dwarka, New Delhi, Delhi 110075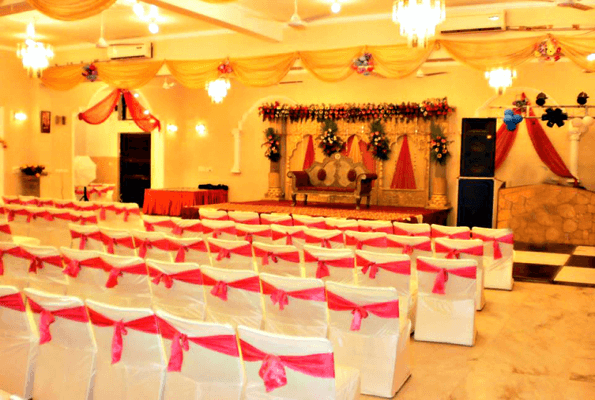 An ideally located and very perfect for the small or mid-sized functions, Priyanka Party Hall offers both vegetarian as well as nonveg delicious food items. The functions can be held indoors where one can choose from banquet I or banquet 2, or even an outdoor facility is available too, one can arrange the open-air reception or even a birthday party. One can organize open-air decorations by an expert and creative in house decorator
Landmarx banquet
Address: F 18/1 Udhog Nagar Peeragarhi 11015, Delhi, 110015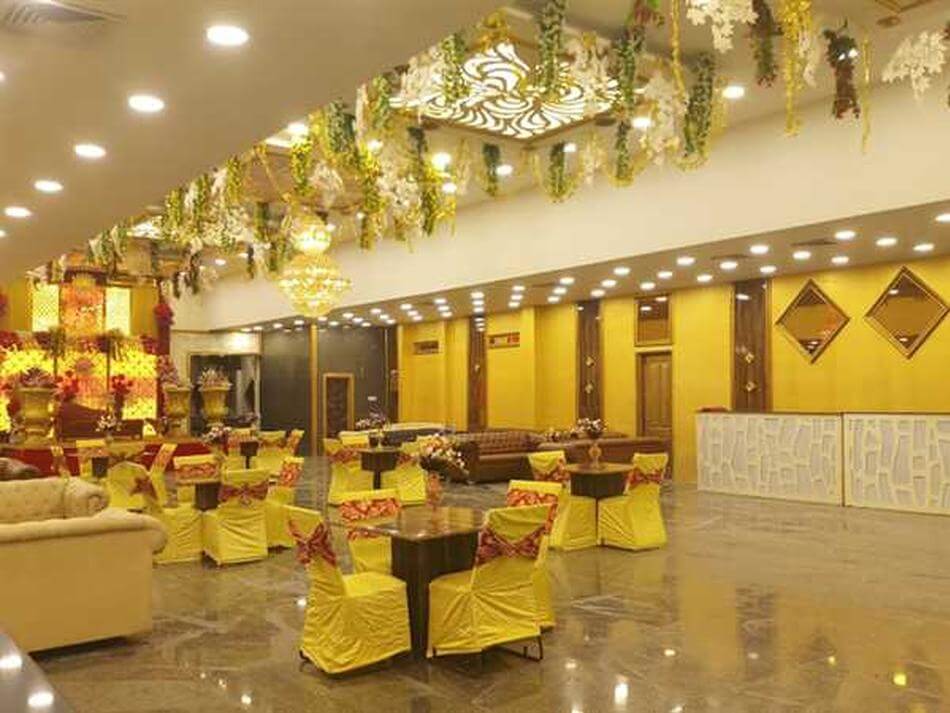 Authentic, grand, and traditional interiors of Landmarx banquet welcomes only pure vegetarians. The location lies near the Udyog Nagar Delhi and offers ample parking space, including the valet services. The venue provides in house decorators who can make sure that your event turns out to be outstanding. The functions like havans or baby showers can be organized at Landmarx banquet, as specifically only vegetarian food is served here.
The Umrao
Address: National Highway 48, Rajokri Rd, D Block, 6:Samalkha, New Delhi, Delhi 110037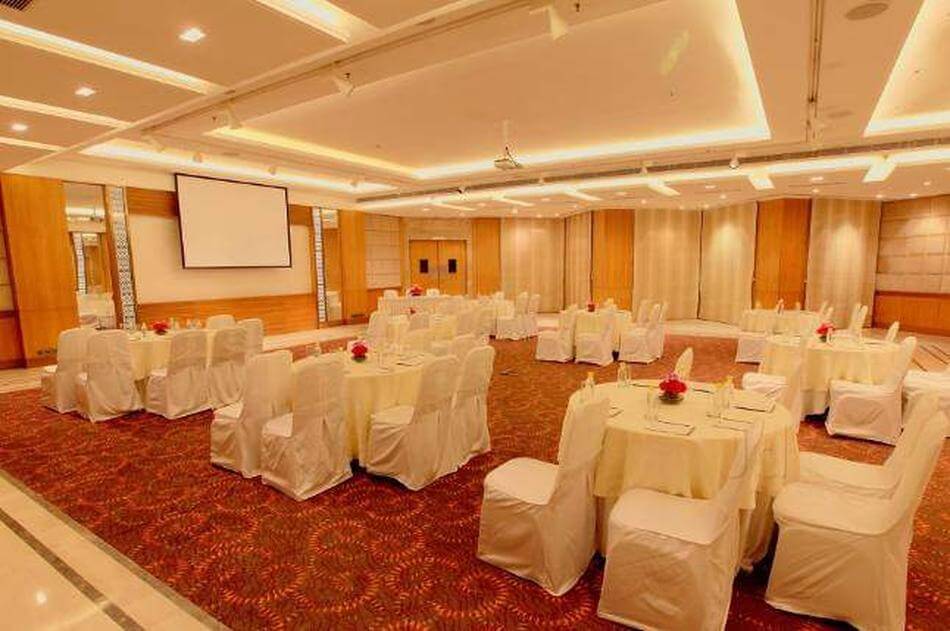 Though not precisely a banquet, The Umrao is a five-star hotel with the guest capacity of a minimum of 100 guests to a maximum of 5000 guests. Ample valet parking, well trained, professional staff, experienced and expert chefs, and extremely creative in house decorater make sure that you will get to experience a king-sized lavish wedding. There are several changing rooms that can add to the comfort of your guests.
Chanson Grand Westend
Address: G6 Community Centre, AK Market, Vikaspuri, New Delhi, Delhi 110018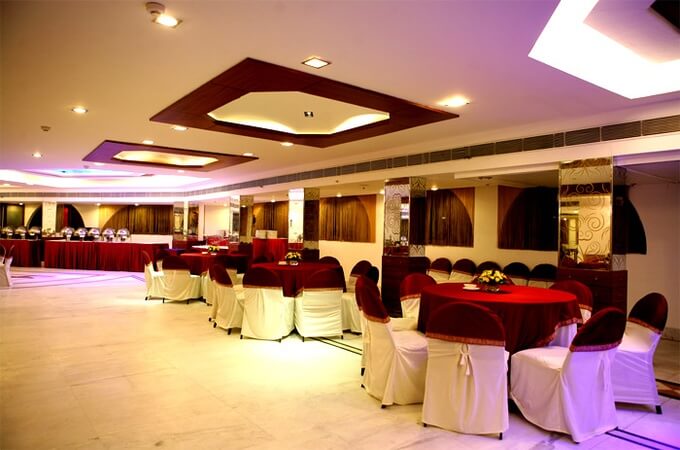 An offering of four banquets all with the different capacity of handling the guest, which can range from a minimum of 50 guests to a maximum of 350 guests the Chanson Grand Westend is ideal for kid's birthday parties or baby showers. The food offered here is both vegs as well as non-vegs and is served by an experienced and well-trained staff.
Lavanya Orchid
Address: 15, Shivaji Marg, Block C, Moti Nagar, Delhi, 110015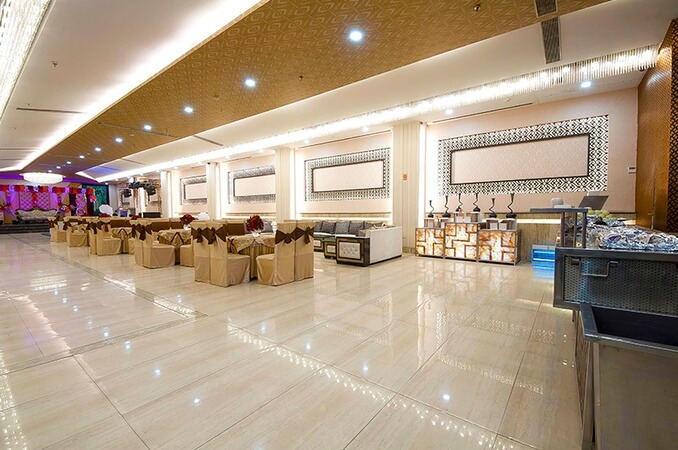 Taking pride in serving international cuisines, Lavanya Orchid is an ideal venue for private events like birthdays and get-togethers and corporate events like seminars or conferences. With the ample parking space, the guest's capacity can vary from 50 to 600 people. The sitting arrangements like chairs and sofas are very comfortable even for longer sitting timing, which is required during corporate events like seminars or presentations.
Also Read : Top Banquet halls in South Delhi
Masala Cottage
Address: 162, Ring Rd, Block CB, Naraina Village, Naraina, New Delhi, Delhi 110028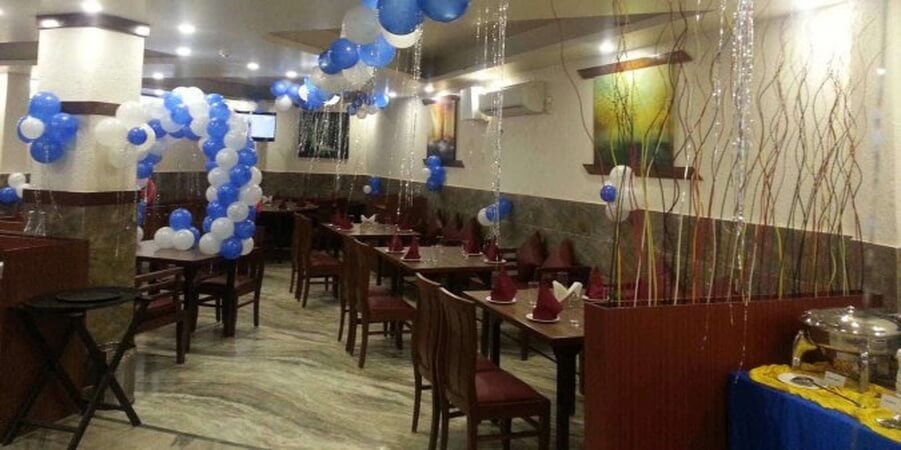 This event venue is specifically for food lovers, the menu, and the food provided at Masala Cottage is one of its kind. The specialization lies in vegs and non-veg mouth-watering dishes that can be served to a minimum of 50 guests to a maximum of 200 guests. The whole menu from welcome drinks to cocktails and from starters to the main course, the guests will experience the whole new world.
White House Party Palace
Address: B-1/629, Opp. Metro Pillar no. 570, Janakpuri, Delhi, 110058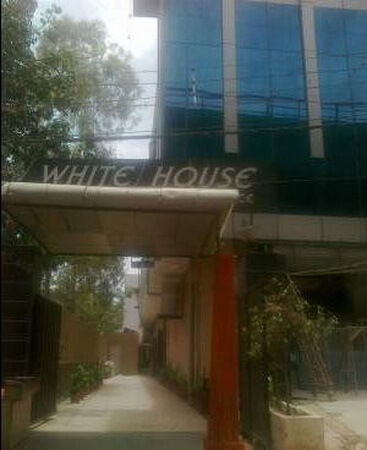 A full panel in the White House Party Palace, who include staff members like creative in house decorators, well-trained staff, expert chefs who are ready to serve any type of customized cuisines, Rockin DJ, awesome music, and lighting systems, are ever prepared to make your event a grand success. Be it a private or a corporate event; the organization team always has a full proof plan.
The Grace
Address: The Grace Hotel, Rd Number 4, Block RZ, Mahipalpur Village, Mahipalpur, New Delhi, Delhi 110037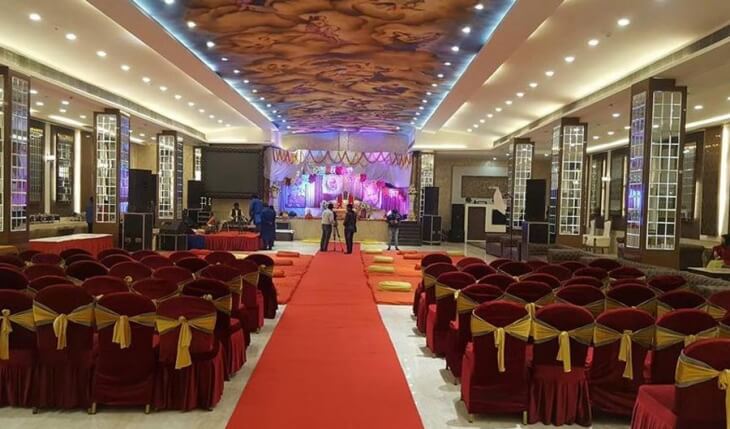 A grand entrance with the auspicious melody of shahanai will make anyone feel as if they are entering a monumental historical event. The Grace banquet opens its grand doors for a minimum of 100 guests to a maximum of 1500 and can serve delicious multi cuisines. With the well-maintained changing rooms and ample parking, your event will surely be unforgettable.
Red Apple Banquets
Address: A21-12, Chaudhary Girdhari Lal Marg, Industrial Area Phase 2, Naraina Indl Area II, Block A, Naraina, New Delhi, Delhi 110028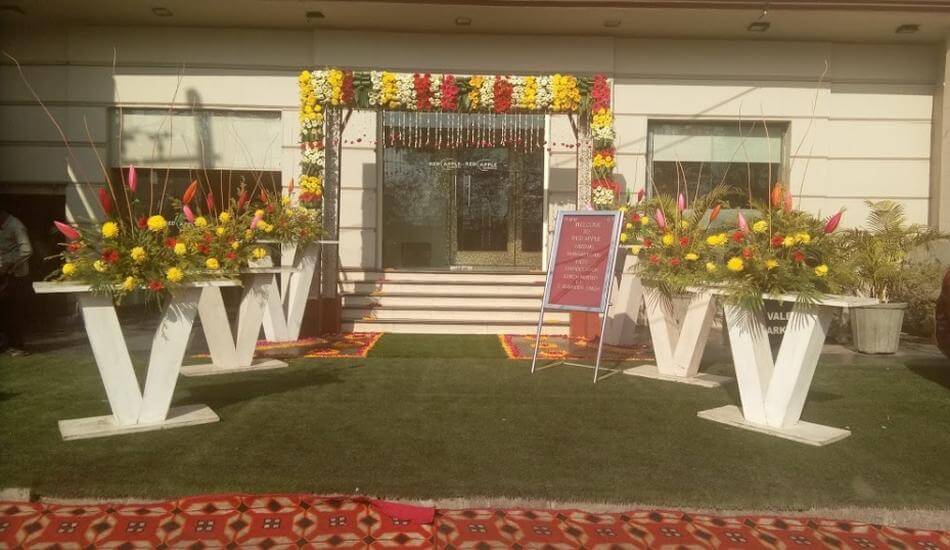 Located near Pauri Fashion Academy, Red Apple Banquets is famous for its decore, elegant, stylish, and unique lighting. Serving both Vegetarian as well as non-vegetarian food, and mouth-watering cocktails and deserts, Red Apple Banquets is comfortable for mid-sized events.
Seven Pearls Banquet
Address: Rz -7, Old Phanka Road, Opp A1 Block, Janakpuri, New Delhi, Delhi 110059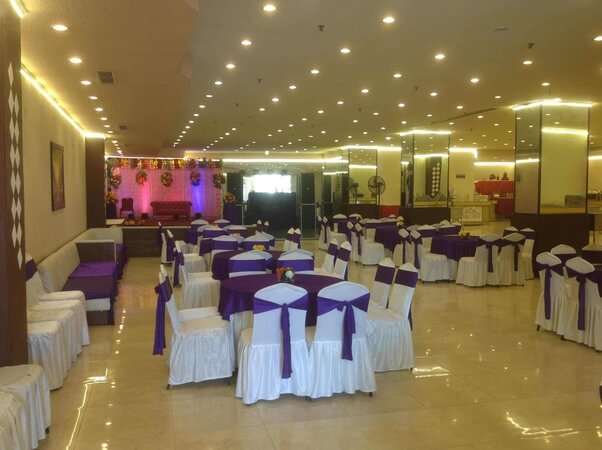 The grand wedding can be easily organized at Seven Pearls Banquet as their minium capacity of guests are 100 and can host a big mob of around 1000 to 1200 guests. The staff is well trained and can handle whichever the event is and that too very easily. The delicious multi-cuisine, as well as the food according to the client's choice, is prepared by the expert chefs whose taste unforgettable.
Grand Plaza Sapphire
Address: 13, Najafgarh Rd, Block C, Najafgarh Road Industrial Area, New Delhi, Delhi 110015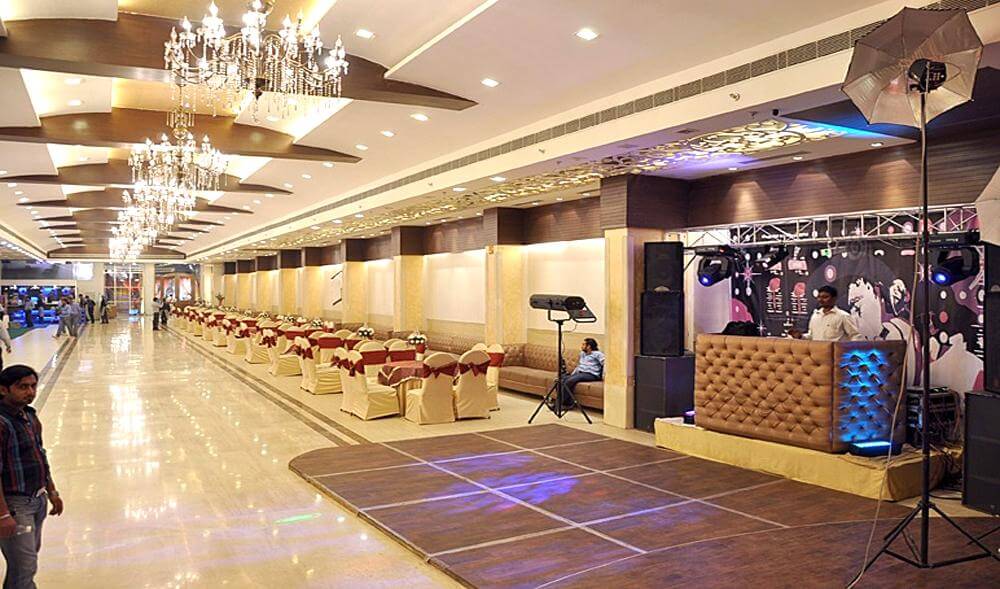 Very conveniently located in Moti Nagar, West Delhi, the elite and sophisticated ambiance of two grand halls can hold the capacity from a minimum of 300 guests to a maximum of 900 guests. The first-class service of very warming staff and culinary expertise of inhouse caterers can make an addition to your event.
Le Pacific
Address: 31, 35, Rohtak Rd, North Avenue, West Punjabi Bagh, Punjabi Bagh, Delhi, 110026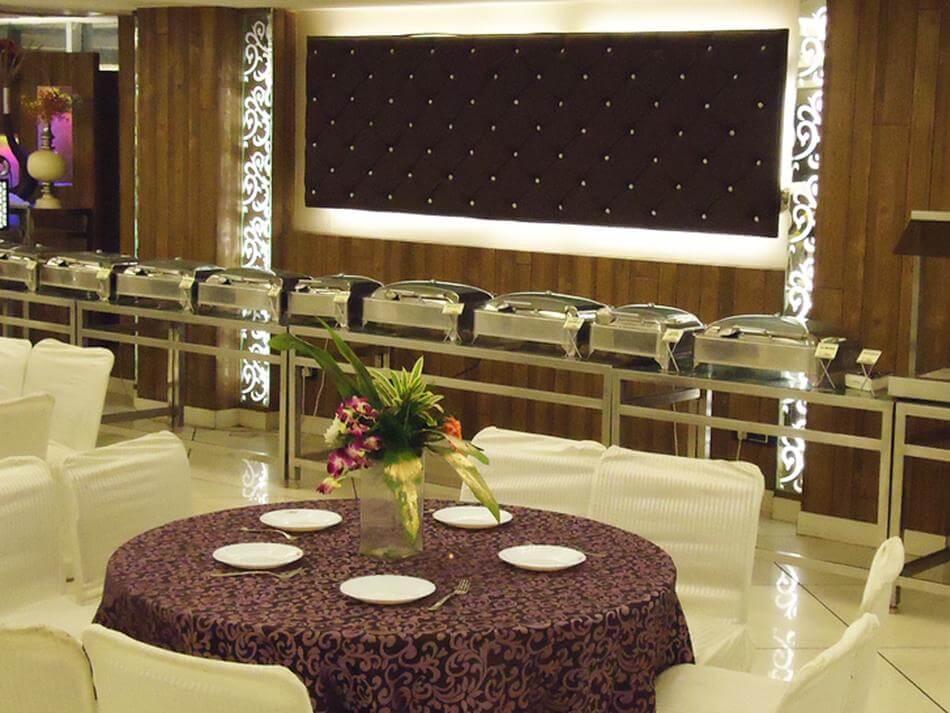 Located in Punjabi Bagh, the Le Pacific banquets offer exclusively vegetarian food, where in house decorators can pop up your even by fabulous decorations. If the party is interested, they can also get an event organizer who can take care of the whole occasion, including the planning of the event, catering, and decorations too,
Surya Grand
Address: near Palam, Dattaram marg, Dwarka Flyover, Sector 7 Dwarka, New Delhi, Delhi 110045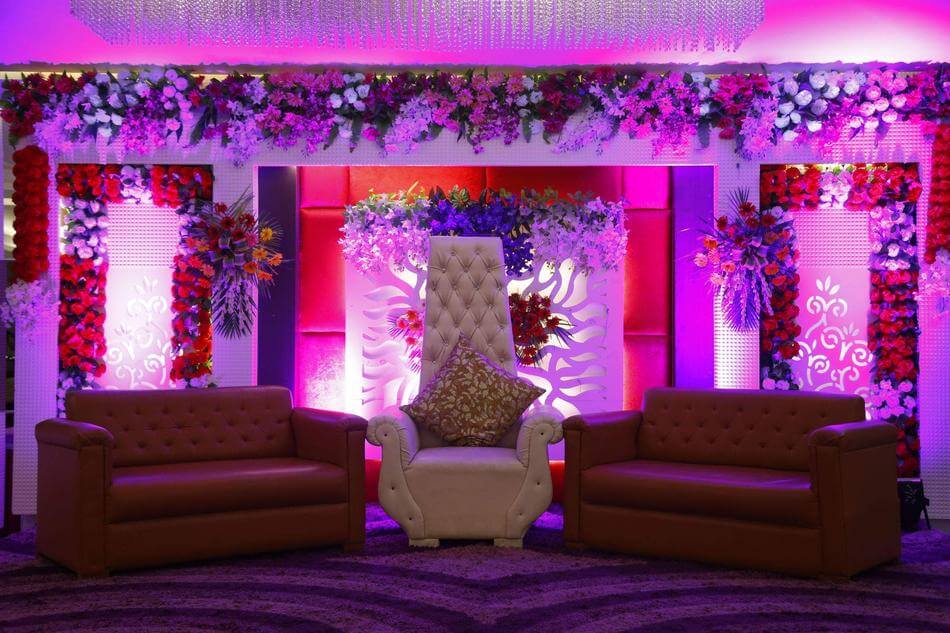 Situated near Palam Dwarka flyover, the banquet Surya Grand can host from a minimum of 150 guests to a maximum of 500 guests. The full Banquet of Surya consists of four halls, which can be taken individually too. With both vegetarian and nonveg lip-smacking menus, the hall offers the best in house staff.
Le Grand
Address: R 3, Builder Areas, Near Pari Chowk, Beside P 3 Goal Chakkar, Greater Noida, Uttar Pradesh 201303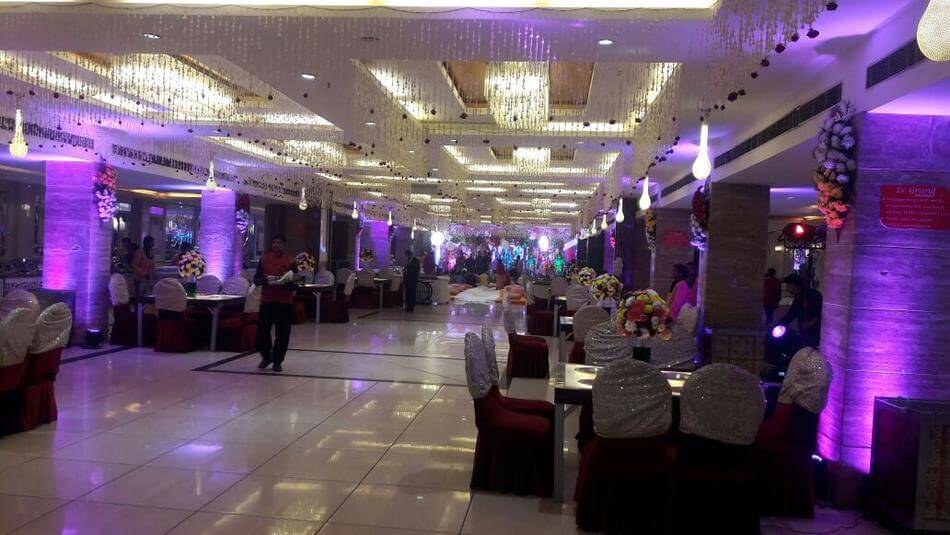 The guest who indulge in only vegetarian food the le grand banquet is the best option for them. With the maximum capacity of over 800 guests and a minimum of 400, the banquet is well known for the calm ambiance and very professional staff. There are two halls, one being named Crystal, and the other one is Grand. Along with ample parking place, the le grand offers impeccable in house decorators to elevate the function.
New Kadimi
Address: Shop No-1 & 2 DDA Market, 2, Ram Mandir Marg, Block C-5A, Janakpuri, New Delhi, Delhi 110058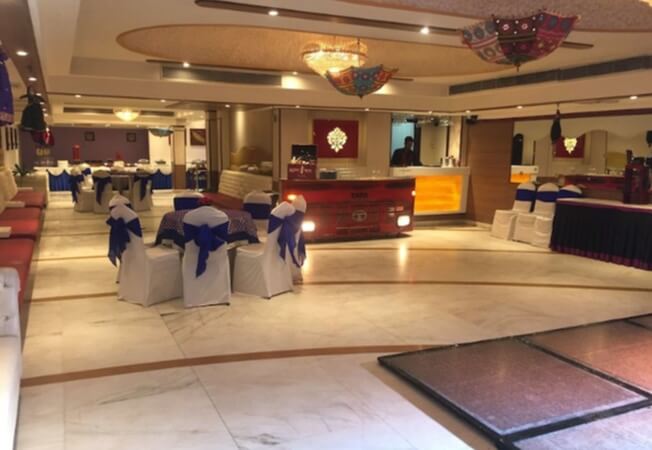 The banquet New Kadimi is one more place where only pure vegetarian food is allowed. Through this banquet is mainly for small parties, the guest list ranges from the capacity of a minimum of 50 people to a maximum of 150 guests. However, the venue is ideal for small birthday parties or engagements, baby showers, etc.
These were the list of banquets that one might like to consider. There are other options, too, and it is best that an individual to look out for the venue according to their particular needs.
Also, check out – Top-Rated Luxury Banquet Halls in Delhi NCR