Top 20 Wedding Venues in Noida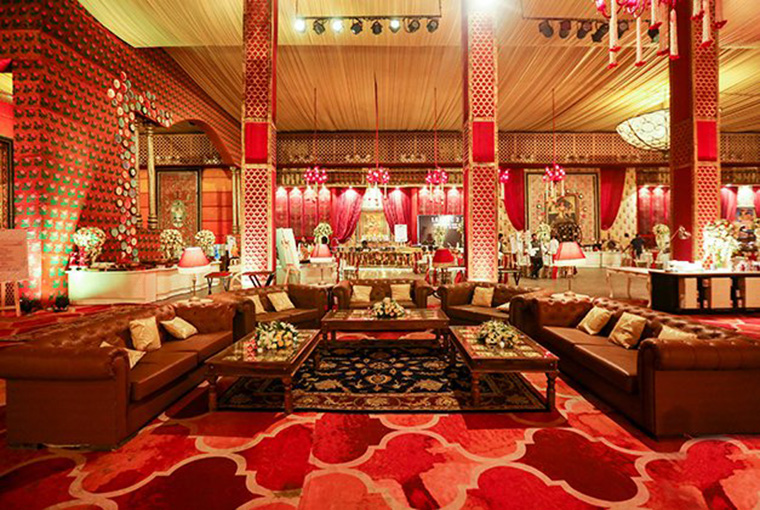 Address: Near, Plot No R-1, Builders Area, P-3 Circle, Greater Noida, Uttar Pradesh 201310
Phone: 078278 12345
Udman, Greater Noida is a beautiful wedding resort spread across 3.5 acres of land to host luxurious residential weddings. The resort offers an amalgamation of comfort and luxury making it the talk of the town. The key highlight of this venue is that it offers multiple spaces under one roof making it an ideal venue for a destination as well as residential weddings. Here are the spaces available at this beautiful resort.
There are multiple spaces available at Udman, Greater Noida including one banquet named Unma that can accommodate 100 to 125 guests, and another smaller banquet named Ullas can accommodate 60 to 70 guests. It also has a small open space named Urvi which is a terrace garden that can also accommodate 30 to 50 guests. There is also one big lawn named Udyan that can accommodate 200 to 250 guests. The biggest of all is a hangar setting named Utsav that can 500 to 800 guests. It also has small corporate conference space for 25 to 35 guests
Udman's wedding venues are all distinct from one another and are suitable for any kind of wedding function. The guests can host their wedding as well as various pre and post-wedding ceremonies in one place. Udman Greater Noida offers all the amenities for a comfortable stay during a residential wedding, making it a favourable choice in Greater Noida. The benefit of having several venues in the hotel is that you do not have to repeat a venue while hosting different wedding functions in the same hotel. This gives you the liberty to be creative with the spaces and make use of the space in the most efficient manner.
Stardom Convention
Address: World Trade Tower, C-1, Sector 16, Noida, Uttar Pradesh 201306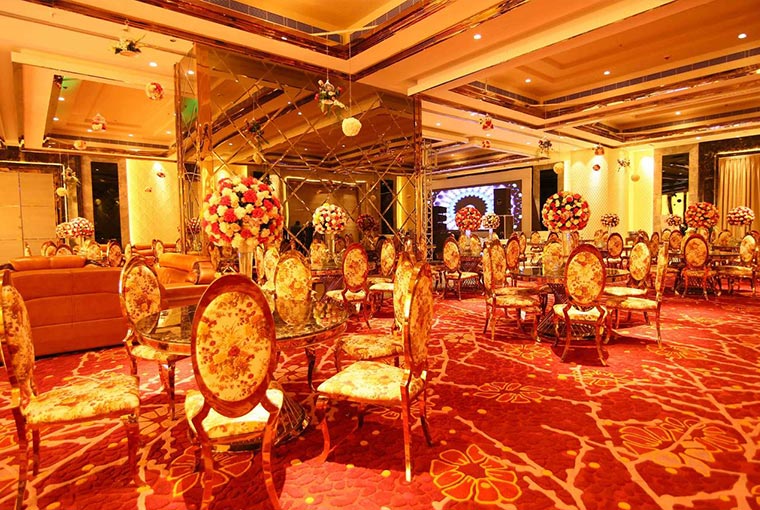 A luxury banquet and convention centre located in Noida Stardom Convention is perfect for holding a wedding. It has stunning interiors and elegant surroundings. You can make use of the four venues, indoor and outdoor, offered by them. It has a beautiful lawn and stylishly designed banquet hall which can accommodate up to 2000 guests. The facilities include valet parking as well as an alcohol policy. They have wedding planners who will turn your ideas into reality, chefs of the in house catering who will stir up mouth-watering dishes, and excellent service staff who are ready to handle all your requirements. If you want a relaxed wedding, this is the place to look into.
Anandee Home
Address: Plot No C4, Sector-51, opp. Kendriya Vihar, Society, Noida, Uttar Pradesh 201301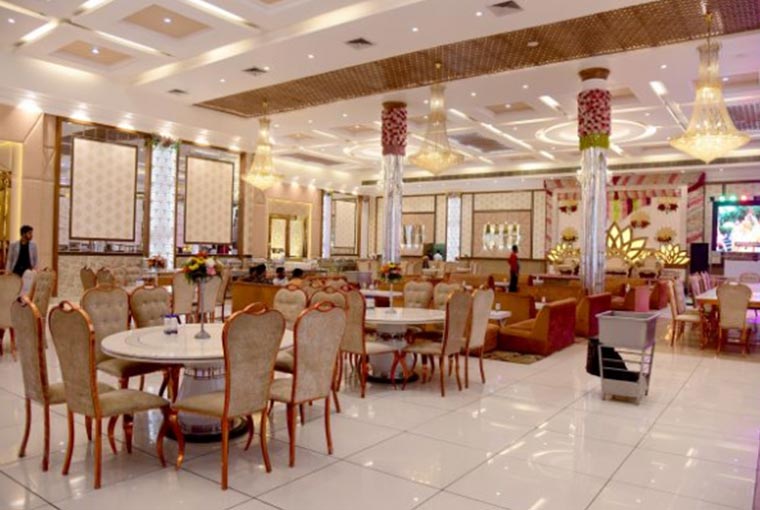 Decided to take your vows in Sector 51 Noida?  Anandee Home is one of the best to try out for amazing indoor and outdoor spaces. All your wedding-related functions will be fun-filled and perfect here. They provide power backup and a spacious parking area, as well. The amazing elements like a natural waterfall, lush green lawns, and natural flower decorations add to the beauty. You can host up to 1000 guests who will get the best service from the excellent service staff, which is important because this place provides guest accommodation. Their in-house catering will give you a choice of North and South Indian, Rajasthani, Street-food, Italian, Continental, Thai, and Mexican dishes. You will even get a Jain-specific menu. What more could you ask for on your special day?
Venues Sandal Tree Banquets
Address: Plot Alpha, Sahibabad Industrial Area Site 4, Sahibabad, Ghaziabad, Uttar Pradesh 201010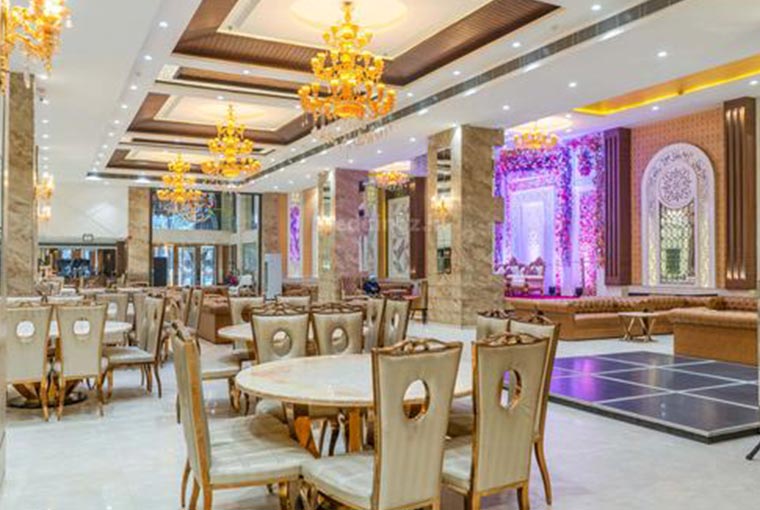 Located in Ghaziabad, Sandal Tree Banquets offers two gorgeous event spaces for all kinds of wedding-related ceremonies. With their in-house expertise, the management team, the bartenders, the chefs, and the maintenance staff work unanimously to provide you with the best experience. Accommodating a maximum of 800 guests, Sandal Tree Banquets can be decorated by your decorator according to your theme for the occasion. Their chefs will amaze your guests with their mouth-watering delicacies customised according to your preferences and taste. Keep this place in your wish list if you are planning to get married shortly.
Park Ascent Hotel
Address: Park Ascent Hotel,, Plot no. 126, Khora Rd, opp. ACADEMIC BLOCK, Sector 62, Noida, Uttar Pradesh 201309
Park Ascent Hotel, located in the city of Noida, helps you to celebrate your wedding in a grand style. They have a well-equipped banquet hall which is specially designed for weddings and other related events.  Spacious enough for you to enjoy your wedding with all your near and dear ones, you can also split the hall to make it cosy and comfortable for a small gathering. They also offer the terrace as a venue if you require it. Providing great customer care is their mantra, and they offer excellent facilities like furniture, valet parking, basic lighting, and electricity backup.
Crowne Plaza
Address: District Centre, Crowne Plaza Parking & Banquet Hall, Mayur Place, Mayur Vihar, New Delhi, Delhi 110091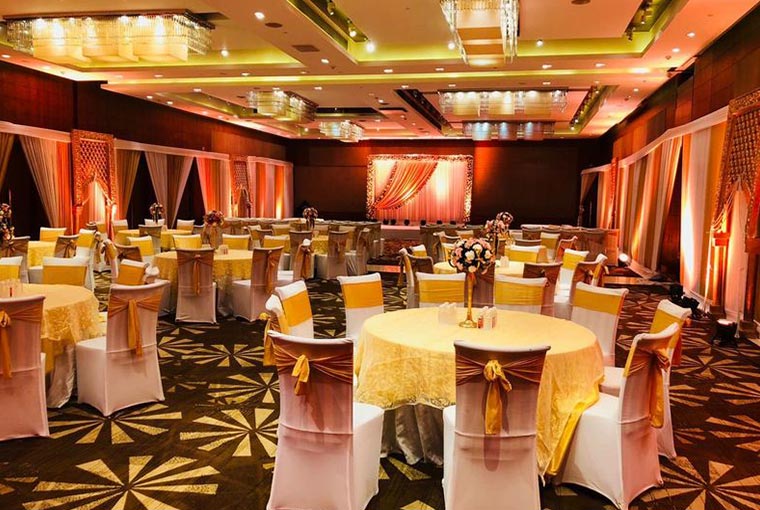 Crowne Plaza in Mayur Vihar, Delhi, is dedicated to providing the best services to its clients.
With excellent hospitality, you can rely on them to help you celebrate all your pre-wedding functions and your wedding in a grand way. The interiors are aesthetically done up, and they provide spacious banquets to seat all your guests. Crowne Plaza has enough rooms to accommodate outstation guests comfortably. They provide in house catering and alcohol. They also have an in house DJ to entertain you and enlisted decorators for you to choose from.
 Wedding Villa
Address: c3 opp kendriya vihar gate, Street Number 2, Sector 51, Noida, Uttar Pradesh 201301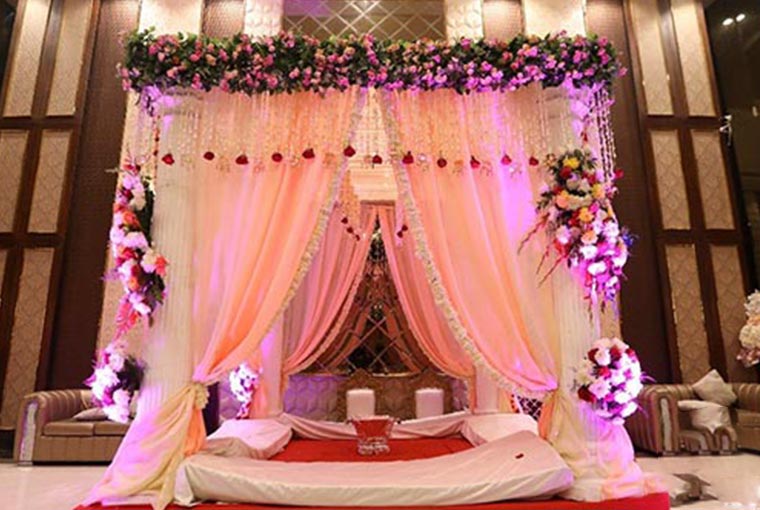 Wedding Villa on Hoshiarpur Village of Sector 51, Noida offers a versatile setting. They keep themselves updated in their decor to suit the needs of the present day. Their exceptional cuisine prepared by their catering facility and their outstanding service will impress your guests and make your wedding a memorable one. Wedding Villa is the perfect choice for your special day.
Holiday Inn
Address: District Centre, 13A, Mayur Place, Mayur Vihar, New Delhi, Delhi 110091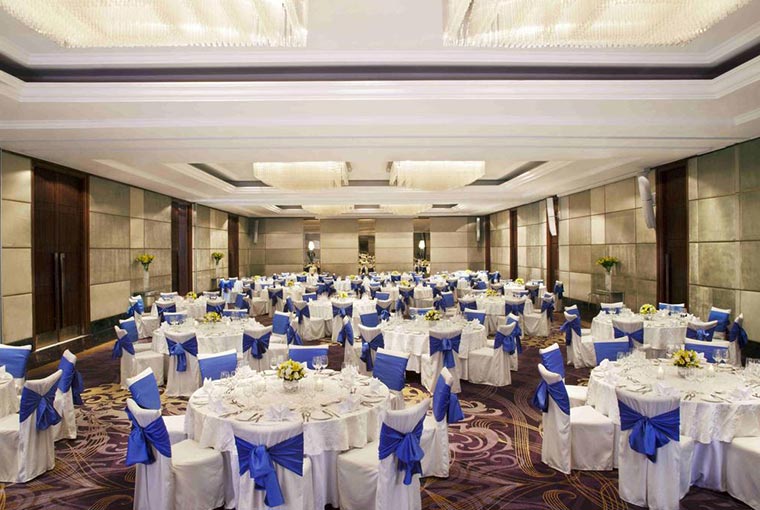 Holiday Inn is located just off the DND Flyway and is easily accessible from all parts of Delhi. Their luxurious services and professional staff who take great care to make you comfortable and satisfied will make your function worth remembering. Your outstation guests can be accommodated here, which makes it convenient. The in house catering provides mouth-watering dishes, and the DJ provides excellent music. You can get the decorations of your choice done by the empanelled decorators. A must look in when you decide to tie the knot.
 Leela Ambience Convention Hotel,
Address: CBD, 1, Maharaja Surajmal Marg, Near Yamuna Sports Complex, Vishwas Nagar Extension, Vishwas Nagar, Shahdara, Delhi, 110032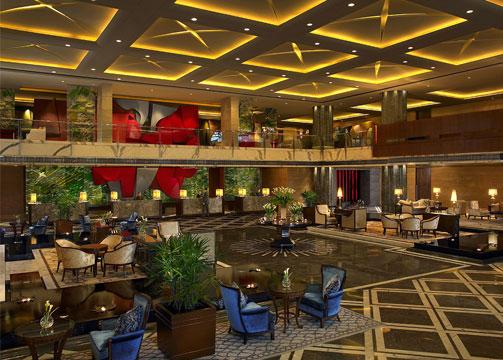 The Leela Ambience Convention Hotel, Delhi, is another name for. With an in-house event management team who will create a fairy tale wedding for you and the excellent cuisine served by them, you feel nothing less than a royal couple starting a new journey. This is a must keep on your wish list.
About Ayatti
Address: Lakhnawali, Greater Noida, Uttar Pradesh 201306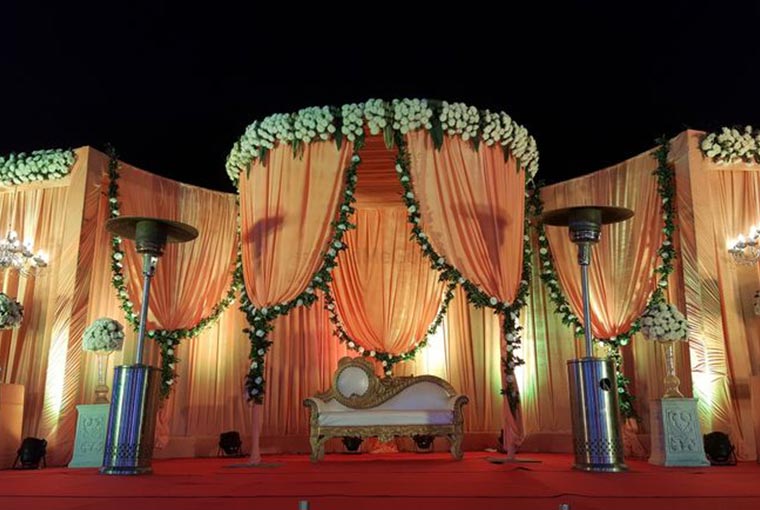 Ayatti is an affordable wedding venue at Greater Noida. Being affordable is not equal to any compromise. The food, decor, and all other wedding requirements are taken care of in style.       Ayatti offers indoor halls and banquet as well as in-house caterers who prepare some of the most delicious dishes. Satisfaction without burning a hole in your pocket is the aim of Ayatti so take a look here.
Grand Vilas
Address: Sector 116, Noida, Uttar Pradesh 201306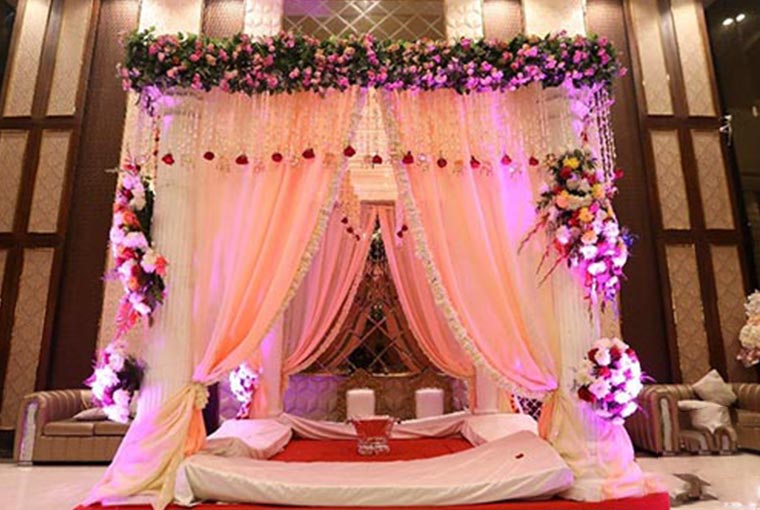 Grand Vilas at Noida offers a banquet hall and lawn suitable for hosting pre-wedding functions and weddings. Capable of accommodating a total of 1500 guests this is a one-stop destination if you are looking for a great venue.  It is located near the Children Park – H Block, which is popular with the locals.
Silver Spoon Banquet
Address: C 7, Vasundhara, Sector 18, Vasundhara, Ghaziabad, Uttar Pradesh 201012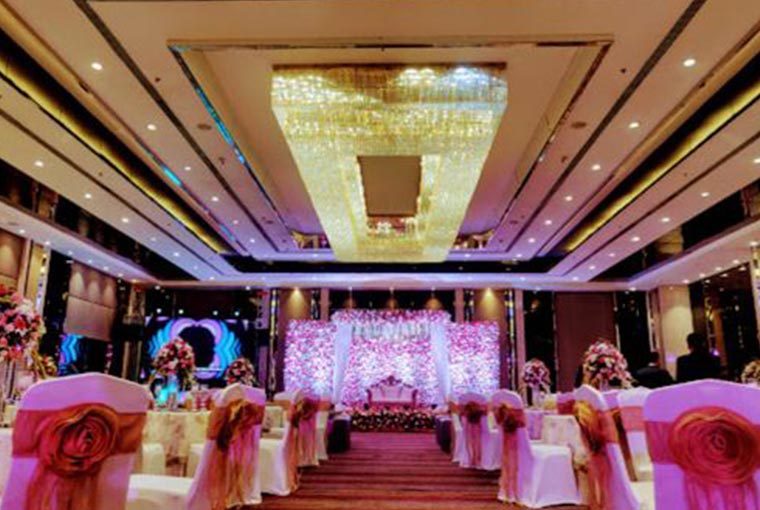 Silver Spoon Banquet, located in Ghaziabad, offers two beautiful banquet halls capacitating around 1000 guests each for pre-wedding ceremonies, weddings, and receptions. It provides basic and high-end facilities. The management team will ensure that the decorator chosen from among their empanelled ones satisfy you as do the caterers.  
Country Inn and Suites, Sahibabad
Address: 64/6, Sahibabad Industrial Area Site 4, Sahibabad, Ghaziabad, Uttar Pradesh 201010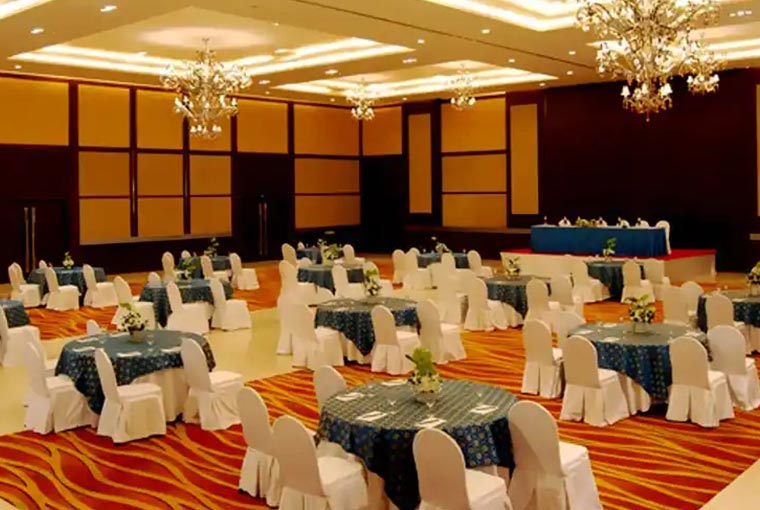 Country Inn and Suites offer multiple banquet facilities. The management team helps to make your dreams come true. The setting is enchanting, and your guests will have a comfortable stay if they are from outstation. They offer a diverse menu, and you can choose from among Indian, Chinese, and Continental cuisines to suit your needs.
 Clarks Inn
Address: 31-M, Main Road, Next to RK Public School, Mamura, Sector 66, Noida, Uttar Pradesh 201301
If you desire a sophisticated wedding, Clarks Inn should be your choice. Located in Anand Vihar, Ghaziabad, it offers a fully air-conditioned indoor banquet ballroom, which accommodates 320 seating and 800 floating guests. There are excellent rooms for your guests coming from outside Delhi. The chefs will provide a delectable feast while their decorators will create a fairy tale ambience for you and your guests to enjoy. 
Radisson Blu 
Address: L-2, Pocket J, Sector 18, Noida, Uttar Pradesh 201301•0120 430 0000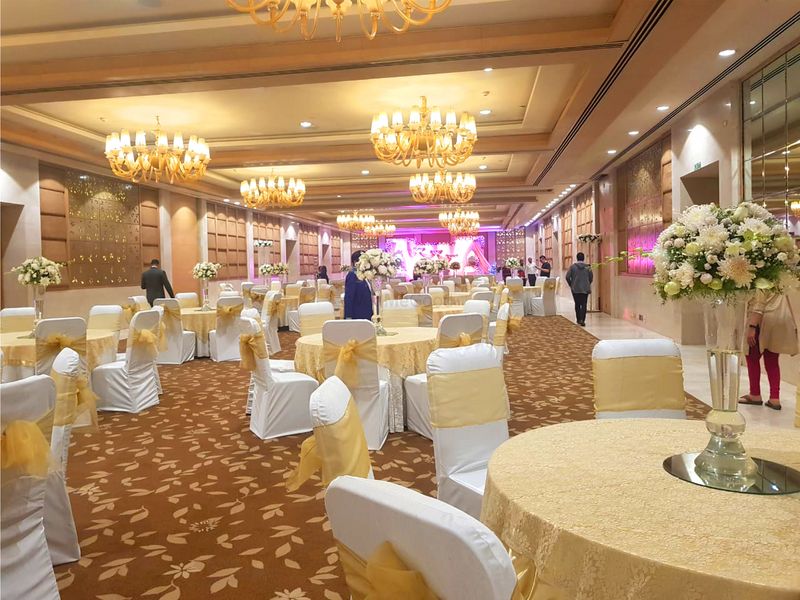 This place is a one-stop solution for all your wedding needs. Your guests will enjoy exceptional services at this place. Both non-vegetarian and vegetarian food is offered as well as provide in house alcohol to make your occasion a great one. This sophisticated wedding venue is the perfect choice for your special occasion. 
The Shaurya Banquet
Address: Noida Extension Main Road, opp. Pan Oasis Society, Sector 73, Noida, Uttar Pradesh 201301
The Shaurya Banquet is a luxury venue which understands that weddings are the most special occasion. They provide you with a highly experienced staff take care to make your event a memorable one. The banquet halls accommodate around 2500 people and have a wonderful setting. The location makes it easily accessible for the local guests while their rooms will give outstation guests a luxurious stay.
 .
Red Carpet Banquets
Address:-Bs-31, Opposite Cleo County Towers, Sector 70, Noida, Uttar Pradesh 201307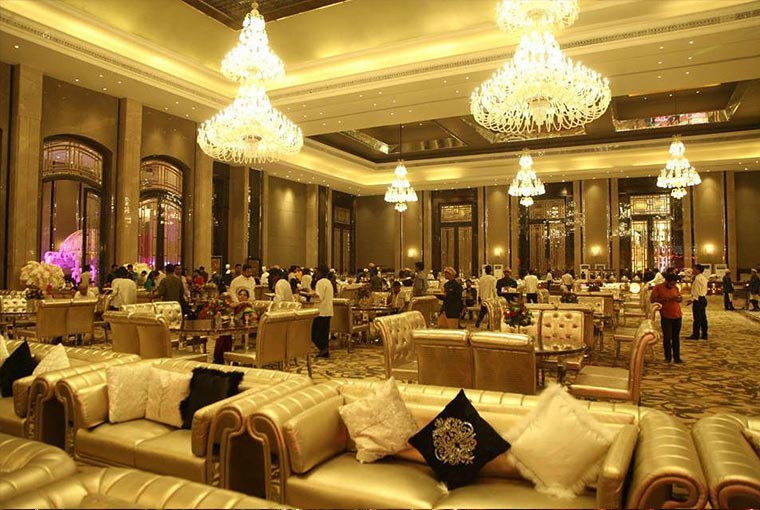 Red Carpet Banquets provide a wide array of facilities.  The mesmerizing ambience of the lawn and detailed interior decor makes it an excellent venue for a wedding to be held. Accommodating 1200 guests in the floating capacity at the maximum, you can easily make this your choice. They also have in house catering, alcohol, and DJ and empanelled decorators to take care of your requirements.
 Exotic Garden
Address: Canal Cut, Kinawani Bridge, Indirapuram, Ghaziabad, Uttar Pradesh 201001
Exotic Garden is one of the most popular wedding venues located in the Indirapuram, Ghaziabad. The place combines a spacious venue, which allows you to plan your event in a single location. It is perfect for large gatherings with a spacious lawn. Their expert chefs stir up excellent cuisine to satisfy the taste buds. You can take a look here, and you will not be disappointed.
Subhadra Greens
Address: Plot No. 61f, Sector 6, Vasundhara, Ghaziabad, Uttar Pradesh 201012
Subhadra Greens Wedding Farm is located at Vasundhra, Ghaziabad. It can accommodate between 300 – 1000 guests at a time. It is perfect for a wedding or pre-wedding function like a cocktail, Sangeet, and Mehendi. They also have on offer in-house catering, in house decor,   in house alcohol, and DJ of your choice.
Mannat Farms 
Address: M89H+HMV, Block A, Rampuri, Surya Nagar, Ghaziabad, Uttar Pradesh 201011
Mannat Farms is located in the heart of Ghaziabad. The multiple huge, lush green and well-maintained lawns, delicious food, and excellent professional service make it an ideal venue for holding different functions at the same venue, and it also offers complimentary changing rooms for the bride and the groom on their special day for their convenience. What more could you ask for?
Royal Diamond Party Lawn
Address: H 55, Hoshiyarpur, Sector 51, Noida, Uttar Pradesh 201301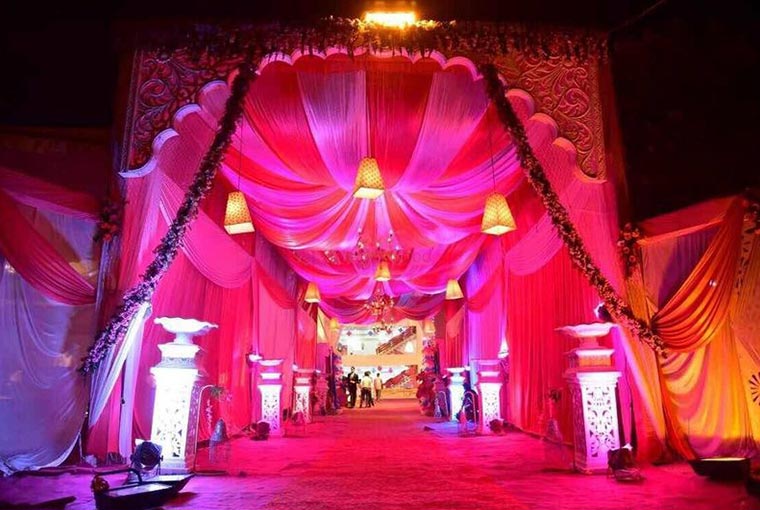 Royal Diamond Party Lawn gives a grand touch to your wedding.  Keeping in mind the stress and hectic workload to pull a wedding off, they are always by your side. The banquet hall accommodates 500 floating guests while the lawn can accommodate around 2000 guests. They will take care of catering, alcohol, decoration, and DJ.
This is not a comprehensive list, but at least it will give a guideline to the places you may look into to hold your wedding. You can also try out other places as there are plenty of venues available in Noida.
Also, check out – Top-Rated Luxury Banquet Halls in Delhi NCR