20 Fun Indian Wedding Games to have the most amazing wedding!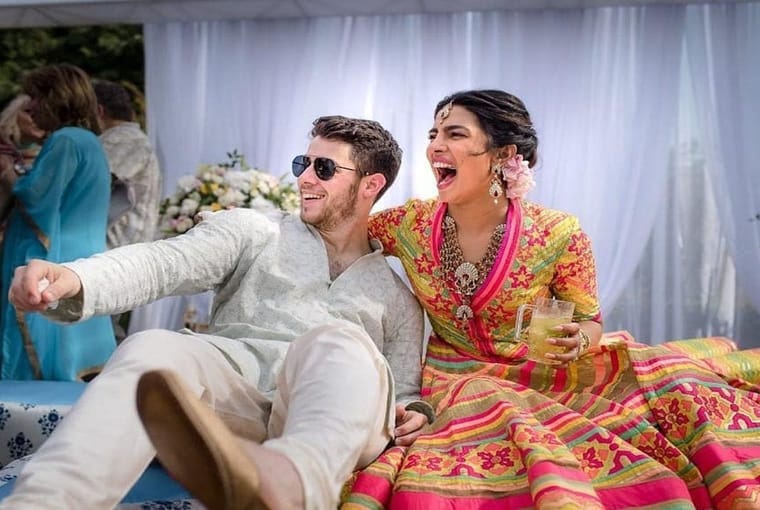 Wedding Games Indian
Indian weddings are being called Big Fat Indian weddings not just because of its grandeur and extravagance but they are a lot of fun! It takes a lot of planning and attention to detail to make it all entertaining for the couple as well as the guests. You have to think of various ways and ideas to keep all your guest indulged in the celebration. There is no better way to keep all your guests interactive and celebrating the special day with you than adding some  Indian wedding games! You can add some unique, smart or silly games that can make your guests go crazy while playing them. People are now adding games to your celebration with all that dancing to make their wedding a fun-filled celebration.
So, if you are also inclined towards making your wedding a hit then you can add these incredible games to your wedding or other pre-wedding functions.
Is it the groom or the bride?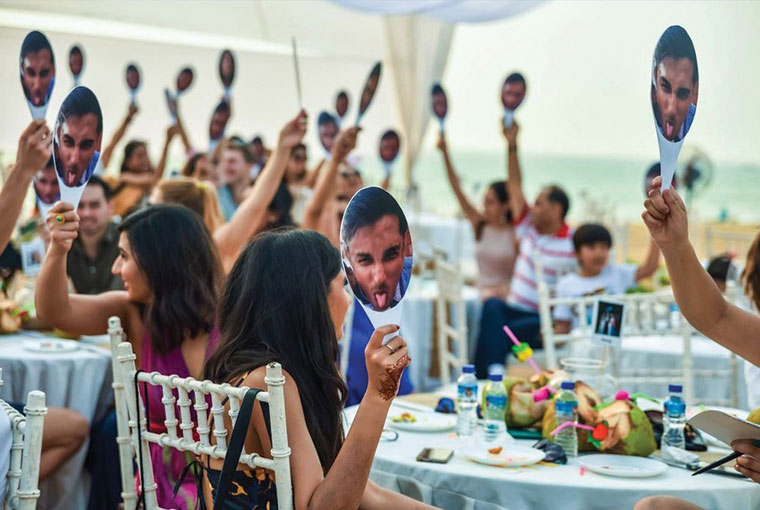 This game is too much fun and it needs all your guests to be involved in it and above that, they will have a good laugh with it! To make it all fun all your guests need to participate in it. You have to hand out paddle boards to all your guests that will have a picture of the bride and groom on each side respectively. The host of the game will ask some funny and true questions and then the guests will have to answer by lifting their paddleboards to tell if the statement is about the bride or groom. This guessing game is all about joy and laughter.
Paper Dance never goes wrong!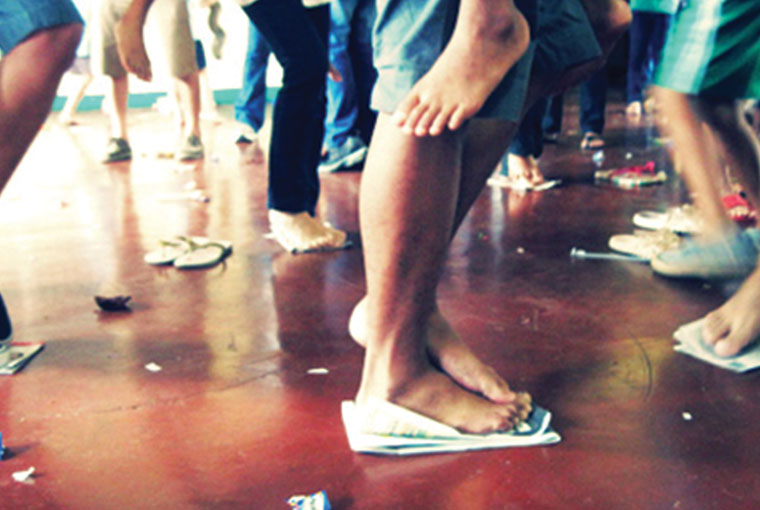 This Indian wedding game is not only very tricky but really exciting at the same time. This is a couple's game, wherein all the couples are given a large sheet of paper and then asked to dance on this and when the music stops they have to get off and fold the paper in half and then continue dancing on it. This game continues until the piece of paper is extremely small and they can still dance on it. Couples start to get disqualifying whose feet fall off the paper.
Karaoke to bring out the singer in guests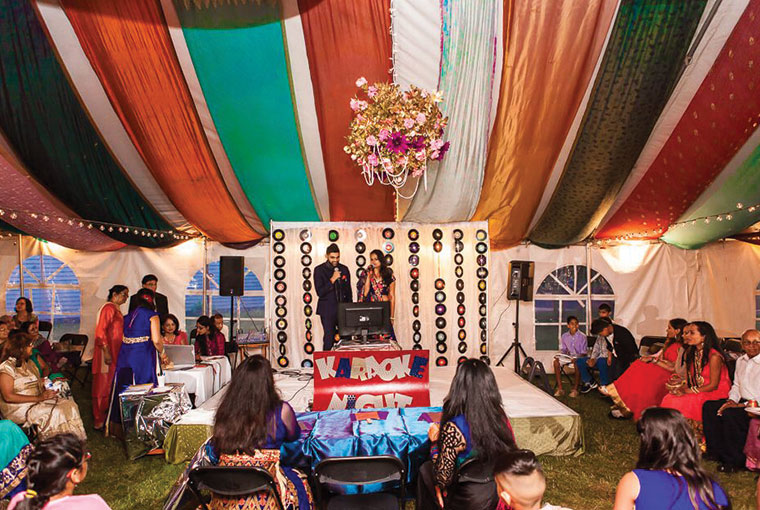 It's one of most entertaining activity to be added in the wedding madness. This will surely make your wedding a one-of-a-kind celebration. The whole bride tribe and groom squad van also have a little competition with each other and see which side has better singers. This game will level up the fun and intermingle both the sides to make the celebration even better!
Twist it up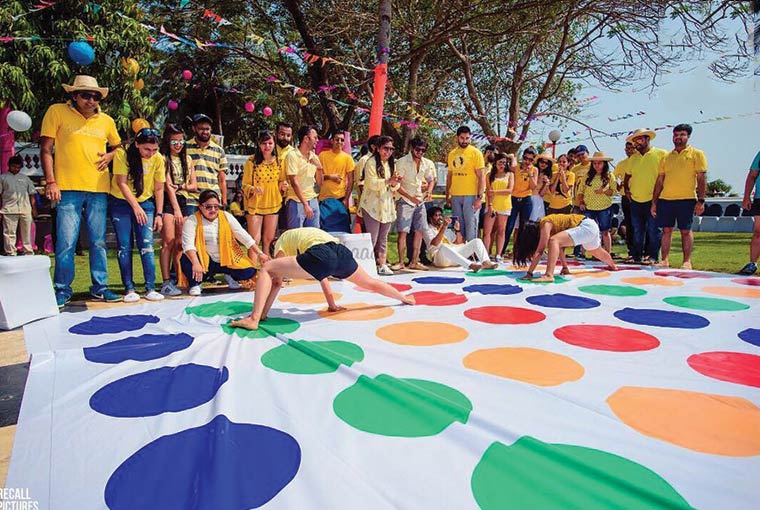 If you having any outdoor function, then you can totally go for this game! It is a bit unconventional as per the Indian weddings but it's way too much fun. It will surely raise the bar of excitement and add a unique vibe to the celebration as a twister is cool and incredible at the same time! All you need to do is get a large twister mat and tell everyone all the instructions and colour codes that go with it. In twister, a colour will be picked out and the players will have to touch the colour with either their hand or foot; whichever is convenient. This game is quite a competitive game, but trust us it will change the mood of all the guests.
A Dancing battle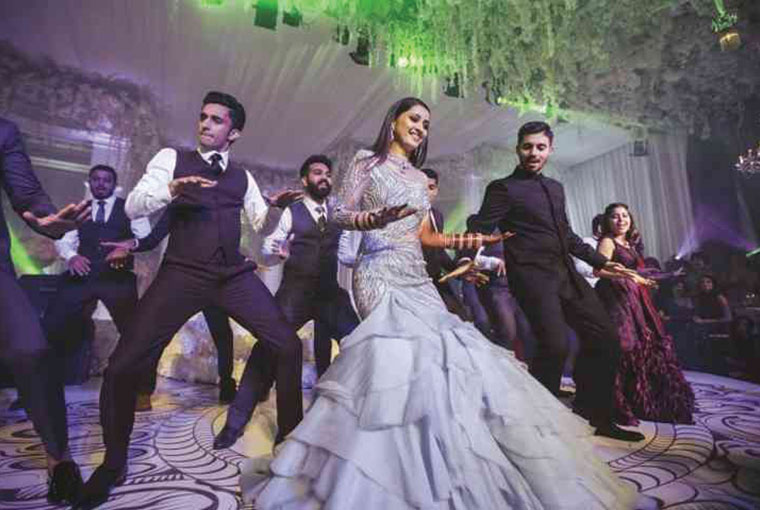 This can be a fun way to enjoy your sangeet function. This is one of the most loved wedding game that is enjoyed thoroughly by all the guests! You can organize a dance-off between ladkiwale's and the ladkewale's and see them in full energy! You can choose the winner by seeing which team can keep up their energy and dance the longest!
One with the sweetest tooth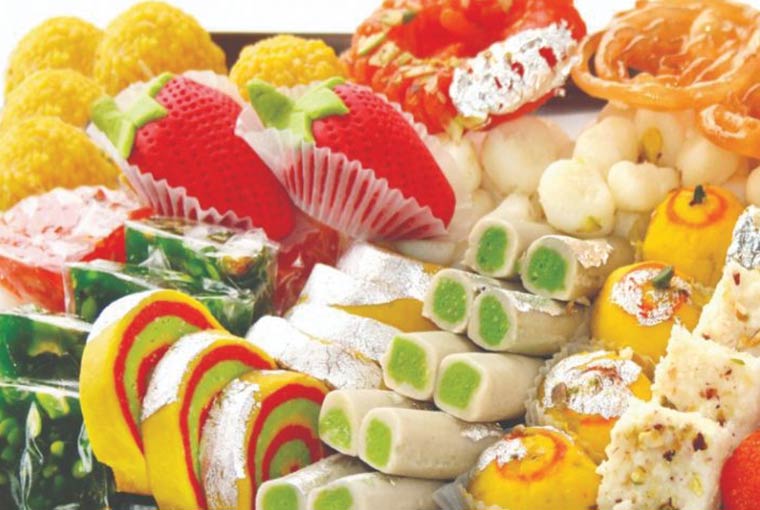 For the lovers of sweets and desserts, this game can be really interesting! You can see who would be a Mithai Master and challenge your guests to eat a plate or bowl full of sweets within a given time. The winner will be the one who would be able to finish the first. It is not only unique but also an unforgettable game!
Visit Also:-Wedding Venues in Greater Noida
Freeze Frame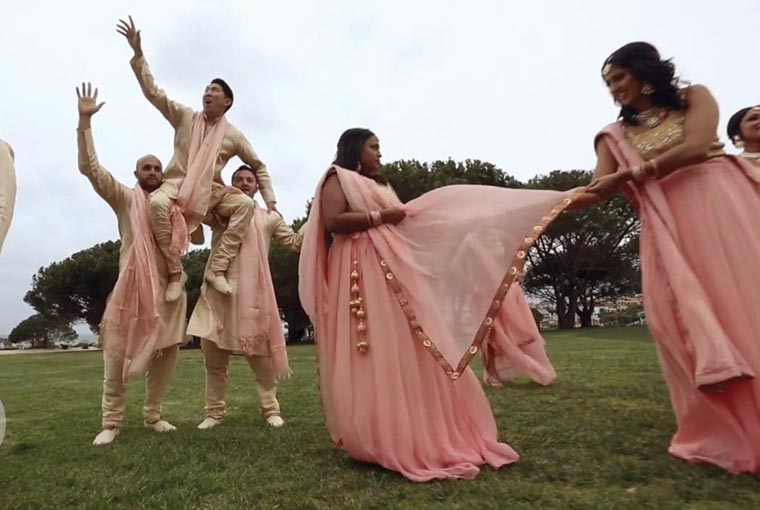 This is an incredible game as with a fit of laughter! We have also played this game in childhood where we dance on the music and freeze when it stops. The host of the game will try to make the stilled guests and the ones who are unable to control will get disqualified and the game continues till the last person.
Saree tying competition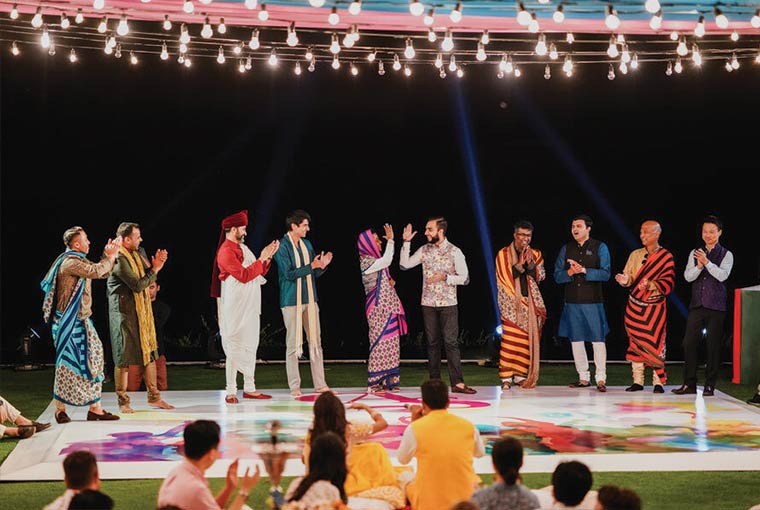 This game is for all the men present in the crowd. Trust us, it is laughing riot when you will see so many funny and unique ways of tying a saree! They will be trying hard with the little knowledge they got about sarees which will surely make everyone go crazy!
How about a Giant Jenga?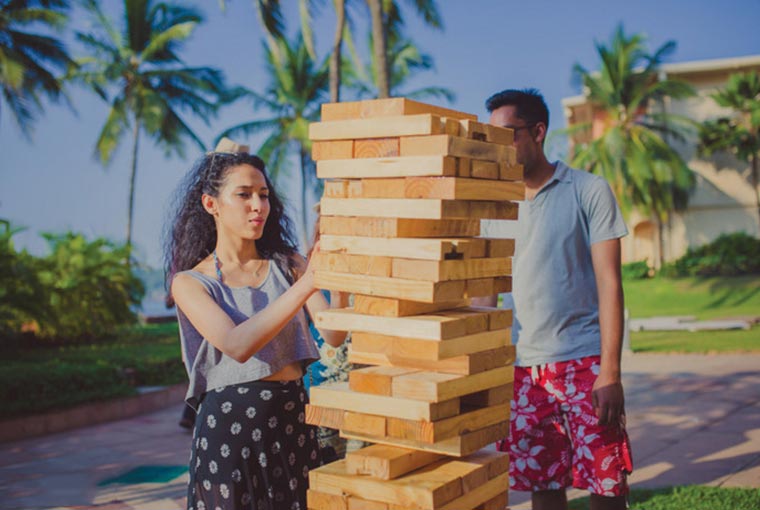 Jenga is an addictive block game that will make sure your guests have a gala time! You can have small ones on the tables or the gigantic ones to add fun to the celebration. This game is a hit if you are having your function in a lawn setting. Jenga has been so much these days, especially in wedding scenes. You can also get a couple's names or their hashtags engraved onto the blocks to add a touch of personalization to it.
Beer Pong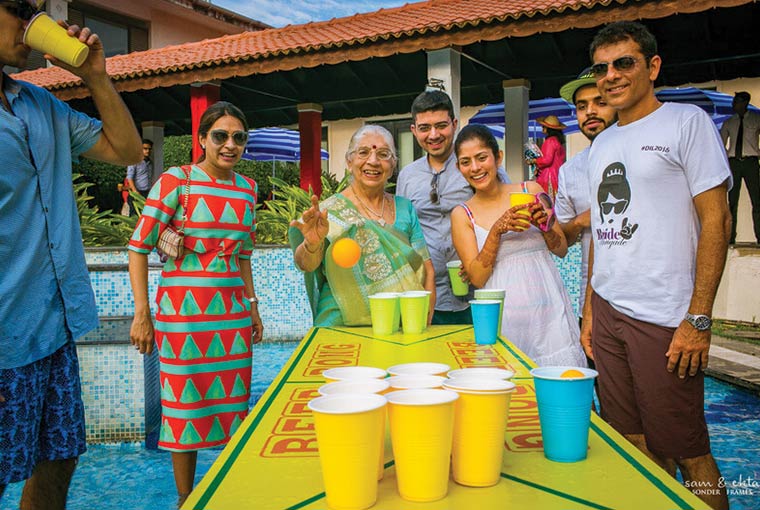 Again, a most loved wedding game! It is a highly incorporated one at the wedding celebration these days. This can be a part of your pool party or beach party or even sundowners and after-parties. It is the most famous and a must include at your wedding soirees. It's really one of those hyped drinking games that will surely become an essential element of any wedding.
Shoe Game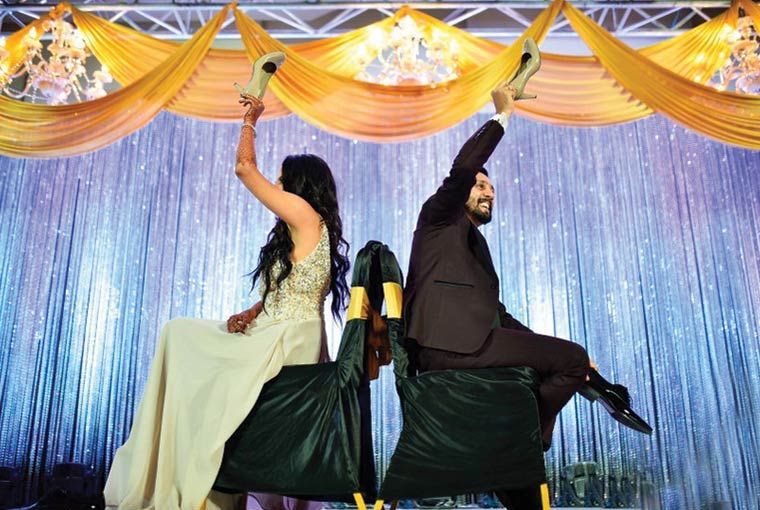 Shoe Game is taking on Indian Weddings at a very fast pace! It is a highly popular interactive wedding game which is super fun and adorable to play. This game is for the bride and groom play but at the same time it's equally joyous and a laughter riot for all the guests present in the crowd. In this game, the couple sits back-to-back with their shoe in one hand and their partner's shoe in the other. This game involves questions about the couple's relationship to which the couple has to reply by raising the shoe for who matches those statements the most. This game also includes some 'spilling of the beans' which makes the game even more exciting and as much fun as possible for the guests.
Limbo

Limbo is a fun, classic dance game which is quite new to the Indian Wedding scenario. But, it's a perfect Indian wedding game for the reception or sangeet night where all your guests can try going under that stick. Also somehow, this game gets more fun when your guests a few drinks down!
Tug of War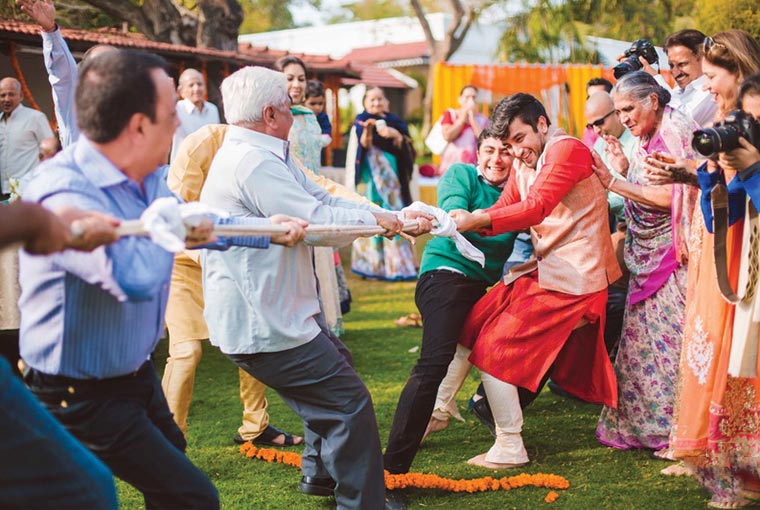 This game is also a competitive activity between the bride squad and the groom squad. Tug-of-war is one of the best Indian wedding games which will surely have a heavy dose of gun and laughter. We used to love this game as kids and played it with all the enthusiasm and we're sure you're going to love playing that at weddings too! You can also add so gifts for the winning team to make it more interesting.
Kite flying competition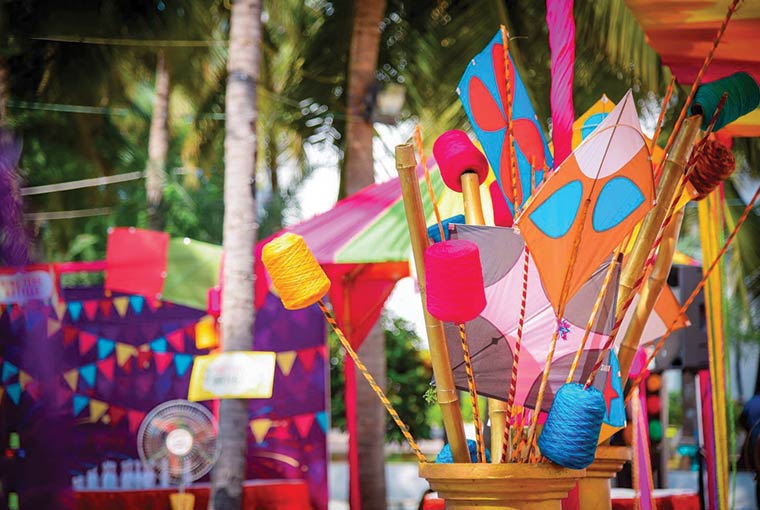 We have always loved kite flying since childhood! It is not only fun and but it can be enjoyed by the adults and kids alike. This can be played in teams and it can also be racing against each other trying to cut the other's kites as it's always fun! You can also create your own personalised kites for your wedding and go for it for Haldi and mehndi ceremonies.
Ring Toss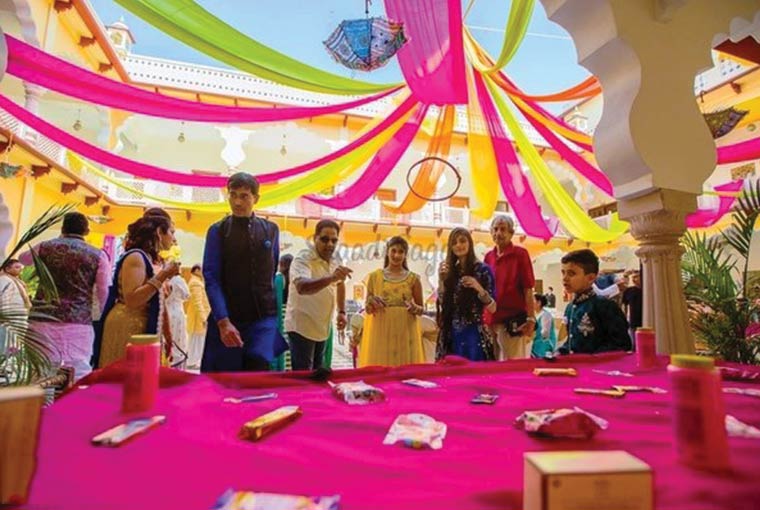 We have always played this game at various melas or fairs on our childhood. You can also arrange this game and even include prizes to be won along with. You can keep a lot of prizes on the table and let your guests toss those rings to get their favourite gifts. Adding some cutesy stuff and toys for the kids as well to make it fun for the kids present at the function. You can infuse this game with wedding favours too and let your guests win their favours.
Name that Song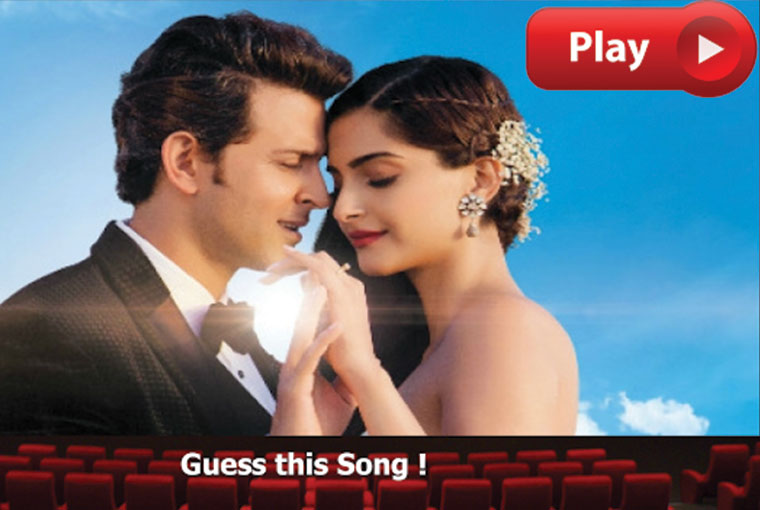 Guessing games are always fun. It can be played between the groom and bride's side. You can tell your DJ to play some tunes of famous tracks and whichever team makes the most number of guesses, wins! You further elevate the fun factor of the game by incorporating the hook steps of those songs.
Identify your bride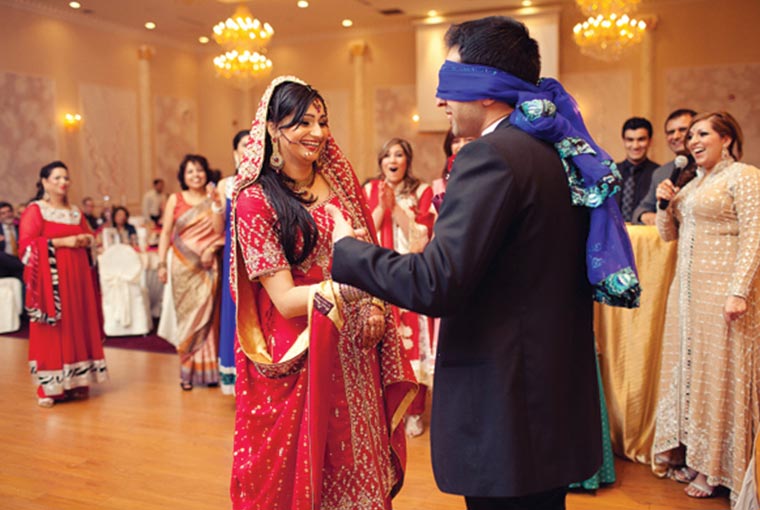 This game is a total treat for everybody else to watch, but it is basically a fun test for the groom. In this game, the groom is blindfolded and you have to identify your bride touching the hands. There will be 6 to 7 girls and you have to identify amongst them!
Musical Chairs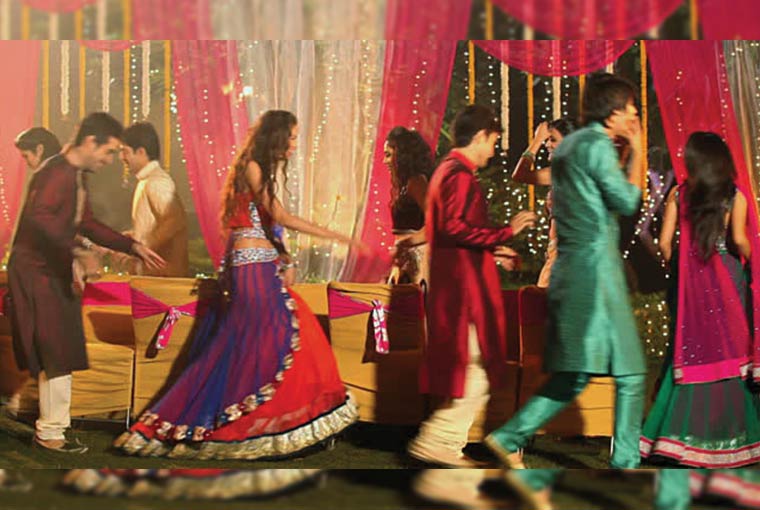 Musical chairs is an age-old game and trust us never gets out of style and this game is all fun. You can make it extremely entertaining by adding some exciting gifts that will truly wow your guests and add that competitive spirit which will compel them to want to win!
Guess The Ingredient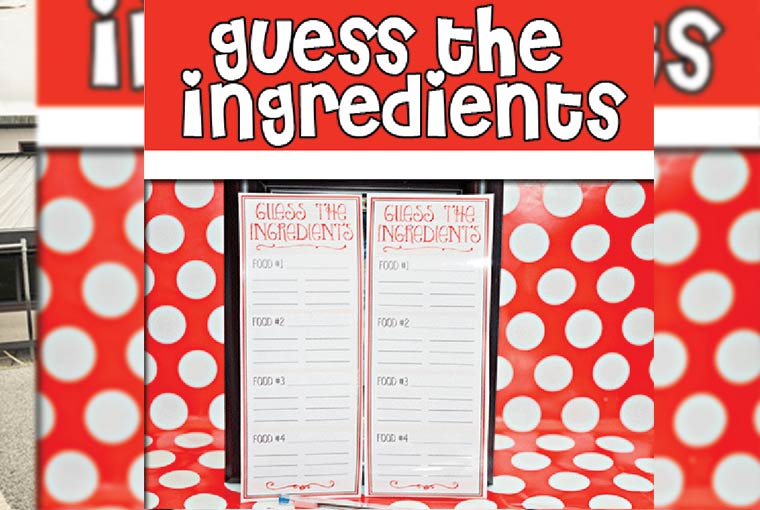 This is a fun game for all the foodies present in your function. You can call out all the guests and invite them to play this game! All you need to do is make the person sit, taste and guess the ingredients of the dish within a minute. Don't forget to blindfold the person tasting the dish, as this will make this game all the more amazing and fun!
Hopscotch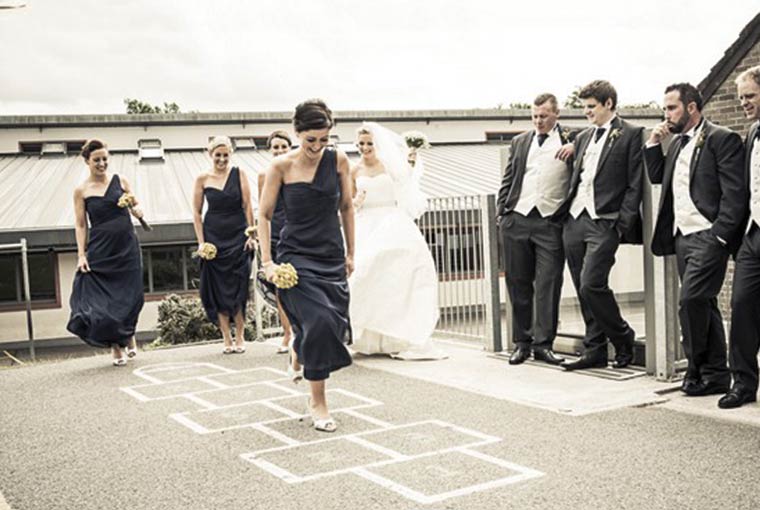 Hopscotch is one of the most loved games of our childhood! Isn't it? So, why not relive those moments at your wedding? It would be an unexpected game for all your guests as they would never imagine it as a wedding game! So, you can surprise them and let all your guests relive their childhood days as a wedding celebration is all about having some memorable moments.
We hope these games will surely make your wedding a blast!
Read Also:- Wedding venues in Delhi