20 Most Fun Bridal Shower Games and Activities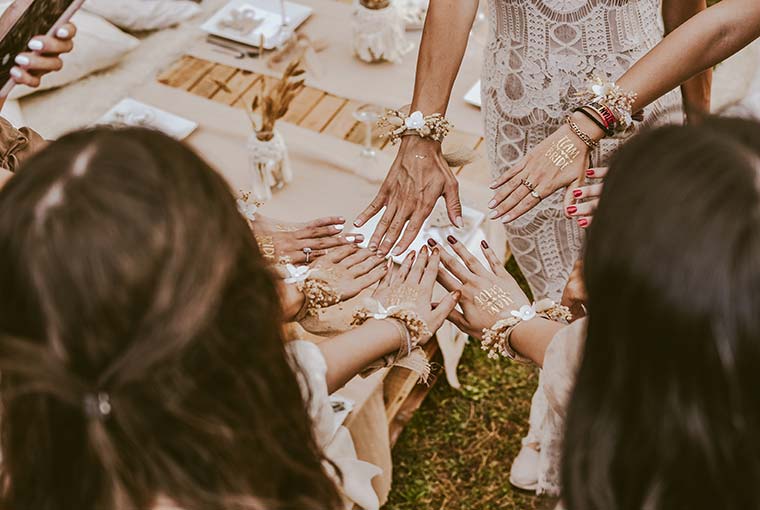 Getting married is one of the most important things in a girl's life and they want to celebrate it in the most amazing way and before the wedding madness begins they also want to have a rocking bridal shower. This pre-wedding celebration is all about celebrating her one rocking night before tying the knot. Even her bridesmaids want to make it memorable while ushering her into soon-to-be-married life. Such a happy occasion can be celebrated with a few fun bridal shower games and activities. Going for games and activities that your attendees will actually be excited about will only be done if you follow the following creative ideas.
When it comes to games for a bridal shower, we've got tons of great suggestions for you, from icebreakers to competitions that are bound to get everyone involved and be a part of the celebration. This includes a silly remake of "Pin the Tail on the Donkey" ("Pin the Veil on the Bride") and a semi-embarrassing round of "True or False" that'll bring out the giggles after a few mimosas. If your bride doesn't like games, don't sweat it. Skip them in favour of activities. We've got recommendations for any bridal shower theme, be it food-inspired, spa-inspired, or something else altogether.
Read through for creative bridal shower games and activities that you can play or participate in with your attendees, no matter your goal as a hostess. They may range from hilarious to helpful for the lady of honour, but they're all definitively entertaining.
Certainly, here are 20 more bridal shower games and activities that are actually fun:
"Wedding Pictionary" Game: Have guests draw and guess wedding-themed words and phrases.
"Ring Toss" Game: Set up a ring toss game using faux engagement rings and champagne glasses.
"Couples Trivia" Game: Test guests' knowledge of famous couples from movies, TV shows, and pop culture.
"Love Song Lyrics" Game: Play a few lines of a love song and have guests guess the title and artist.
"Wedding Jeopardy" Game: Create a Jeopardy board with categories like "Wedding Traditions" and "Famous Wedding Movies."
"Bridal Karaoke" Activity: Set up a karaoke machine and have guests sing their favorite love songs.
"Scavenger Hunt" Game: Create a scavenger hunt with clues leading guests to wedding-themed items hidden around the house or venue.
"Wedding Vows" Activity: Have guests write funny or heartfelt wedding vows for the bride and groom.
"Wedding Cocktail Contest" Activity: Set up a bar and have guests create and name their own signature cocktails.
"Bridal Bag Toss" Game: Set up a beanbag toss game using a bridal gown cutout and bridal-themed beanbags.
"Memory Game" about the Couple: Create a memory game with pictures of the couple throughout their relationship.
"Ring Hunt" Game: Hide faux engagement rings around the venue and have guests try to find them.
"Wedding Word Scramble" Game: Create a list of wedding-related words and scramble the letters for guests to unscramble.
"Decorating Cookies" Activity: Provide cookies and decorating supplies for guests to create wedding-themed cookies.
"Wedding Movie Trivia" Game: Test guests' knowledge of famous wedding movies like "Bridesmaids" and "The Wedding Singer."
"Wedding Dress Up" Activity: Provide fun accessories and dresses for guests to dress up as brides.
"Love Letter Writing" Activity: Have guests write love letters to the bride and groom, which can be collected and presented to the couple.
"Guess the Bride's Age" Game: Have guests guess the age of the bride in pictures from different stages of her life.
"Wedding Bingo" Game: Create bingo cards with items like "wedding cake" and "first dance," and have guests mark off items as they occur during the shower.
"Wedding Advice Mad Libs" Game: Have guests fill in a Mad Libs-style story with their best wedding advice.
We hope this will help you to have a rocking bridal shower!