A fool-proof guide to plan your Monsoon Wedding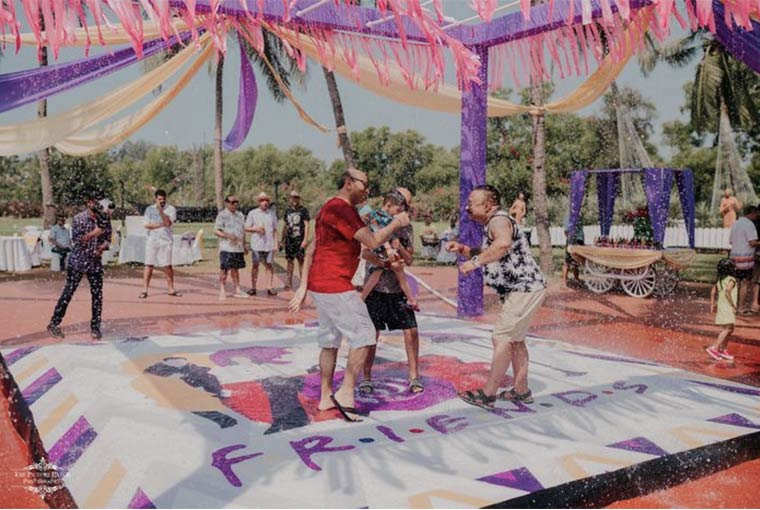 All the couple usually dream of a Bollywood style wedding and monsoon add that touch to it effortlessly. People love the idea of the lead couple being soaked and it makes for the most romantic scene ever. It may sound fun but the reality may not be fun as it sounds. The humidity mess with your hair and the water logging in the streets may ruin the fairy tale wedding you planned. Though, monsoon weddings can be fun too, as long as you are ready for it. It can prove to be better than summer weddings as the weather is cooler, the greenery is lush and you can make it the most fun wedding your guests will witness.
So if you are also planning a monsoon wedding this year, here are the most essential things to keep in mind while doing it!
Add rain dance to one of the pre-wedding functions
If you can't compete with the rains during the monsoons then why not make it a part of the celebration. The best way to do this is by planning the events with rain. There would be nothing more fun than accepting the rains and having fun with it during one of your pre-wedding functions. You can first check the weather and plan a pool party or a fun outdoor Haldi-Holi event that all your guests will love to be a part of!
Be smart with the fabrics you chose for your outfits
Even though you are not a fan of getting drenched, then also be wise with the fabrics you chose for all the functions' outfits. We would advise you to ditch heavy lehengas that may be difficult to handle while walking towards your car to the venue. You can choose fabrics such as organza, georgette, chiffon, crepe or synthetic fabrics for your outfits. You also need to avoid any see-through fabrics if you are planning a rain dance event!
Inform your guests about your plans
You have to be clear about the plans of the function. You need to mention it clearly on the invite if you are planning a rain dance as some of your guests may not like getting drenched in their outfits. If they are aware of it beforehand then you expect your guests to be dressed right for the function.
Opt for Waterproof Cosmetics
This is very crucial. Ask your MUA to use waterproof cosmetics and splash some water to check if the makeup stays on or not. This will help you check with your makeup can withstand the humidity of the day. Also, if you have frizzy hair, check with your hairstylist on how you can tame them in the humidity.
Choose a monsoon friendly menu
For monsoons, chai-pakoras are always a fun option. You may have to ditch salads and sushi in the monsoon. It's advisable to take raw vegetables or salads off your monsoon wedding menu. You should also add piping hot desserts to your menu instead for that warm welcome that is also suitable for the weather.
Go for comfortable footwear
The wet season can make the floor slippery and the mud wet makes it uncomfortable to walk. It is advised to pick footwear that will give you a solid footing while you walk rather than you slipping. If you are comfortable with flats then before getting them to check the sole for the grooves to create some friction. If you want heels, pick kitten heels or wedges instead of pointy stilettos which may make it really difficult for you to walk.
We hope this will help you plan the wedding of your dreams in the monsoon!
Visit Also :- Wedding Hall