Choosing the Perfect Karwa Chauth Outfit: Fashion Tips for Brides
Among many other festivals, Karwachauth is a significant event in India among newly wed couples. The tradition behind this festival revolves mainly around fasting, where a married woman fasts from sunrise until moonrise for their husbands good health and longevity. This particular festival is full of culture, love, rituals and endless blessings. However, from many years Karwachauth is also a prominent festival that involves beautiful clothing. Women start shopping in advance to find the right karwachauth outfit ideas. With vibrant and beautiful colours, there is no compromise on how beautiful you can look on this particular day. This blog will outline the most crucial fashion advice for brides to look their best and most gorgeous on this auspicious day.
1. Finding the Right Balance between Traditional and Contemporary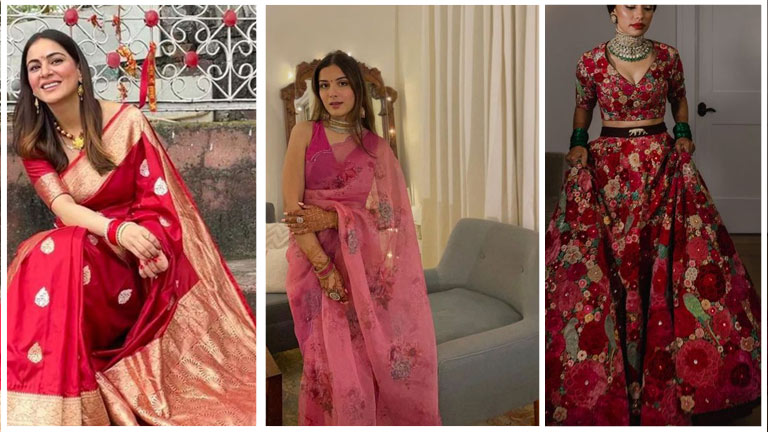 When you are selecting the ideal Karwa Chauth attire, it is important to determine whether you want to go for a traditional appearance or a more modern design. Sarees, lehengas and anarkalis are always a safe bet because they elegantly display Indian culture and can easily be matched with Indian jewellery and accessories. Although, many brides are experimenting with modern alternatives such as fusion wear, gowns, and even saree dresses by following the latest trends. Although, if you are looking for the most appropriate and elegant outfit, the karwachauth look in a saree is unbeatable and it is considered to be the most graceful out of all.
2. Choose Lively and Vibrant Colours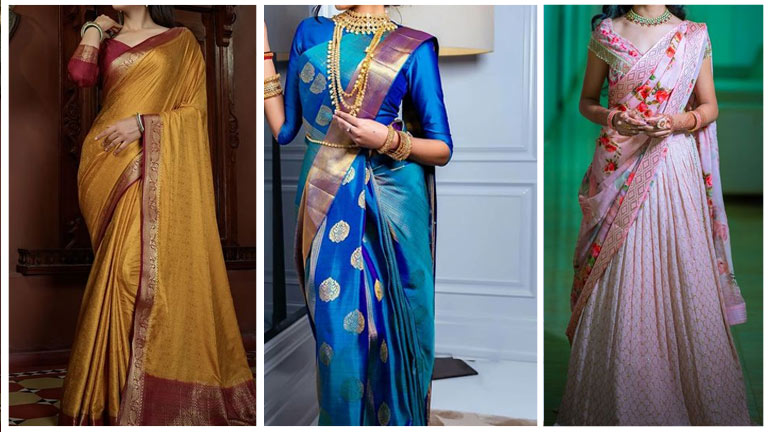 Karwa Chauth is a vivacious festival and your attire should reflect that vibrancy. Crimson, maroon, pink, and orange are traditional colours for this occasion since they stand for love and prosperity. Pastel colours, deep blues, and even unusual hues like mustard and green can also be worn in modern ensembles. The shade should complement not just your own tastes but also your complexion and the occasion's theme. Most ladies still opt to wear various hues of red because they think it most accurately captures the spirit of the celebration. It is also the ideal colour for karwachauth look for newly married women.
3. Fabric is Essential for Comfort and Elegance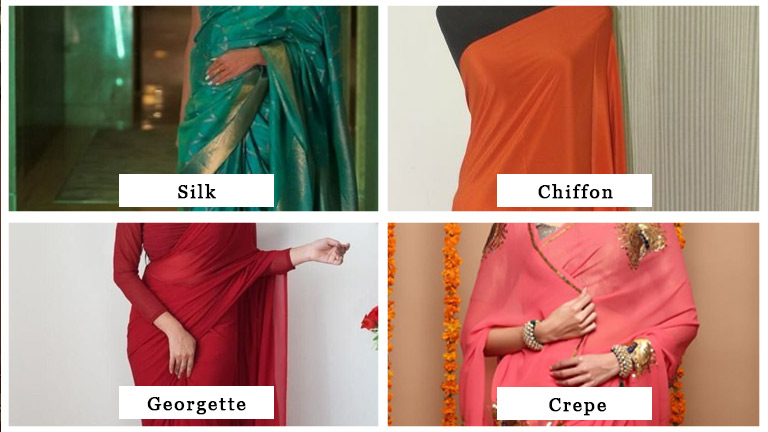 When choosing a Karwa Chauth attire, it is essential to think about the fabric's quality. Comfort is crucial because you'll be fasting and engaging in several rituals during the day. Silk, georgette, chiffon, and crepe are examples of light and plush materials. Winter Karwa Chauth celebrations may call for warmer fabrics like velvet or brocade.
4. Embrace Embellishments and Embroidery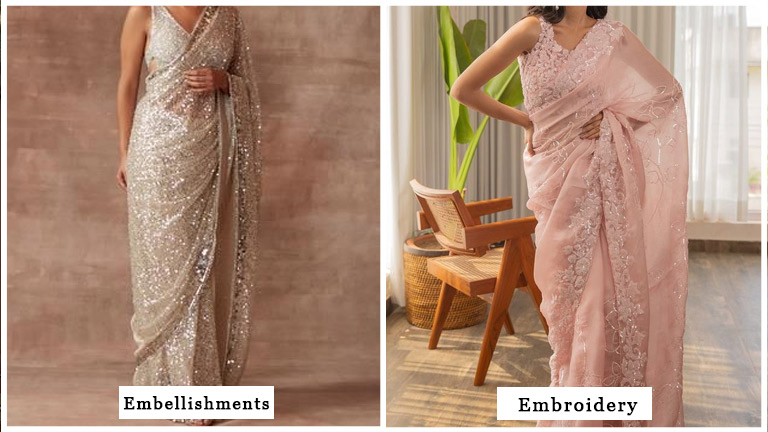 Indian outfits are mostly about exquisite details such as intricate embroidery, embellishments and ornamentation. Whether you go for a traditional outfit or modern ensemble, it is curcial to look at the details as that will stand out from the rest. As much as people go for sequins, gota patti or something more beautiful like zari work and thread work, women have also started paying attention to the comfort of the attire. Since you will be in this outfit all day performing rituals, it is imperative to select an outfit that will be light and comfortable.
5. Less is More When it Comes to Accessories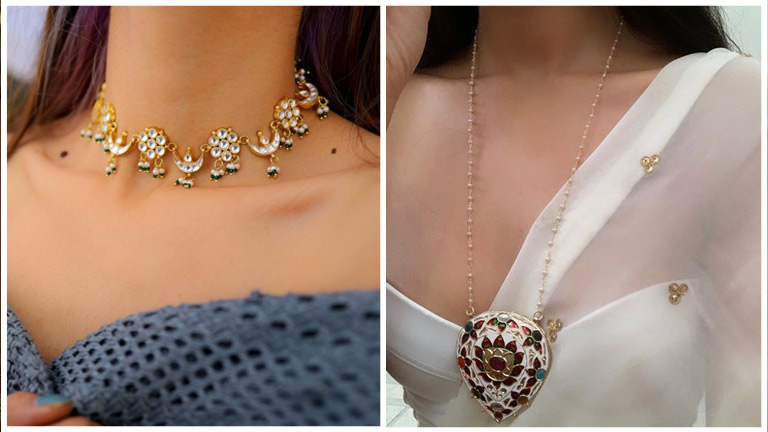 When it comes to looking elegant, our motto is that less is more. A great deal of women choose colourful jewellery that adds brightness without dominating the appearance. Your jewellery and accessories should instantly enhance and match your outfit. Women who want to opt for more traditional choices usually go for kundan, polki and meenakari sets. While those who go for contemporary options could include elegant, minimalist jewellery. The best advice in this case is that when it comes to accessorising, less is usually more. Some ladies choose to wear fewer accessories to keep themselves airy and light. A few well-chosen accents may elevate your look without being unduly flashy.
6. Using Dupatta Draping to Enhance your Appearance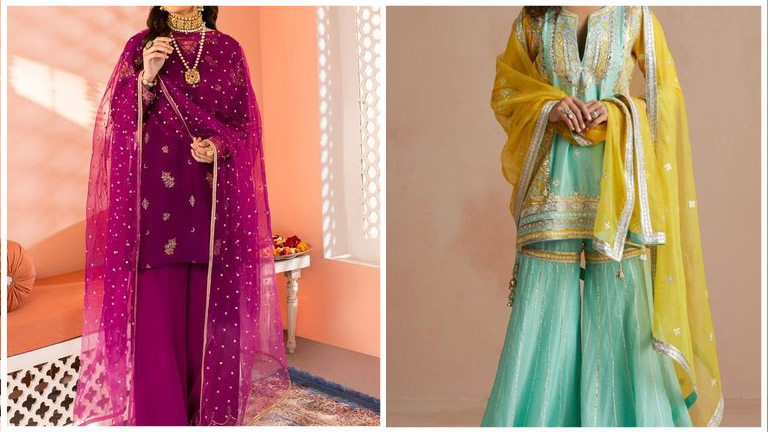 With the ongoing trends, we can see that there are numerous ways to style a dupatta and it can essentially be worn with any kind of outfit, as long as you know how to style it well. Regardless of the outfit you choose, many women like to accessorise with one to add some pizzazz to their overall look. classic clothing like sarees and lehengas can be worn with the dupatta in a number of styles, from the classic over-the-head style to the modern one-shoulder drape. Choose clothing with pre-draped dupattas for more ease or experiment with different ways to wear the dupatta with contemporary clothing.
7. Comfy and Fashionable Footwear
You'll spend a lot of the day on your feet depending on your schedule, so the footwear you choose is key. Comfort should come first, so choose shoes that you can stand to wear for several hours. Since they give height and elegance, heels are a popular choice but make sure they are not too high. Block heels or wedges can offer the ideal balance of fashion and comfort.
8. Be Prepared and at Ease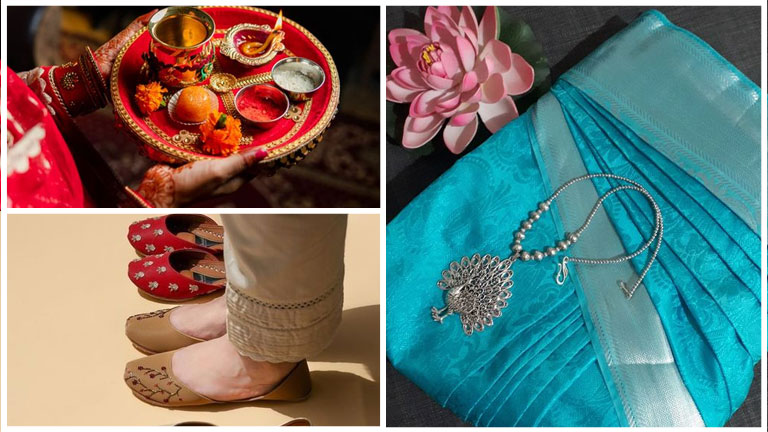 Do not forget to prepare your wardrobe in advance and plan all the accessories along with the outfit ahead of time. Make sure you have all the required accessories and cosmetics. Given the fact that you will be fasting and engaging in a range of activities throughout the day, it is essential that you feel comfortable in your clothing. The key to comfortably enjoying karwachauth is to wear clothing that fits you well and allows you to move around comfortably.
From the pointers given above, we can conclude that karwachauth is an unforgettable occasion for new brides and married women. Picking the ideal attire is a vital aspect of the celebration that most of us look forward to. Make sure that your outfit reflects your unique style and level of comfort, whether you choose to go for a traditional style or experiment with more modern looks. Pay close attention to details like colour, fabric, accessories, and customization to create a gorgeous, unforgettable appearance for this auspicious day. You'll be ready to celebrate Karwa Chauth in style and elegance by giving regard to this fashion advice, and you'll be able to make priceless memories with your loved ones.