Har Din Shubh Hai- A beautiful initiative by the Wedding Industry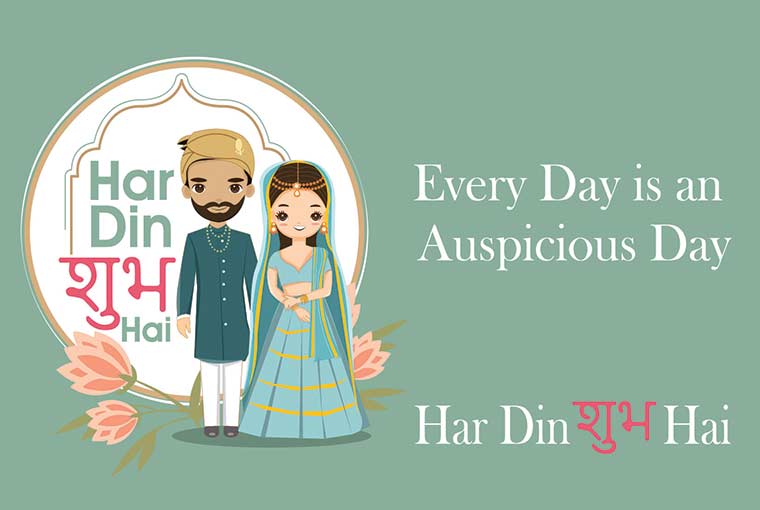 Being an Indian, we have always believed that 'Marriages Are Made in Heaven' and for that, we rely upon an auspicious date to get married. But now, the time has changed, people have gotten more practical and are now relying upon a date which is more feasible. We have heard about people getting married on saya dates which are also noted as heavy dates as well. People usually run after such dates as they consider them to be auspicious for a happy married life.
But this year 2020 itself has put a halt on celebrations and above all, there are fewer saya dates in the winter wedding season. Therefore, the whole wedding industry came together to break the notion of getting married on saya dates.
The term itself 'Har Din Shubh Hai' was the idea of FNP's MD and Founder and Mr Vikaas Gutgutia. He was part of some webinar with Touchwood group when this campaign was discussed amongst the pioneers with the industry. Also, FNP Gardens, an initiative by Ferns N Petals initiated this campaign first on their social media. The marketing team at FNP Gardens also played a huge role in popularising the campaign.
The whole wedding industry celebrated the Har Din Shubh Hai campaign together through a webinar with various big names of wedding and Hotel industry on board. Everyone came together to talk about the importance of Every day is an Auspicious Day. Even various gurus and Mahagurus supported the idea and talked about the idea. They built in the confidence by saying that the dates of the weddings don't affect the success of a marriage which means relying on saya dates is just thought that needs to be passé.
The key highlight of this webinar the mega launch of Har Din Shubh Hai anthem sung by the none other than Shankar Mahadevan and composed by Ashish Chhabra. The song was a peppy number that totally made the whole wedding industry groove with it.