How to add a personalised touch to your wedding attires?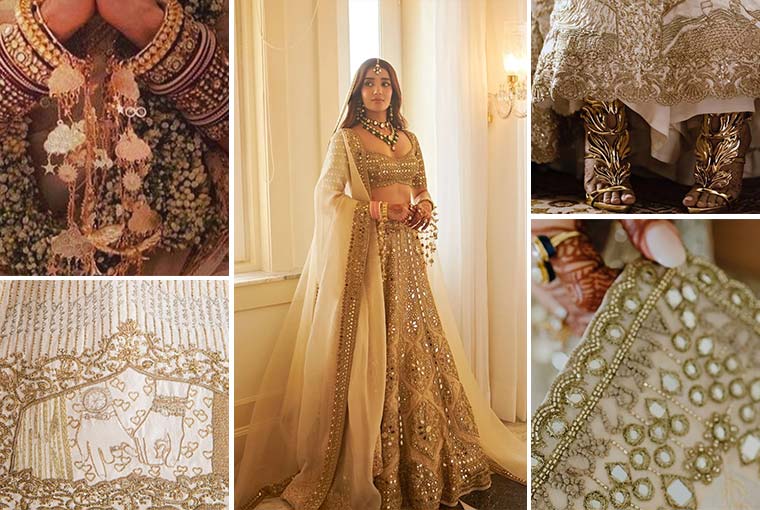 Every bride-to-be dreams of looking like a million dollar on their wedding day and besides that they want to add something unique to their look to make it even more memorable. We are in love with the brides who showcase their creative side and take things a step further- personalising the bridal lehenga or other attires. Such are the new ideas on the block, and nowadays we are seeing more and more brides who are all for it! If you are also thinking of doing something along the same lines then here are some of the coolest and most innovative ways to personalise their outfits- so if you're looking for inspiration to make your attire special, here it is!
Personalised Kaleere
If you don't want to do something unique with your outfit then you can give a personalised touch to your kaleeras… You must have witnessed a lot of celebrity brides have been getting their kaleere customised, and here are some ideas on how to do it!
Kiara's love story kaleeras were a total love!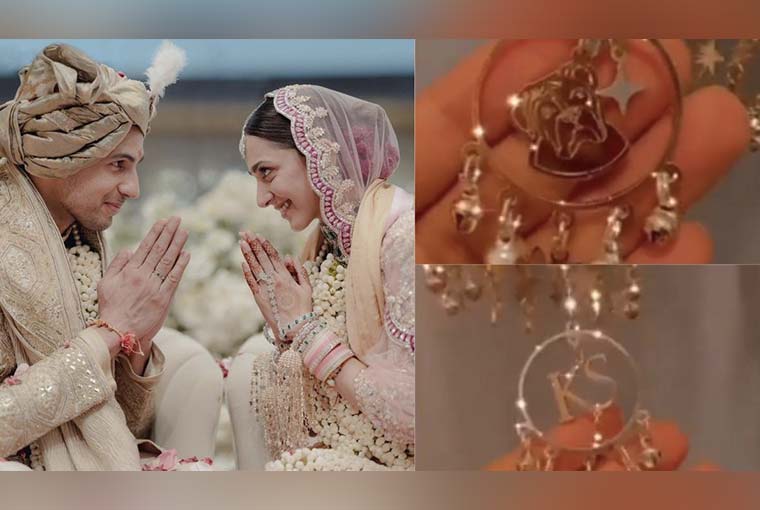 Actress Kiara Advani recently tied the knot and left us all in awe of their super-dreamy wedding and her kaleeras are no less… Amidst stars, moon, couple initials & butterflies, there was also a thoughtful dedication to a beloved pet, a favourite travel destination, a little love and mischief.
Athiya's bespoke Eternity Vows Kaleere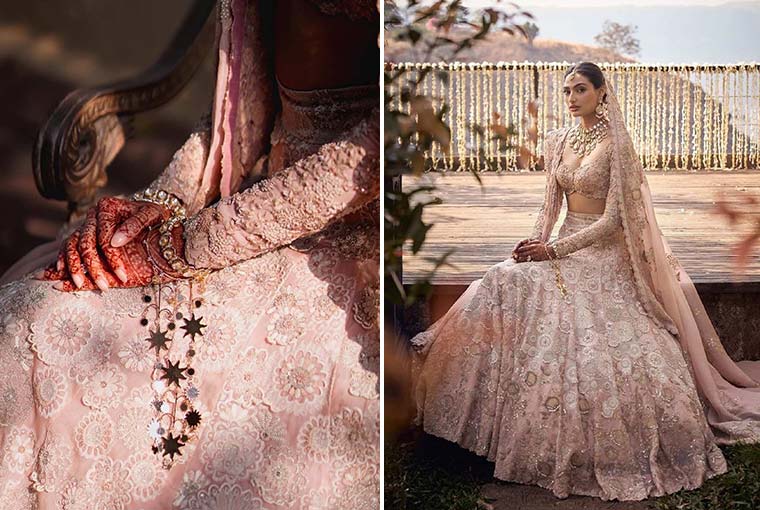 Athiya Shetty opted for dainty and elegant kaleeras which were handcrafted by the veteran karigars of Jaipur and Lucknow. They had saptpadi wedding vows that are beautifully hand etched in Sanskrit on sun motifs with over 50 tiny handcrafted sunflowers dancing around the sunshine.
Arpita Mehta's personalised Bespoke frangipani flower wine Kaliras with personalised dupatta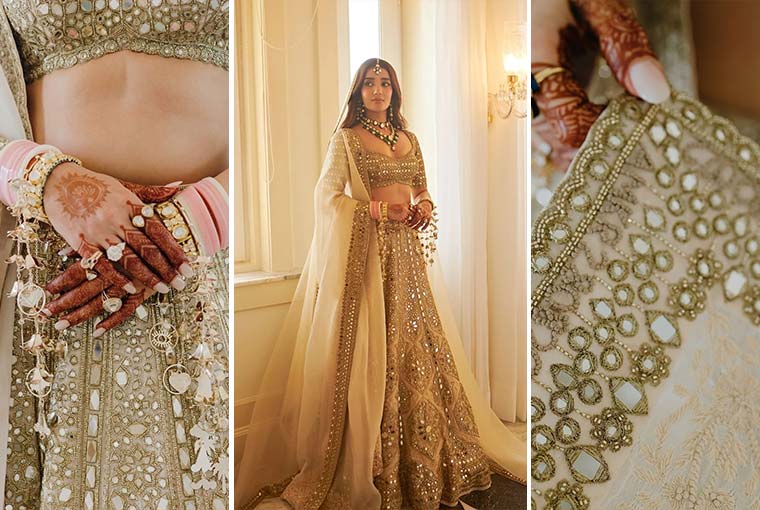 We were absolutely obsessed with Arpita Mehta's bridal look. From her bespoke frangipani flower wine kaleeras with customised love story motifs to the personalised dupatta, Arpita's bridal look was every bit dreamy!
How can we forget Alia's minimal yet dreamy kaleeras?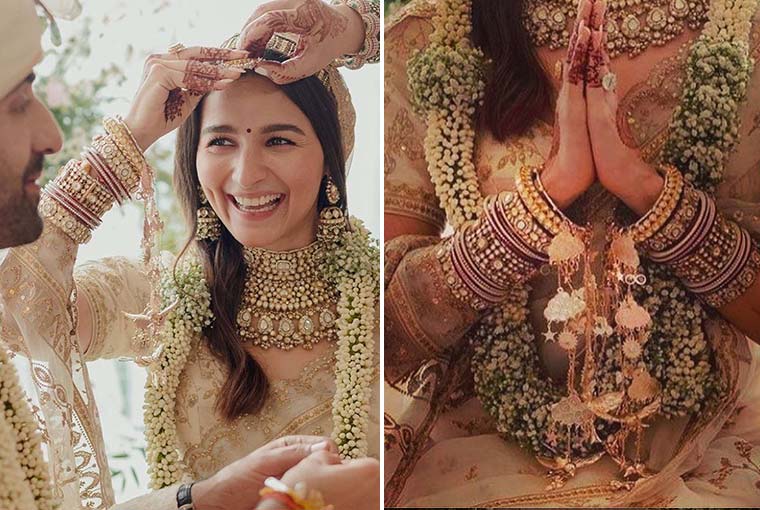 Alia's bridal look was not only a breath of fresh air, but she also introduced the trend of minimal kaleeras to all the brides to be out there! Here bespoke kaleeras consisted of clouds, waves, stars, sun, sunflowers, and doves of love.
Our favourite style diva, Sonam Kapoor also made a statement with her kaleeras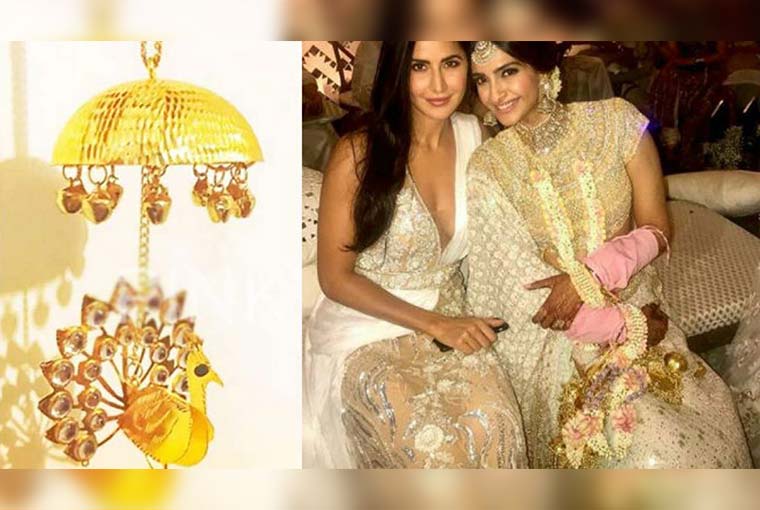 One thing that grabbed many eyeballs was Sonam Kapoor's exquisite customised kalire. Sonam wore pretty traditional and floral kaliras and along with it, she sported pretty peacock-shaped ones as well.
Personalised Outfits
Adding a personalised to your bridal lehengas and bridal outfits is also a great way to make a statement on your wedding functions and wear something that's special to you. After all, no one would have worn the same thing before, and never will!
Veils embroidered with love quotes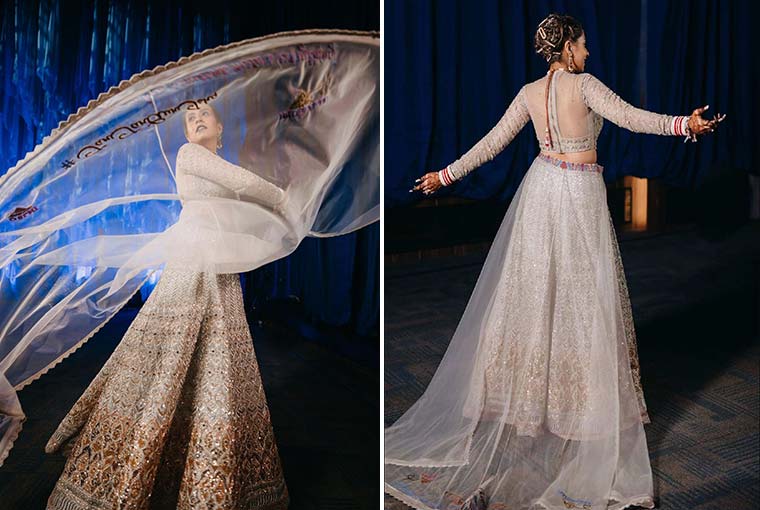 To customise your outfit and make it all kind of dreamy, you can get inspired from these brides who customised their trailing veils for their wedding and it was such a special way to do it! Here's bride Rukmini who got 'In Every Lifetime I Will Find You' on her veil, Tanishq wrote, "Distance means nothing when someone means everything" as an ode to her long-distance relationship. Aren't they stunning?
Bridal Dupattas made extra special
These brides etched their forever promised on their wedding ensembles dupatta which added a magical touch to their look!
Let's begin with the trendsetter Deepika Padukone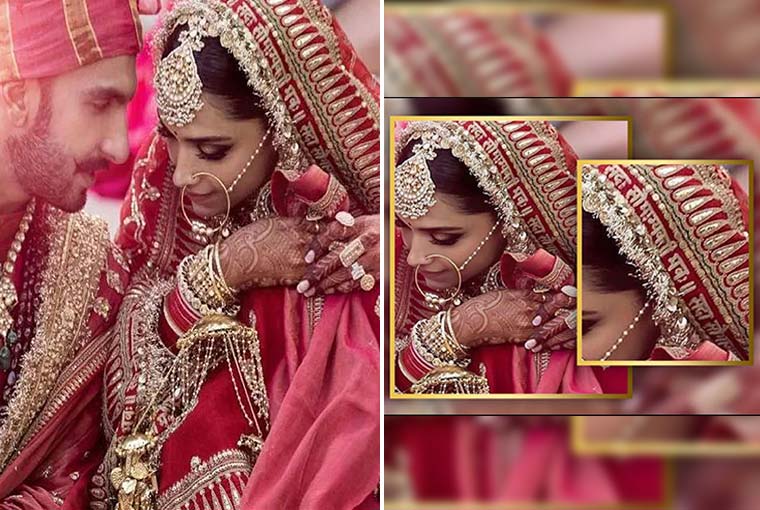 She got her bridal dupatta with a Sanskrit quote is a blessing in itself. It had the Sanskrit quote 'Sada Saubhagyavati Bhava' written in gold on the border of her dupatta. The quote is often used in Hindu households as a blessing by the elders and translates to 'May you always be lucky as a married woman'.
Couple hashtags for the win!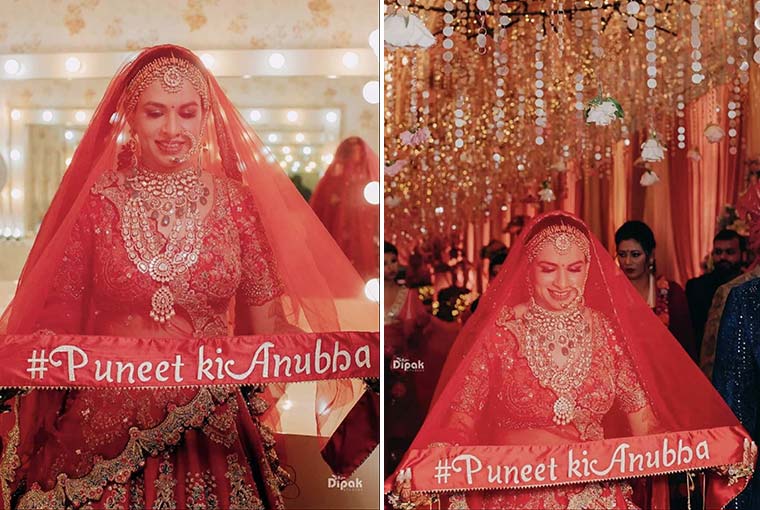 Then we have bride Anubha who got her couple hashtag written on her bridal dupatta and even got viral on social media for it…
Actress Priyanka Chopra Wore A Stunning Personalised Veil For Her Christian Wedding Ceremony!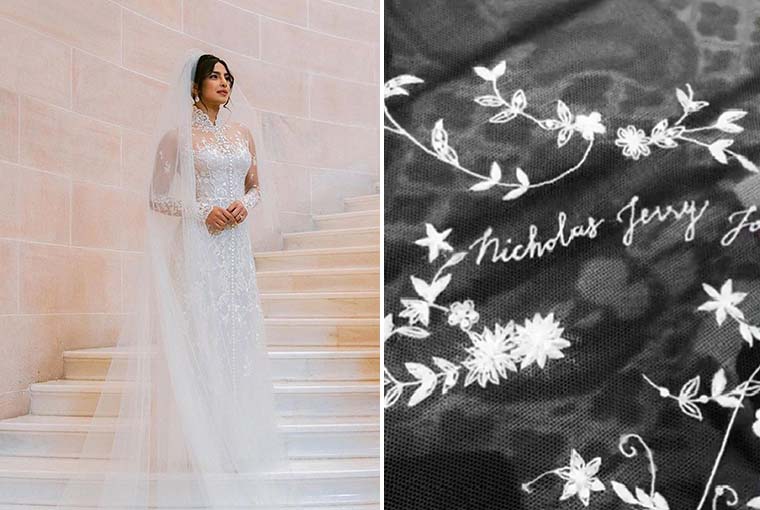 Priyanka Chopra donned the Ralph Lauren veil that was 75-foot-long and hand-stitched into the embroidery design was eight words and phrases, specially chosen by her. It included eight significant words and phrases selected by the bride, including "Family," "Hope," and the groom's name! Awwwwwwww…
Celebrity Bride Patralekha Added A Personal Message For Her Beau Rajkummar Rao In Her Veil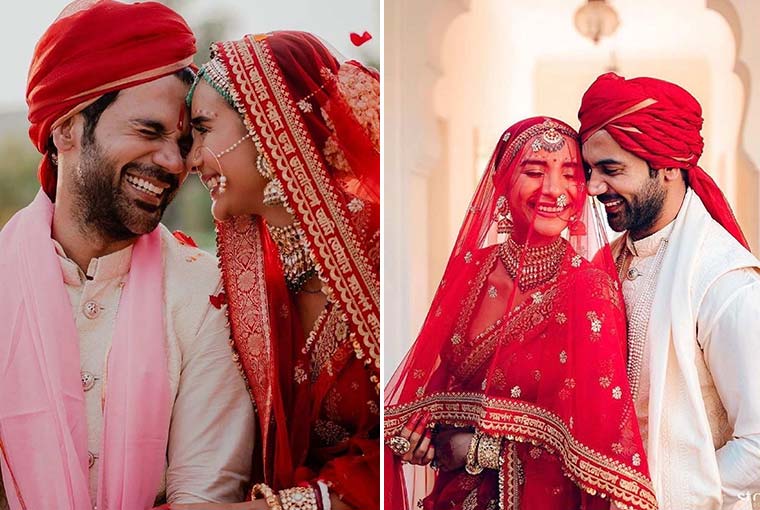 Patralekha also opted for Sabyasachi ensemble for her wedding and flaunted her embroidered veil inscribed with a Bengali verse penned by designer Sabyasachi. The verse on her dupatta read "Aamar praanbhora bhaalobaasa aami tomaye somorpan korilam," which when translated into English meant, "I am dedicating my heart full of love to you." How romantic is that?
Shloka Mehta-Ambani Had Their Entire Love Story Etched On Her Sangeet Lehenga!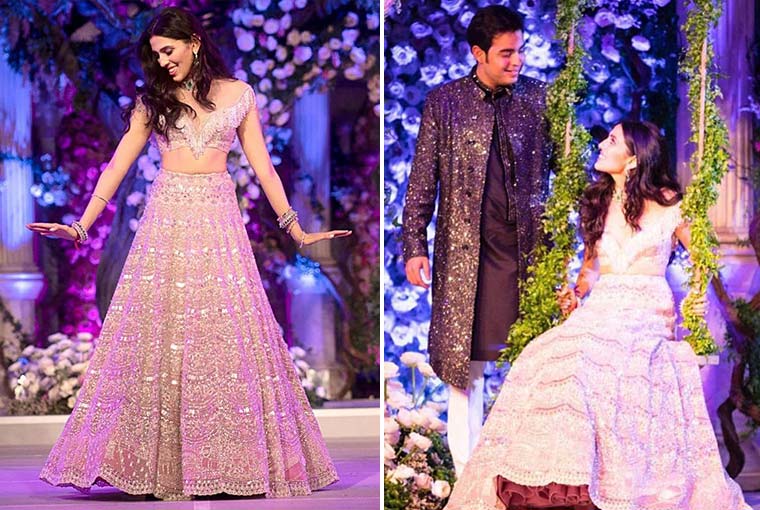 Isn't it such a beautiful gesture to commemorate your love story and make your attire even more special for your wedding celebrations?
The bride who wrote her husband's name on her haldi ceremony's saree
Bride Shruti got her husband's name embroidered on her yellow Haldi saree. She chose a bright yellow saree as the base and "karan ki dulhaniya" was written in hot pink to add a pop to the look! Isn't it cute!
And, finally! From where it all started… The famous Love Story Lehenga by Kresha Bajaj!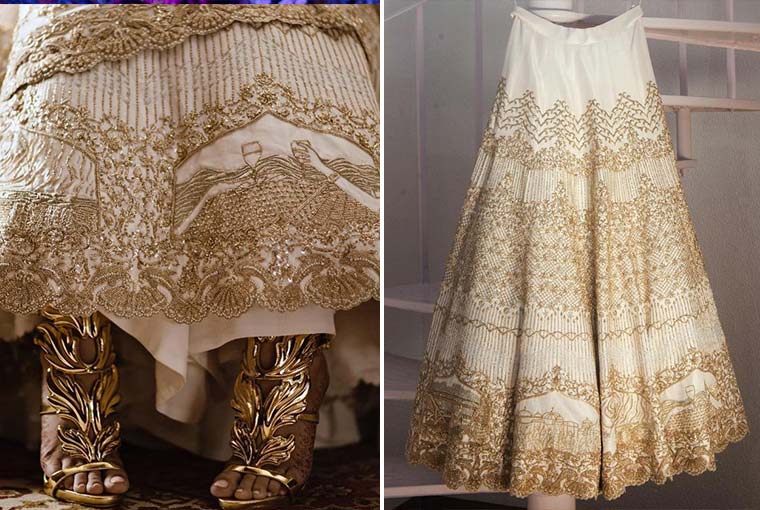 The one that started it all the bride Kresha Bajaj has her own label and she designed her own love story lehenga for her own wedding! After this, she also designed such outfits for other celeb brides such as Shloka Mehta, Samantha Prabhu and so on…
So, which one is your favourite?