How to customise your wedding invites?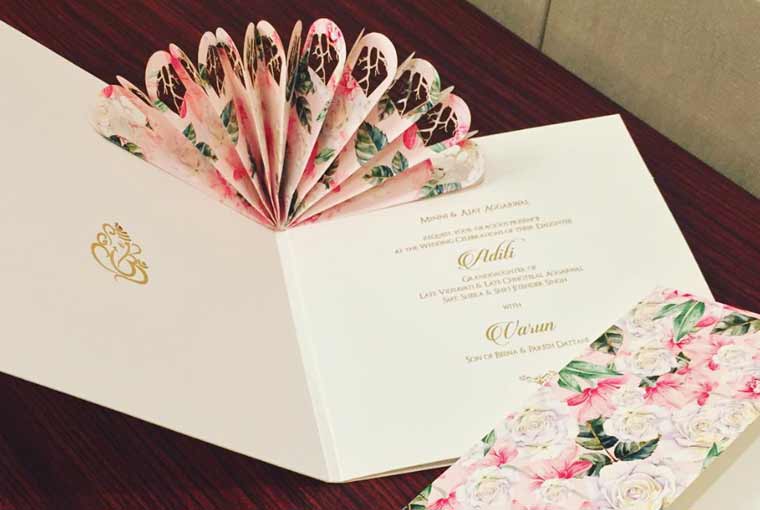 Wedding Invites hold great importance in wedding planning. They are a glimpse of your wedding even before the whole celebration started. When we talk about customising your wedding invite, it doesn't mean you have to DIY! All you need to sit with your wedding invite designer and they were the masters in this work will bring life to your vision. If you are on a creative side, then you must have a clear design in your mind regarding your wedding invite! There are chances that you didn't like the designs already available in the market and you want something custom-made for the most special day of your life! But there are certain things that you need to keep in mind before getting yourself into this!
This customising of wedding invite is not only a time-consuming process but it may affect your wedding budget as well as you won't be aware how expensive your vision is! So, here are some things that you should follow in this whole process of customizing your wedding invites…
Give thought to your vision
As we have talked before, this is a time taking process as you need to think about the vision. Just try to take some time and think how do you want your wedding invitation to look like- you want to go for soft hues, which kind of font, or do you need some embellishments or not? Do you want it to be totally modern or traditional or a mix of both? Your wedding invite should be able to convey your story so think wisely and then share it with the designer you have selected.
Do your research
The most important person that will play a major role in your wedding invites is your invite designer. Plus, they have to be really cordial with you as they have to listen to what you want and then carry out your inputs. We are all aware of the fact that people have different personalities, so make sure your designer would be able to work together. You can hunt for the right match by visiting them and doing online research or even talk to your friends or family to refer to someone!
Collect your ideas
You can create a Pinterest board or pen down some notes of all the things you want in your wedding invite. There must be some past invites too that must have impressed you! So gather all the ideas that will give inspiration for your own personalized look.
Meet the designers
You really need to meet your designers with an open mind. Firstly, you should go through their portfolios and also share your vision. You really have to connect with your designer who will be creating the invite for you! You also have to see if their style match with yours or are you liking anything from their portfolio! If this is not happening with you then don't be afraid to keep shopping around. Be realistic and don't rush the process.
Select colour, size and shape
The colours of your wedding should be depicted through all the elements of your wedding day. You have to see how you will incorporate your wedding theme colour onto your invites. You can even use more than one colour that will complement each other. Then come the size and shape of the invite. Your invite's envelope will drive the size of the invitation, therefore the design needs to fall within the chosen envelope formats which can be square, rectangular, skinny rectangular.
Set the deadlines
You should be aware of the time frame before getting started with it. So, set a realistic deadline as per your wedding date. There should be some buffer time before you start distributing your invites.
We hope these steps will help you get the desired design for your wedding invitations!
Also, read: Things To Keep In Mind Before Selecting Your Wedding Invites