How to decide your wedding day hair?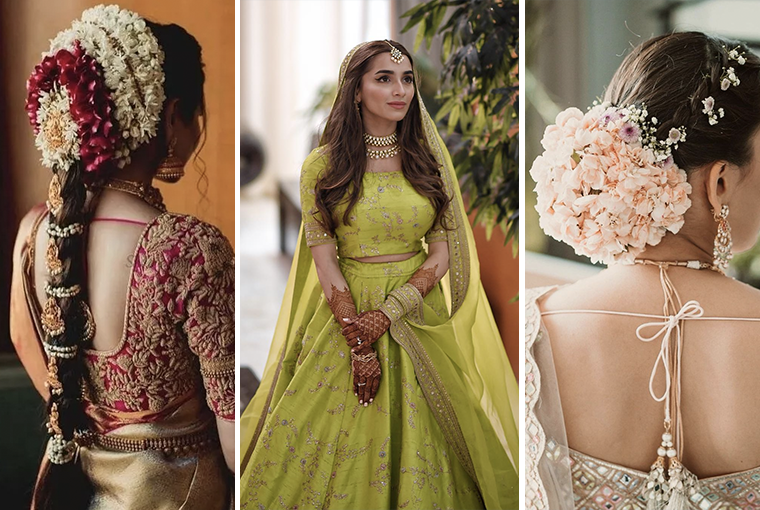 While getting started with wedding planning, you need to keep in mind that the whole process is a sea of making decisions. You even have to think about even the minutest details you'll need to make along the way, even what should be your wedding hairstyle? Should you go for open hair or a bun? What kind of flowers or accessories you would require for the hair? There are chances that you must be coming across hair and makeup inspiration, on social media which is making you more confused. Wherever you stand in the decision-making process, here's a little help from our side that will help you choose the perfect wedding day hairstyle. After narrowing down the perfect look, you can discuss with your professional hairstylist to bring your vision to life for your functions.
Begin with coordinating outfits as well as your wedding style
This is a good way to start… You must have done so much of planning which will also help you decide on the hairstyle as well! Your wedding lehenga, the venue as well as the theme of your wedding can influence the type of hairstyle. If you have a day wedding in winter on an open lawn then you can go hair in loose, natural curls that will complement the ambience of your wedding. To take a traditional path but still want to for something different than a bun you can go for traditional braids too. Don't forget to consider your outfit while selecting the hair.
Look for inspirations
Looking for a perfect hairdo can be difficult therefore you should spend a good amount of time on Pinterest as well as Instagram to find some good inspirations. Also, check out the celeb inspiration to see their stunning hairstyles on their wedding day. If you have a go-to hairstylist, then you should consult them too to get the perfect look.
Don't forget to show off your shine
You must concentrate on having shiny hair too at your wedding functions and this should also be shown off in your hairstyles as well. Having shiny hair at your wedding looks really good in the pictures as well. Brides who have naturally sleek tresses that straight tend to look glossier by nature, so showing off its texture is a must with your style. Keep in mind that any fly away from dry air or static will automatically ruin the effect, so combat this dilemma by praying your tresses with anti-static spray. On the other hand, curly hair is prone to brittleness and dullness, therefore you need to add some texture to your hairstyle, whether you decide on loose curls with braids or a slightly messy updo. Also, don't forget to massage moisturizing conditioner into your tresses before styling and use a shining serum to add gloss and keep frizz at bay.
Give attention to the length or consider extensions
You should put in the effort to get what you want for your wedding even if it means you need to get some extensions to achieve the look that looks. If you want to work with what you've got, then you can go for some romantic, sophisticated and glam options for short-haired brides. Those with longer locks will obviously have more options, whether it's an updo or even showing off your length by wearing your hair down.
We hope this will help you get the perfect wedding day hair!
Read Also :-Banquet halls in Gurgaon