How to get married in CORONAVIRUS pandemic?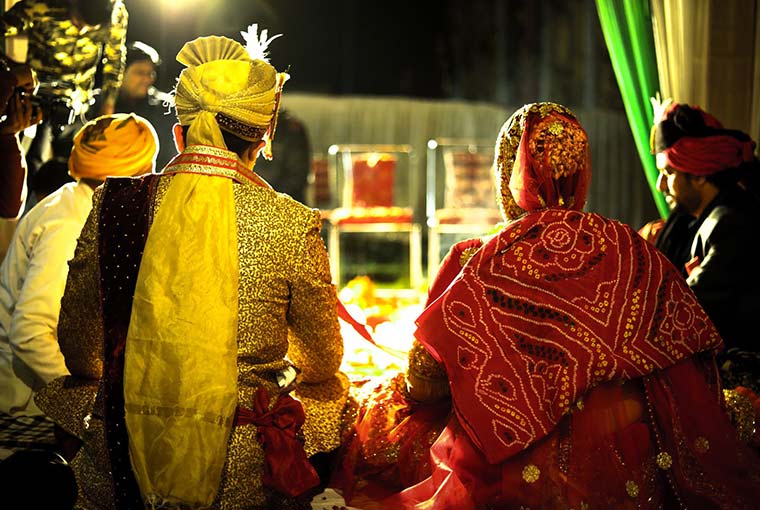 This COVID-19 pandemic has made things a little uncertain especially for people who were about to get married in summer or spring season this year. They either have to postpone their wedding or switch to intimate or go for online weddings. What caught out attention is the latest trend of weddings happening over video calls. We just loved how technology took over in these times of pandemic.
It is serving as our best friend as we have to maintain social distancing and self-isolation as per the government protocols as we all have to put the idea of a dream wedding on hold. Though couples are opting for postponement of weddings there are some are going for virtual weddings on their actual pre-planned date. You can also opt for something like this and then thrown an extravagant celebration later when things would be normal.
Here are some things that you need to keep in mind while hosting a virtual wedding!
A strong internet connection
As you are hosting a virtual wedding with so many guests online, and for that, you really need to have an uninterrupted internet. Though many of the couples have called for the priest at their places, some of them opted for the priest online and for that even they need to have an unhindered internet connection. If the connection is poor then it would lead to pauses which may ruin that auspicious moment. As your whole wedding would be streaming online so for that you need to have high-speed internet in the first place.
Choosing the best streaming platform
Your virtual wedding would need a good streaming platform that can allow a large number can join your celebration. It should have an upper limit on the time of the session, plus, you also need to check if it is free or paid and even all your guests have easy access to the platform or not. Though Zoom is the most popular tool for hosting such weddings for free, plus all your guests can also interact over it too. You can also go for Facebook Live, YouTube Live, HouseParty too. Now, even so, many matrimony sites are also offering virtual wedding streaming too.
The Priest
You can opt from two types of wedding ceremonies that are the legal one or the traditional one. Though the legal ones will require witnesses as well as documentary proofs, and for traditional ones you would be needing a priest or pandit Ji as no wedding is complete without the rituals and mantras. Therefore, it is very important to get the pandit Ji to join the same video call on the online platform so that he can recite all the mantras to commence the wedding.
Get all decked up
When we talk about decking up for the wedding, then it doesn't mean you need to wear a wedding lehenga or sherwani. You can go for a beautiful saree and kurta to have a traditional look for the wedding. As you will be documenting this special day, therefore, you need to look great. For brides, even makeup plays an important role. Though you must have dreamt of hiring the best MUA for your wedding, because of this situation, you won't be able to do that. You can even go for something simple DIY makeup and hairdo to look all dolled up for the wedding. Even the grooms can get their hair and beard trimmed to look dapper for the wedding.
DIY Décor and getting the right ambiance for the wedding
We know that you will be getting married at your place with virtual guests but that doesn't mean that you don't need to have the right ambiance for the wedding. Having some decorations would add a touch of celebration and beautify the place for your most special day. You can go for some DIY flower arrangements or fairy lights and use them to create a beautiful backdrop for the wedding pictures. Also, take the help of your family members to do all these tasks and do the last-minute checks.
Documenting it is really important
As this is the most special day of your life and you are celebrating it in a very unique way, therefore, it has to be documented. Though it will be a little difficult to hire professional photographers and videographers, still covering it for memories is really important. You can ask your cousins, family members, or friends, to document it. You can also save the streaming for the future and many of those apps allow you to do so.
In the end, all it matters is love for the wedding and you don't need lavish arrangements for that. Though many weddings got canceled it's not the love that got canceled. Also, don't forget to bake a cake or get one to make your celebration memorable!
Please share your thoughts about virtual weddings in the comments below…