How to make your wedding lehenga look like a million bucks?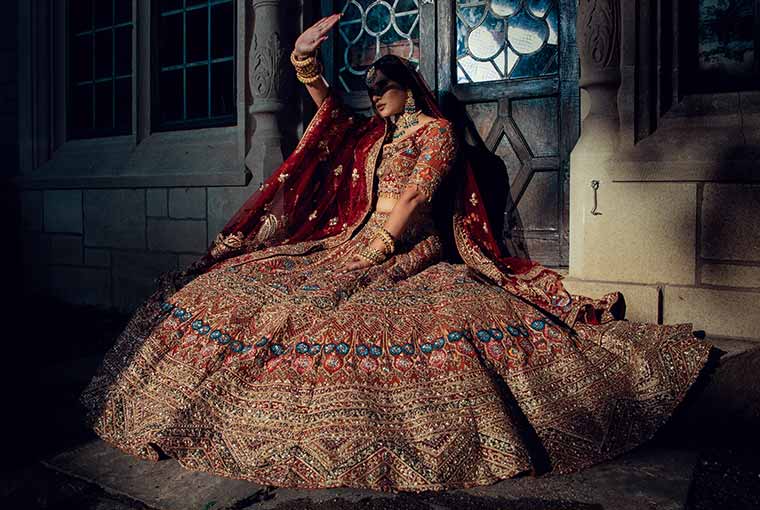 When it comes to bridal lehengas, designer ones have a different aura! They are royal, made with attention to detail which makes them look all plush and gorgeous, but they do come with a heavy price tag! Because of their luxurious look, every bride wants to don that ultimate piece from a well-known designer, but what stops them is the price tag. But we think, when it's your wedding day, you just can't compromise with the outfit! Here are some tips and tricks that will help you get the perfect lehenga in your budget that will look like a designer piece!
Read on…
Begin with deciding the number of kalis
You must have seen those brides twirling in beautiful lehengas… those perfect twirls are only possible because of the right number of kalis. So kalis are basically triangular pieces that are stitched together to make the entire flair of the lehenga skirt. Budget lehengas cut down the cost by reducing the number of a few kalis. But this will affect the look of the lehenga. Therefore, it is important to pick lehengas which have a minimum of 16-20 kalis. If you don't have kalis in your lehenga, check the flair before you buy so that don't lose the look and have those perfect twirling pictures.
Add a second Dupatta
You must have seen many beautiful brides donning two dupattas with their bridal lehenga. It adds more grace to the look making your lehenga more premium. You can go for a contrasting colour dupatta to add a pop of colour to your look! Also, if you are getting it customised, then you can ask your designer to have certain common embroidery or lace that will tie them together with the look.
Go for trails and veils to add drama
To make your bridal entry more dreamy you should say yes to trails and veils for your bridal look! They have been a major celebrity bridal feature in the past year and you can easily add them to make your budget look seem more designed. You can add a lux-looking veil and remove it post her entry!
A gorgeous belt for a stylish-looking lehenga
Belts with bridal lehengas are trending and they look gorgeous! You can get one designed to match the lehenga or pick a fun kundan belt. Trust us, belts look super chic and give your waist that clinched look – also tying the complete look together.
Can-can for the dramatic look
If you want to add that designer princess vibe to your lehenga, don't forget the can-can. This will instantly fluff up your lehenga and make it look more dramatic and royal!
Experiment a little
Your bridal lehenga skirt is the costliest part of the attire. We would advise you to ask your lehenga store if they allow you to mix and match pieces. You can opt for a heavier blouse with your lehenga skirt to give it that more-superior look instantly. You can experiment a little with the look to look flawless.
Unique silhouette for the blouse
Blouses add oomph to your bridal lehengas! You can pick a unique design for your bridal blouse to make yourself stand out and stylish. You can even add cape sleeves or something extra to look all glamorous!
We hope this helps!
Visit Also :- Best Wedding Venues in Delhi