How to revamp your outdoor wedding celebrations
Outdoor wedding celebrations are beautiful to plan and execute. The factors that make outdoor wedding celebrations beautiful are natural sunlight, being amidst a natural environment with a lot of space, decorating the area as per your taste and using the natural elements to enhance the overall look. There is something about morning and day weddings that makes it so special and more joyful for all those who are involved.
Keeping in mind that India has extreme weather temperatures in some parts of the country, it is essential to come up with certain revamping ideas that will create a comfortable atmosphere for the guests. Day weddings may not be as glitzy and vibrant compared to night weddings, but they can be equally beautiful if curated with beautiful elements. This guide showcases some ideas that will help you revamp your outdoor wedding celebrations by adding fun and quirky elements. Some elements can add extra pizzazz to your overall décor and some elements will bring comfort to the guests.
Photobooth backdrop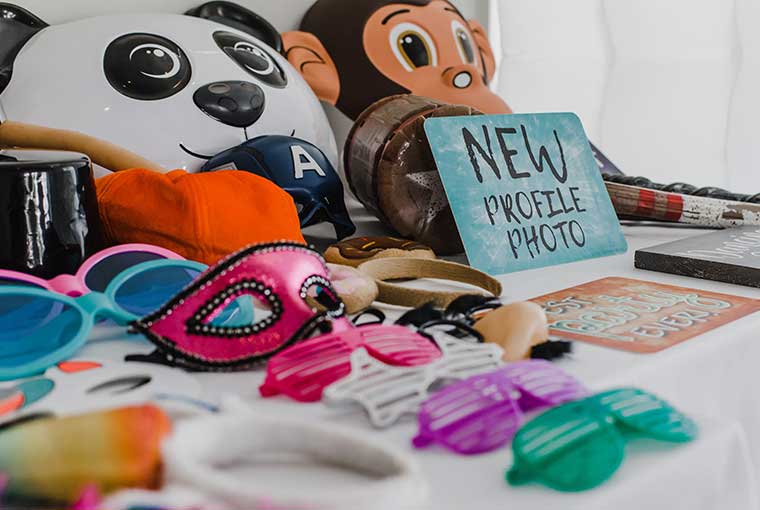 Photobooths can never go wrong at an outdoor wedding and especially when the photo booth itself is outdoor. Wedding planners always suggest building a beautiful backdrop at one corner of the wedding, where the guests can take pictures and share it with each other. These backdrops are like outdoor photo booth areas, and they are usually decorated with floral and quirky elements. Additionally, these backdrop areas have a table filled with props on them so guests to use them in their photoshoots. It will be a cherry on top to catch the sunset and take some golden hour pictures. There are several wedding venues in Delhi and NCR that offer wonderful spaces with beautiful backdrop elements.
Summer or winter essentials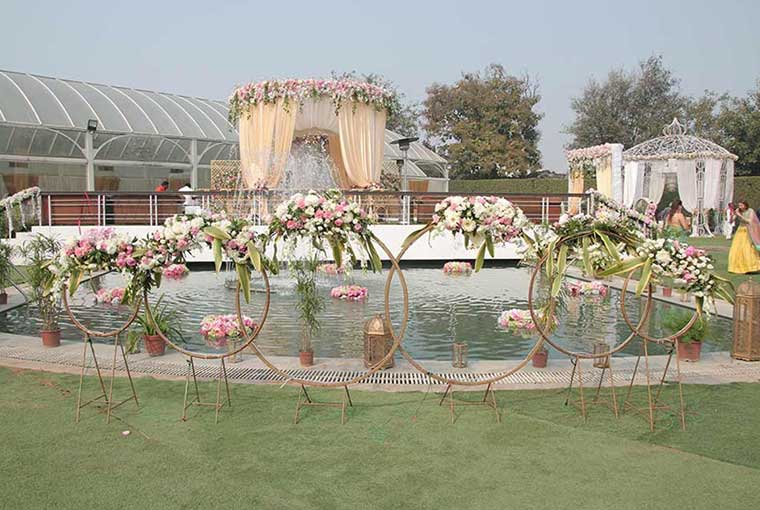 Depending on the weather conditions during the wedding functions, certain arrangements can be made for the guests to keep them comfortable. In summers, you can hand out funky sunglasses to the guests to make them look quirky and protect them from the heat. There can be beautiful shade spots and mist fans around the wedding area where guests can catch a break and recuperate. Additionally, if there is a pool at the venue, there is no harm in converting your wedding function to a partial pool party or rain dance. However, there are equal amounts of ideas for an outdoor winter wedding. A heating system or bonfires can be arranged around most tables and seating areas where guests can sit comfortably to soak up the heat. Some throwovers can be kept on each table in case the guests want to keep themselves warm and covered.
Play with floral décor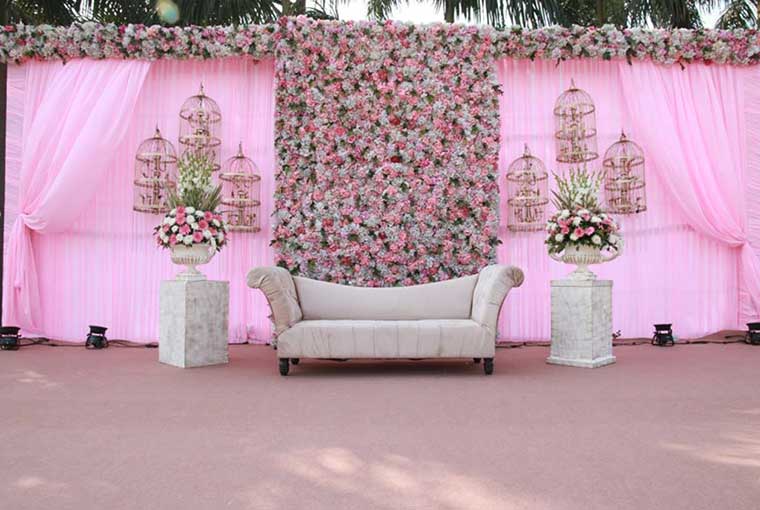 Floral décor can never go wrong when it comes to planning an outdoor wedding function. There are several creative ways to play with floral décor to make the most out of the outdoor space and venue. Floral bracelets or floral headbands can be given out to all the female guests at the function as a token of love and to create a sense of similarity between all the guests. Additionally, some floral décor can be kept on every table as a centrepiece. Floral decorations are such that it looks beautiful and fresh in day light and especially when it is outdoors. The vibrancy of the flowers is more appealing when it is used in the most appropriate way and in bulk.
Add all kinds of accessories
Adding furniture and accessories to your outdoor setting will revamp the space and give it a personalized touch. Putting up a chalkboard sign with a customized bar menu, table numbers, welcome signs and name tags will add a touch of love to the wedding function. Putting out lounging furniture outdoors will be a flexible option for the guests to move and lounge around at the venue. Adding some drink dispensers with a floral set up on vintage tables will help you to create cute corners at the function, allowing people to enjoy the vibe.
Managing the elements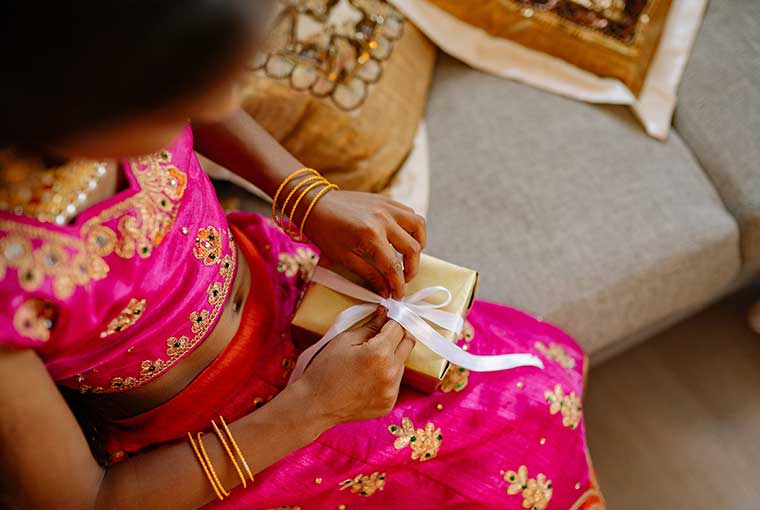 Adding certain elements to an outdoor wedding will enhance the overall experience. For example, there can be a cooling station for the guests to use cold towels to freshen up. This will be a thoughtful gesture for the guests, and they will feel appreciated. Moreover, keeping the décor light and minimal will make it more appealing and less stressful on the eyes in extremely hot weather. Keeping light food that is easy to consume will be an added thoughtful element for an outdoor wedding.
Read Also:- FNP Gardens Luxury Banquet Halls in Delhi