How to style a wedding cake table?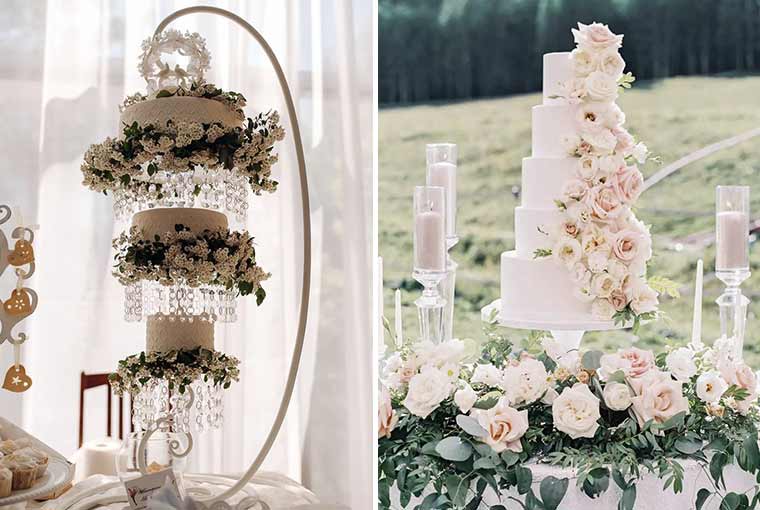 Cutting the wedding cake used to be a part of Western culture but now it has become mandatory in Indian weddings too. And if we are doing it then why not do it correctly. Getting the cake by finalising its flavour, colour, shape, size, or topper is one thing but the way it is displayed signifies its importance. Whether a cake is set on its own table with a sequinned linen tablecloth for a glamorous look or styled with fresh greenery, the styling is an important part of the overall look. If you are not sure how to style your wedding cake table?
Here, are some beautiful ways to do it…
Offer more than one cake
Going for a mix of cakes to create a special scene will really look good. Having a variety of beautiful cakes for guests to admire and taste will surely be a unique thing. In western culture sharing a wedding cake is good luck for the couple, so why not share more than one, and enter your marriage bliss with extra luck?
Give your guests to choose from additional dessert options
Including desserts, more than a wedding cake can also be a great option. Incorporating other small desserts that will help tie everything together will add beauty to it. You can have cookies that have a similar design to the invitation, or perhaps mini cakes, in the same colour, to help bring everything together.
Select a beautiful table linen
We think gorgeous linen really makes a beautiful statement for the wedding cake table. You can even use multiple linens and layers in a creative way by adding gorgeous florals, greenery, or tassels to create a stunning and elegant look.
Use fresh fruits as decoration
Don't underestimate the value of using edible décor on a cake table. Adding fresh fruits to the table as styling props will be a treat for the eyes. It can be fruit that's similar in tone to the wedding colours, or perhaps even the flavour of the cake.
Hang the cake like a chandelier
This is one of the most attractive ways to do it. It's called a cake chandelier and it always creates a buzz. Floating and suspended cakes can easily be incorporated into a wedding with a rustic aesthetic, or in a modern, minimalist setting. This is one of those styling tricks wedding halls designers keep coming back to.
Tell us in the comments how would you like to do it!