Ideas we want to steal from #RanbirAlia Wedding!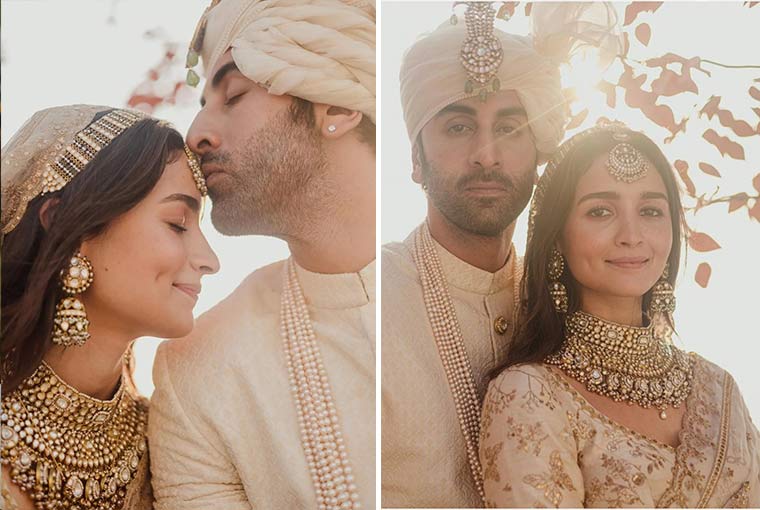 TBH, we still can't get over the #RanbirAlia Wedding! Their intimate wedding was no less than a dream! The Bollywood's 'IT' couple made us fall in love with almost everything about their ceremony. What made it exciting was all that speculation and mystery as well as their loved ones being tight-lipped about the wedding details. Though some inside details made their way to the media and further to us. And when the pictures came out, some of the elements of this beautiful wedding left us swooning.
For a long time, we have been watching Bollywood brides donning unique bridal look that reflects their personality that has been setting some major goals for other brides as well. Even Ranbir and Alia's wedding has displayed certain elements that are absolutely iconic and made us fall in love with them!
Here are the elements We Loved From The #RaLia Wedding
Their stunning Ivory and Gold Ensemble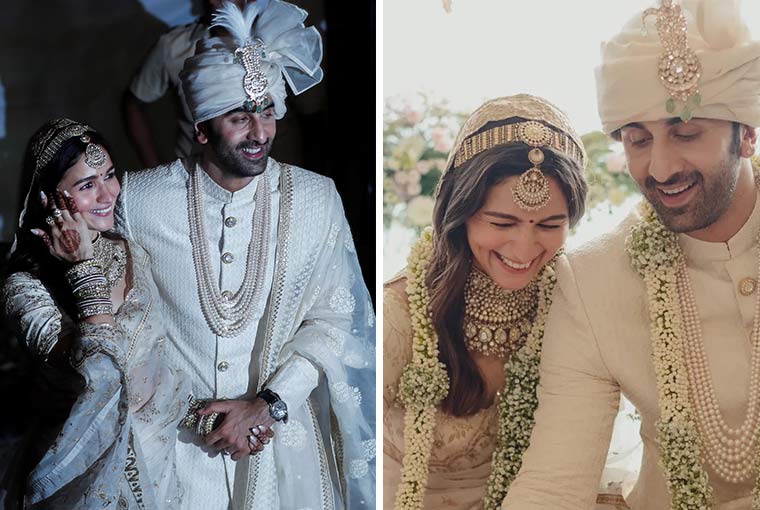 Just like all the A-list celebrities, they also went for Sabyasachi outfits. But they added a twist by ditching the traditional hues and going for ivory and gold outfits that made them look heavenly. Alia Bhatt was dressed in a hand-dyed ivory organza saree embroidered with fine tilla work that was a total treat for the eyes. On the other hand, Ranbir chose an embroidered silk sherwani accentuated with Sabyasachi uncut diamond buttons, a silk organza safa and a shawl with zari marori embroidery that made him look class apart.
How can we miss the Butterfly Detailing On Alia's Blouse?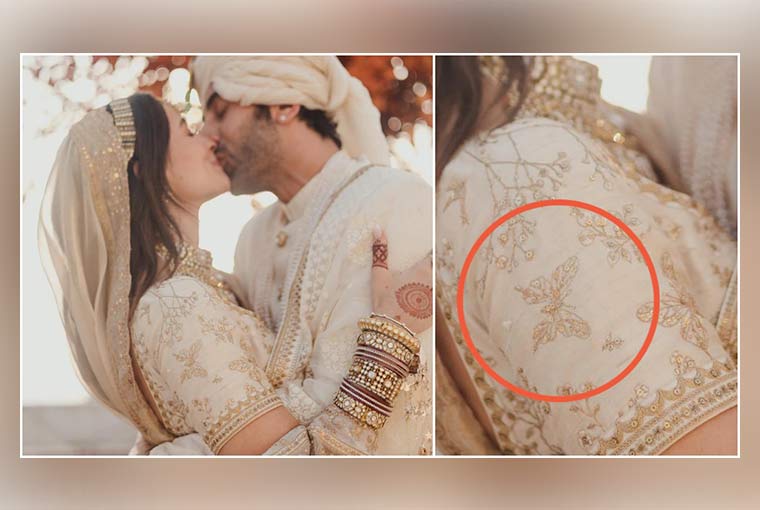 The prettiest detail of Alia's attire was the butterfly motif embroidery in fine tilla work on her blouse. Though the saree and the colours were from Sabyasachi's previous work, those butterflies embroidered on her blouse surely looked like a unique, customised element.
Ranbir and Alia's Heritage Jewellery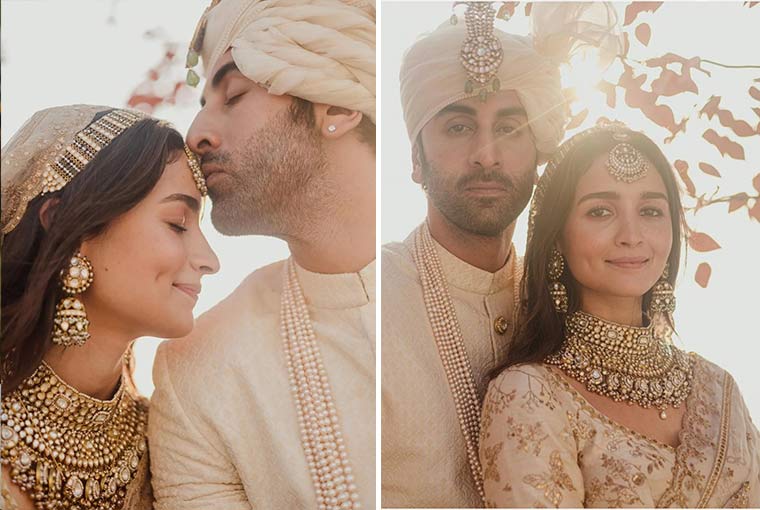 The couple chose a very minimal ensemble for their wedding but their jewels took the centre stage with their glorious heritage work. Alia donned Sabyasachi's Heritage Jewellery featuring uncut diamonds and hand-strung pearls. Even her bridal chooda consisted of a mix of huge kadas and red bangles. Ranbir, similarly, completed his look with a kilangi by Sabyasachi Heritage Jewellery featuring uncut diamonds, emeralds and pearls and a multi-string pearl necklace adding that extra edge to the outfit.
Alia's pretty kaleeras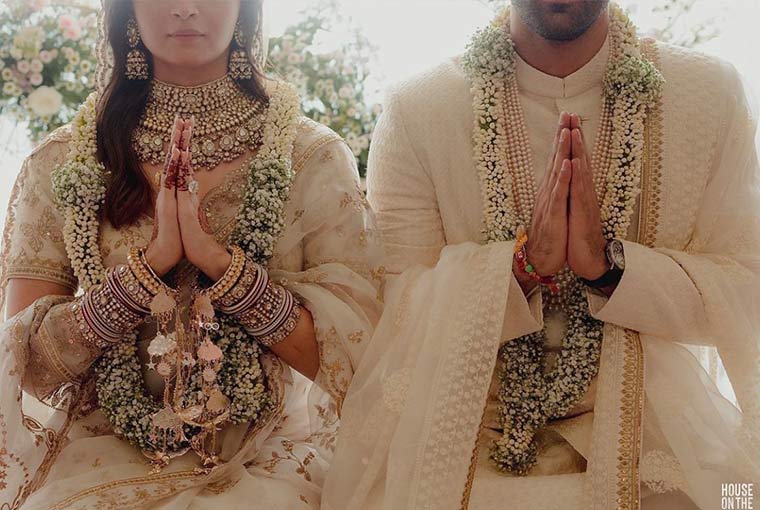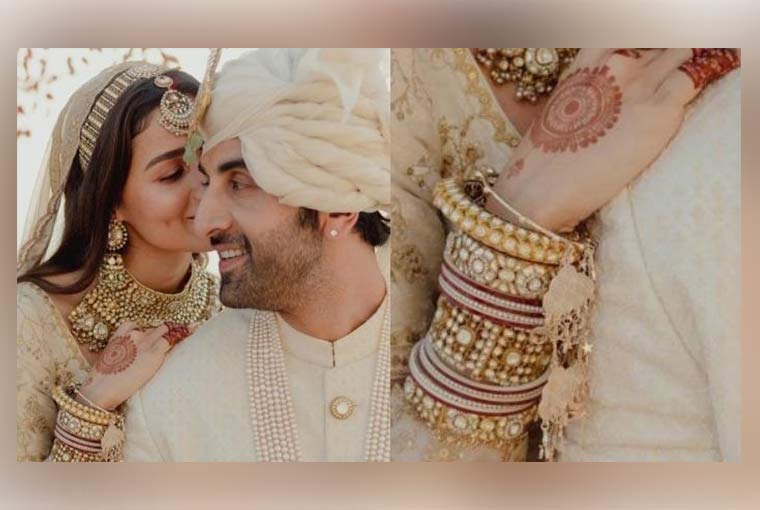 Nowadays, kaleeras are creating iconic looks for all these Bollywood brides. Even Alia went for something unique and minimal. She opted for rose gold kaleeras that complemented her attire in the best way! They were designed by the amazing Mrinalini Chandra, and were dotted with elements like clouds, stars, butterflies and birds.
Here saree paired with Sheer Veil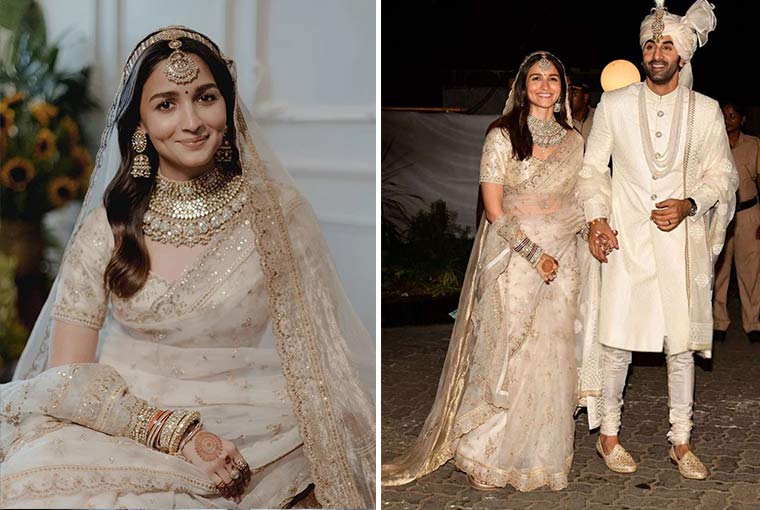 Saree with a veil has been one of the top trends of 2022! Many brides have embraced this trend and nailed it in the best way. Similarly, Alia paired her ivory and gold saree with a handwoven tissue veil that had a scalloped border that made her look perfect.
Ethereal Baby's Breath and Jasmine Jaimalas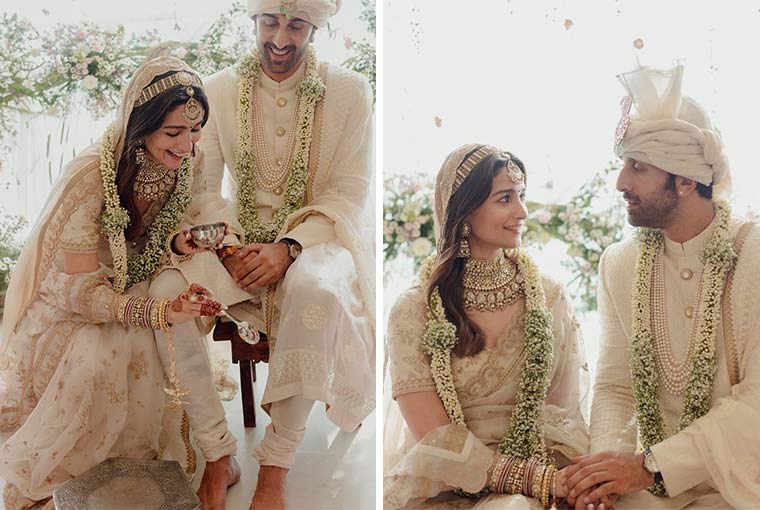 Jaimalas are an important part of all the Indian wedding ceremonies. Though we have seen many in marigolds and even foliage varmalas, at this wedding we're ecstatic to spot these baby's breath and jasmine jaimalas exchanged by the couple.
We also spotted unique Lucky No. 8/ Infinity Mangasutra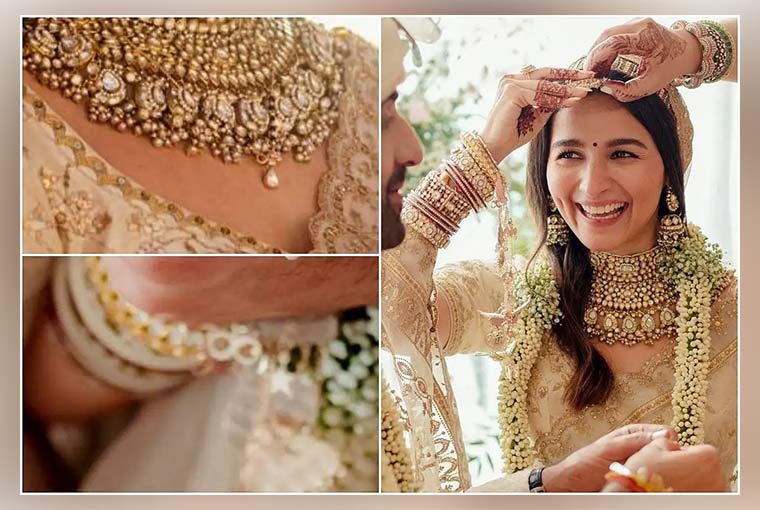 The cutest part of Alia's wedding look was her incorporation of Ranbir's lucky number into her ensemble. Alia chose a beautiful and dainty mangalsutra that has the number 8, which also looks like an 'infinity' pendant.
These are the details that made us fall in love with the #RanbirAlia Wedding!