Is it necessary to get your engagement ring cleaned before each of your wedding functions?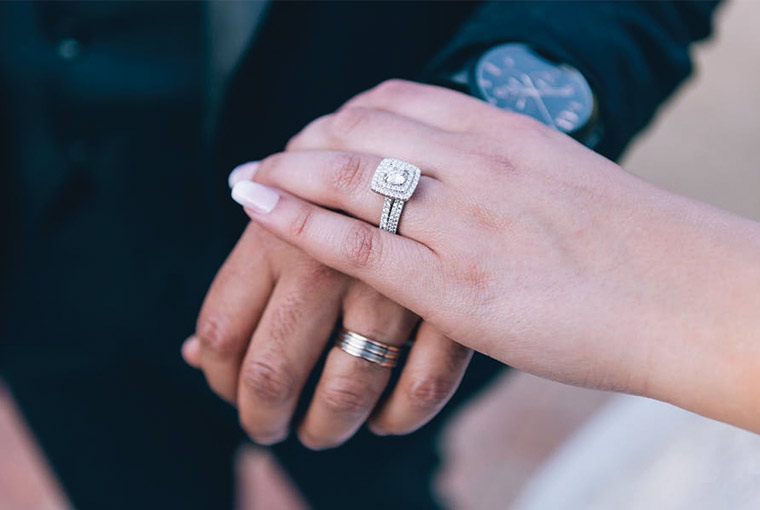 In India, engagements are done in two ways, one when a guy proposes to the love of their life and the other way in front of the family in a very grand way. In both ways, you are the lucky one with a beautiful, sparkly engagement ring which will grace your hands. There are chances that it loses a bit of its shine till the wedding celebration arrives. It is a common problem faced by the brides-to-be as the use of soap or sanitizer may hamper its shine. Therefore it needs to be cleaned regularly so that it can sparkle the way it should be. This shouldn't be neglected, if you still do, then also all is not lost. You can visit a jeweller who will help the ring to get look a bright and shiny again in no time. So, the thing is when to get it done?
Here, we outline the wedding events when you should have your ring ready for…
Pre-wedding shoot
Pre-wedding shoots are a rage nowadays and couples take it really seriously nowadays. It showcases the love and companionship between you and your partner and you can also use those pictures to show the excitement around your upcoming celebration. Capturing the ring in those pictures is one of the important things that should be part of your pictures. You can those shots for save-the-dates, wedding website,  and even on social media. You can even ask your photographer to zoom a bit on your gorgeous ring so that people can notice it. Therefore, you need to get it all cleaned and shiny before your photoshoot.
Your Bachelorette
Your bridal shower is all about you, so expect to have guests craning to get a good look at your engagement ring—especially those you haven't seen since the announcement. Make sure your sparkler really stands out during this special celebration by having it cleaned professionally before the party.
Sangeet, Mehendi and Cocktail
Your wedding celebration kicks off with the pre-wedding celebration such as Sangeet, Mehendi, Cocktail and so many other small ceremonies. All these functions are fun and your photographer will be capturing the pictures too for which your ring has to dazzle for those fun shots.
Obviously, the Wedding
Isn't this obvious, right? There are chances that mehendi or haldi can make the ring lose its shine. Your wedding shots will be all about holding hands with your partner and so on. Therefore, getting it all shiny before the D-Day is really necessary. Make sure you get it done after your functions so that you don't regret it later while looking at your wedding pictures.
So, don't forget to get it cleaned as you'll want it to shine in your photos.