Latest Government COVID Wedding Guidelines 2021-22!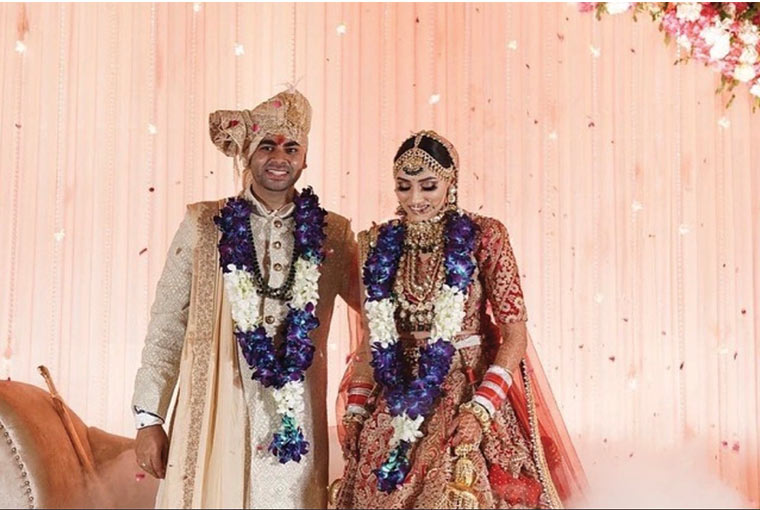 All of us wished the year 2022 to be COVID-free and as per that everyone made so many travel and wedding plans but the current situation has come with the threat of Omicron and Delta micron, so it really isn't going anywhere anytime soon. This is a fact which is also being confirmed by the state governments all over the country as well and in regard with that, they are all clamping regulations and guidelines to keep the spread of COVID in check. If you are also one of those couples who were planning to get married in January or February 2022, then we can understand the panic frustration you are going through right now.
We are again in times of uncertainty and at the same time, we also need to follow the latest regulations as well as guidelines that are imposed to scale down the wedding. There would be so many questions popping up in your mind regarding the current scenario which may be causing stress too. So, don't worry here we are to make sure all these questions are answered to the best of our sources!
The latest COVID 19 guidelines for weddings differ from one state to the other and one metro city to the other. Here is a comprehensive list so far:
Wedding Guidelines in Delhi
You are not allowed to host weddings in public places such as banquet halls or hotels
Marriages are only allowed at court or homes with not more than 20 people
Daily night curfew is there from 10:00 pm to 05:00 am
Wedding Guidelines for Mumbai & Maharashtra
You need to take prior permission for any program or event to be attended by 200 or more people as per a mandate by BMC
Any hotelier or organisers claiming that their venue has the capacity to accommodate more than 200 guests even after following COVID-19-related norms and ensuring all the regulations then need to have prior written permission of the assistant municipal commissioner as per BMC's new circular
Also, closed (indoor) halls can operate at 50 per cent of their total capacity
Open-to-sky venues shall operate at only 25 per cent of the total capacity
Wedding Guidelines for Bangalore & Karnataka
Night curfew has been put in place from December 28, 2021, to January 7, 2022, between 10:00 PM to 05:00 AM
All the public places such as restaurants, hotels, clubs, pubs are now supposed to function with 50 per cent of their seating capacity
Wedding Guidelines for Kerala
A night curfew from 10:00 pm to 05:00 am between December 30 and January 2 has been imposed
Bars, hotels, clubs, and restaurants in Kerala will be allowed to operate during this time with 50 per cent seating
Citizens to avoid unnecessary travel by the government
Announcement for curbing on number of guests at weddings soon is expected
Wedding Guidelines for Punjab
No guidelines specified for night curfew or weddings as of now
Wedding Guidelines for Chandigarh
Entry of unvaccinated people at public spaces has been banned from January 1st by the Haryana government as well as the Chandigarh administration
Night curfew from 11:00 pm to 05:00 am is expected to be imposed
A gathering of more than 200 people will not be allowed in public places and other programs
Wedding Guidelines for Gujarat
Eight major cities of Gujarat will go into a night curfew from 11:00 pm to 05:00 am that includes Ahmedabad, Surat, Vadodara, Rajkot, Jamnagar, Bhavnagar, Junagadh and Gandhinagar.
Wedding Guidelines for Rajasthan
There is an 11:00 pm to 05:00 am night curfew in the state
COVID vaccination has been made mandatory
Masking rules to be adhered to
Wedding Guidelines for Haryana
The maximum number of people allowed at a wedding ceremony has been increased from 11 to 20
Marriages will be allowed only at home and courts or anywhere with a maximum limit of 20 guests
Wedding Guidelines for Uttar Pradesh
Section 144 has been imposed in the state from 1st December 2021, that stayed till in 31st December 2021
Night curfew in place from 11:00 pm to 05:00 am with effect from 25th December 2022
Wedding Guidelines for Uttarakhand
Night curfew has been imposed in the state as Omicron cases rise from 11:00 pm to 05:00 am
Wedding Guidelines for Madhya Pradesh
Night curfew has been imposed from 11:00 pm till 05:00 am as a "precautionary measure"
Wedding Guidelines for Goa
No restrictions imposed in the state yet except COVID appropriate behaviour
Wedding Guidelines for Jammu & Kashmir
The Union Territory Administration has mandated that all passengers travelling to Jammu and Kashmir by road shall have to take a Rapid Antigen Test (RAT).
These regulations have been updated as of December 29, 2021,*
Read Also:-Wedding Venues in Greater Noida