#QuarantineSpecial: This virtual wedding amid Covid-19 proves that love knows no restrictions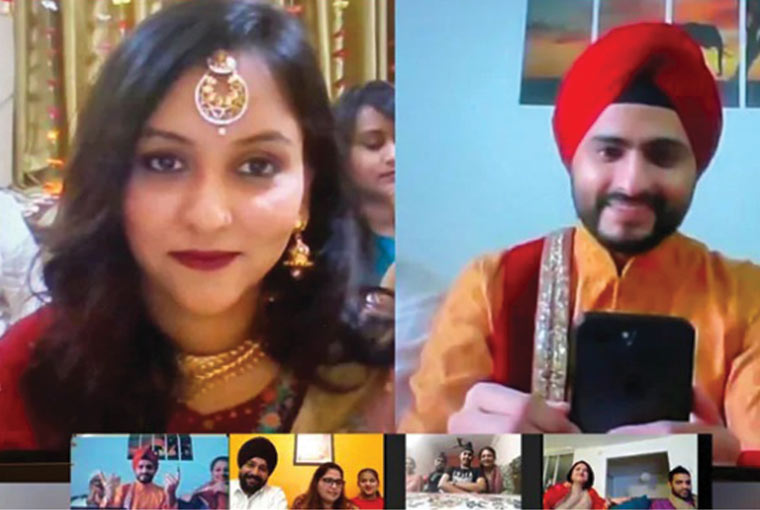 Social distancing is the need of this hour and it needs to be followed religiously. Because of this love has gotten a bit difficult to express and so does taking it onto some another level. This pandemic has also forced so many couples to postpone or cancel their wedding. But as we know the cases are rising, there are still couples who don't want to delay their wedding. You must have come across the news of same-sex couple in New York to the RCB Fan girl Deepika Ghose, who still got married to prove love knows no restrictions. Just like them, there is one more couple Preet Singh and Neet Kaur who tied the knot amid this Covod-19 situation.
Preet is a Merchant Nay officer from Mumbai who tied the knot with his Delhi-based girlfriend Neet. They were about to get married to April 4th but then this nationwide lockdown came into the scene. This couple proved, then nothing can stop their love as these lovebirds wanted to get married on their original wedding date. To make it happen they had a unique virtual wedding from different cities.
This lovely couple used the technology in the best way and got married over a video call. They even got dressed up to make this occasion even more special. The best part of this virtual wedding was that all their friends, as well as family members, were a part of it and that too from different corners of the world such as Dubai, Australia and Canada.
Preet and Neet will go for an Anand Karaj ceremony as soon as this lockdown gets over. This virtual ceremony really took our hearts and we really want them to have a Wish you a happy married life! At the same time, we also wish them to have their dream wedding as soon as possible after this lockdown!
Till then keep showering love on each other with the video calls!
Visit Also:- Destination wedding venues in Delhi