#LockdownWeddingStories: Remember the Bigg Boss-2 Winner Ashutosh Rana? Here's how he got married on a terrace with virtual baraat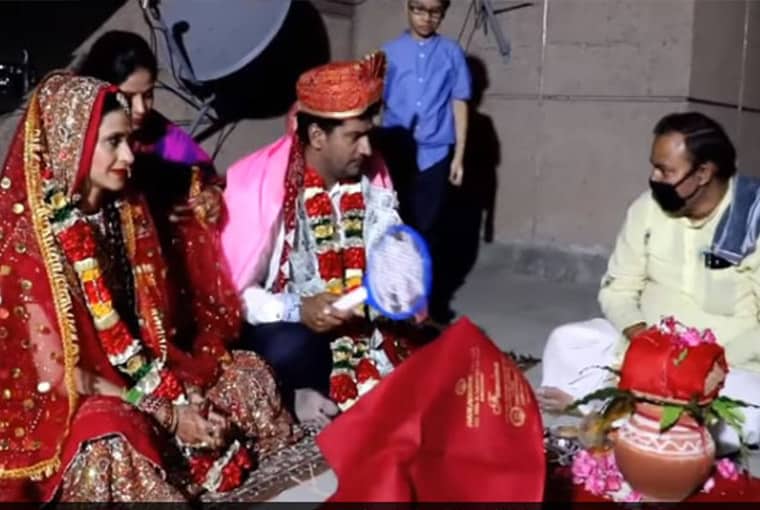 In this year 2020, we got stung by this COVID-19 pandemic and we are trying to live in this lockdown to save ourselves and our community. The most overwhelming part of this lockdown is for the couples who decided to get married in the spring and summer season. But there are still some couples who went for a special way to get married. Amongst them, is a famous personality named is Ashutosh Kaushik, who got fame by winning the second season of Bigg Boss who got married in an intimate setting.
Ashutosh Kaushik got married to his fiancée Arpita Tiwari amid coronavirus lockdown on 26th April 2020 at a low-key wedding ceremony held at the terrace of their residence in  Noida. There are certain videos that have gone viral on social media. The couple got married in the presence of a few family members, and there were guests too that attended the ceremony virtually through a video conference session. Ashutosh, the groom was dressed in a simple plain white shirt and a pair of trousers, while the bride chose to wear red attire. Even the priest who solemnized the wedding was seen wearing a mask and a pair of gloves.
Ashutosh Kaushik also gave an interview to Times Of India, where he revealed that his wedding was fixed way before the lockdown and the couple didn't want to delay it. He also added that his wedding date was finalized in February and it was fixed for the date of 26th April 2020 which was Akshaya Tritiya, believed to be an auspicious day for new beginnings. Therefore, despite the lockdown, the couple decided to keep the date. He and his family of four went to the bride's residence and we even requested our priest to wear gloves and a mask.
He also revealed that he and his wife have decided to donate the money that they were about to spend on their wedding festivities. The most incredible part of his thought process was when he added that marriages are an intimate affair then why do we end up spending so much money on it? Rather, we should give it to the needy. He also asked Arpita's parents, to donate the money they had kept aside for the wedding.
This is one more love story that proved love is the most important thing in the world!
Image Source: NDTV