Say 'I Do' in Style: A Guide to Choosing Your Dream Wedding Venue
Haven't we all dreamt of our wedding day and considered to be the most-awaited occasion of our lives? More than the wedding itself, we all can agree that choosing the right wedding venue has been the most crucial part, in order to make it unforgettable. To set the perfect tone for your wedding, whether it's from beautiful views to personalization, every little detail of your wedding venue can make a huge difference. Although, it is a little bit intimidating to find the right venue when we have multiple options on our plate. This blog has been curated to offer you the right steps in choosing the right venue and find the venue of your dreams.
1. Consider Your Budget: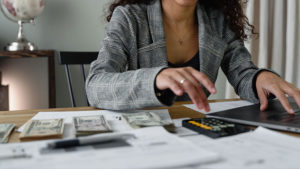 Total wedding budget: Narrow down on a general wedding budget and layout all the possible aspects of the wedding where you will make expenses. This way you can prioritize your expenses before allocating any money and avoid overspending on unnecessary things.
Budget for wedding venue: After determining an overall budget and allocating it to different key aspects, you can decide how much money you want to spend on your wedding venue. This is supposed to be one of the biggest expenses in your wedding. For instance, some of the best banquet halls in Delhi have all the amenities at a reasonable cost.
Think about hidden costs: Keep a small chunk of your budget aside for hidden costs. This will allow you to spend on costs that are not included in budgeting such as tips, taxes and gratuities.
2. Determine Your Guest Count: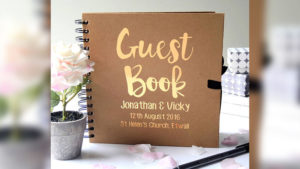 Make a tentative guest list: It is essential to make a guestlist with a tentative number of guests you plan to invite before you select your wedding venue. It will be easier to select a few venues this way on the basis of your guest count.
Wedding theme and size: While you are making all the lists, it is important to figure out what type of wedding you want. Your venue will depend on this factor very significantly as an intimate wedding will require a smaller venue and if you plan on an extravagant wedding then you will need an appropriate venue to fit all your guests.
Guest experience: If you have invited guests with special needs and requests, then these points have to be taken into consideration before booking a venue. Thereafter, you will have to hunt for venues that offer special amenities for people with special needs. A good wedding experience is also about comfort.
3. Consider the Season: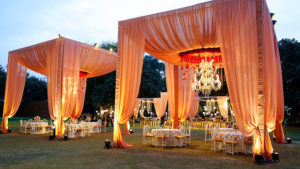 Weather conditions: Season and weather play a vital role in determining the venue you choose for your wedding. Most venues than usual are equipped with facilities that can accommodate weddings throughout the year. Although, an indoor venue is more appropriate if you are planning a winter wedding and an outdoor wedding venue is more suitable for spring wedding.
Scenery theme for the wedding: Each season has its own beauty and that has a significant impact on the theme of the wedding. It helps to create a scenery for the wedding. If you want blooming flowers, greenery and a pastel vibe then it is perfect to get married in spring. Although, if you are looking for colourful foliage and light sun in the evening then it is better to get married in autumn or summer.
Plan B for weather change: It is always advised to prepare for plan B in case the weather conditions take a turn. The venues should essentially have both indoor and outdoor spaces to accommodate your guests and the event in case it rains.
4. Look for Personalized Touches: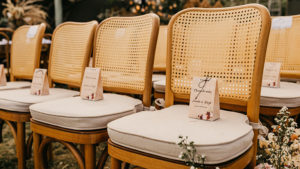 Reflection of your personal style: It is important to replicate your personal style and touches on your wedding venue. Most venues are flexible and versatile when it comes to adding personalization and beautiful person touches with your style.
Cultural or religious traditions: It is suggested to check with your preferred venue if you can incorporate cultural traditions if you have any. Most people with religious preferences usually go for a venue that can help them execute their wishes.
Customizable options: The top 10 banquet halls in Delhi, Mumbai and Rajasthan offer customisation as an option. To make your special day unique and personalised, you can hunt for venues that are flexible to customisation.
5. Think about Logistics: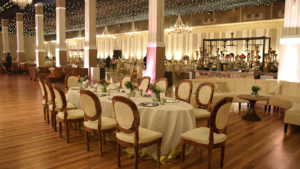 Venue location: It is a task to commute to a faraway wedding venue, for the family and for the guests. Consider the accessibility of the venue for the comfort of your guests. As important as the distance is, adequate parking and transportation are equally necessary. Wedding lawns and wedding halls in Delhi are mostly easily accessible and centrally located.
Event itinerary: The flow of your wedding functions matters a lot. Most functions are held in one location with different venues to avoid the hassle of transporting your guests from one place to another. Explore spaces in one venue where you can host functions like mehendi, cocktail, wedding and reception.
Vendor restrictions: Make sure to have an honest conversation with your venue representative about the vendors you can bring in for your wedding events. Some venues pose a restriction on the vendors you can use and instead suggest that you use their in-house vendors.
Sound restriction and deadlines: While some venues may be flexible with their deadlines and may not impose a restriction on the timeline, some venues have time and sound restrictions that you must comply by. It is essential to check these restrictions before booking.
6. Read Reviews and Visit in Person: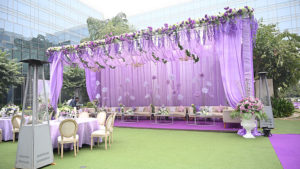 Read reviews: To get a well-rounded understanding of the venue that you are leaning towards, it is important to check online and offline reviews of the people who have used the venue before to get an in-depth insight.
Plan a site visit: Before finalising on a venue, it is imperative to schedule a site visit and check out the venue in person. Meet the manager or the venue coordinator to clarify any doubts and ask questions to plan a problem-free wedding.
To conclude this article, you must first decide on a budget with your family and your partner to ensure that everyone is on the same page. By following the tips and advice that we have mentioned above and by doing some research on your end, you can find yourself the most dreamy wedding venue that you had imagined.