Some eye makeup trends for 2022-2023 brides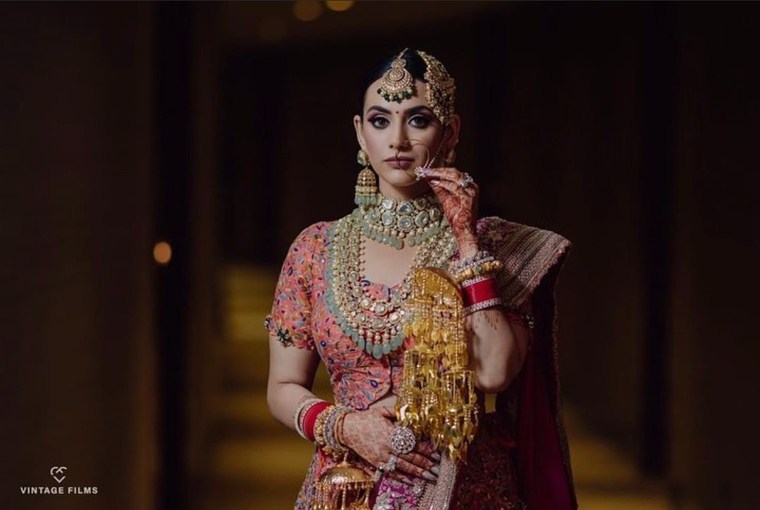 Every year we come across something breathtaking when it comes to bridal make-up trends. This year Alia Bhatt ruled the internet with her classic minimal makeup look for her wedding. That soft eye makeup, nude lips and a blushing smile, all were worth the buzz. Now brides are requesting their makeup artists to replicate that look, we made us think – what is trending that will rule the wedding makeup industry when it comes to eye makeup for the brides? So we decided to do our research and present to you the biggest bridal eye makeup trend for 2022-23 weddings!
High impact on the eyes
This is predicted to be the rage in the coming wedding season! The bride's eyes will do all the talking and there will be so many variations in this trend. You can get it customised in your own style… for instance, you can go for a detailed look with halo eyes that underlines the depth and dimensions of the eyes. You can even make this look further shimmer and a little splash of pop colour that will not only elevate the look but also add sophistication. If you want it to be perfect then the best approach would be a blend of maximalist and minimalist that enhance the facial features.
A little gold never hurts
When it comes to bridal eyes, you can't escape from gold! Going for soft gold eyes with defined kohl and eyeliner will be popular this season and it's also one of the evergreen trends as well. Above all, it's an effortless eye look which always complements all bridal attires.
A good dose of eyeliner
Donning a healthy dose of eyeliner which is smudged, smoked and winged will always add a nice look to your bridal makeup. You have to go for tight-lining for upper and lower waterlines, and then blink aggressively a few times to give it that lived-in feel. To make this whole look feel fresh, you may skip the heavy foundation for a minimalist look.
Smokey eyes may make a comeback
We think smokey eyes are going to make a comeback this year but with a twist. Instead of typical black ones, you will be seeing soft brown smoked out eye makeup that offers a chance to allow you to play around with earthy tones.
A little inclination towards the pink side
PINK CAN NEVER BE ENOUGH!! If you go for pastel pink shadow then it will grace the lids of the bride so eloquently. Also, the monochromatic pink blush and lips set the tone right for making the brides look flawless in their functions!
Add a little drama with an Arabic eyeliner look
The classic Arabic eyeliner look can look really beautiful for the big day. This will not only define the shape of your eyes but it also gives you the chance to keep the rest of the makeup to its bare minimum. It's quite similar to cat eyeliner but the wing isn't overly dramatic as it's drawn just to the length of the eyes. You can even press it with black eyeshadow to give it a matte and faded look.
Last, but not least… Swarovski eyes
The most glam trend we believe that will come in 2022-2023 will be Swarovski eyes!
That's all for today!
Read Also:-Top 11 banquet halls in Delhi