Trending Floral Décor Ideas For The Year 2022-2023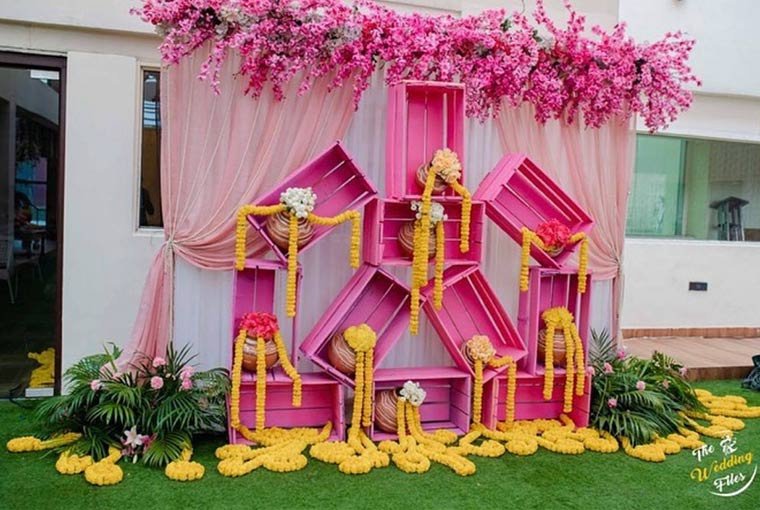 New year comes with new wedding trends be it fashion, décor, food, entertainment and even more. The same goes for the floral décor trends for the upcoming wedding season of 2022-2023. What adds beauty to the whole wedding setup is the floral décor that makes it pretty to look at. They not only add a pop of colour to the venue but also add a touch of freshness as well as uniqueness to the décor setup. As we are expecting a boom in the wedding industry this year with the return of normalcy, we would be seeing a lot of noteworthy floral décor ideas in the upcoming weddings.
There are so many couples who waited for months or even years to get married in the era of normalcy which means we would be seeing something great when it comes to floral arrangements at weddings. If you also want to be updated with the newest trends then here are some for you that you will see in the upcoming wedding season…
Joyful colours all around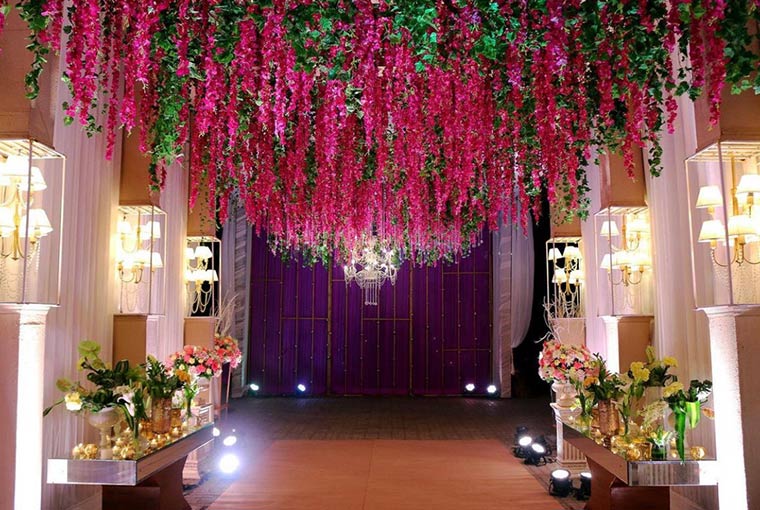 This year you will find colours galore around you at weddings. Nowadays couples are very much inclined towards vibrant colours and want to ditch classic whites, greens and neutrals, and trust us we're love doing it at our venues! People are loving the idea of going out of the traditional wedding palette and going for the trending colours of the season such as yellow, fuchsia pink and Very Peri, the Pantone Colour of the Year and these are just some of the floral hues on our radar that will rule this year. If you are thinking these coloured hues will only be ruling the spring and summer weddings then you are clearly misunderstood. You will see brightly coloured blooms paired with darker floral accents, like burgundy, rust orange or chocolate brown, transitioning them for fall and winter ceremonies.
OTT Installations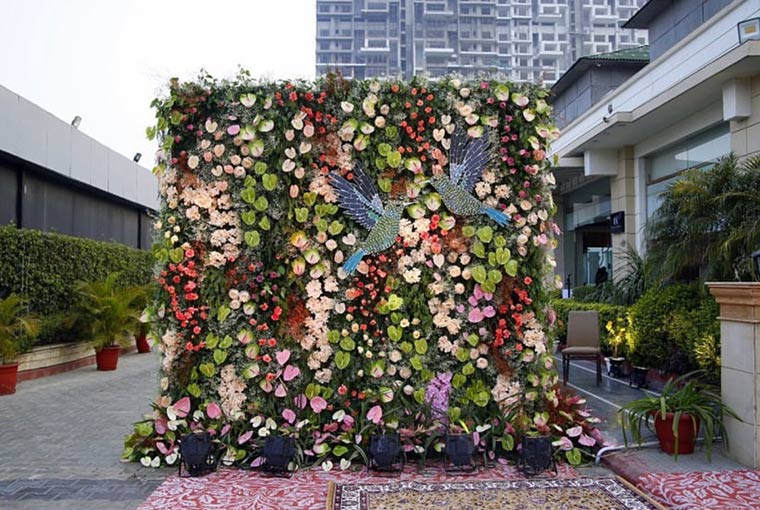 When we say going OTT, it means taking a step beyond the basic floral installations and centrepieces. This would be one of the biggest wedding flower trends for the upcoming season. There will be colourful blooms all over the venue and also in unexpected places. They would be used to add drama with the help of huge chandeliers suspended overhead. On the other hand, go for a more minimalistic design for your table settings.
The type of floral installation will totally depend on the wedding venue as you would have to see how you can do something with the existing structures in terms of decorating. But you can go from something outside the box for your wedding day by creating an Instagram-worthy photo backdrop for some stunning pictures.
Ditching the traditional rose-heavy arrangements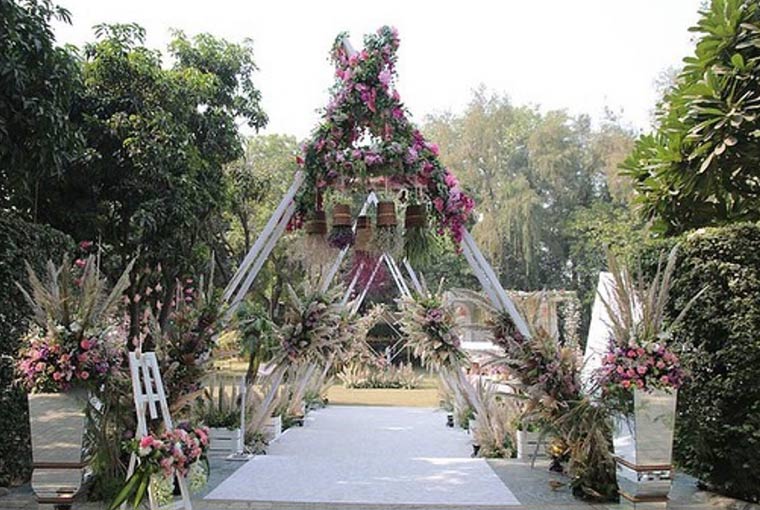 We can now say that gone are times when we would spot traditional rose-heavy arrangements at weddings! Now it's all about uniqueness and now people are very much open to experimentation with lots of texture and greenery-heavy installations. One of the ways to use this trend is by pairing a certain flower with something unexpected, like leaves or preserved oak, or even pampas grass. Such an arrangement adds visual interest and you can also witness a play with texture and colour.  You can also other textures like flowering branches, dried lunaria, seasonal foliage or locally foraged elements to give your arrangements a truly unique finish.
Cloud-like arrangements as chandeliers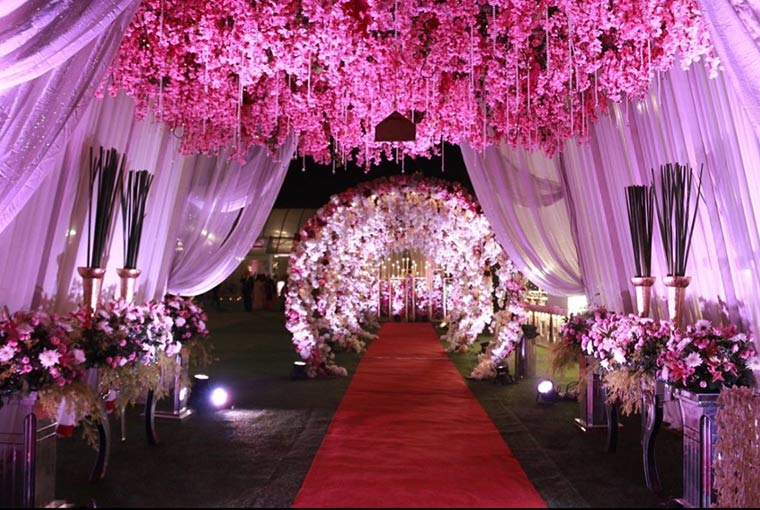 All of us have a little inclination toward dreamy elements then why not add them to our wedding décor as well. This can be easily done with floral arrangements. You can add ethereal, cloudlike arrangements that can be hung from the venue ceiling. For such arrangements, you can use baby's breath or gypsophila. This arrangement can easily be made a centre of attention at the venue.
Going Monofloral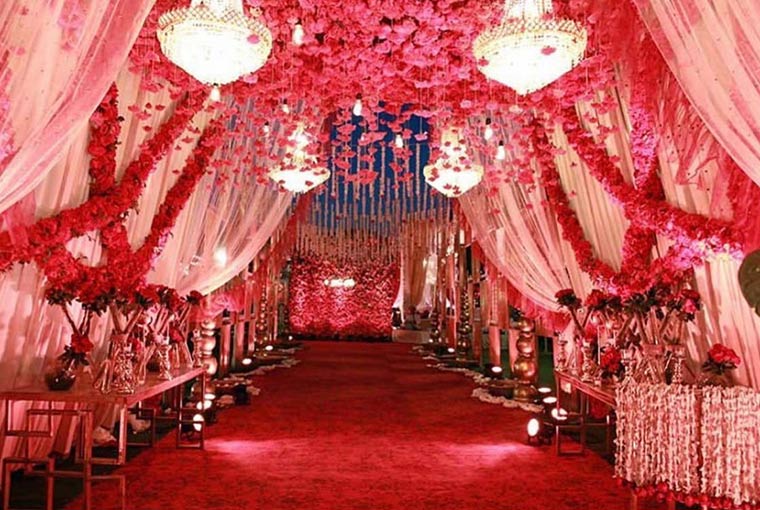 Colour-blocking has been trending even in wedding decor over the last few years, so we're excited to see it again as the upcoming wedding flower trend in 2022 as well. The best way to embrace this trend is by choosing either one type of flower or a few flowers in very similar colour varieties to create arrangements. For instance, you can choose to only incorporate roses in all red tones or magenta tones, which bring a new level of sophistication to a traditional flower.
Your decorator will also get a chance to flaunt their design skills to create an artistically curated floral arrangement filled with texture and dimension, and that too using only one type of flower.
All you need to see is how can you experiment with these trends suiting the theme of your functions as well as the venues.