#LockdownWeddingStories: Virtual Wedding solemnized with the couple 2,500 kms apart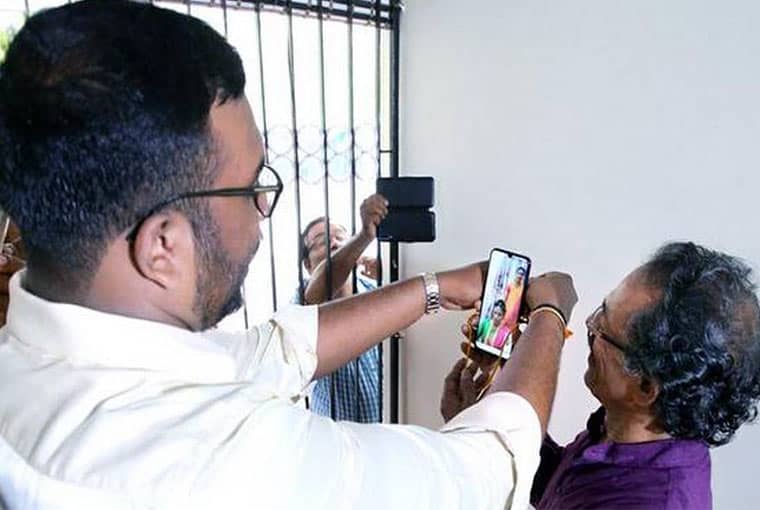 We are now in the third round of lockdown as the situation calls for it. This coronavirus pandemic has forced us to stay indoors and cancel all our travel and wedding plans for everyone's safety. All the weddings fixed for the months of March to June are now being postponed to the winter wedding season. We know this decision of postponement may be quite overwhelming for many couples, but it is the need of the hour.
However, there are many couples who have showed that love conquers all. They took the help of technology to tie the knot. Previously we talked about a Punjabi couple who got married on Zoom with all their family and friends online. Recently, one more couple who was 2,500 kilometers apart got married over a video call on 26th April 2020.
It was quite an unusual ceremony of the bride P. Anjana, 28, from Pallippad, near Haripad, who is staying in Lucknow in Uttar Pradesh, and Sreejith Nadesan, 30, from Changanassery in Kottayam, where they tied the knot over a video call.
The marriage was bound to happen in Pallippad , Kerela, and Anjana, the bride was working as an analyst in an IT company in Uttar Pradesh, had to travel there to Pallippad for the wedding. Because of the lockdown, she had to cancel those plans but the wedding took place on the same date.
The wedding ceremony took place on 26th April when the groom, Nadesan, along with his family, went to the bride's house at Pallippad, where her father stays. Then the bridegroom contacted the bride via video call. Mr. Nadesan then symbolically put a (mangalsutra) around the bride's neck on the screen only. After this Anjana also tied a locket with thread on her neck in the presence of her mother and brother.
The best thing about the entire ceremony was that it was conducted as per the lockdown guidelines. Nadesan and Anjana got engaged on November 9, 2019, and their marriage was. marriage was originally planned in January, but it was later shifted to April 26 for convenience.
The newlywed couple has planned to organize a party to celebrate their wedding with their closed ones once the lockdown ends.
Such adorable wedding stories are proof that all you need is love to get married. Though we are waiting for this lockdown to get over so that we could celebrate such love stories without any distances.
Image source: The Hindu