What Are The Things That You Should NOT Do While Buying Your Wedding Lehenga?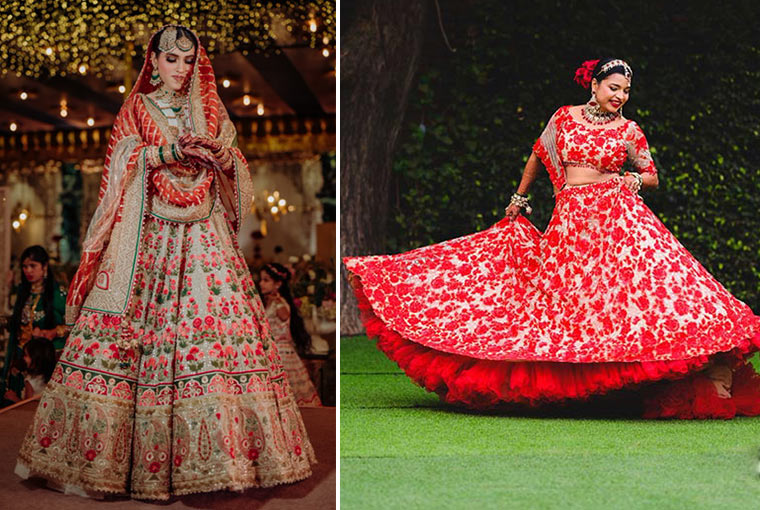 Shopping for your bridal lehenga is the most awaited task on your wedding planning list as every bride-to-be dreams of donning the most stunning outfit… After a lot of research on Pinterest and saved screenshots, to going through all the latest trends on Social media, every bride packs it all in before venturing out to pick their D-day outfit. But did you know there are certain things that you should NEVER do while buying your bridal lehenga? Here are some suggestions regarding the things that should not do while buying your wedding lehenga…
Relying on other people's opinions
The most important thing to do is not rely on someone else's opinion while buying your wedding lehenga. In certain cases, multiple people are involved while surfing for your bridal lehenga but you know what you want. We would recommend you to be open to suggestions in which you find logic. There are instances where your sister or mother felt that the price being paid for the outfits is way too high compared to the work you are getting done. Such reasons are logical so you can give attention to them, but reasons like that your lehenga isn't traditional enough or it won't suit you should be avoided.
Not doing proper research
Do not go lehenga hunting without doing your research. You should read almost all the information available on various portals regarding wedding lehenga shopping, look online for lehengas and even speak to some people who have already gone through this phase. You have to have your A-Game on as lehenga vendors are too smart. You also need to gain information about different embroidery works, fabrics and even the latest collections when you want to pick something from a designer store.
Going alone shopping
We would recommend that you should not go alone to buy your wedding day outfit. Girls are a be tad bit excited and exhausted at the same time so there are chances that you may not have a clear mind. But keep in mind take your right people girls!
Sticking to one design
We advise you do not to have a set mind. We know that you must be having Pinterest boards with all your dream lehengas pinned but sometimes you can find something new while shopping so does not have a closed mind while visiting the lehenga stores. There are chances that you wanted a certain designer but you end up loving something else which would eventually change your entire wedding look. This could be a big hit, so don't keep a closed mind.
Going to high-end designers first
The one thing you should not do while buying your wedding lehenga is going to high-end designers first. We are advising this because you will compare everything to those outfits priced at 10 times the outfits you see later. Therefore, we would advise you to start small unless you know you want only a particular designer!
We hope this will help you get the outfit of your dreams!
Visit Also:- Luxury Wedding Venues by FNP Venues