Which color bridal lehenga should you choose as per your zodiac sign?
The whole world is aware that Indian weddings and horoscopes can't be separated from each other. They have a long standing relationship as whether it's matching the horoscopes before the wedding or finalizing the wedding date, it really plays a major role. All the zodiac signs are believed to have a deep-rooted connection with some particular colors and they do bring a positive energy to its wearers. So here we present the list of ideal lehenga colors that will suit your zodiac sign and bring good luck to for your married life…
Aries (March 21st to February 18th)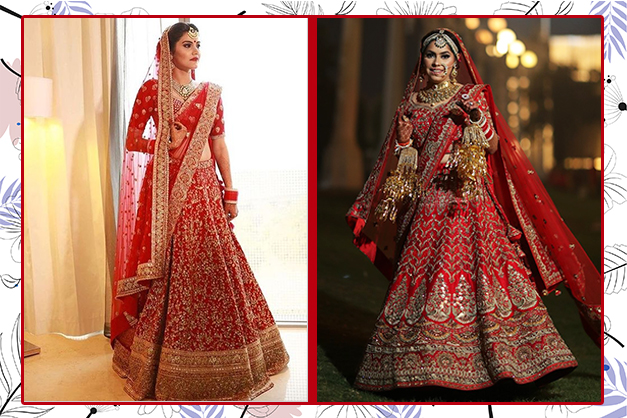 Aries are known to be strong and dominating in nature. Plus, they want all eyes on them and being a bride you will surely want it. Therefore, a beautiful lehenga in red color would be perfect for you.
Taurus (April 20th to May 20th)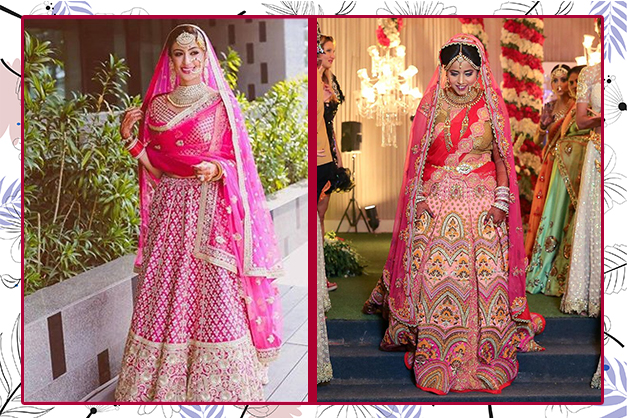 Taureans are very much determined and down to earth people. Their choices are simple and very much sophisticated that also shows their calmer side. Neutral shades such as sky blue, ivory and pink would be perfect for them as these colors go perfectly with their personality.
Gemini (May 21st to June 20th)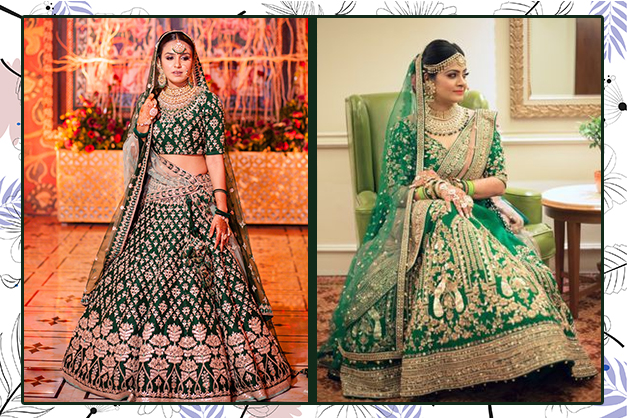 Being fun, interactive and social are the main characteristics of Geminis. They are known to have a very lively vibe and they are full of happiness. For Gemini brides, Green would be the best color for their wedding outfit. This color represents growth, rejuvenation as well as creativity and these qualities are very much synonymous with this sign.
Cancer (June 21st to July 22nd)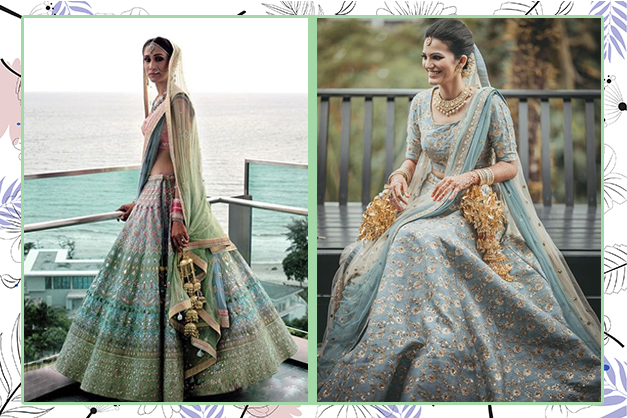 Cancerians are very romantic and emotional in nature. Plus, people with this sign are all about spontaneity, creativity and generosity. The brides with cancer zodiac can go for a light blue or a sea green colored lehenga as these hues resemble their qualities.
Leo (July 23rd to August 22nd)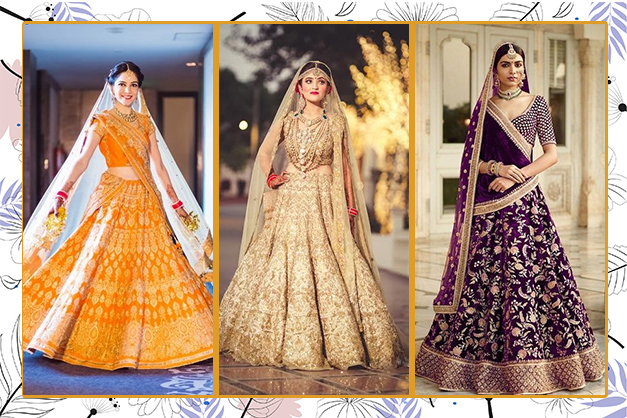 People with this zodiac signs are action-oriented, confident and they have a strong urge to be loved as well as admired by everyone around them! They always get attention whether they try or not. Undoubtedly, Leo brides will want to stay in the limelight, whatever the scenario is. Therefore, the best colors that best suit their temperament are Gold, Marigold Orange and Bright Purple.
Virgo (August 23rd to September 22nd)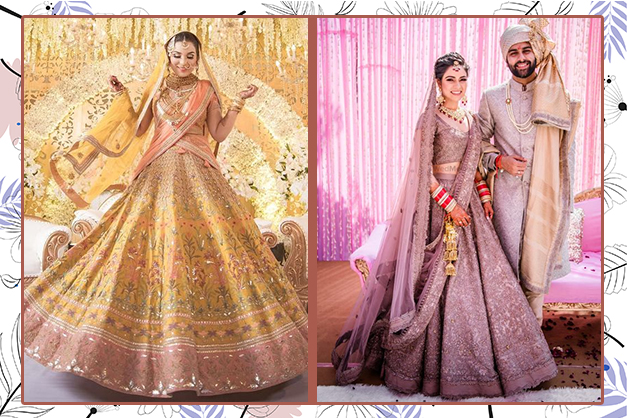 The brides with this sign are perfectionists. Besides this, Virgos have a tender heart with a careful mind. For Virgo brides pastel and pale shades such as peach, mauve, light blue, light pink- go well with their spirit.
Libra (September 23rd to October 22nd)
Librans are considered to be really graceful, balanced and down the earth. For these brides, deep blue or a turquoise colored lehenga would be perfect. These colors represent balance as well as harmony which are also the typical traits of this sign.
Scorpio (October 23rd to November 21st)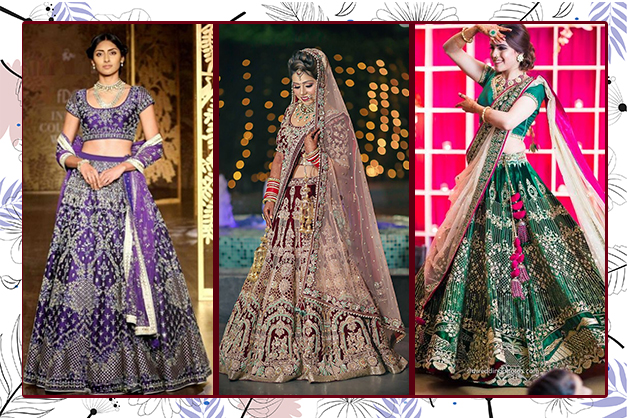 The people with Scorpio zodiac sign are noted as mysterious, loyal and passionate. For brides born under this sign, brighter shades including maroon, purple as well as bottle green would definitely be perfect as they suit their traits.
Sagittarius (November 22nd to December 21st)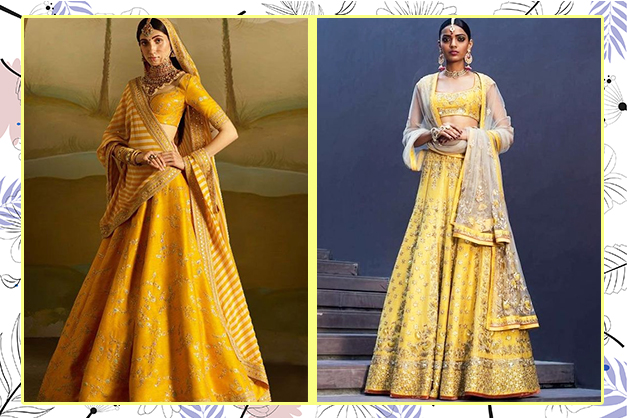 Sagittarians are full of enthusiasm, optimism and philosophical thinking.  They love new experiences and life changes and wandering from one place to another. They also have an energetic nature and a strong desire to explore everything. The brides with this sign should definitely go for yellow hues as it represent them in the perfect way.
Capricorn (December 22nd to January 19th)
Capricorns are conservative, practical and ambitious. They are the people who believe in strong values which also make them the masters of self-control as well as responsibilities. So, the colors that capture their aura are grey and lilac.
Aquarius (January 20th to February 18th)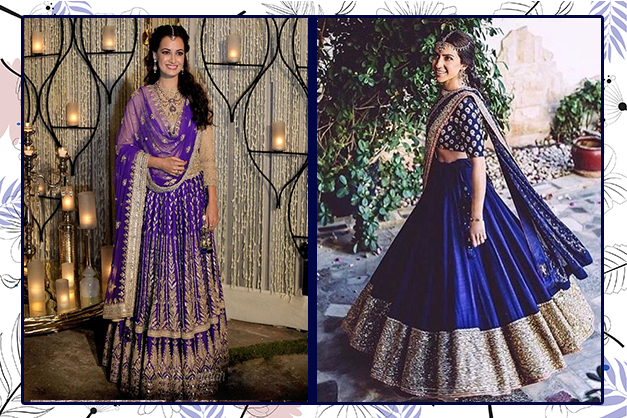 The folks born under this sign are noticed to be sensitive and at the same time they also boast characters like being energetic and intellectual. For brides, various shades of purple like violets and other psychedelic colors are advised. Being Aquarians these brides to be would love to try something offbeat and unconventional shades.
Pisces (February 19th to March 20th)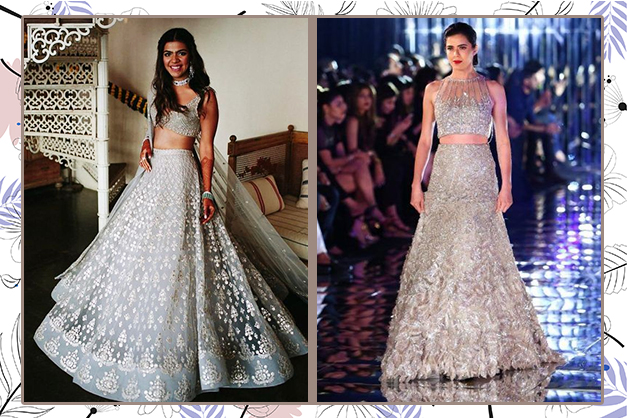 Last, but not the least… Piscean women are very romantic, candid as well as strong so they should opt for a silver colored lehenga for their wedding as it totally goes with their personality.
We have tried our best to suggest you the best colors for your bridal lehenga that according to your zodiac sign so that you can flaunt your attire like a queen on your big day. For any more suggestions comment below…
Read Also:-Wedding Venues in Delhi