Why you should consider hosting a day wedding?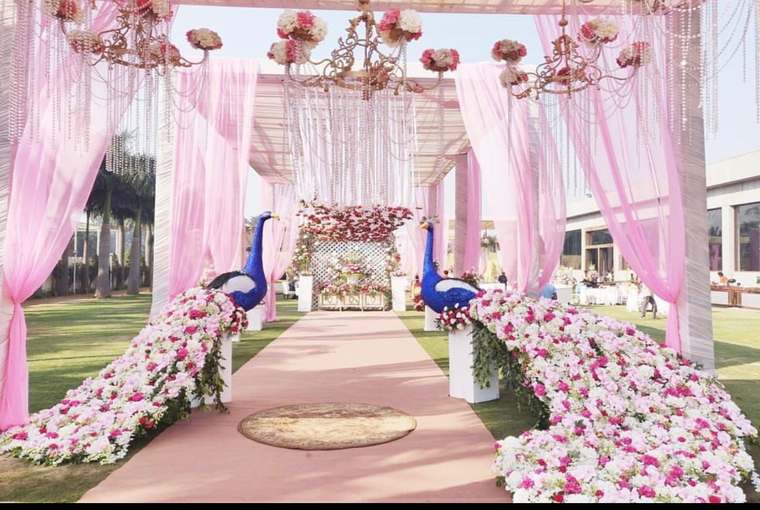 With the second wave of pandemic hitting us again in 2021, the postponed weddings happening are again having some doubts. With the curfew till 10 pm in many cities in India, people have to shift their night weddings to day so that guests can leave on time and reach back their places before 10. But, don't get saddened by the fact you are left with the only option of getting married in the day! Day weddings are equally beautiful, sometimes even prettier than the ones planned in the night.
You should totally go with planning a day wedding and here are some pros that will help you convince you to plan one for yourself!
Minimalistic décor
Wedding décor sets the right mood for the celebration. Weddings planned in the evening have more grand décor settings with heavy chandeliers and installations with drapes in darker colours to add a little drama to the setting. If we talk about a day wedding you can go for subtle pastel hues and laces with white lilies and pink roses for your day wedding setup. It would be an aesthetically pleasing sight with all that minimalistic décor.
Natural lighting would be the best thing
We live in a tech-savvy era where professional photographer and videographers are equipped with the best technology to make your photographs absolutely stunning. But, trust us nothing can beat the beauty of natural light! That bright natural sunlight at noon makes everything look stunning, the sunset can serve as a backdrop for your pictures will surely make it all look dreamy.
You can pay attention to even the minutest of details
As you will be going for minimal décor, you have to keep in mind that the bright sunlight will bring more focus on the little details. Even the colours of flowers at the centre tables or the drapes will all be noticeable! When we talk about minimal décor, it means lesser objects to adorn the venue that gain means more visibility to each and every detail. When we set up décor in the evening any kind of stain on your carpet can be overshadowed with dim lights but you need to be really cautious for a day wedding and it has to be flawless.
Post-wedding Shenanigans or Same Day Reception
As your wedding would be over by late afternoon which will give you a lot of time. You can plan your same-day reception or something fun after that. You can start some musical night, a beautiful cocktail party or even an after wedding party with just friends. You can even give some time to your guests to take some time to get decked up for your reception.
Day Weddings are cost-saving
 When you plan an evening wedding it becomes an expensive deal. You have to plan it for months as they are all bout glam which makes it expensive. Whereas as day weddings, are more of a cost-effective idea. Starting from the décor, the lights to the venue itself can be hired at lesser booking prices if you opt for a day wedding. As evening weddings are high in demand and extravagant which makes them more expensive.
More hues to experiment with for bridal lehenga
For the brides who love to be unconventional, a day wedding can give them a chance to opt for something else rather than a conventional red lehenga. You can try some pastels or pinks that will surely complement the daylight as well as the minimalist décor!  We have seen so many stunning Anand Karaj (Sikh weddings), which are a perfect example of how beautiful day weddings can look! Such weddings are a big hit and yet underrated among the couples which usually people look for nowadays! You can even go for rustic wedding decor ideas and or DIY décor ideas are your thing, if you go for a day wedding!
Though evening weddings are all about  OTT decor with the best lighting and shiny outfits as well as martinis, whereas at a day wedding you and your guests can flaunt some pastel outfits while sipping some mimosas before a beautiful wedding brunch.
Therefore, there is no need to be sad about night curfew when you can plan a beautiful day wedding!