10 Must-Try Cuisine Options for Your Luxury Wedding
The dining experience is one element of a luxury wedding that requires special attention. Planning a luxury wedding is an exciting and creative process. You have the chance to dazzle your guests and exhibit your distinctive taste and flair with your wedding food. While conventional wedding fare has its place, why not think about some novel and unusual culinary choices? Whether you get the best wedding planner in Mumbai or the best banquet hall in Delhi, no effort is worth it till you get the most amazing menu for your beloved guests. We'll look at 10 menu items in the next section that are a must-try for your opulent wedding that will wow and satisfy your guests.
1. Fusion Flavors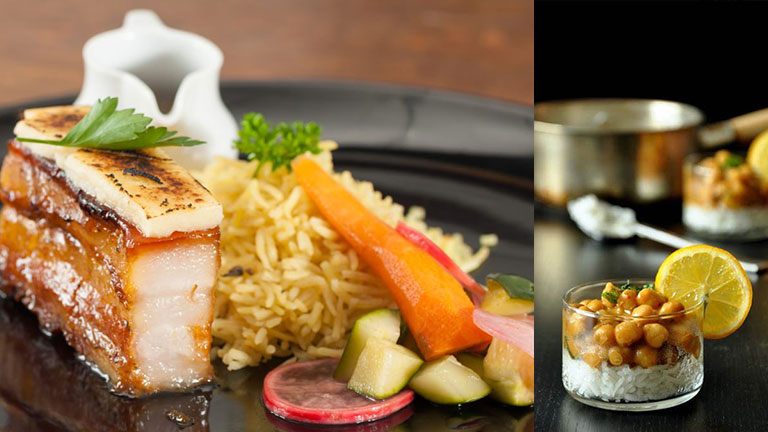 Fusion flavours may be used in your wedding meal to produce a remarkable eating experience. Fusion cuisine combines several culinary practices to create intriguing and surprising flavour combinations. Think of presenting foods that incorporate flavours from several cuisines, such tacos with Asian influences, spaghetti with Mediterranean flavours, or sushi rolls with Mexican-Asian fusion. This unique strategy will tantalise your visitors' palates and create a really unforgettable dining experience.
2. Gourmet Food Stations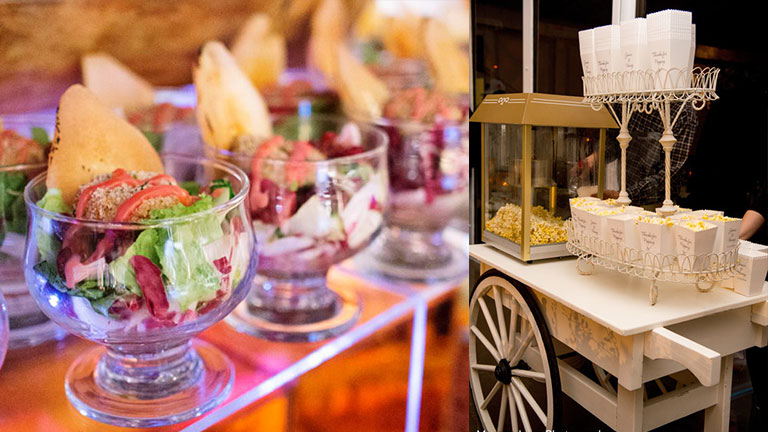 This can be an ideal choice for a romantic wedding theme. Set up gourmet food stations all throughout the site to make the celebration more elegant. Visitors can browse several stations serving varied cuisines in place of a formal sit-down supper. Create sushi, charcuterie and cheese, spaghetti and even personalised pizza bar stations. Guests may select their preferred food during this interactive eating experience, generating a dynamic ambience. It's the ideal choice for couples looking to add some class and diversity to their opulent wedding.
3. Farm-to-Table Freshness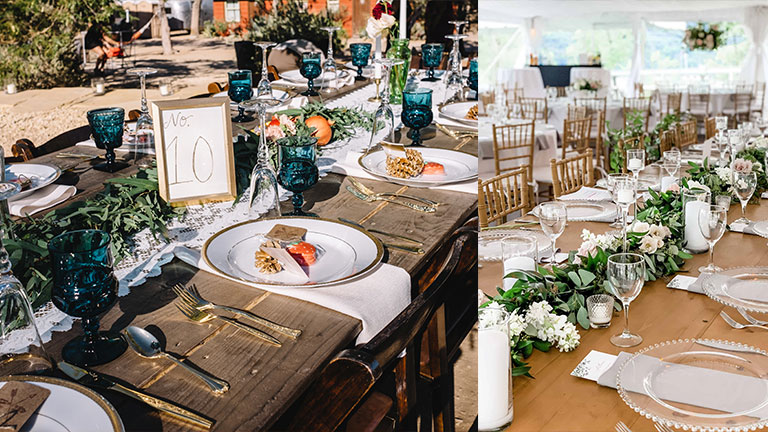 Incorporate locally produced and seasonally suitable foods into your wedding cuisine to support the farm-to-table movement. Showcasing the flavour and freshness of regional goods not only supports local farmers but also gives your opulent wedding a distinctive and sustainable touch. Along with your caterer, develop menu items that showcase the finest of the area, such as roasted root vegetables, heirloom tomato salads, and grass-fed meat. The excellence and flavour of these carefully chosen meals will be appreciated by your guests.
4. Exquisite Seafood Selections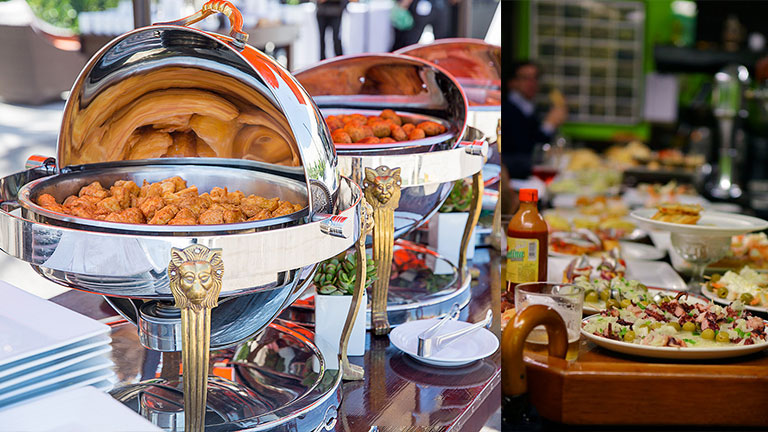 If you enjoy seafood, think about including a fine seafood variety in your elegant wedding meal. There are countless opportunities to wow your visitors with the sea's bounty, from tender lobster to delicate oysters. As an attractive starter, serve a lavish seafood tower with a variety of fresh shellfish, including prawns, crab and clams. Choose nicely cooked scallops or a delicate fish dish for the main meal. Your visitors will enjoy the ocean flavours and be impressed by the magnificence of these decadent delicacies as a wedding cuisine menu.
5. Vegan and Plant-Based Delights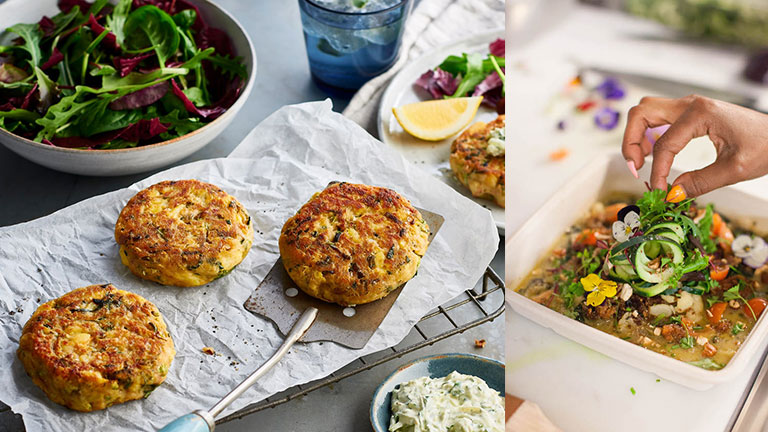 Wedding foods ideas are never-ending and this is a popular choice by demand now. Your luxury wedding meal should include vegan and plant-based meals as not just a healthy choice but also a means to accommodate different dietary requirements. Create recipes that highlight the nutritional benefits of plants, such as colourful vegetable tarts, savoury grain bowls, or cutting-edge plant-based protein substitutes. Collaborate together with your caterer to create excellent vegan menu items that are also aesthetically pleasing. The creativity and care put into these plant-powered treats will wow your visitors.
Also Read – The Perfect Backdrop for Your Love Story: Our Top Wedding Venue Choices
6. Customised Interactive Food Bars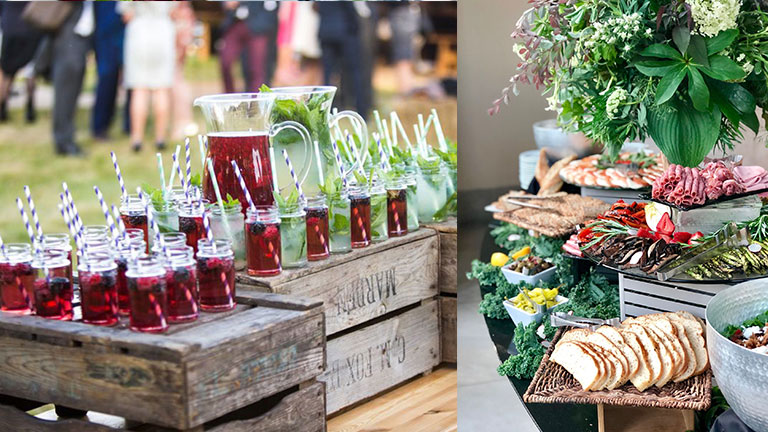 By including interactive food bars, you may infuse enthusiasm into your luxurious wedding. With the help of these stations, customers may personalise their meals to suit their tastes and create a unique dining experience. A gourmet mac and cheese station with a selection of toppings and cheeses would be a good idea. A build-your-own taco station with a variety of meats, salsas, and toppings is an additional concept. The options are limitless, and your visitors will relish the chance to produce their own culinary creations.
7. Wine and Artisanal Cheese Pairings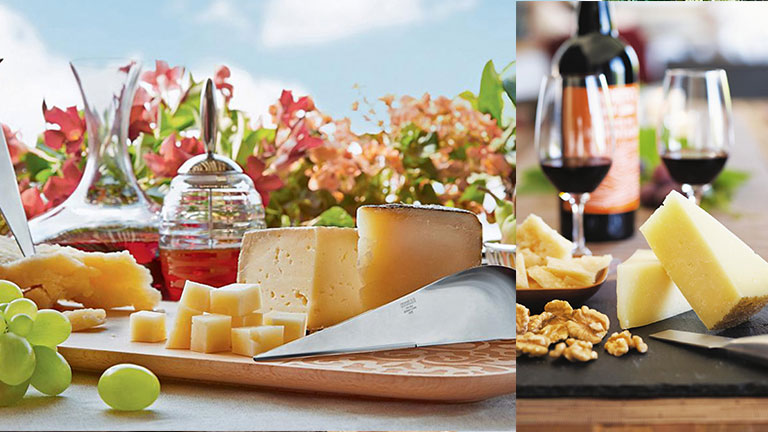 This is the perfect choice for something different than traditional wedding cuisine. Offer an exquisite cheese and wine matching experience for the ultimate in luxury wedding enjoyment. Work together with a nearby cheese store and sommelier to choose a variety of fine wines and delicious cheeses. Set up a special cheese and wine tasting area so visitors may sample various flavours and textures. This exquisite and refined selection will thrill wine aficionados and cheese lovers alike, making for a memorable dining occasion.
8. Creative Dessert Displays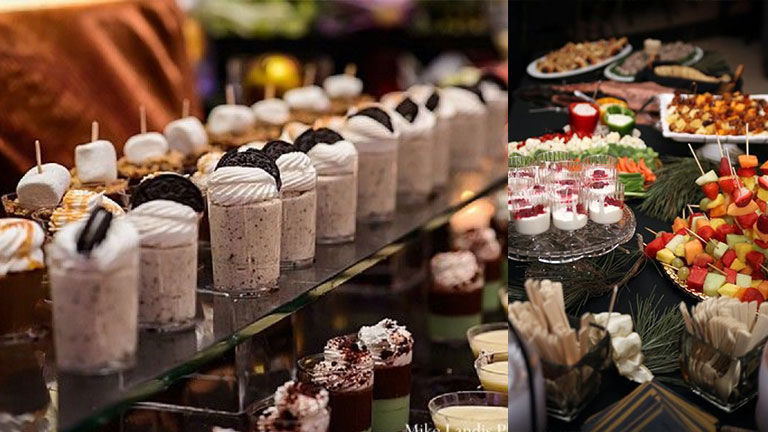 Enhance the effect of your wedding dessert with imaginative and gorgeous arrangements. Consider alternatives to the conventional wedding cake, such as a doughnut wall, a gelato cart, or a dessert buffet with a variety of bite-sized goodies. Make the desserts special by adding distinctive flavours and textures or personalising them to match your wedding's theme. These inventive dessert displays, which feature anything from vibrant macarons to rich chocolate truffles, will astound your visitors and satisfy their sweet tooths.
9. Elevated Cocktail Hour Bites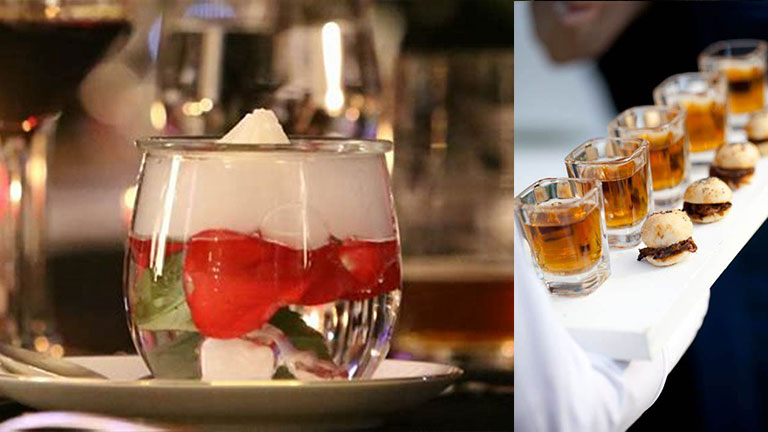 Serve upscale and elegant appetisers during cocktail hour to make a statement. Choose small lobster rolls, ceviche bits or gourmet sliders rather than classic dishes like prawn cocktails or pigs in a blanket. Your visitors will be impressed by these little yet effective nibbles thanks to their distinctive flavours and stylish design. Work together with your caterer to develop a range of hors d'oeuvres that highlight the skilful preparation that goes into each mouthful.
10. Molecular Gastronomy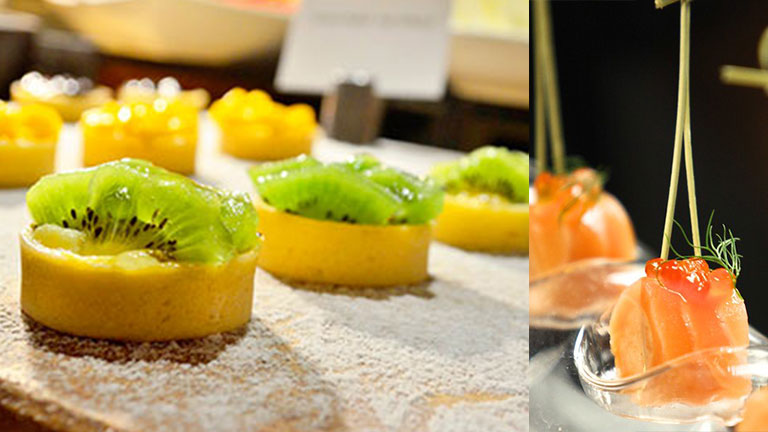 Consider including aspects of molecular gastronomy in your elegant wedding cuisine for the more daring diners. Science and culinary arts are combined via molecular gastronomy to produce unique and beautiful dishes. Think reconstructed classics, delicacies laced with liquid nitrogen, or edible bubbles. Work with a talented chef who specialises in molecular gastronomy to design a bespoke dining experience that will astonish and enthral your guests.
Lastly, your luxury wedding buffet is a chance to highlight your own taste and fashion sense. You can create an unforgettable dining experience by incorporating fusion flavours, gourmet food stations, farm-to-table freshness, exquisite seafood selections, vegan and plant-based delights, interactive food bars, artisanal cheese and wine pairings, creative dessert displays, elevated cocktail hour bites, and elements of molecular gastronomy. A meal that expresses your individuality and distinguishes your luxury wedding will thrill your guests. Work together with your caterer to make your idea a reality.