The Perfect Backdrop for Your Love Story: Our Top Wedding Venue Choices
An important choice in the wedding planning process is selecting the ideal outdoor wedding venue. The location provides the backdrop for your love story and the stage for your special day. Finding a location for an Indian wedding that captures the grandeur and cultural diversity of the party is crucial. With a variety of possibilities, we give our best romantic wedding location picks for Indian weddings in this blog. To take things up a notch, you can blend two or more venue themes together for an unforgettable experience that will your guests in awe.
1. Palatial Destination Wedding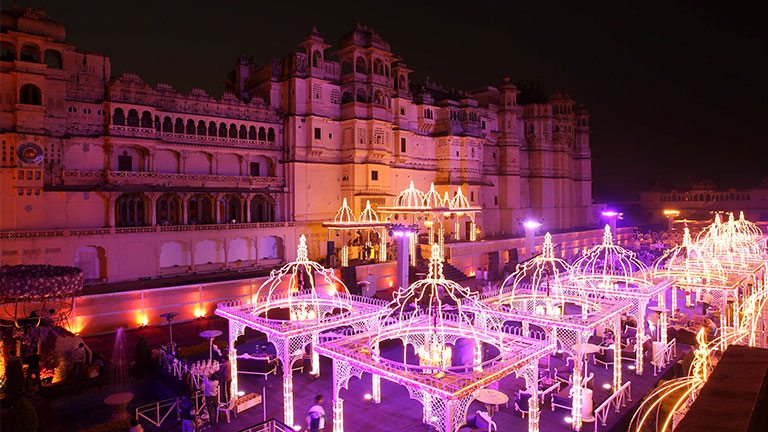 Enjoy the splendour and elegance of a palatial destination wedding. There are several palaces and historic hotels in India, which offer a regal atmosphere for your wedding. Consider a royal wedding theme where the couple gets married in a magnificent courtyard that is covered with elaborate artwork, encircled by beautiful gardens, and lit up by brilliant chandeliers. These locations frequently provide large ballrooms, opulent lodgings, and first-rate service. Your visitors will be taken back in time to bygone era of elegance and charm, making them an event they won't soon forget.
2. Beachfront Extravaganza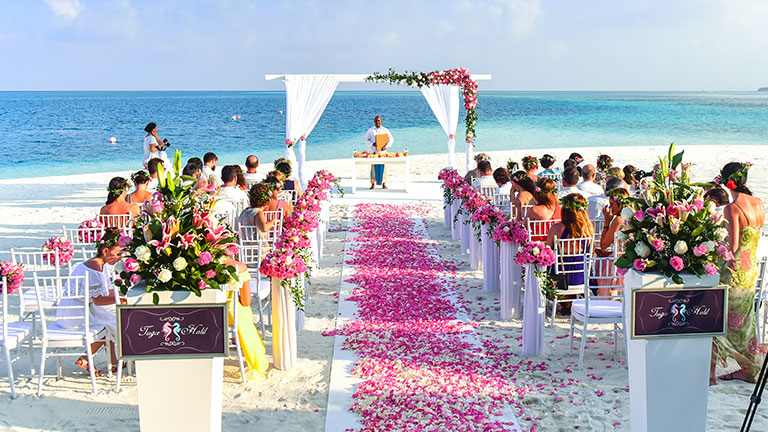 A beachside wedding is the perfect option for couples looking for a charming and romantic atmosphere. India is home to several breath-taking coastal regions, including Goa, Kerala, and the Andaman Islands, all of which provide pristine beaches and breath-taking landscapes. Picture saying "I do" while the sun is setting on the horizon, with the sound of the waves breaking in the distance. Beachfront locations offer a tranquil and picturesque setting, resulting in a magnificent backdrop for your wedding celebrations. The ceremony might take held on the sands of the shoreline or in a beachside resort that combines natural beauty and contemporary facilities.
3. Royal Heritage Venues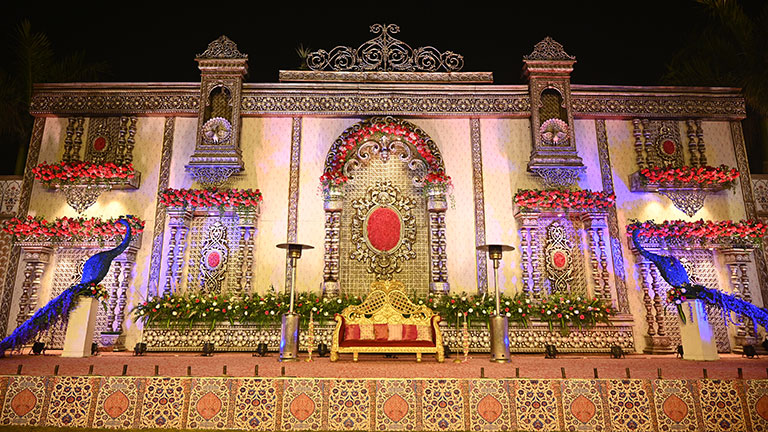 Due to India's extensive history and cultural legacy, there are several royal historical locations that are ideal for a grand Indian wedding. These locations—from Rajasthan's spectacular forts and havelis to Gujarat and Uttar Pradesh's elaborate palaces—are steeped in history and provide a window into the affluent lives of the past. You may fully immerse yourself in the splendour of Indian customs and have a party that is really royal by being married in a location with a royal background. The breath-taking architecture, elaborately carved facades, and expansive courtyards offer a magical setting for your wedding celebrations and convey a feeling of ageless grandeur.
4. Tranquil Garden Retreats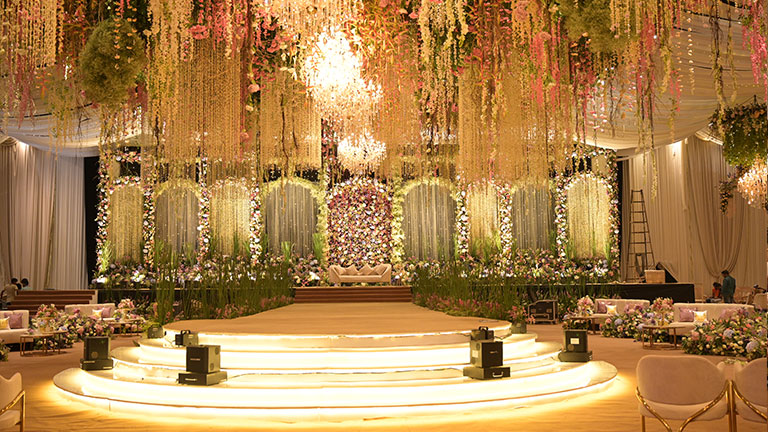 Consider having your wedding at a garden retreat if you want a calm and cosy atmosphere. India is blessed with beautiful landscapes and luxuriant botanical gardens, which make for serene wedding venues. These locations provide a tranquil and loving ambiance since they are surrounded by blossoming flowers, tall trees, and soothing water features. You may also obtain suggestions for organic wedding decorations ideas. Garden retreats offer a serene and all-natural setting for your love story, resulting in a charming and exclusive event. A romantic and dreamy mood may be created by exchanging vows while surrounded by the aroma of blooming flowers and a gentle breeze whispering through the leaves.
Must Read – Say 'I Do' in Style: A Guide to Choosing Your Dream Wedding Venue
5. Urban Chic Venues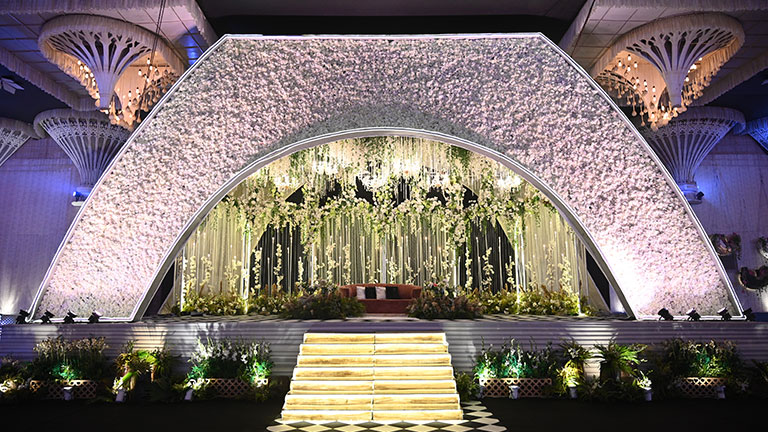 Urban chic locations in major cities like Mumbai, Delhi, and Bangalore are fantastic choices for couples that value contemporary aesthetics and a global feel. These settings mix cutting-edge technology with contemporary architecture to provide a posh and elegant atmosphere. Urban elegant venues provide a flexible canvas for constructing a unique and stylish wedding celebration, ranging from rooftop venues with panoramic city views to sleek banquet halls with cutting-edge decor. The urban setting, contemporary furnishings, and streamlined architecture offer a stylish and elegant setting for your wedding celebrations.
6. Temple Wedding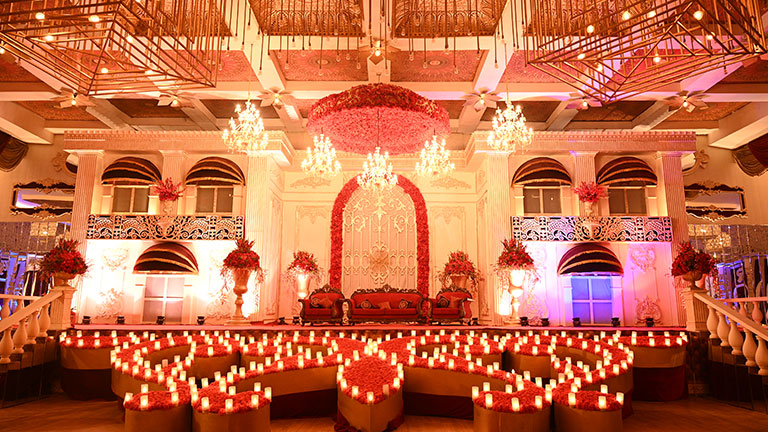 Hosting your wedding at a temple may be a truly important decision for couples looking for a profoundly spiritual and culturally immersed event. Beautiful temples are common throughout India, and many of them have areas designated specifically for wedding ceremonies. A temple's heavenly atmosphere, elaborate architecture, and spiritual aura create a solemn and auspicious environment for your union. Your wedding will have a special feeling of spirituality and dedication since you'll be celebrating your love amidst chants, rituals, and blessings in a temple setting. For your wedding ceremonies, temples frequently contain beautiful architectural aspects, elaborate sculptures, and tranquil environs. Your special day has a strong feeling of tradition and cultural importance thanks to the sacredness of the location, allowing you to embark on a pure marital journey.
7. Mountain Retreats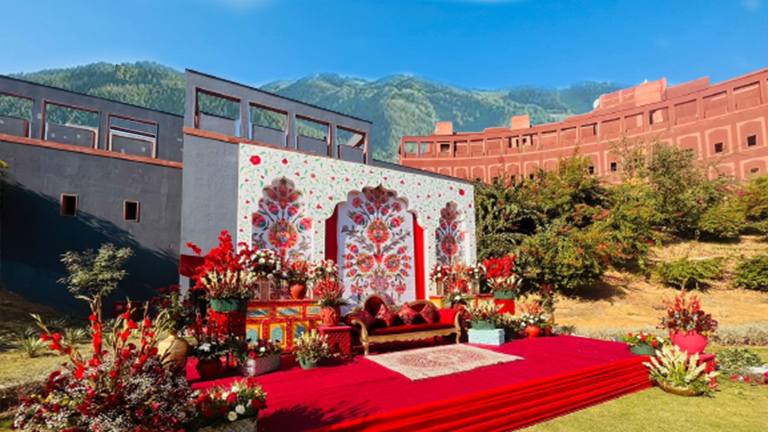 Mountain getaways provide a breathtaking setting for your wedding for couples that value nature's beauty and seek a peaceful haven. The Himalayas and the Western Ghats, two stunning mountain ranges in India, make for beautiful backdrops for your wedding. Imagine saying your vows amidst majestic mountains, luxuriant woods, and gushing waterfalls. Mountain retreat locations provide a peaceful and cosy atmosphere that enables you and your visitors to connect with nature and build lifelong memories amidst breath-taking scenery.
8. Eco-friendly Retreats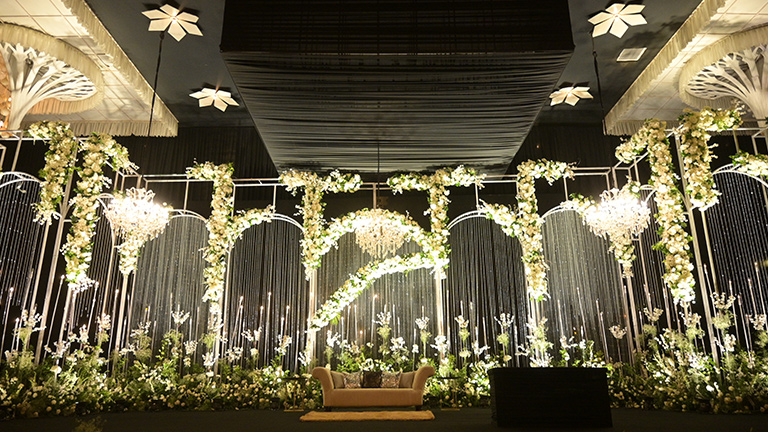 Consider having your wedding at an environmentally conscious retreat if sustainability and environmental awareness are important to you. There are several eco-resorts and sustainable wedding locations in India, which prioritise environmental preservation and provide a distinctive wedding experience. These locations put an emphasis on eco-friendly practises including employing renewable energy sources, eating locally and organically, and producing little trash. By celebrating your love in an eco-friendly location, you may not only help to protect the environment but also create a celebration that is heartfelt and consistent with your ideals.
A memorable and fascinating event may be created by selecting the ideal wedding location with the perfect wedding theme. India offers a wide variety of venues that can accommodate all couple's preferences and needs, whether you envision a palatial destination, a beachfront extravaganza, a royal heritage venue, a tranquil garden retreat, an urban chic setting, a temple wedding, a mountain retreat, a lakeside serenity, a heritage villa or mansion, or an eco-friendly retreat. Every venue option offers a distinctive setting for your love story, enabling you to make priceless memories that will last a lifetime. Choose a location that reflects your style and fosters a fantastic ambiance for your ideal wedding.