20 Bollywood movies that showcased the Best Indian Weddings
We have always been a fan of Bollywood movies as they are a source of inspiration for many many years. They give us so many fashion tips, relationship advice, dance lessons and not to forget so much wedding inspiration! Many Bollywood songs & scenes are shot in few wedding venues in Delhi NCR & other cities also. Indian wedding movies showcase a variety of different themes and ideas for Indian weddings, which work as entertainment and ideas for wedding planning as well. Here are a few Bollywood movies that have inspired wedding celebrations in a unique way…
1. Yeh Jawaani Hai Deewani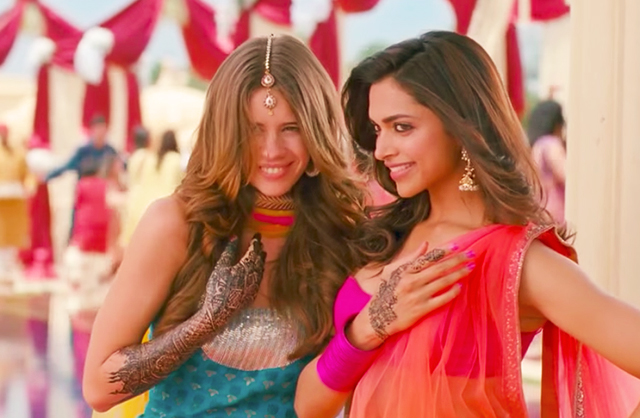 This movie has set trends in many ways for youth. The key highlight was the splendid wedding in Udaipur. It was a dream wedding in a palace of the beautiful city in Rajasthan with opulent decorations and breathtaking outfits. The whole wedding sequence has everything from dance, bar, love to drama; it was all there to be inspired from. After the movie, everyone wanted to get married in Udaipur. This has to be one of the wedding movies Bollywood has made that inspired people to explore destination weddings in Rajasthan, to re-create a similar vibe.
2. Band Baaja Baaraat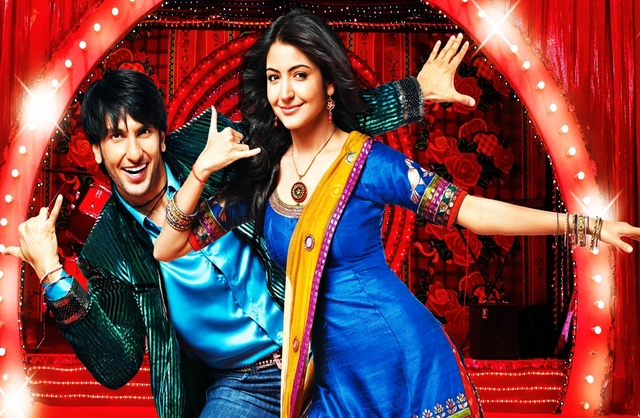 The name says it all. This movie was all about weddings. The main leads of the movie, Ranveer Singh and Anushka Sharma played the role of wedding planners. From the collection of Punjabi wedding movies, this has to be one of the most popular wedding movies. Their growth from New Delhi's Janakpuri to Sainik Farms was a delight to watch. The movie had beautiful sets and costumes, which made it an entertaining potboiler. And since then, the business of wedding planners & wedding venues has been booming.
3. Shaandaar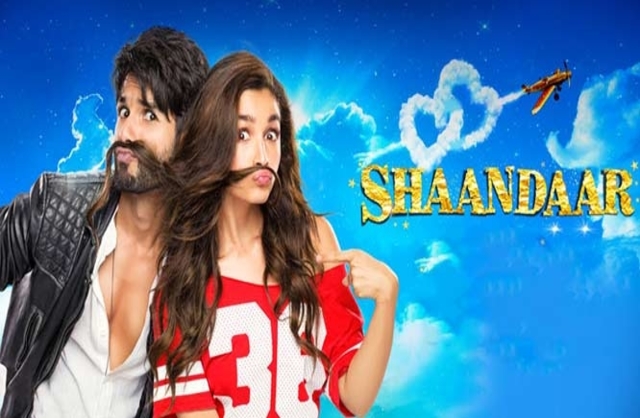 The movie Shaandaar is being called the 'India's First Destination Wedding Film' after its release. The main lead, Shahid Kapoor plays a wedding planner, Alia Bhatt played the sister of the bride. The film involves an exuberant affair, with limos and palaces thrown around generously. And that's not all – it is being called "India's first destination wedding film".  The reason this movie is considered to be one of the best Indian wedding movies is that the entire film is based on planning an extravagant wedding. Who doesn't love to watch that?
4. 2 States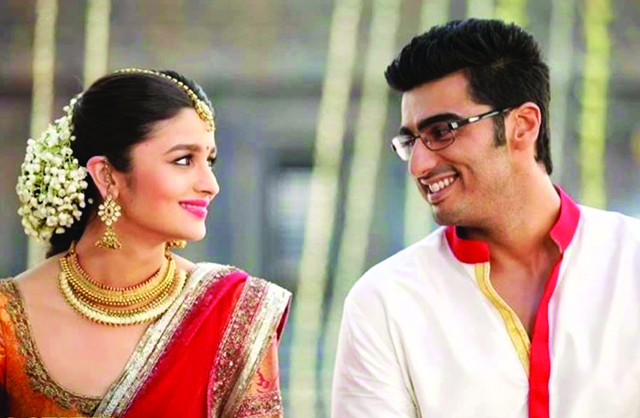 This movie was an amazing example of a multicultural wedding. The setting of this movie was really breathtaking, Arjun and Alia looked fantastic. The wedding in this movie showed two very different cultures from two very different states who decided to join hands because of love triumphs all. 2 States definitely touched the hearts of those who are obsessed with Bollywood wedding movies because of its emotional factor and the journey of two people who overcame obstacles to be together.
5. Dolly ki Doli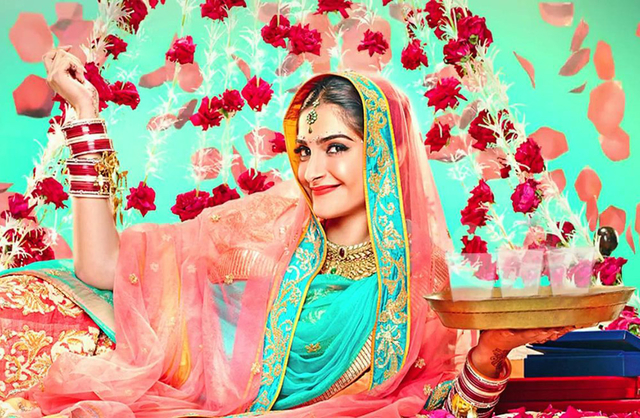 This movie portrayed the fun side of weddings. It is a story of a runaway bride, quite practically! The main lead, Sonam Kapoor gets into fake weddings to charm the boys. She played a wife who ends up robbing her husband and in-laws, and all her weddings gave us enough wedding sequences to be inspired from. It is not the most ideal wedding Bollywood movies capture but it definitely gave us great wedding ideas.
6. Humpty Sharma Ki Dulhaniya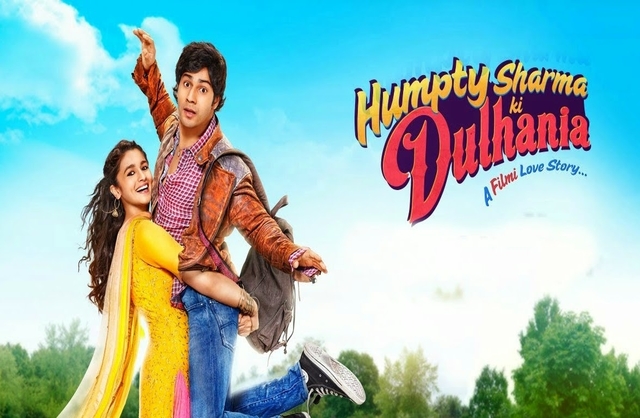 This entire movie revolved around "Kareena wala designer lehenga!" This movie is also referred to as a spin-off of DDLJ, as it is a love story between Varun Dhawan and Alia Bhatt while on the other hand, preparations are going on for Alia's wedding to someone else.
7. Tanu Weds Manu and Tanu Weds Manu Returns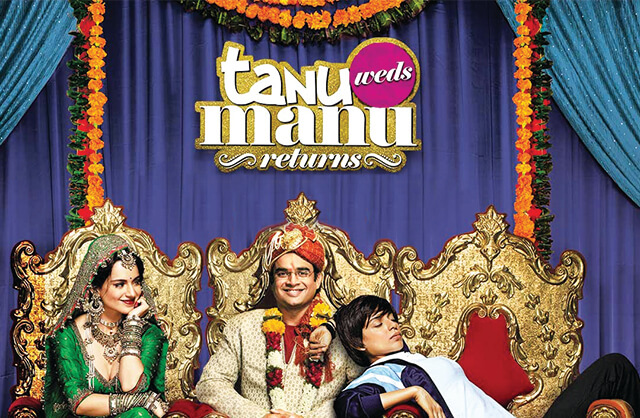 PC: Youtube
In the first part, an arranged marriage is set between two odd but very different individuals which is something you can't miss. Plus, the chemistry between Kangana and Madhavan will make it worth your while. The sequel to the first part includes a wedding preparation, whereas on the other side the marriage of the main lead falls apart. With a bit of drama and more laughter, it lived up to the expectations like its prequel.
8. Mere Yaar Ki Shadi Hai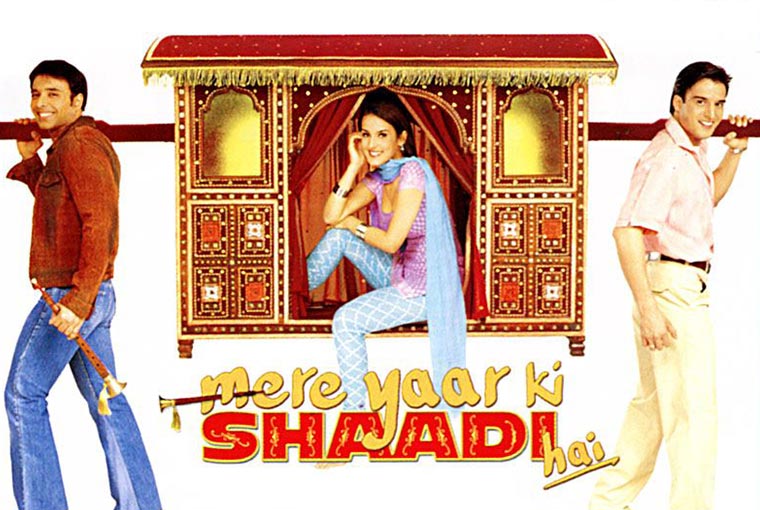 This movie is an adaption of My Best Friend's Wedding. This is all about Jimmy Shergill planning his wedding with Tulip Joshi, and her best friend Uday Chopra is trying hard to cancel this wedding. You will get to see the whole family prepping for the wedding and celebrating pre-wedding functions. Plus, this was the movie that introduced the bachelor's party to our generation.
9. Hum Saath Saath Hain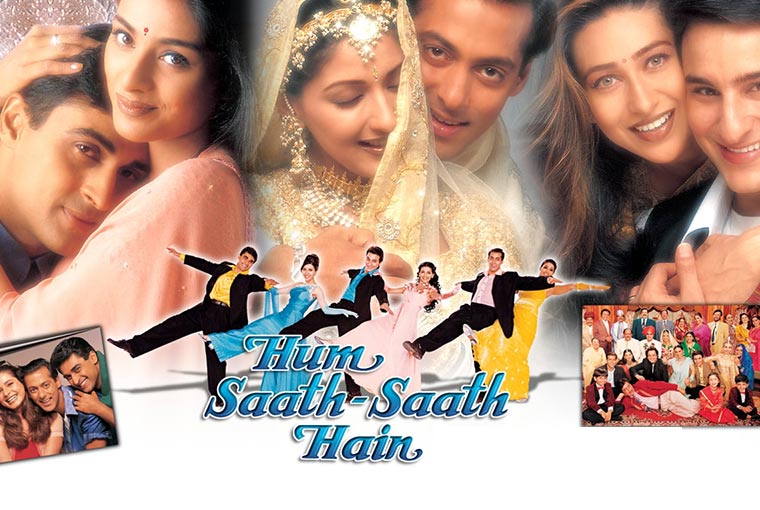 This movie is noted as the modern Ramayana that celebrated three weddings with all pomp and show. It also showcased challenges a joint family faces when the elder son gets married. This is one of the best wedding movies Bollywood has given us due to its family-oriented theme and wedding craziness.
10. Bride and Prejudice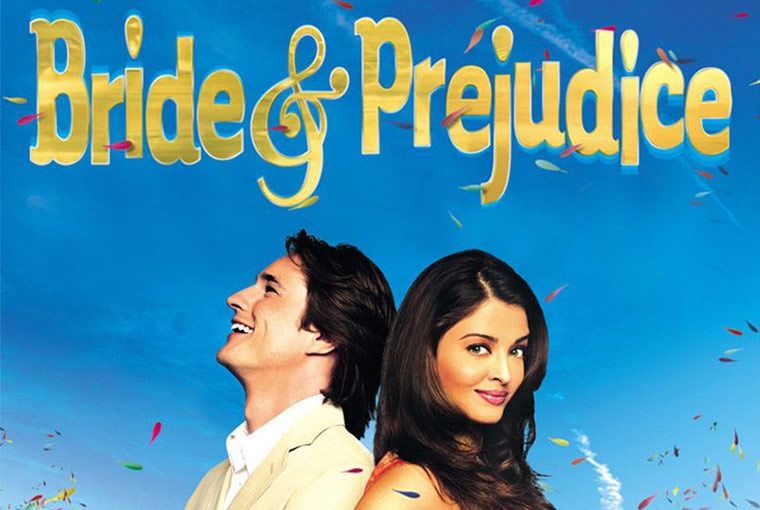 This movie showed a typical Punjabi household celebrating the wedding of their eldest daughter and finding a suitable match for their other daughters.
11. Sonu Ke Titu ki Sweety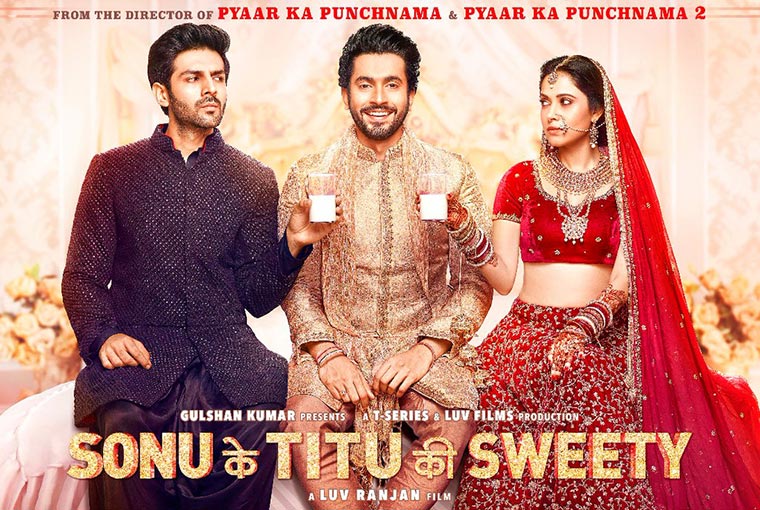 The movie is all about a war between romance and bromance, where Sonu doesn't want his childhood buddy to get married to Sweety. This is when he decides to bring out her true colours and stop his friend Titu from marrying her. The pre-wedding celebrations make the movie more fun.
12. Hum Dil De Chuke Sanam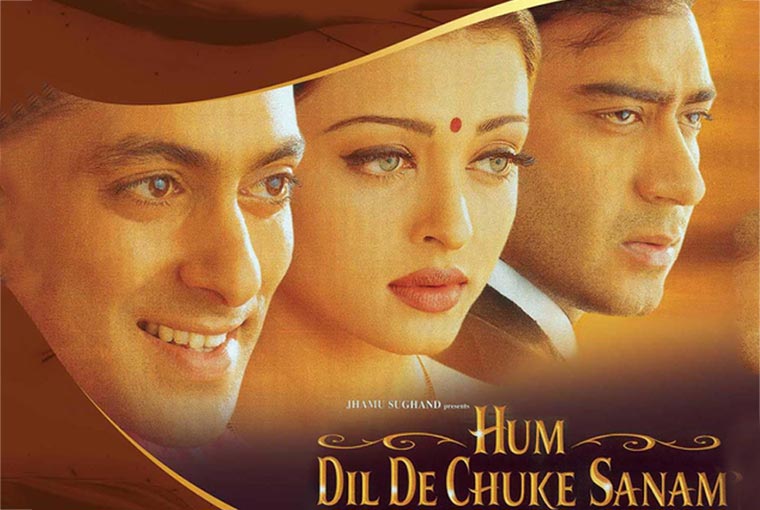 If you want to see how Gujrati celebrates weddings, then this movie is the perfect example. You will get to see all the traditions, songs and breathtaking outfits which will give so many inspirations. Above all, the chemistry between Aishwarya Rai and Salman Khan made us go crazy over this movie.
13. Hum Apke Hai Koun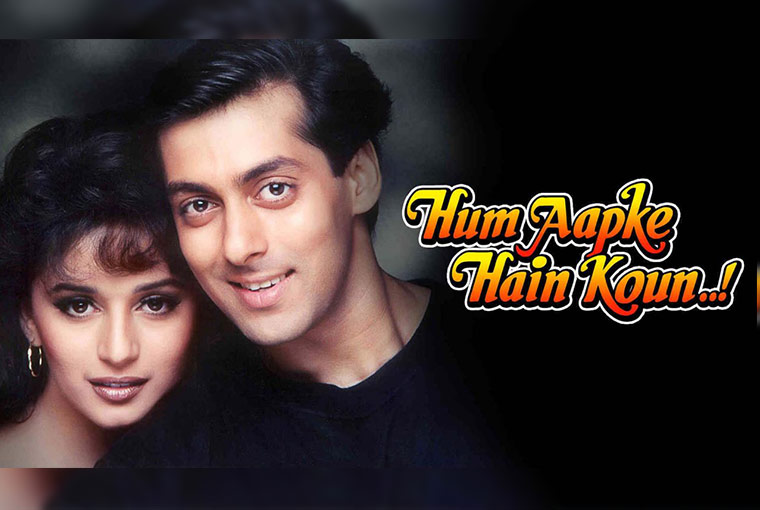 No movie can compete at the wedding celebrations in this flick. This movie is noted as one of the biggest blockbusters and family sagas that anyone has seen. With that, it has also been known as the biggest shaadi film ever. We were all in awe of Salman Khan and Madhuri Dixit's chemistry and the way they celebrated their elder sibling's wedding.
14. Veere Di Wedding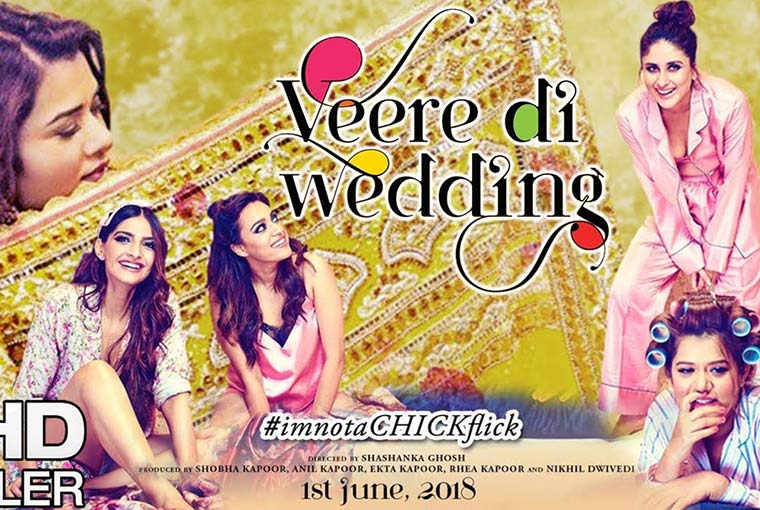 If you want to keep with the latest trends in Indian Weddings then, this movie should not be missed. This should be a must-watch on your Bollywood wedding movies list. Veere Di Wedding gives us major wedding goals with your close bride squad. The iconic phoolon ki chaadar moment with your bride's squad was the key highlight of the movie. And how can we forget Kareena's dreamy bridal look that gave us major bridal goals for weddings?
15. Mere Brother Ki Dulhan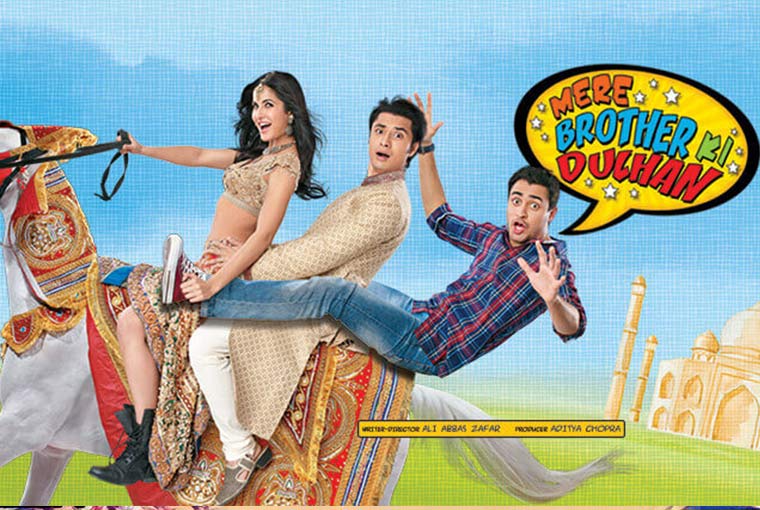 It was a fun rom-com where a guy falls in love with his brother's bride-to-be. This movie could get a little serious and dramatic but it turned out to be on the funnier side. It starred Imran Khan, Katrina Kaif and Ali Zafar who were a delight to watch.
16. Mujhse Dosti Karoge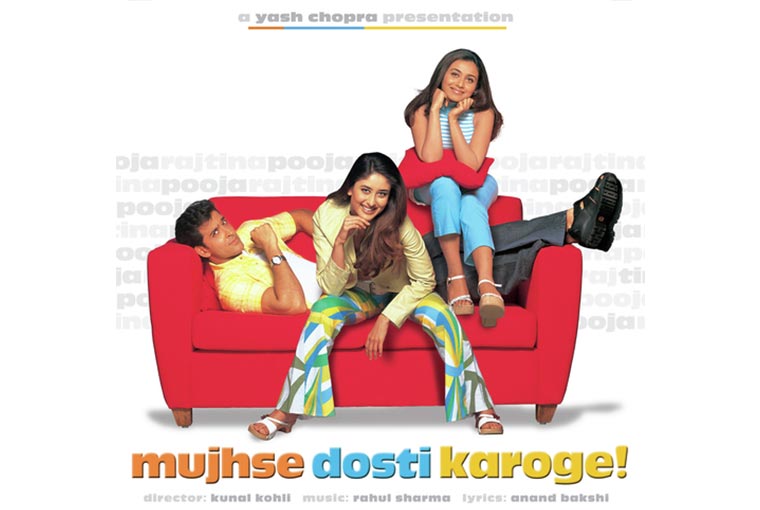 We were all in love with the amazing chemistry between Kareena and Hritik in this movie. Mujhse Dosti karoge made us all enthralled with the stunning designer outfits worn by Kareena and rani Mukherjee. And how can we forget that amazing longest medley songs featured around the mehendi ceremony.
17. Vivah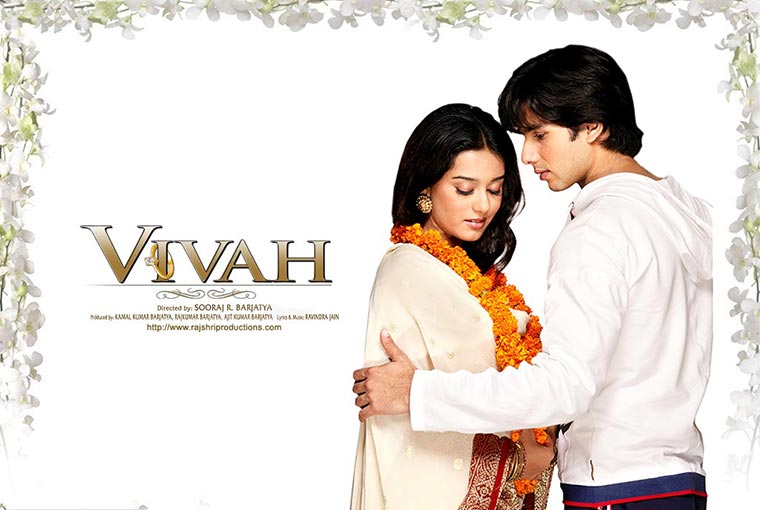 One more wedding movie from Suraj Barjatya's club was Vivah that was about a sweet couple getting into an arranged setting. The movie revolved around both the families as well as the lead actor's getting to know each other before tying the knot. The movie portrayed arranged wedding between a rich and a middle-class family really beautifully which made it an absolute delight to watch.
18. Namastey London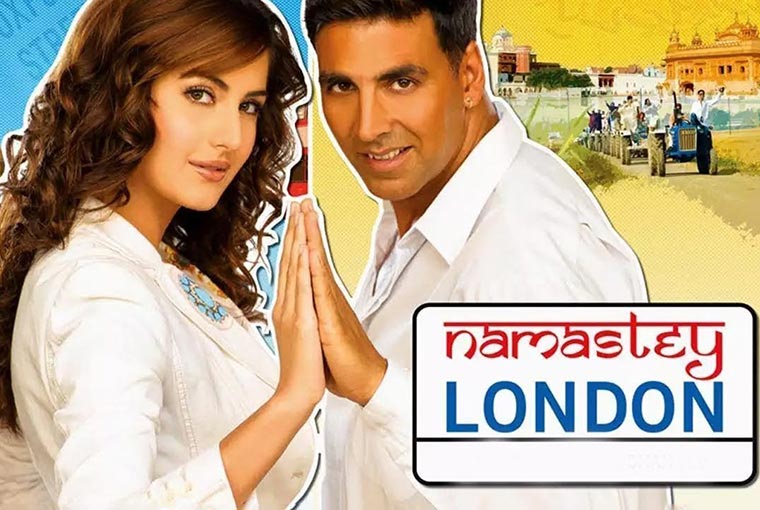 This movie has our heart as it was one Indian wedding movie that left us in awe. It was a take on NRI marriages, as it showcased the difficult journey of a Punjabi boy tying the knot with an NRI girl. What made this movie our favourite was the sizzling chemistry between Akshay Kumar and Katrina Kaif. We also loved the contrast between Indian and Western culture when it comes to matrimony, parenting and respect.
19. Saat Khoon Maaf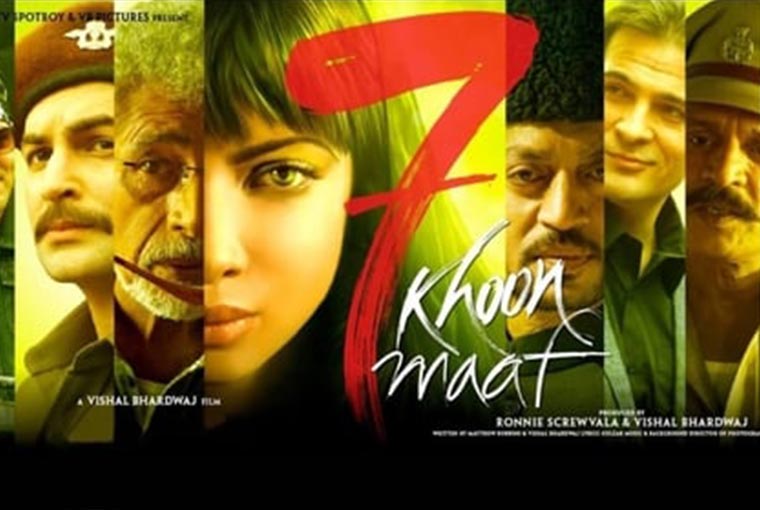 This movie was a very unique take on weddings. This movie was about Priyanka Chopra and her seven husbands, hence there were seven weddings. What made this movie stand apart from the regular wedding movies was the femme fatale, Susanna Anna-Marie Johannes, who murders all her husbands in an unending quest for love.
20. Dilwale Dulhaniya Le Jayenge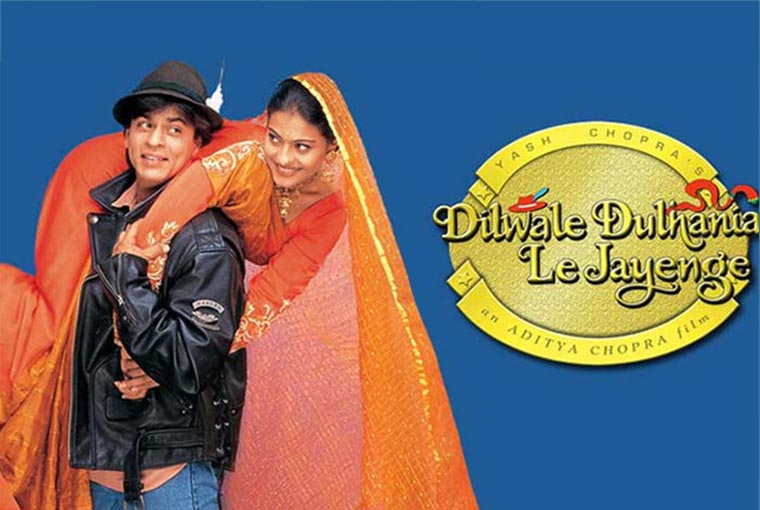 This movie started with a bride-to-be's trip to Europe with friends before trying the knot. On that trip, she got to meet her hero and she ends up falling for him. And all this drama while a big fat Punjabi wedding celebration is underway. Needless to say, dilwale dulhaniya le gaye along with our hearts! This has to be one of the wedding movies Hindi cinema has showcased that has engraved a craze for romantic weddings in all of us. The chase to live the Bollywood dream.
Which is your favourite wedding movie? Let us know in the comments below…
Also Check Out : Stunning Ways to Add Elephants in your Wedding Décor!