25 Dreamy Entry walkways that can make your venue look like a fairy tale setting
The décor of the venue sets the right mood for a celebration. But in all that decoration the first impression is set by the entry walkway that adds a whimsical touch to the setting if done right. A beautifully designed walkway can help you make your guests in awe of the décor of your event be it a wedding, engagement, cocktail, mehendi or reception. Not only this, but these dreamy passages also serve as a perfect backdrop for those breathtaking couple and solo pictures that will be your keepsake forever.
 
So, here are some of our favourite passages that we did for our clients this season!
Trust us, their beauty will blow your mind and entice you to get married and click some of the best pictures of your life…


This Gatsby style walkway is perfect for a glamorous cocktail!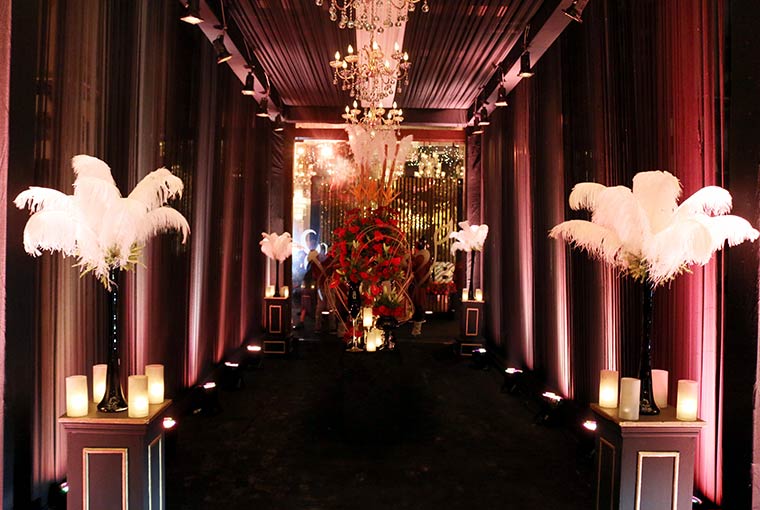 People who are inclined towards themed décor can totally go for a Gatsby styled walkway. This will add an extra oomph to the décor and entice your guests even more to enter the venue.
A blend of a modern and traditional setup
In Indian Weddings, the amalgamation of east meets west is trending way too much. So, when it comes to entry walkway you can mix the best of both worlds. 
A stunning garden look done with flowers and warm white lights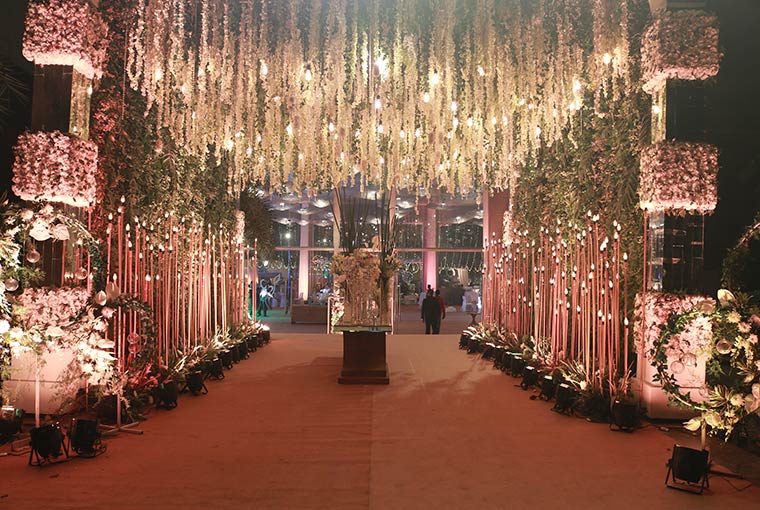 A walkway adorned with flowers as well as warm lights can totally make your venue look all pretty and attractive. The use of flowers made this entrance look like a dream


This stunning passage by Rani Pink is a total love!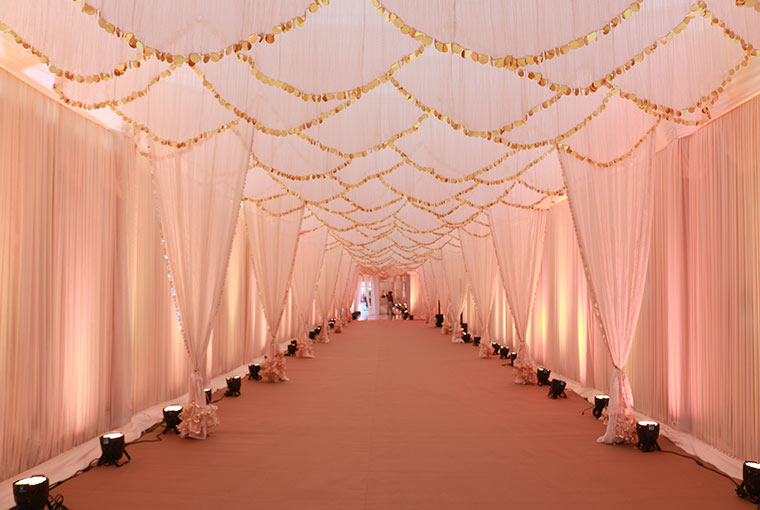 We are totally in awe of this stunning entry walkway done by famous wedding designer Rani Pink!
The all glammed up passage!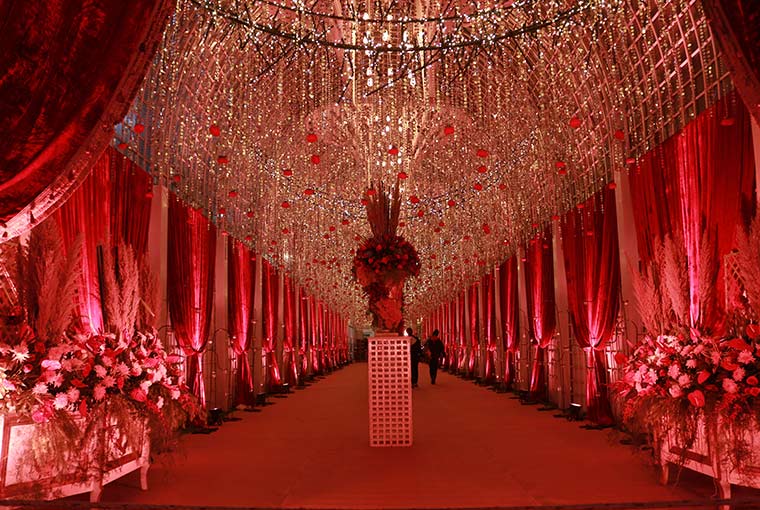 We all love that glammed up setting with all the golden shimmer and red drapes used to add drama to the setup. 
The Enchanted Garden setting by Elements Decor by Harkishan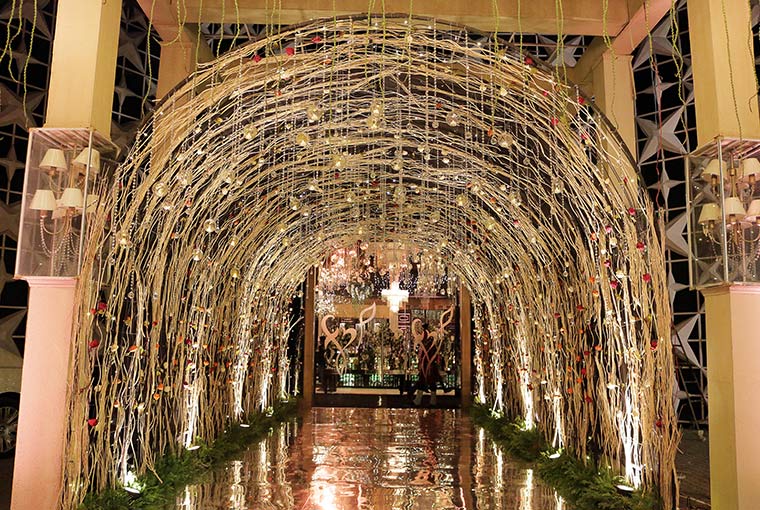 This Enchanted Gardens setting by Elements Décor by Harkishan totally looks straight outta fairy tale. The stunning use of lights has added more beauty to its design. 
Moroccan Feels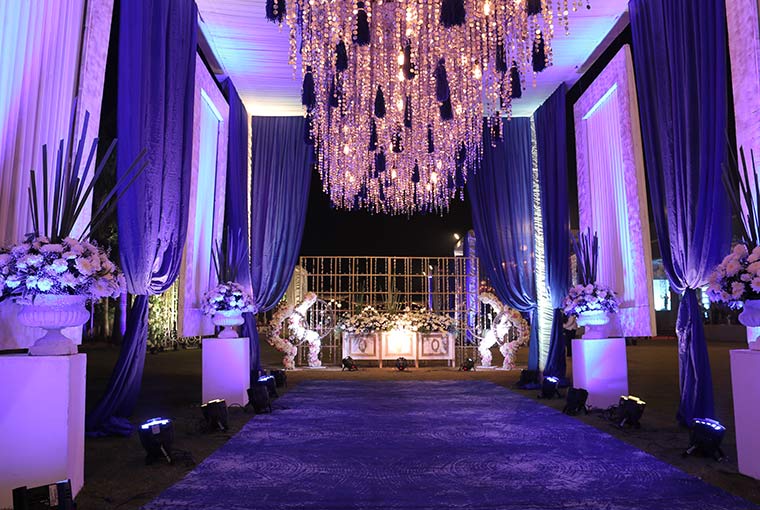 For the love of Moroccan vibes, you can totally go for such a setup to add uniqueness to the setup. 
The Royal Mughal-inspired passage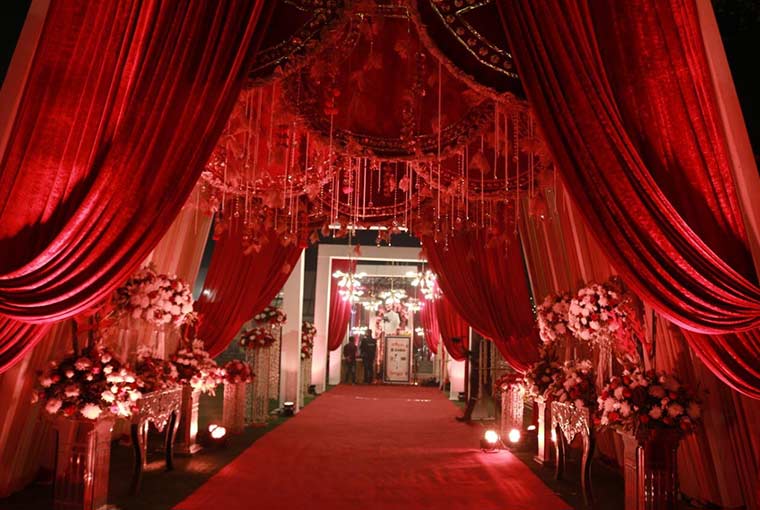 We are a little inclined towards the rich culture of the Mughal-era. The rich coloured draped and installations made the walkway look all regal.
All decked up with stunning fibre installations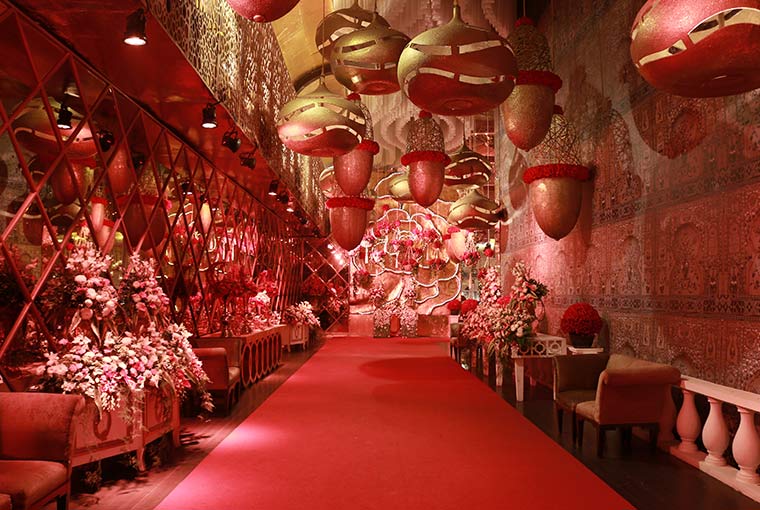 For the love of larger than life elements, you can totally go for this kind of setup. These installations can add that oomph to your entrance passage.
The love for fairy lights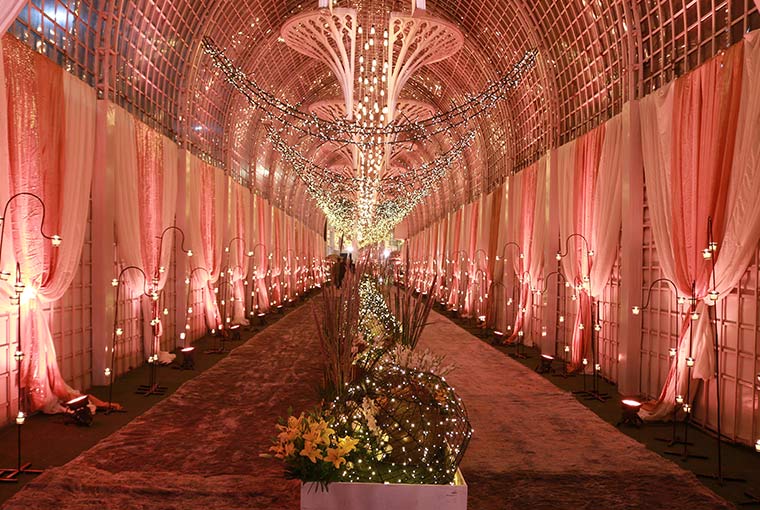 We all love fairy lights and they add a dreamy touch wherever they are put on. This lit-up passage is total goals!
A little glitter with stunning warm white lights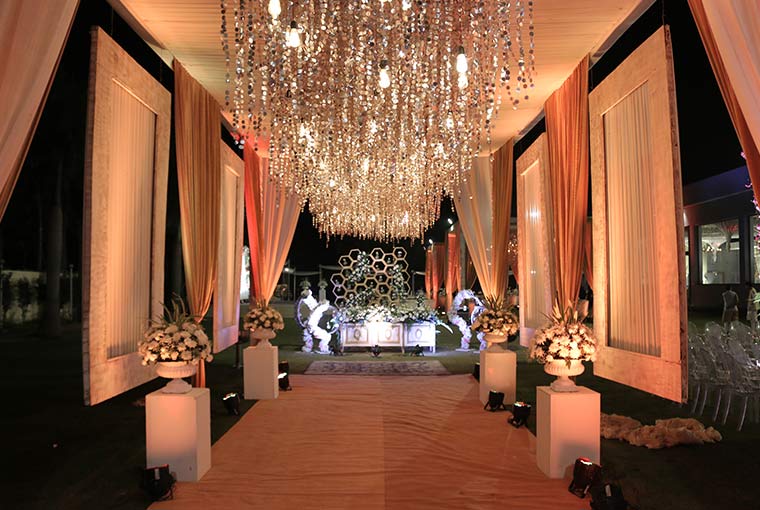 A perfect passage to make the passage look all subtle yet glamorous at the same time.
Again, some garden feels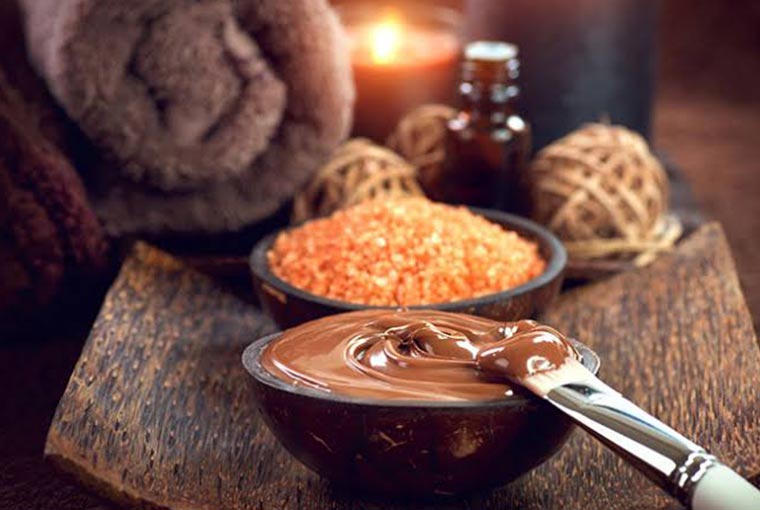 This is a different setting to add enchanted garden feels to the entry passage.
A total white setting for the lovers of subtleness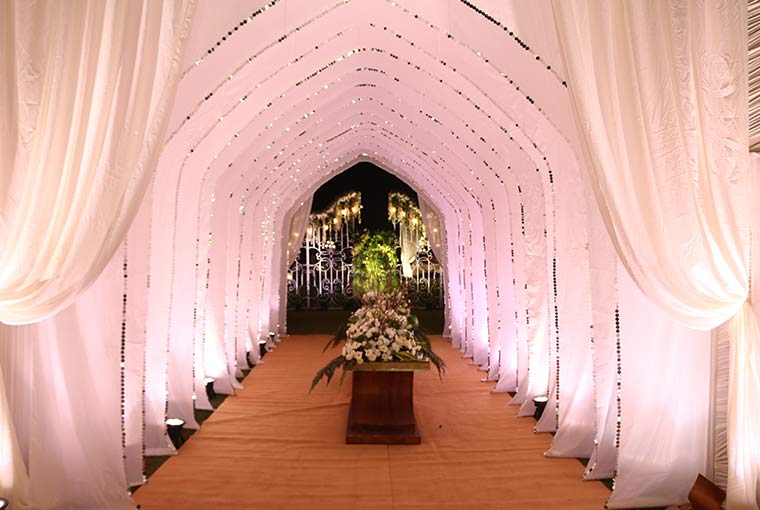 If you want a dreamy setting with a touch of subtleness, then this passage is just perfect for you. The white drapes with sequined borders are adding a beautiful touch to the passage décor. 
Mix and match of glitters with flowers!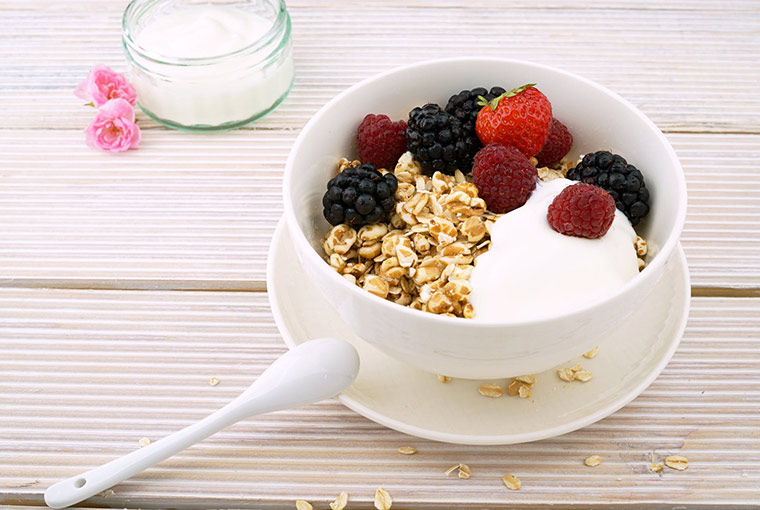 When in doubt, go for the combination of glitters with flowers. They not only look pretty, but they also add a royal touch to the décor. 
One with wooden installations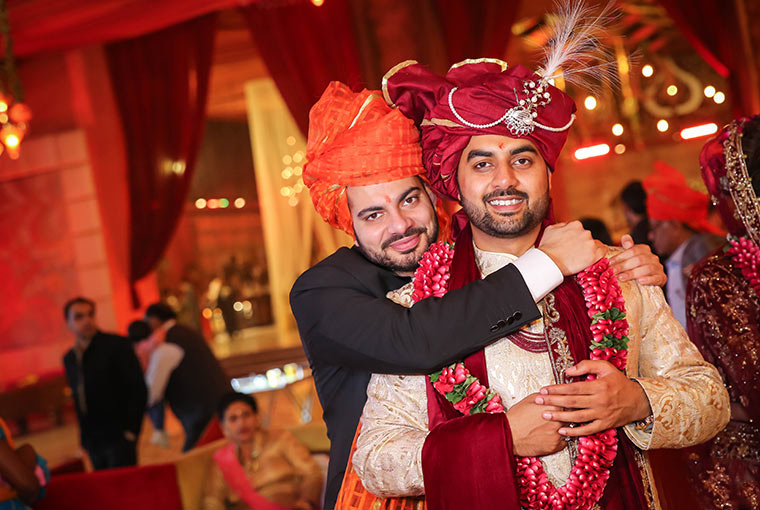 If you want to add an intimate touch to an open area in the passage, then you can get these wooden installations to make it look more intimate.
A perfect setting to welcome the groom's convoy
This entrance passage is a perfect option to go for if you want to make a grand entry of the baraat.
The bold use of blue colour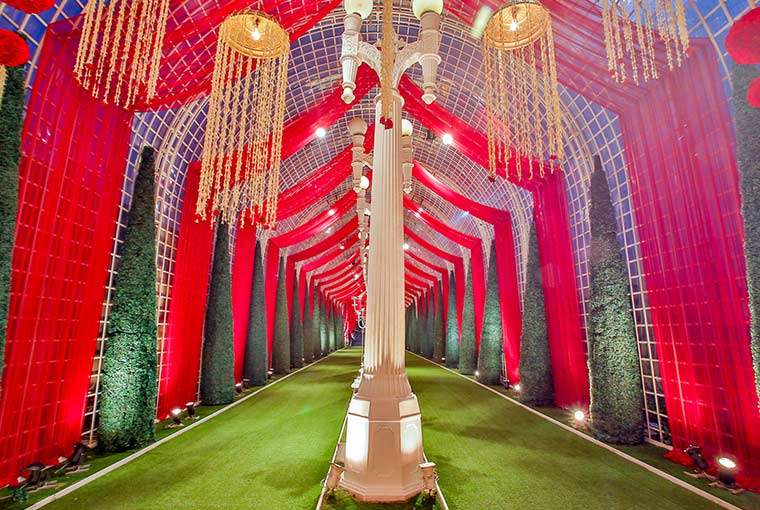 Blue is the colour of the season! You can totally go for this entry passage to make it look all bright and beautiful.


Draping and flowers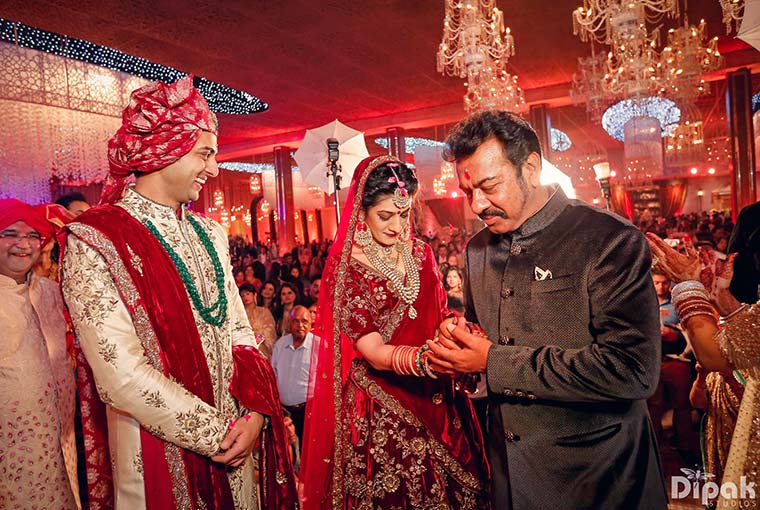 A subtle and pretty way to add class to the décor. This passage is also the perfect backdrop to your stunning pictures. 
The bold combination of red and gold!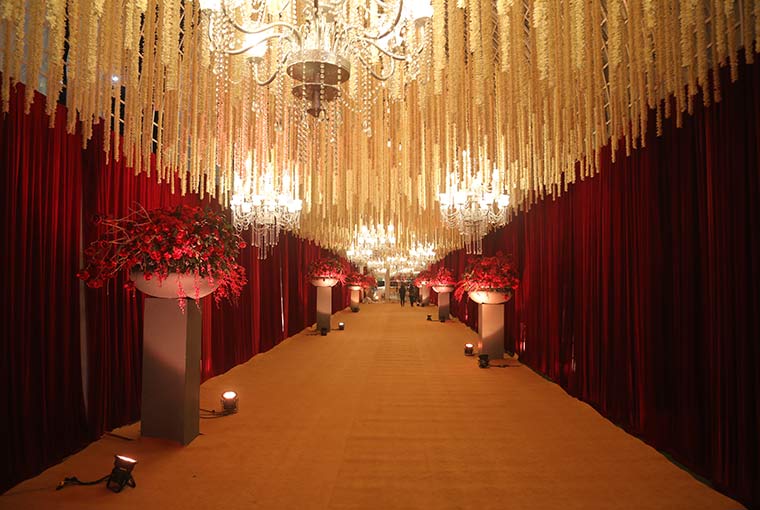 The bold combination of red and gold can never go wrong! This passage is a total glammed up setting that can add totally enthral your guests entering into the venue. 
For the love of florals!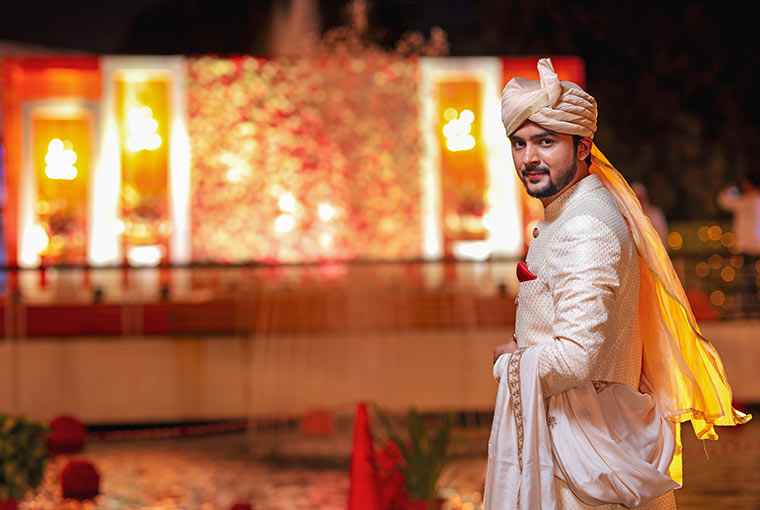 This is a stunning play of lights with florals! The added rings are adding more beauty to the passage!
A dreamy setting with green foliage!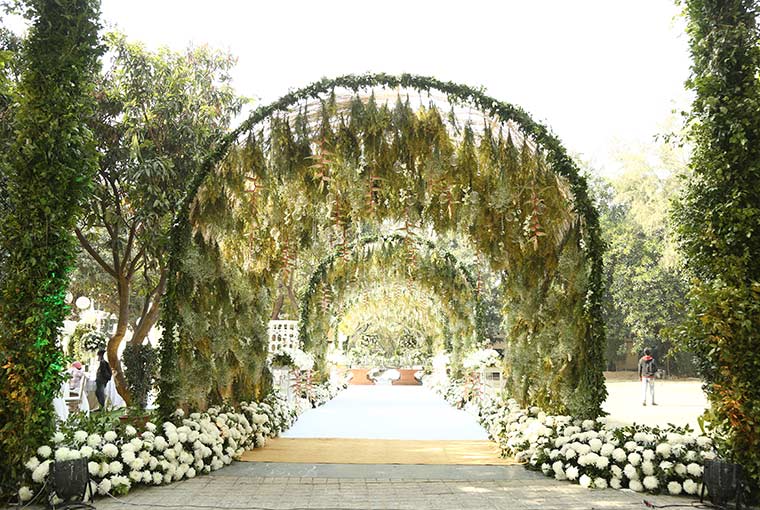 If you are looking for a stunning setup for a day wedding or function, then nothing is more perfect than this passage!
This one by FNP Wedding and Events adorned with tulips is our absolute favourite!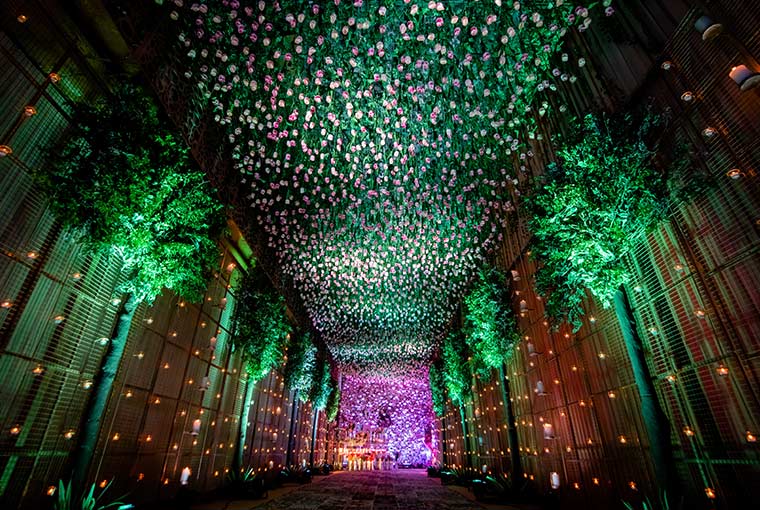 No words can describe the beauty of this whimsical entry passage done by the FNP Weddings and Events. These tulips hanging upside down are a total treat for eyes!
A little play with pink lights!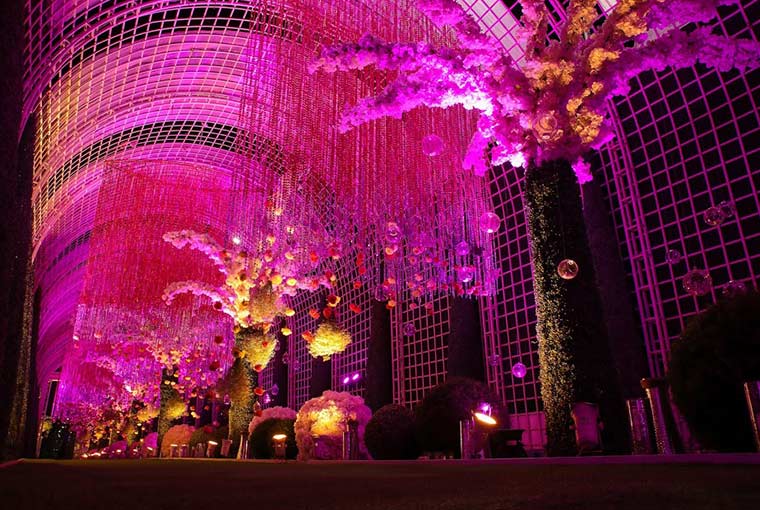 The sequins and glitters with pink lights is a perfect setting for the lovers of dreamy settings! 
A dreamy passage with angels for the Winter Wonderland themed decor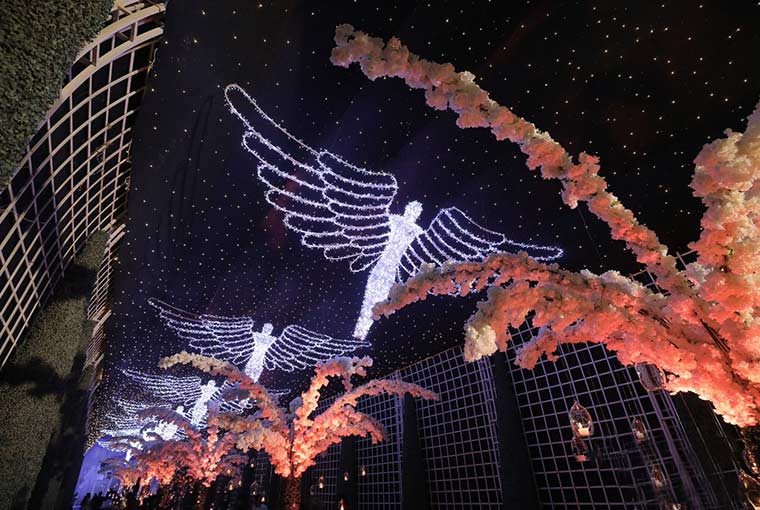 This one is our personal favourite! These angels not only look magical but the lights added to them makes them breathtaking. 
A whimsical setting with floral and lights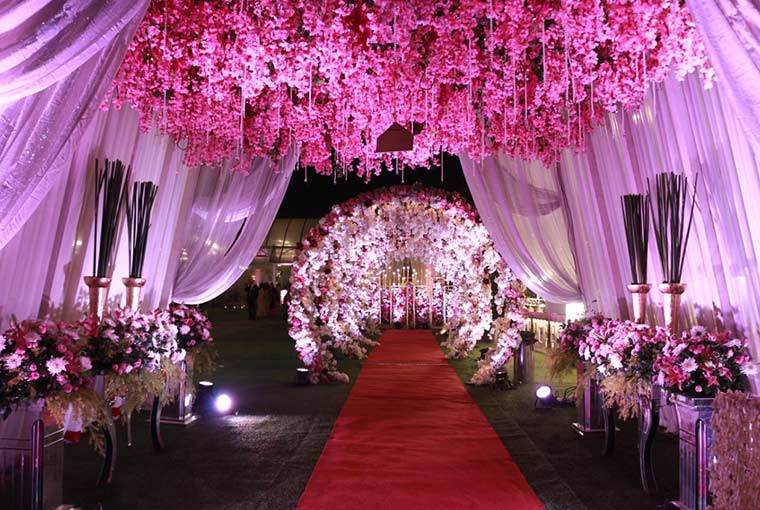 This perfect combination of florals and lights in pink colour looks really dreamy and again those rings are totally breathtaking!


Also, read: How should a modern wedding vedi look like?