Choker vs Layered Necklace! Which one to go for your wedding?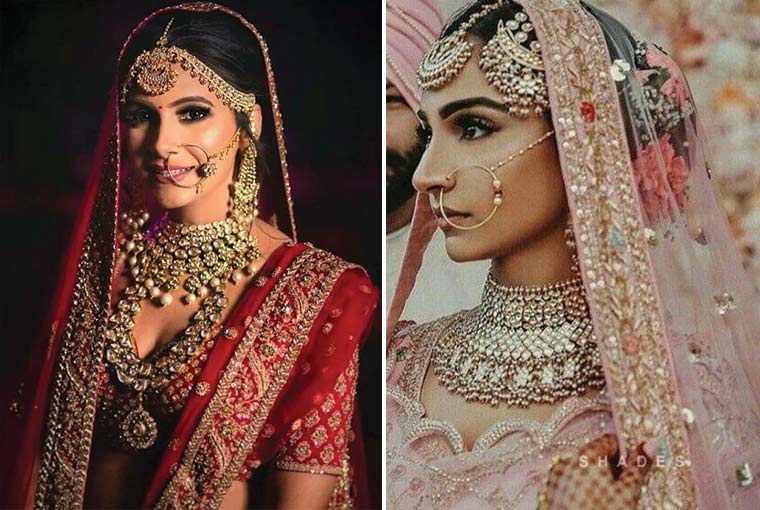 Ahoy Brides-to-be! Is getting through social media for selecting the perfect bridal jewellery has caused so much confusion? Are you still confused between a choker and layered necklaces on your wedding? Trust us, all brides face this tough situation. Matching the right jewellery with your bridal lehenga is not an easy task. If you are thinking of opting a choker with a covered blouse, then it's a strict NO-NO! There are certain rules that you should be aware of while matching the right necklace with your blouse. You don't need to be scared if you are aware of what jewellery to go for. Here is a simple guide that will help you with some styling tips that will help you make a decision between a choker or layered necklaces as per the neckline of your blouse.
How to Style Choker Necklaces?
Choker necklaces are perfect for girls with long or a thin neck as they are worn around the neck and touches the skin! You can go for a studded kundan and polki choker which will look really beautiful if worn with a deep-V neck and sweetheart neckline! With such blouses, you can go for a close-fitted or a wider choker necklace that will surely complement your wedding lehenga.
Choker necklaces are now spotted on many millennial brides who opted for wearing deep plunged V neck. This trend has been introduced by none other than Sabyasachi whose lehenga collection has all these trending blouse designs. You should wear a heavy and embellished choker to fill up space around your neck and will give you a chic look of your blouse has deep neckline.
Just like deep necks, the sweetheart neckline is so much in for bridal blouses. It's the latest trend in bridal lehengas and they really look great with traditional lehengas. You can style sweetheart neckline with a heavy and giant choker and also make sure its size covers up the collarbone perfectly.
How To Pair Your Bridal Layered Necklaces?
As we mentioned earlier that chokers are not for covered blouses, so if you are planning to go for such a neckline then you should opt for layered set of jewellery! Covered blouses look really elegant with bridal lehengas and a choker necklace can possibly mess up the whole look as it will hide the elegance of your bridal outfit. Whereas, adding one more layer with like heavy rani haar to your choker will make you look really royal.
Plus, if you are keeping your neckline basic with a wider blouse design then you can totally go for layered necklaces. There are some blouses that are wide from all the side whereas some have boat necklines which are wide from the shoulders. So if your blouse is showing off your shoulders, then you should definitely go for layered jewellery.
We hope this will help you nail the perfect bridal look!
Also. read: #BridalGuides: What is the difference between Polki and Kundan Jewellery?