Some Amazing Wedding Trends Set By Rajkummar Rao & Patralekha's Wedding!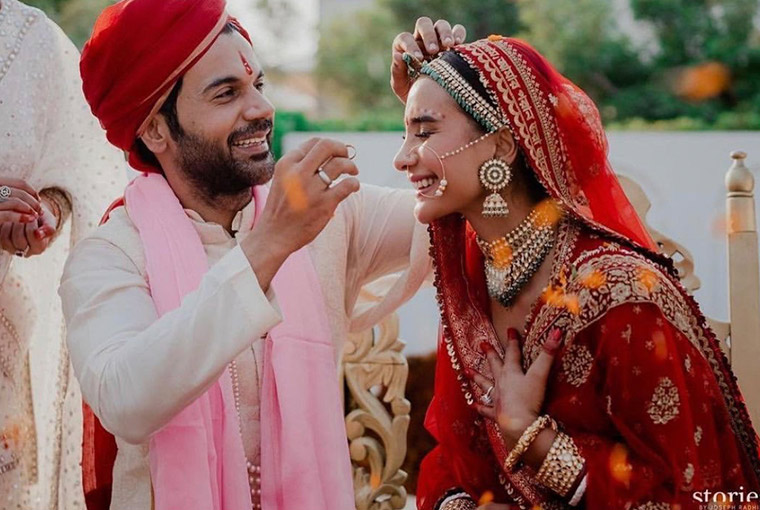 We love celebrity weddings as much as you do! They give us loads of inspiration when it comes to décor, their outfits and what not. Recently, one of the popular Bollywood couples tied the knot that made us fall in love with their love story and nuptials! Rajkummar Rao and Patralekha's wedding was no less than a dream. They have surely set relationship goals for all the couples out there as they got married after a decade-long relationship. The grand gestures at their wedding took our heart as the duo celebrated their love with great excitement. It was a magical wedding that gave us some amazing wedding trends and inspirations that we're not getting over anytime soon.
Here are some that caught our eyes!
Going all white for the engagement party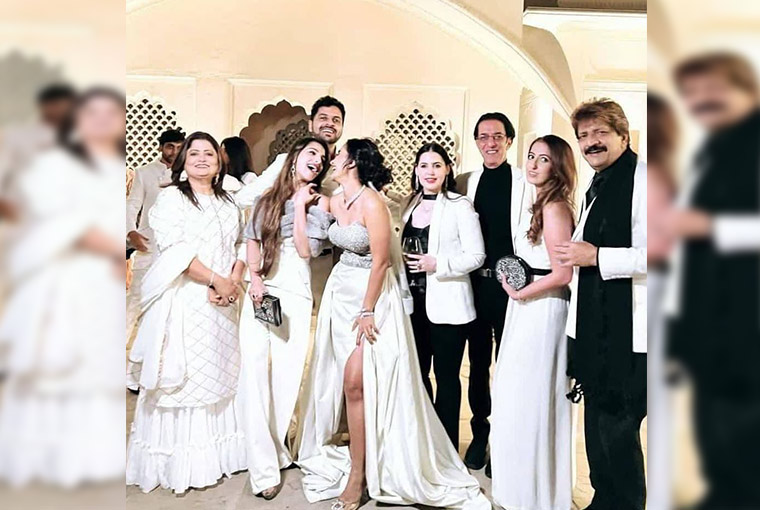 Rajkummar and Patralekha's wedding festivities started off with a beautiful engagement party. The key highlight of this celebration was that it was an all-white affair that was quite a unique thing for a wedding celebration. It was indeed a true reflection of the couple's persona as both of them are noted to be amongst the people who stirred away from the over-the-top appeal. This part not only looked elegant but it also nodded their personal style. Everyone, including the couple and the guests, wore white outfits and to complement the theme the décor was dripping in white and ivory hues that made it a beautiful celebration.
So many AWW moments
All the functions were all about making grand gestures! This beautiful couple is already a true inspiration for all the millennials and Gen-Z's when it comes to relationship goals. What made us go Aww when Rajkummar got down on his knees to exchange his rings and how sweetly Patralekha joined him in. Aren't they most romantic?
For the love of Marigold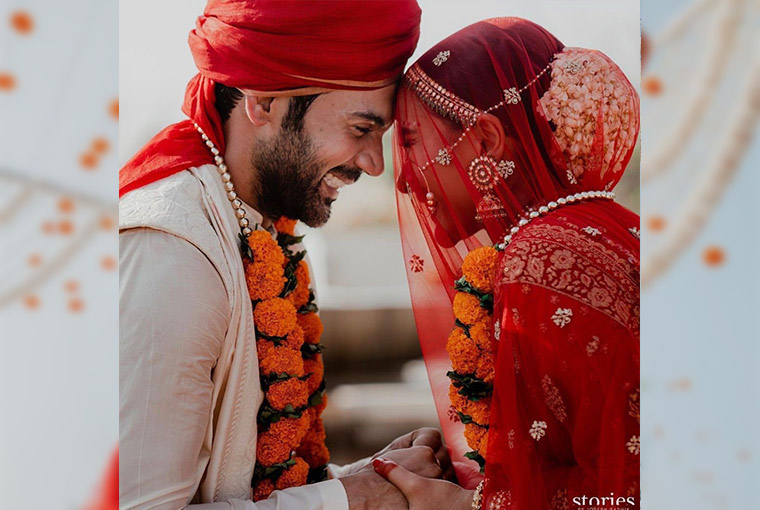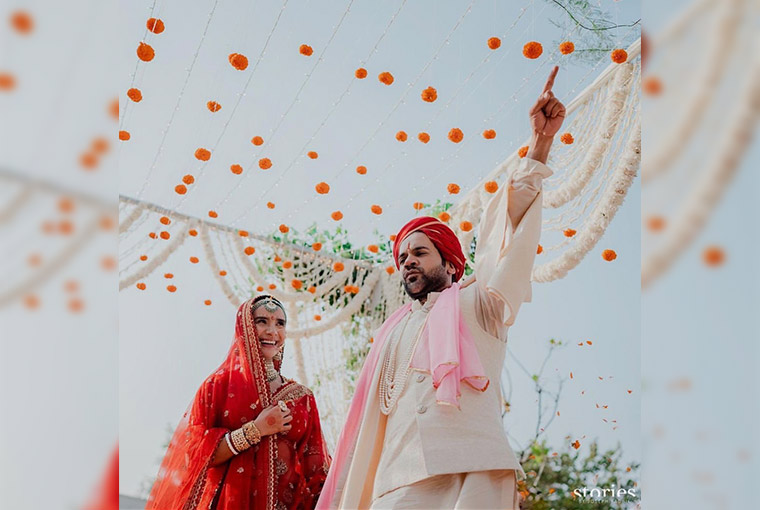 In between the popularity of carnations, tulips as well as orchids, the marigold was losing their existence in Indian weddings. But we got to witness them at Rajkummar and Patralekha's wedding functions. The couple opted for marigold jaimalas and even their décor elements had lots of marigolds that signified simplicity in their celebration.
That Personalized Sabyasachi Saree Veil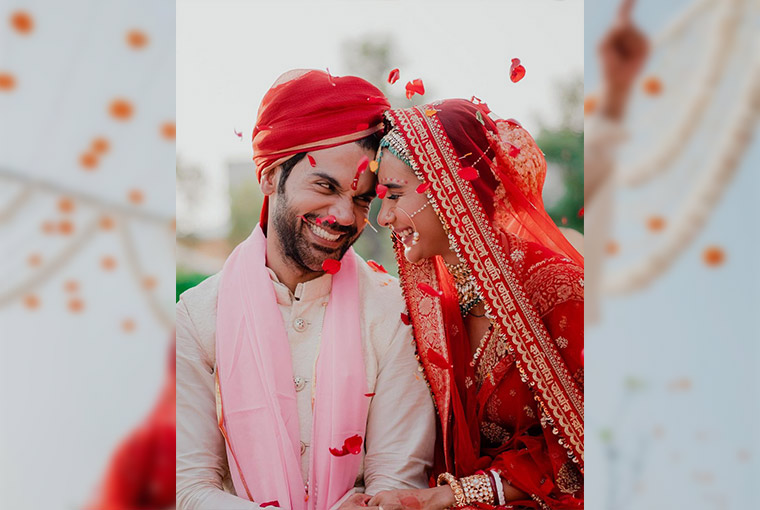 The key highlight of the wedding was, of course, Patralekha's designer saree but what made it different from usual attires was the veil on her head! We have all noticed the similar magnificent veil on Deepika Padukone that read 'sada saubhagyavati bhava' which translates to 'may you always be lucky as a married woman'. Whereas, Patralekha's veil's inscription totally melted our hearts! There was a verse dedicated to her husband written in Bengali that sail 'Aamar praanbhora bhaalobasa aami tomaye somorpan korilam' which meant 'I surrender my heart full of love to you' and it was personally etched in by Sabyasachi Mukherjee himself! Isn't it too cute to handle?
Patralekha putting (vermilion) sindoor on Rajkummar's forehead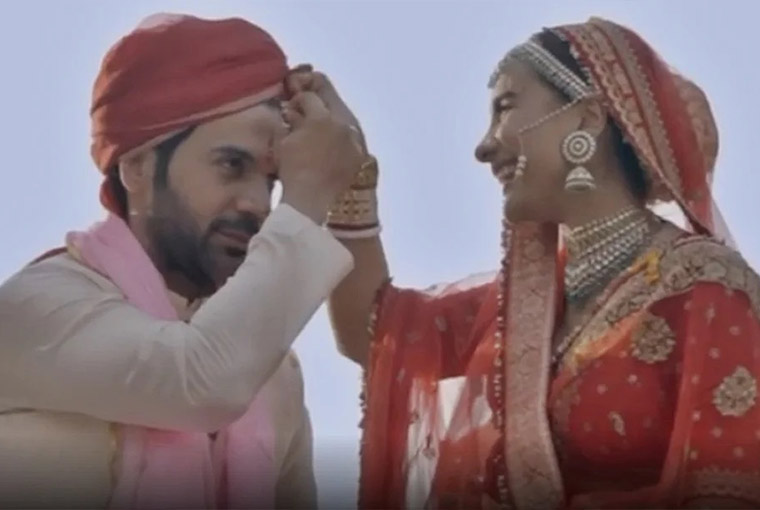 Their wedding already gave us so many aww moments but what made us go crazy when after applying vermilion on Patralekha, he asked her to apply vermilion to him as well and she did put it on his forehead. There was a video that showed us this moment that became increasingly viral on social media and made their fans fall for them even more!
We wish them a happy married life and thank them for giving us much inspo at the same time!
Read Also:-Banquet hall in Delhi