Things to keep in mind before attending a Wedding during COVID–19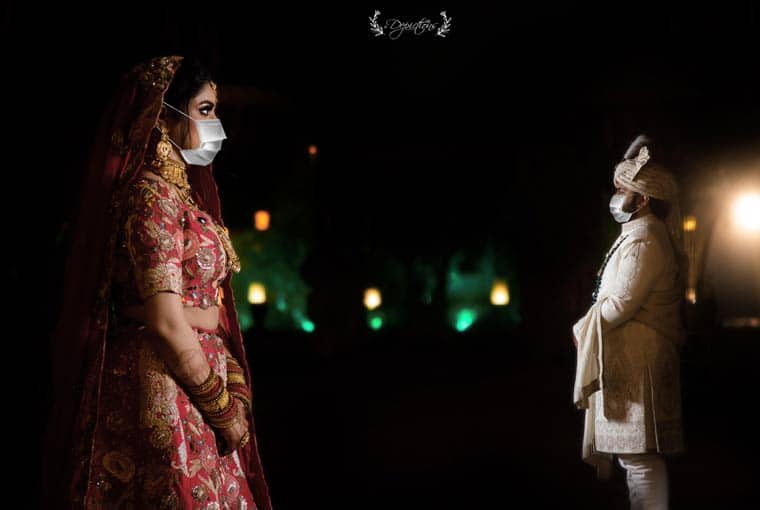 We all love weddings, getting all decked up and have some gala time with our family and friends. But attending weddings in these COVID times has changed and we are no longer worried much about what to wear and what gifts to take. As now we have to think more about how to keep ourselves safe and yet celebrate the celebration. Now we can see gloved taking over the mehendi clad hands and masks hiding that makeup, plus sanitisers stations over the favours. Trust us, attending weddings amidst a pandemic is no joke and the safety is the topmost concern. You need to be extra careful while attending a wedding during these.
Here are some tips to keep in mind before attending a Wedding during COVID–19…
Make sure the hosts are following safety protocols
This is the most important thing while attending a wedding during COVID is to ensure that the hosts are taking all the severe precautions for everyone's safety. Make sure you visit the celebration only when you are fully satisfied with the arrangements and only when you are confident about the safety measure being followed. Above all, ensure that the government guidelines are being followed without any fail.
Be careful while travelling
Travelling is one of the biggest threats as it is the only reason that virus from China travelled all over the world. So give a lot of thought before you decide to travel through for long durations or from one city to the other. It is advised to travel by your own vehicles by road if the distance is feasible. Keep in mind that all cities have different travelling restrictions and quarantine policy and even the isolation guidelines as well. So, do your research.
Try to send gifts online
If you are thinking of carrying flowers and gifts then it is surely a bad idea as it will be equal to carrying the potential virus. If you are thinking of carrying a gift then just remember so many people will be touching it and it will be constantly moved from one place to another which is not at all safe. Consider online mode for gifting money or other gifts to the newly-married couple.
Take care of other's safety too
There is a fair chance that you will be meeting your loved ones after a very long time and it would be perfectly normal to feel the urge to hug them or touch your elder's feet for blessings. Just ask the other person if they are comfortable in sharing a hug or even with someone coming very close to them.
Wear a mask
Masks have now become the newest as well as the most important accessory this wedding season. It has become an etiquette in the new normal. Your mouth and nose are covered needs to be covered whenever you leave the house, especially when attending a gathering.
Dressing sensibly is important
Make sure your outfits don't make any contact with surfaces, especially floors which would be so unsafe in this COVID period. Just keep in mind that your outfit isn't all over the place. Outfits that floor-sweeping like lehengas, Anarkalis or long dupattas should be avoided. You can get them altered to the length to your ankles or consider wearing high heels.
No touching
You have to avoid touching things, or surfaces as much as possible. Though you will be following all the restrictions still it is best not touch any tables, chairs, walls, the railing of the stairs or doorknobs until needed. In case you do, do wash your hand thoroughly or sanitise them immediately.
Indian weddings are all about going all crazy but don't forget to follow all the precautions in these unprecedented times.