Trending Wedding Lehengas for Brides to Wear on the Big Day
Unquestionably, the bride's wedding day is one of her most significant and treasured memories. Every bride fantasises about dressing flawlessly and elegantly on this particular day. The wedding lehenga has a key role among the several options for bridal clothes at weddings. The bridal lehenga, representing tradition and style, exhibits India's rich cultural past while incorporating current design trends. This blog will discuss the popular wedding bridal lehengas that brides like donning on their special day.
1. A Traditional Red and Gold Sari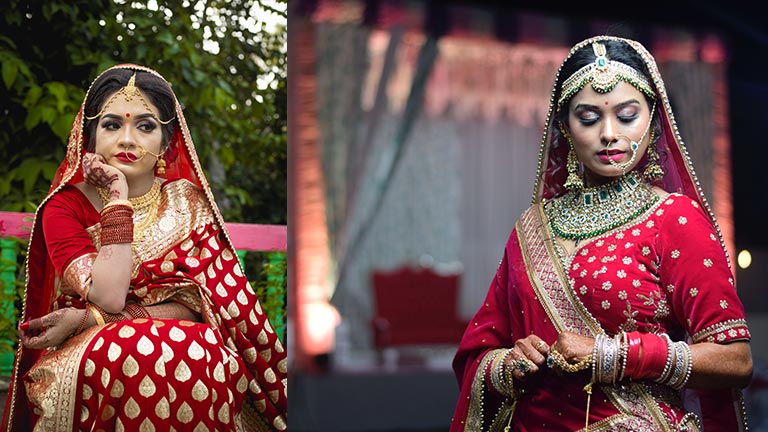 Whether it's a designer bridal lehenga or a classic piece that is being carried on for generations, brides have loved the traditional red and gold lehenga for years since it is a timeless option. A sense of magnificence and royalty is evoked by the captivating blend of vivid red cloth with elaborate gold embroidery and ornaments. In Indian tradition, the colour red is associated with love, passion, and wealth, making it the most auspicious choice for wedding attire. Together with a matching blouse and dupatta, the ornate lehenga oozes elegance and traditional charm. To complete the bridal appearance, brides frequently accessorise this lehenga with lavish gold jewellery, including necklaces, earrings, maang tikka, and bangles. Additionally, the bride's brilliance and attractiveness are enhanced by traditional cosmetics, such as strong red lips and kohl-rimmed eyes.
2. Soft Pastel Colours and Delicate Embroidery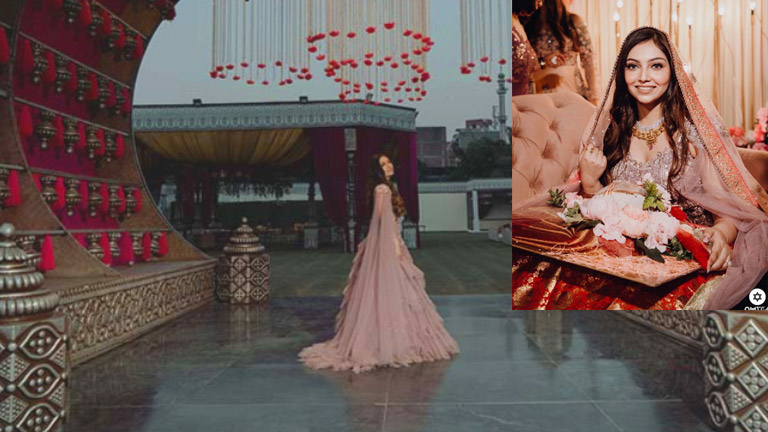 Among latest lehenga designs, modern brides are increasingly choosing pastel-colored bridal lehengas in recent years. These gentle and dreamlike tones provide an enjoyable break from the conventionally bright colours, adding a refined and delicate touch to the bridal design. Lehengas in pastel colours like blush pink, mint green, lavender, powder blue, and peach are readily available. The delicate needlework, which frequently has elaborate designs and sparkling sequins, goes well with the pastel colour scheme. Pastel lehengas are ideal for daytime weddings and outdoor events because they give off an air of serenity and grace. These lehengas may be accessorised with complementary jewellery to maintain a sophisticated and beautiful appearance.
3. Velvet Lehengas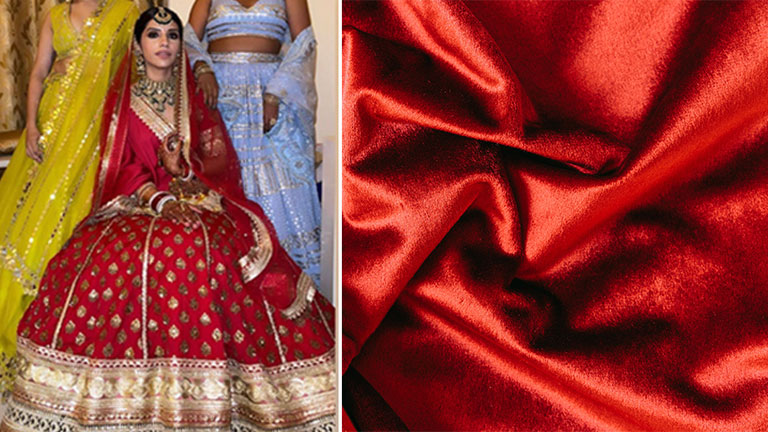 For brides who wish to seem majestic and sumptuous, royal velvet lehengas are the ideal choice. The bride radiates beauty and refinement due to the velvet's sumptuous texture, making her stand out like a queen. Emerald green, sapphire blue, ruby red, and royal purple are some of the popular jewel tones for velvet lehengas. These lehengas include skilful zari work, sequins, or stone embellishments to give them a brilliant appearance. Velvet lehengas and hefty traditional jewellery give off a dazzling image of the bride who seeks to look royal on her special day. The fabric's graceful drape and luxurious texture add to the bride's aura of confidence and beauty.
4. Embroidery and Floral Prints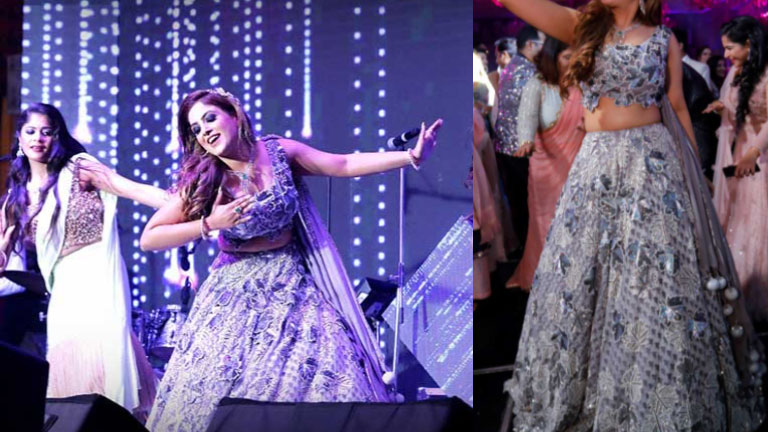 Wedding lehengas are becoming more charming and whimsical as flower motifs make a strong comeback in bridal fashion. Bridal lehengas with delicate floral embroidery or vibrant floral patterns that radiate an angelic and feminine vibe are growing in popularity. These lehengas are ideal for brides who enjoy blending traditional and contemporary styles. When flowery lehengas are worn with jewellery that features floral or naturalistic patterns, the bride's overall look gets accentuated. Given that they create a calm and charming mood, these lehengas are a fantastic choice for pre-wedding events and outdoor weddings.
Must Read – Ask These Questions Before Signing the Contract With a Wedding Venue

5. Royal Lehengas from Banaras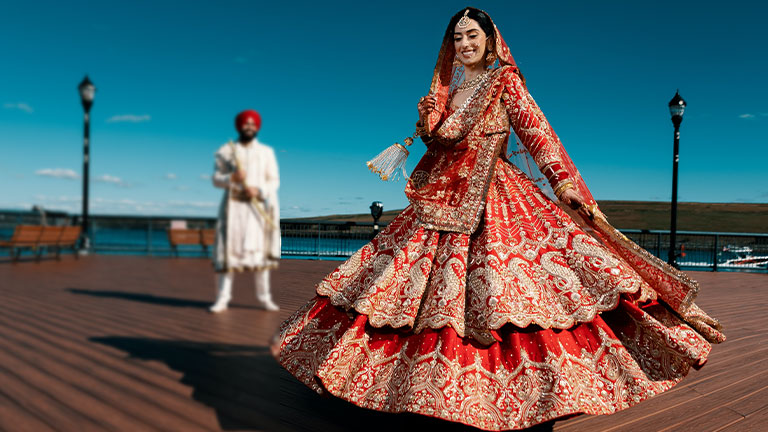 Lehengas made of banarasi silk represent the intricate weaving traditions of Banaras and are widely used in Indian wedding attire. Banarasi lehengas, renowned for its grandeur and timelessness, include elaborate brocade work with captivating designs drawn from Indian tradition. To embrace the traditional nature of these lehengas, brides frequently select rich hues like maroon, gold, royal blue, and deep green. Banarasi lehengas are a favourite among brides who desire a traditional and royal appearance due to the lush fabric and creative craftsmanship. These lehengas radiate a seductive air of elegance and sophistication when worn with conventional gold jewellery.
6. Modern Fusion Lehengas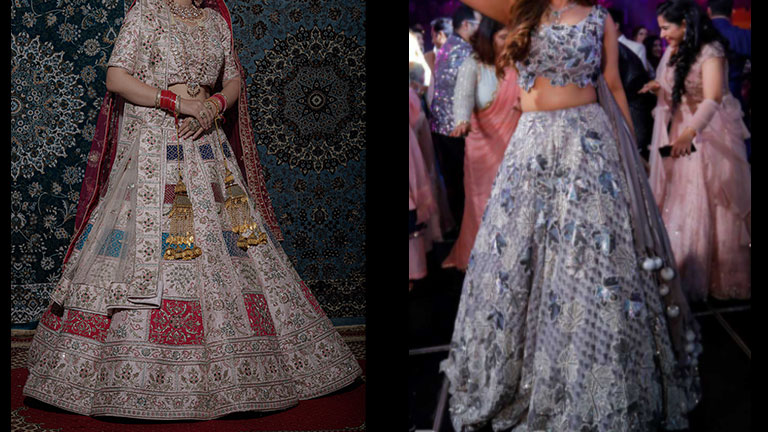 Modern brides frequently choose lehengas that show their uniqueness and style by fusing traditional and modern attributes. Fusion lehengas blend unusual materials, avant-garde draping methods, or asymmetrical shapes to provide a distinctive and cutting-edge appearance. These lehengas preserve the spirit of conventional wedding attire while allowing brides to explore bright colours, contemporary shapes, and edgy designs. Fusion lehengas frequently include striking blouses with sophisticated necklines or sleeve designs, giving the bride a chance to show off her individuality and flair. Fusion lehengas allow brides to seamlessly mix their contemporary sensibilities with their ethnic traditions.
7. Swarovski Crystals Embellishments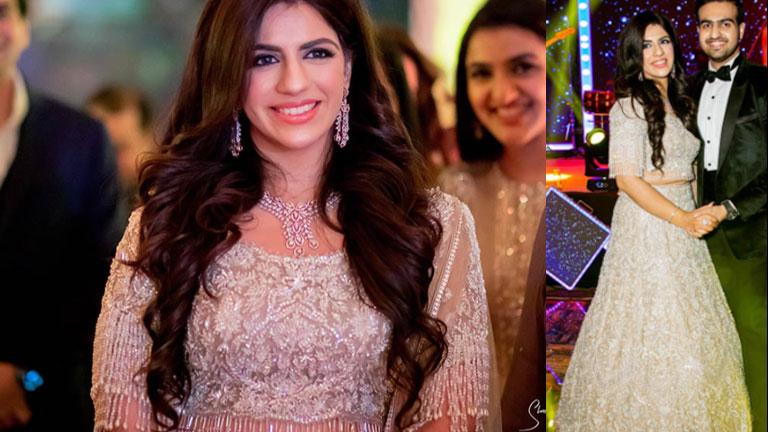 The height of luxury for brides who want to radiate prosperity and splendour on their wedding day is a lehenga adorned with Swarovski crystals. These gems' amazing brightness gives the lehenga a dazzling shimmer that makes the bride glimmer like a star. These lehengas are frequently made from fine fabrics and painstakingly hand-embroidered with Swarovski crystals, giving them a sparkling aspect when illuminated. The bride is the centre of attention throughout the party as the sparkling crystals reflect her glowing aura. Brides who choose lehengas studded with Swarovski crystals frequently wear little jewellery and other accessories, allowing the lehenga to steal the show.
8. Cape Lehengas and Off-Shoulder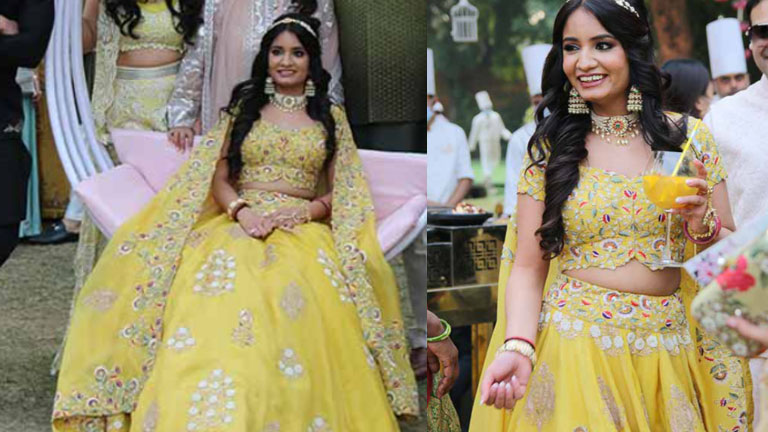 Modern brides are lured to contemporary blouse designs that add a touch of uniqueness and elegance to their traditional lehengas. The off-shoulder style gives the bridal look a hint of desire without taking away from its overall grace.  Since these designs elegantly show the bride's neckline and shoulders, off-shoulder tops have become highly popular. Additionally, cape-style blouses are really attractive right now and give the outfit a beautiful, dreamy touch. A bride looks absolutely dreamy and princess-like, with a cape made or with intricate embroidery placed on the lehenga.
A wedding lehenga represents elegance, tradition and the start of something a new. Every bride aspires to look her best on her wedding day, be able to turn heads with her beauty and leave everyone awestruck. Any wedding lehenga that the bride chooses for special day will hold a significant amount of sentimental value. Hence, it is imperative to take time and choose the lehenga that would ideally convey the bride's attributes and personality. Any design or type of lehenga will not do justice to the overall look of the bride if she does not feel like herself in it. A wedding lehenda is much more than just an outfit, it signifies a bride's dreams and acts like a cherry on top for her special day.