What role technology is playing in Indian Weddings?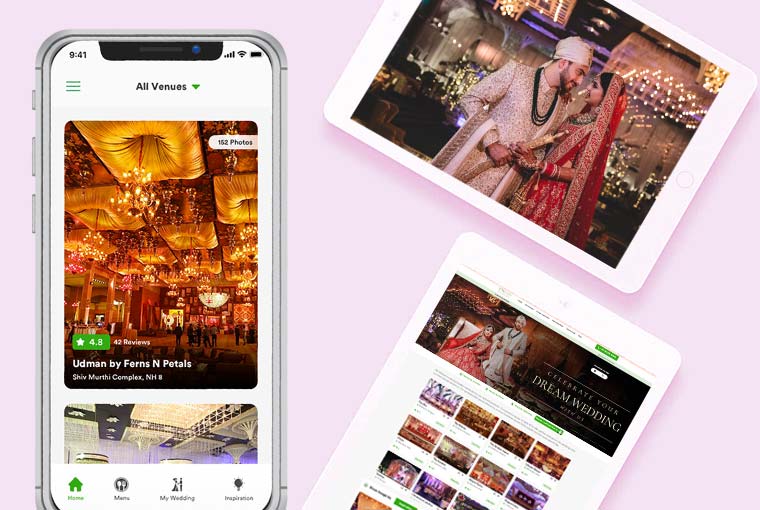 Technology is something that has made our life easier in so many ways and in the same way the communion of weddings has also been influenced by it. In the present scenario, everything is done online be it searching for the wedding lehenga, venue, wedding invites, as now everything has got a new and advanced look. Wedding planning has now become way easier than it was before.
The new generation is now inclined towards following the customs as well as rituals but at the same time they wanna do it with convenience as well as style and we all know that the outcome is remarkable.
Here is a list of stages of Indian weddings, where technology has brought a major change…
Starting with the matchmaking
Gone are the days when parents used to hire match-makers, matrimonial agencies or put up an ad on matrimonial pages on newspapers to look for a suitable match for their children. Now, it all about logging on the matrimonial websites or apps to find a suitable match for getting married. All you need to do is create a profile with all your personal or professional information as well as what are you looking for in your partner. The suitable matches will connect with you from where you can things forward.
Wedding Inspirations
We all want to take inspirations for the trending lehengas, jewellery, décor, favours or wedding invites before finalizing them for our weddings. But, in the past you need to rely on print magazines to do so, now all you need to bookmark the best options you like online and then share with the vendors to get what you want. With the introduction of Pinterest, you can easily surf through all kinds of trends and then curate the wedding of your dreams!
Wedding Planning
When it comes to Indian weddings, the planning meant involving the entire family for the preps. It's a bit the same but this has undergone a transformation as well. Now your uncles or cousins don't have to run from one place to another to complete the tasks. You can hire wedding planners or take help from wedding planning apps that will help you plan the whole wedding online.
E-invites
Do you remember the times, where parents have to hunt for the perfect design for the wedding invites then get them printed and after all that they have to travel so much for distributing them? This still happens but now people are now going for e-invites which can be mailed or sent through Whatsapp as an invitation. This not only saves paper but they are cost-effective at the same time.
Wedding Websites
Nowadays, wedding websites are created to have the information about all your wedding functions including venue details, event details and itinerary, images from previous functions and almost anything you want to communicate to your guests. These websites also help in sending your save the dates to your guests. It also gives the provision of creating a coming soon page with a few details, or other details you want to add to it. These websites are of much help for the guests as they can get all the latest information as the wedding gets closer. You can share the website link while sending your save the dates. Now, there are some apps as well as that offer the same services as these websites.
Wedding Pictures
The present wedding pictures have changed drastically as compared to the trends in the past. People want digital copies of their pictures instead of physical albums. The drastic change is also seen in the type of equipment being used to cover the wedding madness. The introduction of tripods, advances cameras and drones have taken the wedding photography on a whole new level!
So with these, we leave you with the assortment of technology options that are being used in the wedding industry. If we left something or you know something that can make wedding planning easy then do share it in the comments below.
Also Read : How to make your Dad feel special on your wedding Day?