Which bridal hairstyle to choose as per your hair type?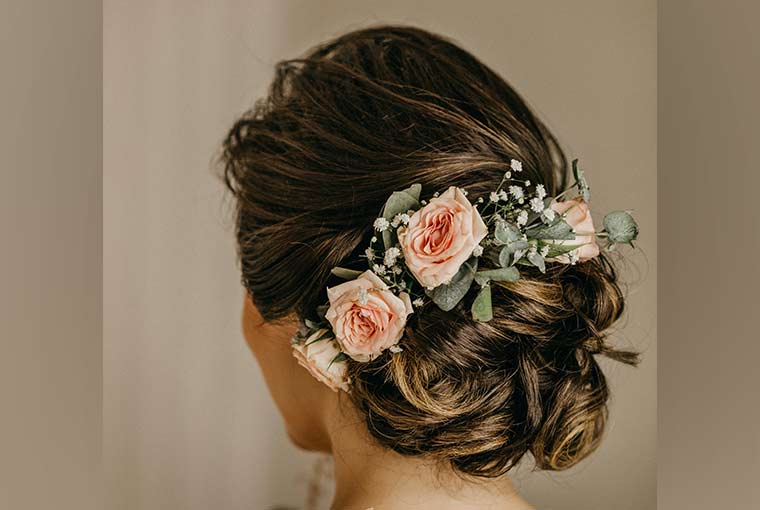 When it comes to wedding planning, the bride has to take care of all the elements for her look as well! If you are also one of those, you must have researched for the perfect wedding outfit and jewellery as well! But what about your wedding hair? Trust us, they have the ability to make or break your entire wedding look! Do you want to go for open hair or a dramatic braid or opt for a classic bridal bun instead? Whichever you choose, you have to keep in mind the type and texture of your hair.
There are chances that a particular hairstyle will look good on someone with long and straight hair which may not necessarily suit you if you've got short and wavy hair. So, the first thing you need to do is know your hair type. Try to understand your texture whether it is curly or fine & thin hair type. After that, you can decide on a suitable hairstyle which your hair will hold well.
Here are some of the best bridal hairstyles as per your hair type and texture.
For straight hair
Straight hair is relatively easier to manage as compared to any other type of hair. The only problem with sleek hair is that it can't hold curls for too long. Even spraying them endlessly cannot help! Therefore, it would be best if you pick a hairstyle that goes best with your natural hair type. The best option for you can be a slick tight bun pick for the wedding. It not only looks super classy and elegant but it is also trending a lot. Other options for such hair types can be loosely braided updo for other functions such as engagement or reception. You can even go for a pretty half-tie crown braid to get that boho look which can look perfect hair for sangeet or mehendi.
For curly hair
Some people try hard to straighten their lovely curls with rigorous heating and flat ironing but even after so much effort they get back again in a few hours. So why not flaunt their natural texture? Curls look really beautiful and we would advise you to embrace and play around them. Opt for hairstyles that give your curls all the limelight. You can go for a top knot bun beautified with some embellished bobby pins or even a side bun with some loose curly bangs in front for that quintessential retro touch for your other functions. You can even simply keep your tresses down to flaunt your curls. Make them presentable by asking your hairstylist to give them a refined touch.
For Thick and Coarse Hair
Though thick and coarse hair looks luscious and healthy sometimes they are disorderly or hard to manage. To make them manageable you can separate them into sections and reduce their density with the help of a flat iron. Then you can pin them into a hairstyle to glam your look. Also, there are other unique and different to style your thick hair. You can tie them into twisted half-up do or braid them tightly and even make an elaborate chignon bun out of them. Something cascading and layered will also add mobility to the hair.
For Fine and Thin Hair
Fine and thin hair is noted as the most manageable and malleable when it comes to styling but at the same time, they look too flat and limp. It requires too much addition of volume as well as a texture by curling them or using a texturizing spray to style them up as you choose. There are just too many hairstyles that can be done from a beautiful messy up do. It can be a high knot ponytail, a braided half-updo to some simple as well as untamed waves.
For Short Hair
Who says short hair can't be styled for a wedding? They can also look chic as medium and long hair when styled perfectly. You can easily twist them into an elegant low-bun or even opt for a short bob with side bangs! For a glam look, you can go for stunning beachy waves, a pretty half-up-half-down hairstyle or a mesmerising curly bob paired with an elegant headgear, tiara or hair accessories.
For Long Hair
If you are blessed with naturally long hair then the scope of experimentation is endless when it comes to wedding hairstyles. You can go for a high ponytail with voluminous curls, a dazzling waterfall braid, a classic up do or tousled waves. You can do anything with your long hair!  Try to take advantage of the length and choose the most suitable one for your outfits!
We hope this helps to get the perfect hairdo!
Read Also :-An essential guide for your Honeymoon packing!