An essential guide for your Honeymoon packing!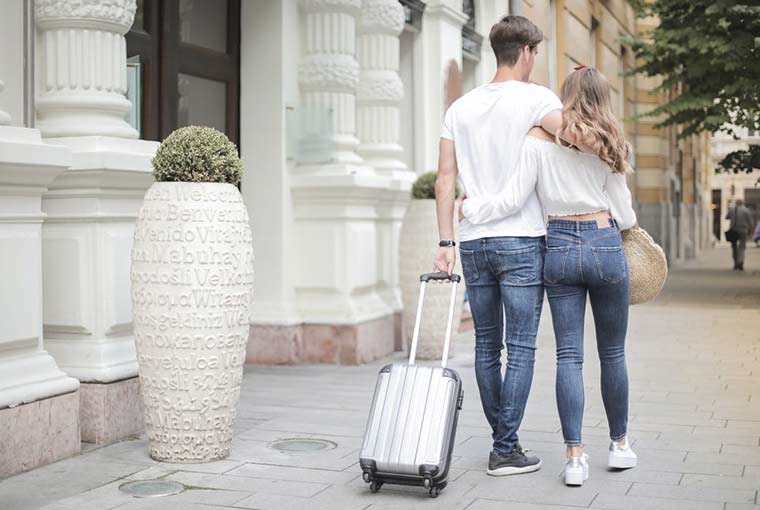 A honeymoon is one of the most awaited trips of someone's life! Some couples are more excited about it that the wedding celebration. Therefore, to enjoy it to the fullest you need to look your best as well! As it's a long trip you need to pack a lot of stuff to make this trip comfortable as well as stylish at the same time. But if you are confused about how and what to pack for your upcoming honeymoon, then here's a little help! Here are some tips that will help you pack right for your honeymoon… You have to go for things that have multiple uses so that you can make the most of the available space as well as baggage limit!
Presenting you the ultimate honeymoon checklist that you will need. It has got everything from your honeymoon essentials list, to the list of things required for mountains or even a honeymoon packing list for the beach.
The flight essentials kit
You will be carrying your passport and visa documents and with that, we would recommend carrying a mini flight essentials kit. Long flights can be really uncomfortable and there are chances of getting swollen feet. Therefore you should carry long decompression socks. If you get bored easily then also you should carry a book to read, some hydrating skincare and even an extra hoodie if you get cold and any medicines that you may need in-flight.
Multiple copies of your ID Proof
It will always be a good idea to carry hard copies of your identity proof in every bag you are carrying. Ideally, you should go for proof that has your name and phone number. If you lose or exchange bags, then this is helpful.
Try to travel light
If you are travelling to major cities such as Paris or London for your honeymoon then pharmacies are available there. You can easily buy the essentials like toothbrushes and toothpaste, sunscreen, lotion, lip balm, deodorant, makeup remover, conditioner, insect repellent, and nail clippers from there and you don't need to carry them in your luggage. Also, if you are staying in an Airbnb, then check if they have a washer and dryer facility. Therefore, you can wash your clothes and travel light instead of carrying so many clothes.
Visit Also:- Pavilion Chattarpur for wedding Venues
Prescribed Medications are a must
The must for every trip is to keep all the medicines that you are prescribed! Always keep in mind that not all countries have the same medicines available and sometimes they even don't accept your Indian doctor's prescription too.
Go neutral with your outfits
If you are finding it hard to style your pink top with white pants or green, then it's better you stick to a neutral colour palette. Go for hues such as blacks, whites, beiges and browns which are easy to mix and match. Just pick a range of silhouettes so you can style them differently.
Have all the documents in digital and paper form
We know people majorly rely upon all things digital but what if your phone's battery dies or you lose it? Keep a diary with all the required emergency phone numbers. Also, always leave a copy of your travel documents (including your passport and any visas) with emergency contacts, that helps to access a copy and will make issuing an emergency passport easier.
Add some things fancy
Honeymoons are all about leisure, so there are chances that you want to relax in your loungewear or tracks as you may not want to see another fancy piece of clothing for a while. But it's your honeymoon you should but try to dress fancy. For that, you should carry some sexy lingerie and date night dresses!
Pack according to your destination
Earlier we told you to dress the part but at the same time, you should pack as per the destination. Carrying a bikini to a ski trip just for an Insta-worthy photo doesn't make sense! Your winter honeymoon packing list should include coats, boots, caps, gloves and so on. On the other hand, on a tropical honeymoon, you should carry light, airy clothes and that bikini we were talking about.
Go subtle with accessories
Stay away from bulky accessories, which are also a hassle to pack and wear. Go for statement dainty accessories!
Pack more clothes, and fewer shoes
Trust us, three pairs of shoes should be good enough for just about any trip! They should include one pair of sneakers, one pair of comfy flats like loafers or ballerinas and one pair of dressy heels. You can even throw in some flip-flops for the beach too. Avoid any new shoes you haven't worn before!
Use Packing Cubes
With this, you can pack items in categories and also save space in your luggage bags!
Carry small bottles of toiletries
You need to pack smart and use small bottles of miniatures of your skincare and haircare products! If miniatures aren't available then you can transfer them into smaller bottles that you can buy from any pharmacy. When it comes to makeup, don't carry all the products of your 10-step regimen too! Go for versatile products and travel-sized products of your favourites if you're an avid traveller.
Keep some foldable shopping bags or backpacks
These are always in handy- especially since you can fold them and carry them in your luggage and even when you go around sightseeing.
P.S. Save some space to bring back stuff.
Visit Also:- Kundan Farms for Wedding