#GroomGuides: How should Grooms take care of their Skin before the Wedding Day?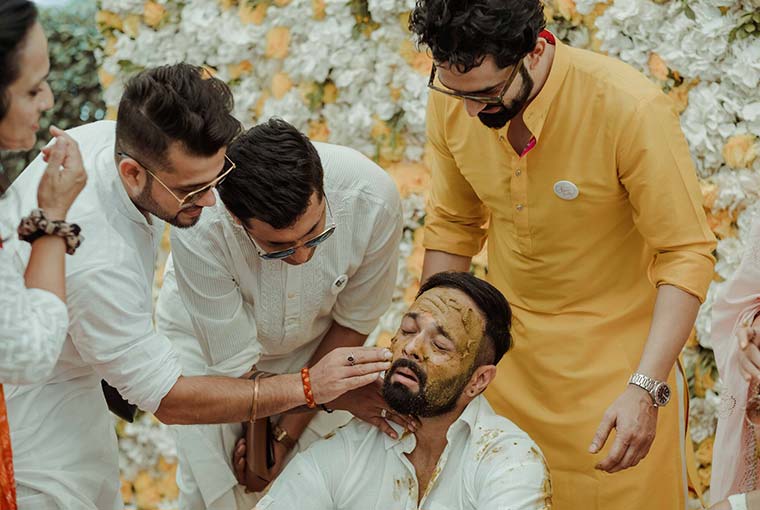 In weddings, usually, everything is all about the brides and their beauty but what about the grooms? Even they need to be groomed before their Big Day! We have always seen brides giving in so many efforts to look all stunning on their wedding functions, whereas grooms just go a day before to the salon to look presentable on their D-Day as they are not aware of following any beauty routine as girls. In our earlier blogs, we have shared beauty tips for brides, but now we want to give some tips for the grooms as well.
Nobody is safe from the harmful effects of pollution on their skin be it a guy or a girl and as you have to travel every day for work! So, just follow a skincare regime that can help you to have healthy and glowing skin.
So, here are some tips as well as products that can help you look all radiant so that you can give a tough competition to your brides… 
Regular Washing of your Face 
All you guys must be thinking, why this as a tip as this is too basic and this what you already know! But, trust us, not everyone is in a habit of washing their face properly. A splash of water isn't enough for having healthy skin. Use a nice face wash to cleanse your face. Also, stay away from soaps that can dry your face. This will not only clean your face but it will also hydrate your skin, maintaining your PH level balance. So, follow this tip blindly!
Add CTM to your Regime
Even all-girls swear by CTM and now even many boys are going for it. So, C in CTM stands for cleansing, T for toning and M for moisturising. It's a simple and most effective way to make your skin all healthy. First, you have to cleanse it, then use a toner then apply a good moisturizer to avoid having dry skin! So, do this twice a day (Morning & before going off to bed!) to get the best results!
Click here and get best wedding tips for grooms…
Exfoliation is a must 
We totally understand your shortage of time in wedding madness, but being the groom you should not compromise with your looks. After CTM, you really need to exfoliate your skin to get rid of dead skin from your face. Exfoliating or scrubbing should be done on a regular basis to rejuvenate your skin. Plus, it will also help in removing the blackheads.
Pro tip: Put more stress on your forehead, chin area and nose while massaging.
Salon Visits before the Big Day!
You just can't rely upon beauty treatments at home. Expert advice and advanced treatment is a must. So, visit your nearest salon and book some facial appointments to look all glowing on the wedding day! You also have to go for services such as threading, facials, waxing, face massage, bleach, face pack or haircut, to look all decked up for the wedding. Nowadays, there are many salons that offer groom packages, so all you need to do is book one of them and then you are good to go!
Try some Face Masks or Peels
They are the best thing to go to get that glowing skin. They will require some of your time and hard work, but they are all worth it. All you need to do is put them on your face and let them dry and then remove them. Just ask your mom or sister to make you some blended masks and just apply them to look your best!
PS- Before going for anything, visit a dermatologist, who can help you to study your skin and then suggest the treatments according to it.