How to check that you need Airbrush makeup on your D-Day?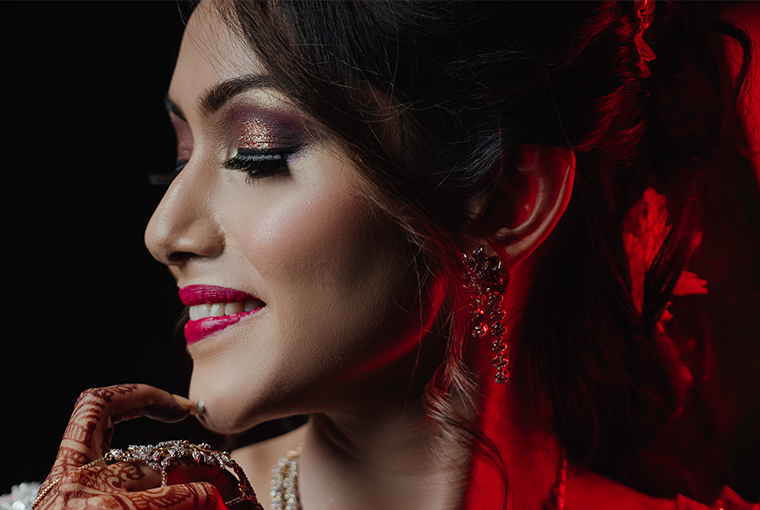 Your bridal look depends upon your makeup artist as they can make or break your look. Before getting ahead with the makeup you have to decide upon which kind of makeup will suit your skin between airbrush or HD! You should know that airbrush makeup is not for everyone! For some brides, it would be better than regular makeup and for some people, it may get OTT! If you are also unaware of which will suit you then here are some ways through which you can check…
If you have fabulous skin and just require a little bit of primping on your face
Some people are blessed with flawless skin and with just one or two layers they can achieve that fabulous skin making you look like a gorgeous bride! Also, if you don't like the idea of donning heavy makeup and want to look your natural self then also airbrush will be a good choice!
Super Oily skin
If you have super oily skin, then airbrush makeup can serve as a boon for you! Airbrush makeup is light and it can save your face from becoming an oily mess at your wedding function! The best part of airbrush makeup is that it stays put for much longer and stops the pores from producing oil as regular makeup would!
Brides with super sensitive skin
If you are also one of those who get breakouts after applying just foundation then you should go for airbrush. What makes it the best choice for you is that you do not need to touch the product at all, and there no will touch your skin as well which makes it a hygienic option as well! There will be no transferring of dirt, oil or bacteria during the makeup application.
Airbrush makeup lasts longer
Many times our makeup slides off making the blush, as well as eyeshadow, disappear from the face. With airbrush technique that is used to apply a full face of makeup, even eyeshadows, will last as long as 12 hours, or sometimes even longer than that.
No cakey skin
Whether it is full coverage or sheer, the airbrush makeup gives you a natural look. The airbrush makeup is built up with thin, light layers and doesn't give a caked-on appearance that traditional makeup gives even giving good coverage.
For summer or monsoon wedding
Summer or monsoon weddings in India are not easy to handle especially for brides with a  heavy outfit and makeup. If you go for airbrush makeup, then it would be a more resilient choice than traditional makeup as it can withstand heat, sweat, tears, rain and other moisture.
We hope this helps to make the right choice!
Visit Here :-Banquet halls in south delhi