How to grow your Nails for your D-day?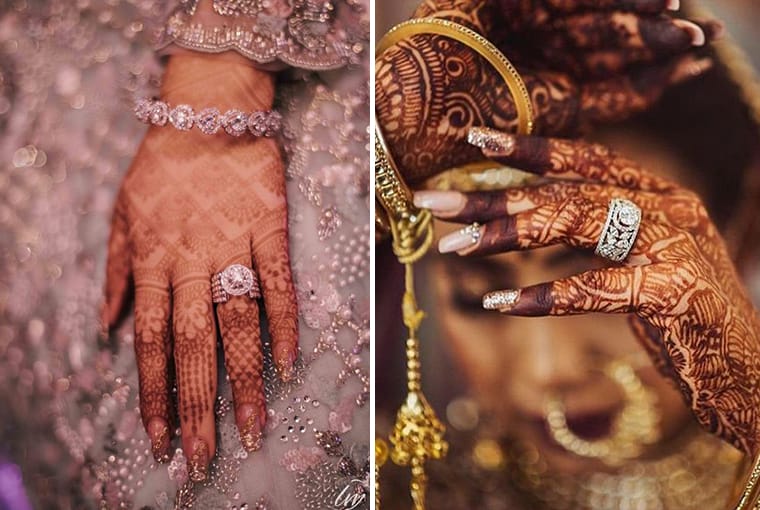 We all love long nails and like everyone even you must be willing to flaunt them on your wedding day! Plus, there will be many photography shots that will capture your hands in the hands of your partner, therefore your nails have to look perfect! Nice, long, healthy nails help to enhance the beauty of your hands and above that, you can paint them or get a nice art done on them that will make them look all stunning. At the same time, we are also aware of the fact that not everyone is blessed with healthy nails that can grow easily. We know nowadays extensions are an option, but not everyone is in favour of getting them done!
For such girls who cannot grow their nails properly, we came forward with some tips that will help you to grow them fast before your wedding day! So, check out these awesome tips that will help get the desired length of nails after following these simple home remedies.
Apply lemon and coconut portion
Lemon has some magical powers that benefit the overall health but when it comes to nails the vitamin C helps them to grow them at a quicker pace. Plus, it also helps in removing the yellow stains on your nails, adding a nice shine to them. On the other hand, the lauric acid in coconut oil nourishes as well as strengthens the cuticles that improves the health of the nails. You can use them both together to make your nails all healthy! All you need to do is take a tablespoon of coconut oil, then add about 5 to 6 drops of lemon juice. Then warm it up and soak your nails in the mixture for about 10 minutes. After that, massage your nails so that it gets absorbed. Do this on a daily basis to grow your nails faster.
Olive Oil to the rescue!
One of the main reason behind the slow growth of nails is poor blood circulation. Hence olive oil is a perfect solution as its vitamin E helps in improving blood circulation. It also helps in moisturising and nourishing your nails. You can heat up the olive oil and massage them before you go off to bed for at least 5 minutes. You also need to put on a pair of gloves to keep it on overnight. One more way to use that is by using the warm olive oil and then soaking your nails in it for about 15 minutes and after that massaging the oil well, so that it gets absorbed.
Go for Orange Juice
Just like lemon, the Vitamin C in the orange juice can do wonders for your nails. Plus, it is also rich in folic acid that will also help with nail growth. You would need to soak your nails in the juice for about 15 minutes and then wash it off with lukewarm water and apply good moisturising hand cream that will help you to grow your nails faster.
Some important tips to keep in mind
While applying olive oil for your nails, you have to keep it for the whole night as washing it off immediately won't work for your nails. Do use a pair of gloves for the whole sleep and then wash it off the next morning.
Always apply a base coat before putting on nail polish as the chemicals in them may affect your nails
Don't forget to wear a pair of rubber gloves while doing household chores to protect your nails
Moisturising your hands and nails after you use soap is a must
Always exfoliate your nails well with brown sugar or even baking soda
Follow all the tips on a daily basis for best results.
If you liked these home remedies then do tell us in the comments below…