Some useful makeup tips for the Monsoon Brides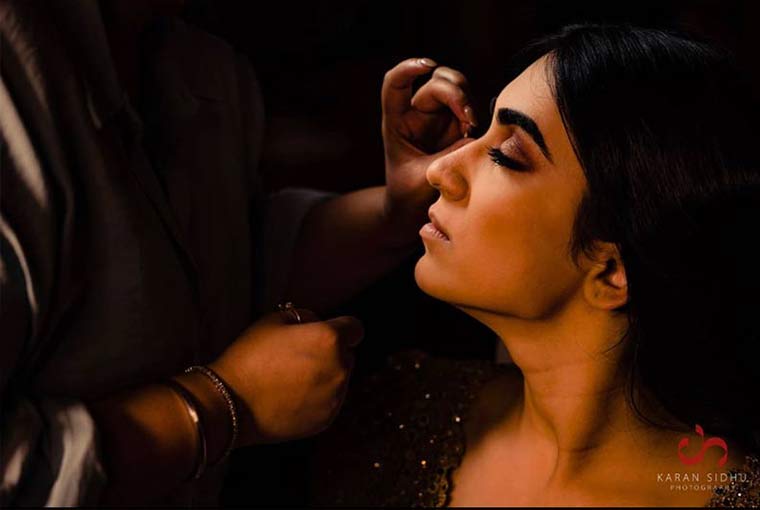 When it comes to bridal makeup and hair, there are so many things that need to be taken care of! Plus, when it's monsoon, things may get a little bit difficult for the brides to be! TBH, monsoons are quite idyllic! We all love that pleasant breeze, lush greenery, the cool weather as well as the gorgeous setting that attracts us enough to get married in the monsoons. These were all the good things about the weather but it's not an easy time to handle as it also brings in humidity further leading to havoc for your bridal hair and makeup.
We have discussed a lot of makeup and hair tips for the brides earlier but as the monsoon bride, you need to be extra careful! To help you out, we have listed some ultimate makeup and hair tips and tricks that will save you from any make-up meltdowns during your monsoon wedding!
Prepping the skin
You need to work a little hard on your skin so that you don't need to worry much for your wedding day! Your skincare regime should be a consistent thing following your wedding day! All you need to do is follow a good skincare routine that includes scrubbing and masking. Also, opt for gentle scrubs as well as hydrating masks depending on your skin type to add that softness and glow.
Opt for Waterproof Products
This is a kind of obvious! When it's monsoon, always opt for waterproof makeup products. They will help you avoid your products from creating a landslide on your face.
PRO TIP: If you don't want to spend your money on new waterproof products, then you should invest in the MAKEUP FOREVER Aqua Seal Waterproof Liquid Converter. This product is a GODSEND! It has the ability to convert your entire existing makeup arsenal to waterproof formula!
Primer to the rescue!
The base on your face plays the most important role in your makeup. As we all know that humidity tends to melt down the foundation and concealer. Therefore, you need to opt for a good oil-free primer that will help you to keep that in place.
PRO TIP: You can use some ice cubes wrapped in a muslin cloth and rub it across your face for at least 7-10 minutes. This will helps you combat the sweating caused by the humidity. Further, this step will also make the makeup base stay on for longer and even create a perfect makeup base.
Try a little pop of colour
For your mehendi or cocktail, you can try on something different to elevate your look! Nowadays neon is trending, so you can pick neon eyeliners to add a pop of colour to your makeup. As we all know monsoons can get gloomy therefore a pop of colour will spice up your mood too!
Go for Water-Based Products
For a better base, go for the water-based foundation. This will always stay better in monsoons than a cream-based one. Also, avoid applying the foundation with your fingers as it can get sticky and greasy. Use a brush or a beauty blender to apply your base products for better coverage.
Ditch the Glitter
You may face stickiness on your face because of the humidity therefore you should avoid glitter during the monsoon season. Being the bride, you would want something blingy for your makeup, therefore you can opt for a product that has a little shimmer instead of adding a layer of glitter pigment on your eyes.
Powder vs. Cream
The cream-based products tend to melt in heat and humidity! It's better to opt for powder blushes, and eye shadows in the monsoons for better results.
Last, but not least… Setting Your Makeup In
After setting the base, you should apply a translucent powder for that airbrushed finish. This will not only minimize the imperfections but also help you get rid of fine lines and pores for a non-cakey, sheer look. Also, once your entire makeup is complete, finish it with a setting spray so that the weather cannot mess with your look. This will surely help you have perfect makeup!
We hope this helps!