Types of friends at Indian Weddings!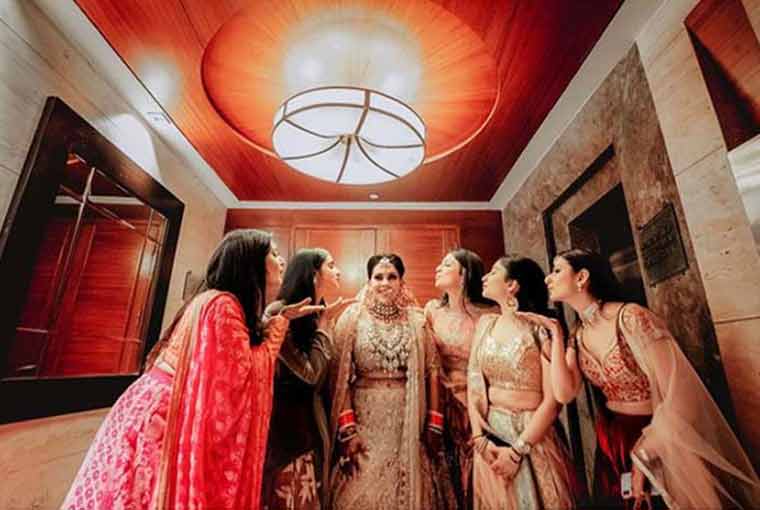 A friend in need is a friend indeed, and when it comes to your wedding, it is incomplete without your crazy bunch! You can't call it a celebration if your friends aren't present there to share the special moments as well moments with you. In every friend's group there are different types of people that make the wedding a lot more fun. Every friend has a specific characteristic and personality trait that defines them that even adds more colors to the wedding celebrations. And no matter how much they might annoy us with their pranks or lame jokes, we love them from the bottom of our hearts and want them around us. Here's something from our side and we bet you all will relate to this as we all have such friends in our lives…
That One Fashionista
We all have that one friend that steals the show wherever they enter! They are super photogenic and has so many pictures of them posing on their Instagram feed. They are the pros and they know how to get that perfect 'gram-worthy picture. They will be the ones spending most of their time striking a pose by the photobooth with every angle possible. The wedding is just their ramp show to flaunt their glamorous side.
That One Who Cracks Jokes
Who doesn't love someone who can make any situation funny with their quick wit and sense of humor? Such friends are so charming that they even sit with your family and make your uncles and aunts laugh out loud instead of always complaining about something throughout the wedding. They'll keep you entertained too at your functions!
That Dancing Superstar
Weddings are all about dancing and having fun most of us have talents that we want to show off at wedding functions. We love those friends who will leave everything behind just to dance off on your special day. They will be the life of the party even pull everyone to the dance floor and be like "arre sharmao mat yaar".
That Foodie Friend
If we talk about weddings, it's all about food! Even for your bhukkad friends, it would be a chance to hog on some amazing delicacies. They will be the first ones to navigate every food stall and taste everything. Even in the middle of your wedding, they will tell you what to try and what not to!
That Drunkard
There's always a friend in every group that says, "pee na yaar!" They will be the ones at your wedding who would be talli at your cocktail! They can drink buckets full of booze and still not have a hangover. Your wedding would be another excuse for them to enjoy an open bar!
That Cry Baby
There's always a friend that has no control over her emotions! They can cry over the stupidest things like watching a Bollywood movie too! But when it comes to weddings, another part of them will be unleashed that will push their tear glands. They will even cry at your bridal entry too!
That Hopeless Romantic One
Your group will surely have someone that can easily fall for someone! Your wedding would give them a good chance to look at someone and find their potential partner. You may even find them flirting with guests at weddings even if they suck at it.
No matter how crazy our friends may be, we love them with all our hearts. They are the ones that make our life easier and happier.