A complete guide for Bridal Shopping in Chandni Chowk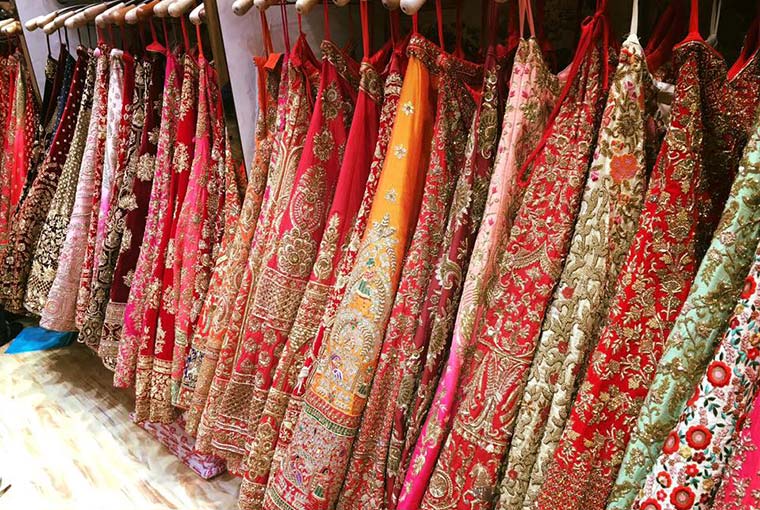 No Delhi Wedding is complete without a long shopping spree or multiple visits to Chandni Chowk Market. It's a well-known wholesale market in Old Delhi that is known as the mecca for wedding shopping. Chandni Chowk is all about narrow streets where you will find thousands of shoppers and shopkeepers bustling through the market. Chandni Chowk also reflects an old-world charm, with millions of options for bridal shopping, food as well as historical sites.
Chandni Chowk is a market that offers everything wedding be it clothes, jewellery, chooda, accessories, favours, stationery for a wedding and even shoes for your wedding. You really have to hunt for the perfect thing in this vast market which is quite a task if you are not well-acquainted with this area. You can even find a replica of Sabyasachi lehengas too in your budget if you know the right place to go!
Honestly, a trip to Chandni Chowk can be a quite nerve-wracking experience without really knowing where you'll get what. So, here we are to help you out so that you don't stay wandering into these streets and get lost. We curated a fool-proof guide starting from how to reach there, where to go and so on!
How to get there?
Getting to this market is not at all difficult! Though roads here are usually jammed and those narrow streets make it difficult for your car. So, it is advised to avoid taking your car there and there are chances that you may even not find any parking. So, take a cab or go by metro to avoid any kind issues. Plus, if you are travelling by metro you can get down at any of these three stations Chandni Chowk Metro Station (Yellow Line), Lal Quila (Violet Line), or even Jama Masjid (Violet Line). Though Chandni Chowk station directly takes you to the market whereas from the other two stations you can ride on e-rickshaws to reach the main market. Otherwise, you have to walk to commute inside these narrow lanes and have to take care of your personal belongings to save yourself from pickpocketing.
Where to shop?
After reaching the destination, you should know where to go shopping as there so many various areas specializing in different things. This place is a maze of lanes as well as by-lanes which can totally confuse you! There are chances that you have to go from area to another, therefore, you should know what areas are famous for what thing.
Bridal Lehengas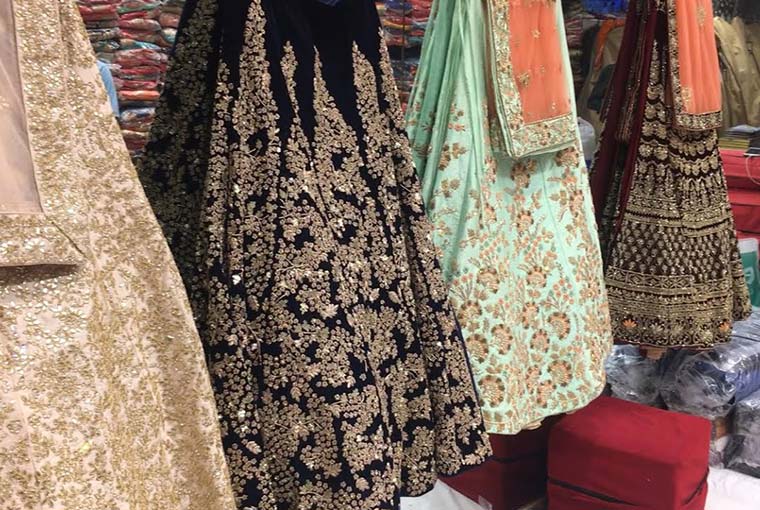 There are endless options of stores in Chandni Chowk from where you can get your wedding lehenga! But, there is one area which is the best place to shop for lehengas in Chandni Chowk which is the Katra Neel Marg. You can easily reach here by just going straight from Chandni Chowk metro station, after crossing the Azad Park area, you will reach this place.
This area has so many shops from where you can shop for anything such as suits, bridal lehengas, sarees and even gowns. Plus, if you are looking for replicas of famous designers that you can head to Chor Bazaar, which is located near Jama Masjid. If you are one of those who want a customised lehenga then you can head to Fatehpuri Market.
In case if you want to know the names of popular stores in Chandni Chowk then you can go for the below-mentioned stores:
Asiana Couture
Dalmia Fashions
Om Prakash Jawahar Lal
Indu Fashions
Shrangar
Sunehree
Pakeeza Plaza
Kamal Bhai
D'vasa by Abhi
Tek Chand Arjit Goel
Dilli 6
Raghav Creations
Sudhir Bhai
Jagdish Sons and LLP
Ram Kishan Sarees
Lehenga House
Kala Shree Regalia
Groom's Sherwani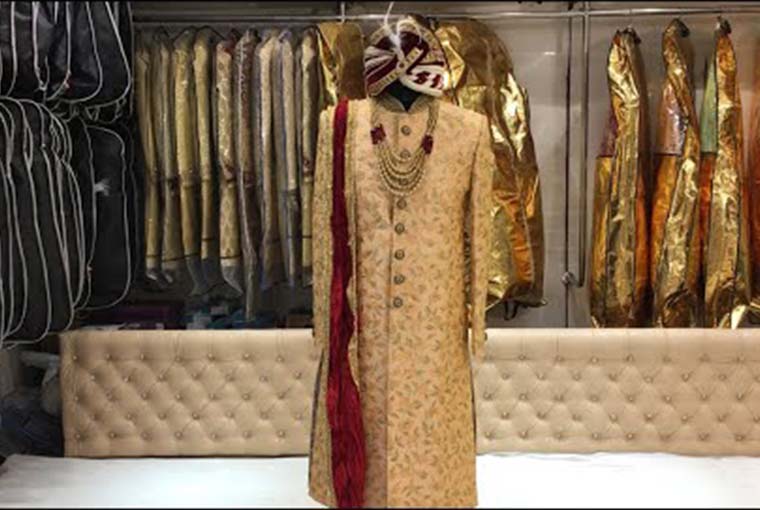 Chandni Chowk is not the only hub for women's clothing, but you can even shop for groom's sherwani here. Menswear stores are scattered all across Chandni Chowk, so here are some popular stores here where you can get your sherwani in a budget.
Maharaja Prince Sahab Sherwani
Mahavir Collections
Sherwani House
Jagannath & Sons
Jewellery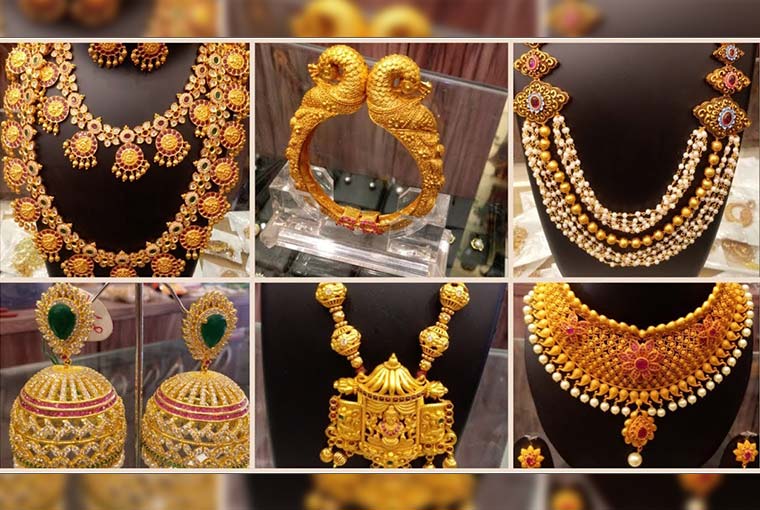 After hunting for the best lehenga, it's time to go for the complimenting jewellery. Again, there are various stores of artificial or real jewellery in Chandni Chowk. You can even find some dazzling pieces within a budget. For jewellery, you need to go towards Chandni Chowk metro station via e-rickshaw and after crossing Kacha Bagh, you will reach the Kucha Mahajani Market. This place is well-known for its jewellery stores and you can get every type of bridal jewellery ranging from gorgeous meenakari sets to stunning heavy rani haars.
Here are some popular jewellery stores in this place:
Haryana Jewellers
Johri Jaipur Wala
ND Diamond & Jewels
Jindal Jewellers
Bishan Singh Didar Singh Jewellers
Bridal Chooda
A bridal look is incomplete without that bright chooda onto your wrists. You can get various options at the famous Churi Wali Gali. It's a popular street which can be reached from the lane opposite to the Gate Number 1 of Jama Masjid metro station. It is a 400-year-old area and is a famous bangle market, since the time of Emperor Shahjahan, selling bangles by the shedload.
You can get your bridal chooda or bangles by the most talented artisans, working there from generations. You can also head to Babu Churi Wala, which is the oldest as well as the most trusted store when it comes to bridal chooda in Delhi! They have every kind of chooda ranging from the basic red bridal chooda to something off-beat colour in chooda such as coral, pink or ivory!
Other Wedding Essentials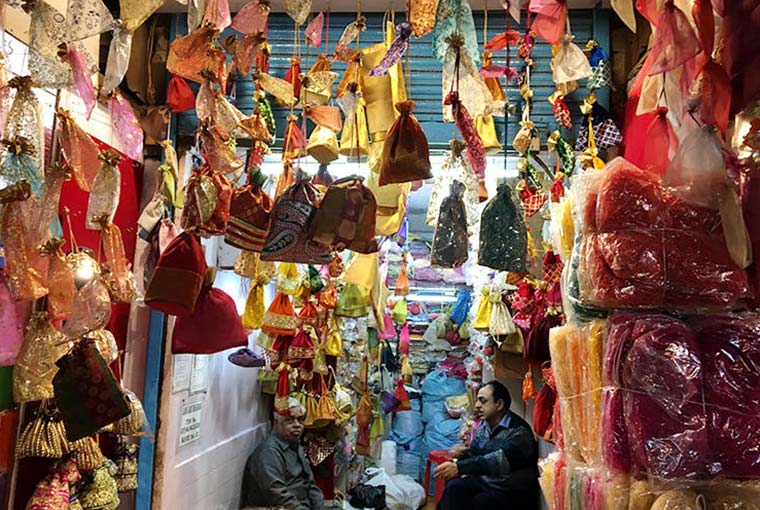 A wedding checklist is much more than just clothes, jewellery or accessories. For all sorts of wedding ceremony essentials, you can go to Kinari Bazaar located right next to Dabri Kalan. This place is famous for beautiful puja thalis, potlis, wedding favours, safas, dupattas, sagan envelopes, fancy boxes and other miscellaneous things that you will require for your wedding.
We, hope this guide will have you covered!
Also read: Best Places To Find Affordable Bridal Lehengas In Delhi NCR