How to establish colour palettes for your wedding functions?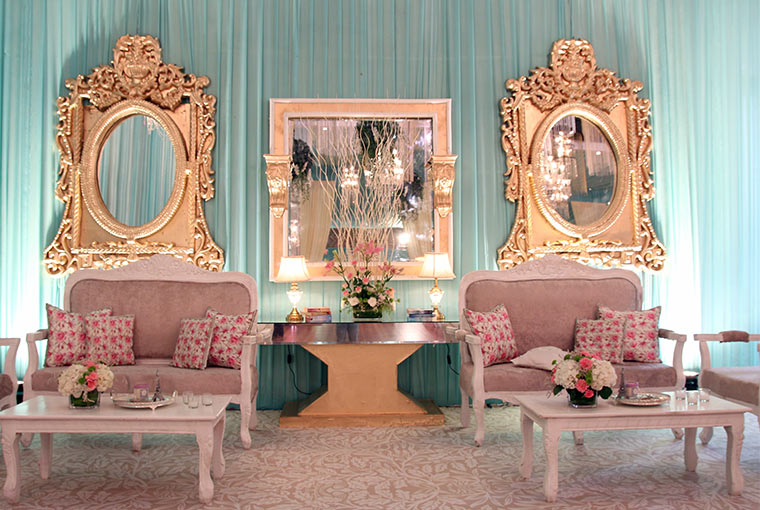 We are all aware of the fact that a wedding celebration is graced by its décor as it sets the right mood for the celebrations. Be it your wedding function, engagement, mehendi, sangeet, haldi, cocktail or reception, the decoration defines the theme of the celebration. Therefore, you need to be really particular of the colour palette you select for all of your functions. You need to consider a lot of things while choosing the colour palette for your celebrations which can be the time of the year or if is it a day function or night function or even the venue.
Above all, yours and your partner's preferences also play a major role. You also need to see which colours will evoke the mood of your guests attending the function. As brighter hues are chosen for mehendi or sangeet, royal shades such as red, gold are chosen for night functions and so on…
If you are still in the process of making a decision, then you can keep in mind the below-mentioned tips that will help you establish colour palettes for your functions.
What couples should always keep in mind?
It has been observed that many couples make a big mistake of being too literal while choosing a particular colour for their function. If you really want to make your décor look outstanding that understand it's all about the mood and experience that you want to have, not a perfect orchestrated use of matching colours. You need to avoid being too specific and sticking strictly to a colour. Just commit to a colour direction. This will help you get a more nuanced décor scheme making your décor look more beautiful.
How to match it with the season?
Being subtle is the key. You need to keep in the mind that seasonal palettes can easily become cliché if your decorator is not able to execute them thoughtfully. Trust us, sometimes surprises in the design and can make the décor really memorable. If you are getting married in winter then instead of going with a red or gold, you can go for blues and greens making it look all glamorous. For those soft fabrics, rich plaids, and comfortable furniture can be used to bring that vision to life. So don't be too literal or predictable!
What mistakes should be avoided while choosing wedding colours? 
Getting overboard is one of the most common mistakes made by couples while choosing the colour palette. Therefore avoid choosing too many hues. Just selecting two main colours and let the accent establish on its own. Also, carefully discuss the colour palette options with your planner, if you are hiring one. If you are done selecting one colour then it would be easy for you to plan other things such as stationery, outfits etc easily.
How to add a wow factor with the colour palette?
Feeling adventurous? Whatever colour palette you choose, it will evolve as event day unfolds.  The added lighting and props may add that wow factor to your selected colour palettes. So don't underestimate the power of colours as it may give varied looks during the functions.
Go with what you love!
Don't go with somebody else's opinion, no matter how much beautiful they say it will look. It's your wedding, it's one in a lifetime event, therefore, go with something you loved the most. We know you have to keep so many things on your mind while selecting it, but your preference should be kept on top while making the decision. You should always have a smile on your face whenever you go through your event's pictures in the future. Make sure you decide on your palette because you truly loved them, and not because they look trendy!
Just keep these in mind and you are good to go!