How to Make your Engagement Party a Fun Affair?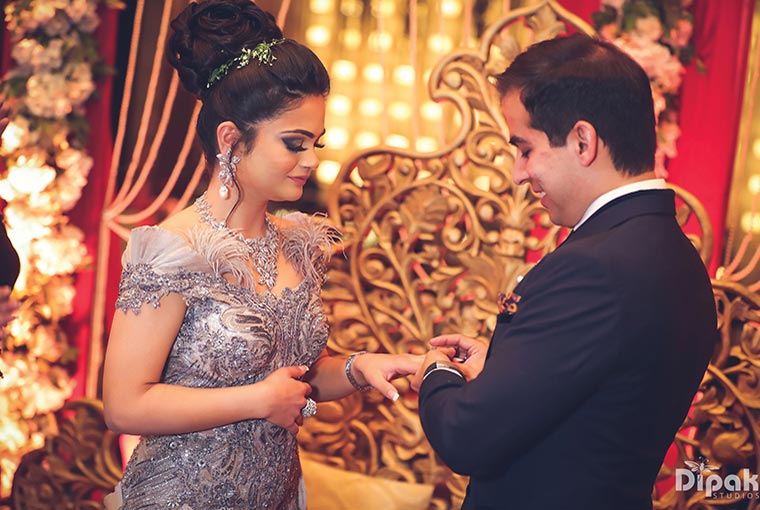 Getting engaged to the love of your life is the beginning of your happily ever after with the love of your life! Therefore, this beginning needs a special celebration to make it a memorable one! Though we have seen so many traditional engagement parties that were beautiful but now people are trying to make them more fun, edgy and gorgeous. Now you must be thinking about what should be done to make it a rocking one… Don't worry!
Here we are with some fun ideas, themes and other fun elements to add to your engagement party to make it a memorable one!
Just read on Trending these trending Engagement Party Ideas to add loads of fun to The Celebration:
We all know that your engagement is the first step towards your married life and we have brought some best Engagement Party Venues delhi ideas to make it more special for you both. Check out this list that will help you make your party more fun and wholesome.
Add a fun way of exchanging rings with your partner
We know exchanging the rings is the most important part of this celebration but you can make it more fun that will make it even more memorable. It is not only a traditional element of the ceremony but it is also a beautiful, heart-warming moment as both of you wear a token of love from your partner. The groom can get down his knees while making her wear the ring making it more cute and romantic as ladies, wait for this moment all their lives. Now, even, brides-to-be are also taking charge as they are surprising their partners by getting down on their knees and making their partners blush all night! You can even ask the team from ring ceremony venues to add some fireworks too if you want to add glam to that moment. You can even dance a little on a romantic song on stage to surprise your partner! If you are not a fan of something OTT then you can just keep it simple by exchanging rings romantically!
Some fun dance performances
Indian wedding functions are all about having fun with your family and friends and they are incomplete without shaking a leg on the dance floor. Now things have gotten even more entertaining as now the couple, as well as their family and friends, give some scintillating performances that make the whole event even more entertaining! Even you should not shy away from giving a romantic performance with your fiancé. After that, you can go crazy and have a FAMJAM where everyone from your family can dance to some fun number. You can even call your squad to end it with a blast.
Something straight from the heart
Adding an emotional element never fails! As you may have waited for this special day for a long time and you want to make it extra special for your fiancé or your parents you can pen down some thoughts to express them on the function. All you need to do is write something unique, thoughtful and beautiful and then express them on the stage to say some heartfelt words about your partner or your parents. This may be a little overwhelming but still worth it!
Cake cutting to make the moment sweeter
Indian engagement parties have now got a new twist because of the western impact as Another tradition that is gradually becoming a part of the Indian wedding culture is cutting OTT cakes at wedding functions. The cakes being made for such events are really grand that has become the treat for the eyes as well! Such cakes are designed as per the theme of the engagement function and they are becoming a rage these days as well!
Adding some fun games
If you are looking for something more entertaining than dancing then you can involve some fun games to involve your guests more in the celebration! You can include games such as tug of war, who's most likely to, beer pong, giant snakes and ladders or even trampoline to add more fun to the event. You can also keep a question-answer round about the couple or maybe even indulge in some fun group activities to add the entertainment quotient to the function!
Go all glam with stunning décor
What sets the right mood for the celebration is the setting of the event. The engagement party is one of the most glamorous functions of the whole wedding celebration needs to have all glammed up décor that sets the right vibe for the event. You can go for some unique or fun themes to make it a gala affair! Adding some unique props and playing with the lights can surely add a whimsical touch to the engagement function!
Taking a nostalgic trip with personalised elements
To make your event more personalised and special you can add various personalised elements like your couple hashtag, a few pictures or even some props that defines your bond or love story! You can even add that hashtag to a photo booth so that it stays with all the pictures clicked at that booth!
Make it special by celebrating it on the beach
To be really honest, there are so many ways to make your engagement day special, but if you really want to go a step further then you can have to exchange your rings at the beach. We are already in love with the beach settings and what will add a glam touch to your celebration. Isn't it romantic?
Presenting a video montage!
This trend has become highly popular these days. If you are not one of those who can express your thoughts on the stage then this could be your go-to thing to add that emotional element to your celebration! You can get a cute video made for your fiancé along with pictures and videos. You can even show your love story or journey or maybe, make a reel of their pre-wedding pictures and videos along with a romantic number.
Are we missing anything? Do tell us in the comments below!
Read Also :- Wedding Venues in Delhi