How to plan a wedding in the era of Social Distancing?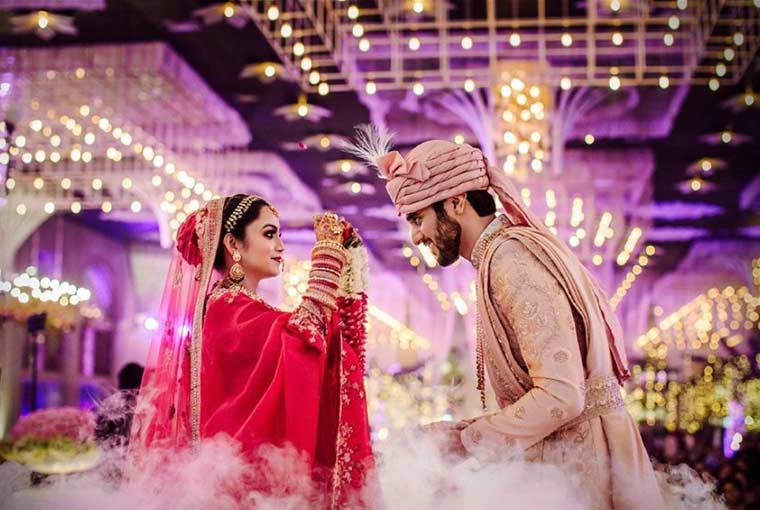 If you are one of those couples who postponed their wedding in 2021, they should know that they are not alone! At least 63% of the couples had to postpone their wedding because of the pandemic. In this ongoing situation people are now switching to micro weddings and socially distant affairs for everyone's safety. Above all, people are opting for non-traditional wedding venues, like backyards, terraces or even homes. Though vaccinations have entered our lives giving us hope for a normal world so that we can get back to grand weddings once again!
But in the meantime, we have to go ahead with the weddings planned with social distancing and COVID safety norms. Here are some tips to plan all the logistics and everything for your dream wedding!
Start with making initial decisions
Before you start planning anything, you need to check regulations regarding social gathering in your state and with that also check restrictions on International travel if you have relatives coming from abroad. If you want to ensure safety for you and your guests, you have to put in the research and work to make the scenario COVID-proof. We would advise you to postpone if you can as vaccinations have come into existence and after a while, the situation will be fine if everyone is vaccinated.
If you can't postpone, or you have already done that not want to do it again then we would suggest you go for an intimate setting. They are not only beautiful but they are very much easy to manage. You will have the time to interact more with each guest. Last but not least, you can always live stream or video-conference guests for the celebration to make them a part of the biggest day of your life.
Hire a Wedding Planner
Hiring a professional is always a good idea. They will be your therapist, crisis averter and also a details deity in the whole process. They are an invaluable resource, especially during these COVID times, when making such big changes are almost inevitable. If you hire an experienced pro then will help you negotiate all those contracts or work their last-minute magic, like shifting a floor plan with even just a week to spare. Also, if you have the budget, hire one from the get-go who will surely help you in the best way.
Make everyone part of it
These pandemic times has forced us to go the digital way for nuptials. Weddings have gone virtual to maintain the regulations of the gathering. People can tune in to your wedding celebrations via Zoom meetings. To make it more personalised and special for your guests you can send them a care package with wedding goodies to make them feel like attending it in real life. You can include a cocktail which could be a canned version of your signature drink or a split of Champagne. Also, send them an itinerary so that they would know what to expect from the ceremony just like you would do for an in-person ceremony. Let's not forget to send a nice favour which would be a thoughtful gesture, too. Adding non-perishable snacks, either sweet or savoury, would also be a good idea. Last but not least, you can also pack a wedding-worth accessory into those gift boxes: it could be anything such as a fun pin or a fabric flower that fits the day's vibe.
Don't forget to do the Math
Budgeting is really important when it comes to a wedding be it a grand one or an intimate one. You have to allocate the wedding budget accordingly. For an intimate wedding, the major chunk would go for catering as now you won't require a high budget venue then almost 15 per cent of the budget should go for photography and videography as you would want it to be more stunning as family and friends who can't attend will adore watching them. Trust us, if you go for a smaller guest list that these funds can be used towards another category you feel strongly about. Therefore you can go big on food or add more detail to your décor or outfit.
Spin Silver Linings
This pandemic has hit us hard and while going through it we want you to stick with a mantra that your wedding is all about celebrating your love and a pandemic can't cancel that. Though you would need to make some adjustments at first and they may feel like setbacks but still, you can celebrate your love uniquely and safely.  As a pandemic has taught us that safety should be taken seriously you should try to maintain the same protocols at your wedding too. You can replace hugs and encourage your guests to opt for a safe greeting that feels natural to you for everyone's health. You can go for namaste or waves from far so that touch can be avoided. You can even put some signs near your entrance to make it fun too.
Above all, you should also rethink the catering or dining. As you are going for an intimate setting, we suggest you ditch the buffet as you have to reduce the touchpoints. You should go for sit down meals so that guests can relax and enjoy the wedding meals.
At last, we want to say that whatever you do, remember to put on a happy face. It's the most special day of your life, so be happy to put on that designer lehenga or sherwani and pass out customized masks and pouches with holding hand sanitiser to encourage safe and festive mingling.