How to plan your mehendi function like a pro?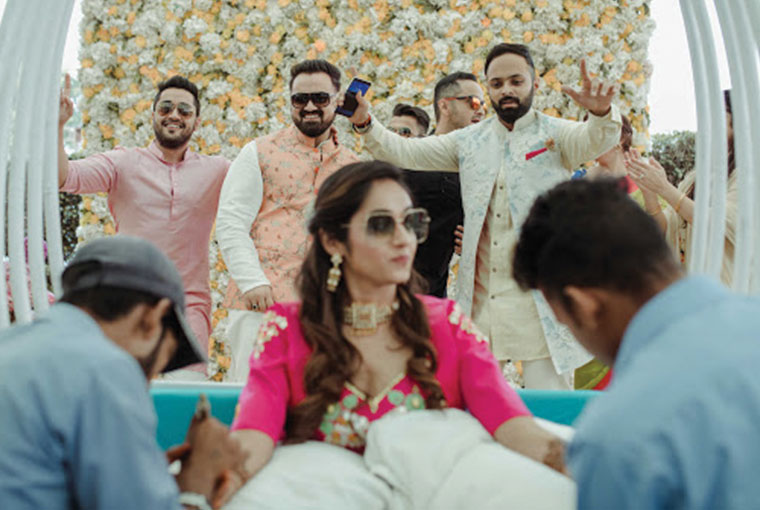 In Indian Weddings, mehendi functions are the most fun events of the wedding festivities. It's all about fun and frolic where the bride can relax and have a gala time with her friends and family. But that does not mean it doesn't require a lot of planning to make it memorable. As the day is all about enjoyment therefore everything needs to be done beforehand. Not only that, but it also needs to be checked properly before the fun begins. So here's a detailed checklist that will help you curate the mehendi function for you!
Have a good discussion with your mehendi artist before booking them
Gone are the days when costing used affect your decision. It used to affect the length too but now the design also matters. You can pin some of the trending designs and share them with your artist before you finalize them.
Double-check the timing with mehendi artist before the event starts
Mehendi artists play a key role in the mehendi function. As bridal mehendi take a lot of time, therefore it is advised to call them before the arrival of your guests and get started with your mehendi. It will also give you a lot of time to get it completed so that you can enjoy your event too instead of being stuck with the application of the mehendi. It is also advised to get your mehendi a day prior so that they can entertain their guests.
Have easy access to your favourite mehendi designs
We would advise you to have easy access to your desired mehendi designs so that easily show them to your artist. You can make a separate folder on your phone of all the images. You can even send them beforehand to your main artist before the event so that they are all prepped for it.
Ask all the requirements from your mehendi artists and arrange them beforehand
Usually, mehendi artists require pillows or cushions for holding the hands steady or stools for comfortable seating too. Ask them beforehand and get them arranged a night before the function.
Get a decorative seat or a backdrop for yourself
This is a really important corner for a mehendi décor as being the bride you would be seated there all the time. That area also needs to have a stunning backdrop as a beautiful set up so that it can help you have beautiful pictures. Also, ensure that it is comfortable as you have to be seated there for a really long time.
Don't forget to eat something before you start applying mehendi
Though your friends or family member will be there to feed you we strongly advise you to have something light before you sit for your mehendi. You would be comfortable while you get it applied.
Have a visit to your salon before the mehendi function
It is advised to get your manicure, pedicures or waxing before the mehendi function. This will save you from dipping your hands in water for too long.
Ask a bridesmaid to be by your side all the time
As you may not be able to do things on your own because of mehendi clad hands, therefore, you would need someone to help you out.
Arrange Finger Friendly Food on the mehendi function
Though everyone will be applying mehendi on the function, so while planning the menu for the event make sure it has food items that can easily be picked by a fork or a toothpick. Avoid things that can make hands dirty!
Make sure your outfit and jewellery is mehendi-friendly
You just can't afford to spoil your stunning mehendi outfit get spoiled with mehendi stains. So pick something comfortable for the function that can be worn comfortably for a long time. Also, if you are thinking of donning real jewellery then have someone trusted with you to take care of it if you are planning to remove your rings or bangles while applying mehendi.
If you are planning to wear floral jewellery then make sure it's fresh or keep it in a refrigerator so that blooms remain perfect for your mehendi!
Plan an epic bridal entry
You should plan an epic entry for yourself or with your partner to make an impact. Also, don't forget to coordinate it with your decorator, DJ and decorator to make it a success.
Don't forget to be COVID-safe
The times have changed and sanitizers and mask stations have become a necessity for all the social gatherings in this pandemic. Also, if guests are not comfortable getting mehendi applied then you can arrange some mehendi stickers for them to be a part of the celebration.
Prepare your emergency bridal-kit ready!
Have a pair of flats with you so that you can change them when you tired of your heels or even a spare outfit in case your previous one gets spoiled. You should also add things such as a sanitizer, breath mints, safety pins and hairpins for emergencies!
Have knowledge of post-mehendi care and getting a darker colour
We are all aware that dipping our hands into the water after application of mehendi can affect its colour but there are certain things you can do to darken the colour of your mehendi. Follow them responsibly to get the desired colour.
Just follow them to have a smooth mehendi function in these COVID times!