Wedding day details that should be given extra attention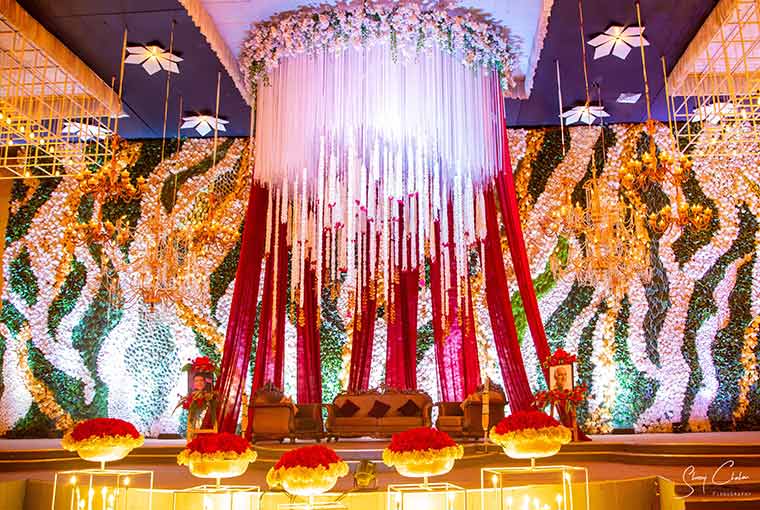 Your wedding day is one of the most important days of your lives, therefore, you have to be extra careful while planning it. In all that hunt for the right venue and the perfect lehenga for your wedding you sometimes forget about the little things that add beauty to the celebration. Fret not, we are here to help you sail through smoothly through this madness.  Here are some tips and tricks that will give you all sorts of inspiration that you need for your wedding. These are usually the ones most looked-over planning details by us but trust us these are the ones that won't go unnoticed by your guests.
So read on and you can THANK us later…
Dreamy Entrance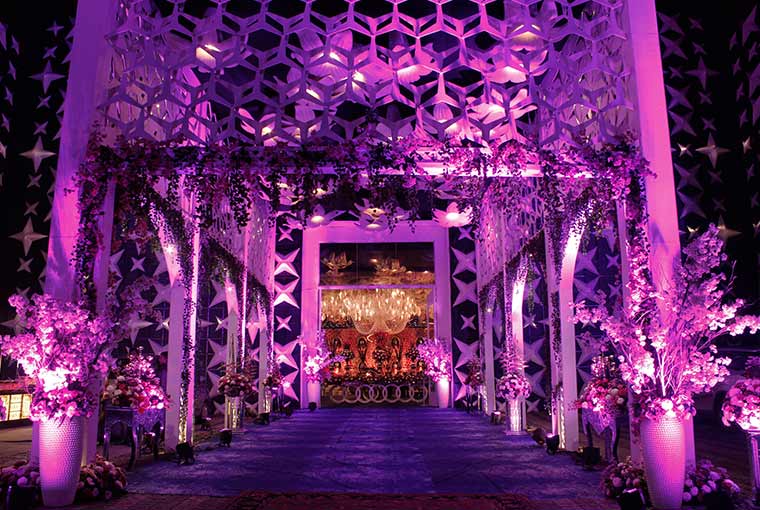 No matter whatever the venue is the first impression matters the most. A dreamy entrance to your wedding will not only add glam to your wedding but it will also make your guests feel welcome the moment they enter your wedding. If you have opted for a closed banquet then you can opt for larger than life installations, flowers as well as lights that will surely add drama to your décor. Plus, if you are going for an outdoor setting than you can go for something vibrant and colourful flowers with bird cases to make it look all stunning. For a ballroom wedding, floral archways with some lights are amongst the best options.
Hashtags to add a touch of personalization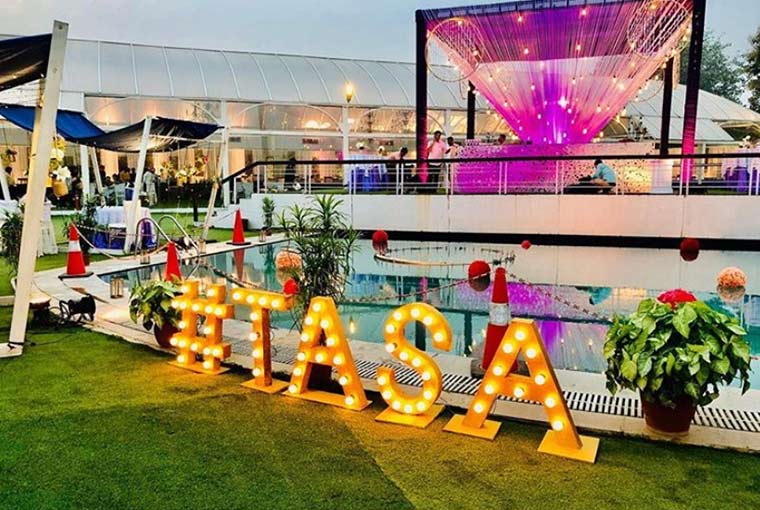 Wedding hashtags are a rage nowadays and we love how personalized it makes your wedding! They will not add a beautiful area to the décor but it will make all your guests use that while uploading your wedding pictures of Instagram that will further help you to get all your pictures at one place online.
The perfect lighting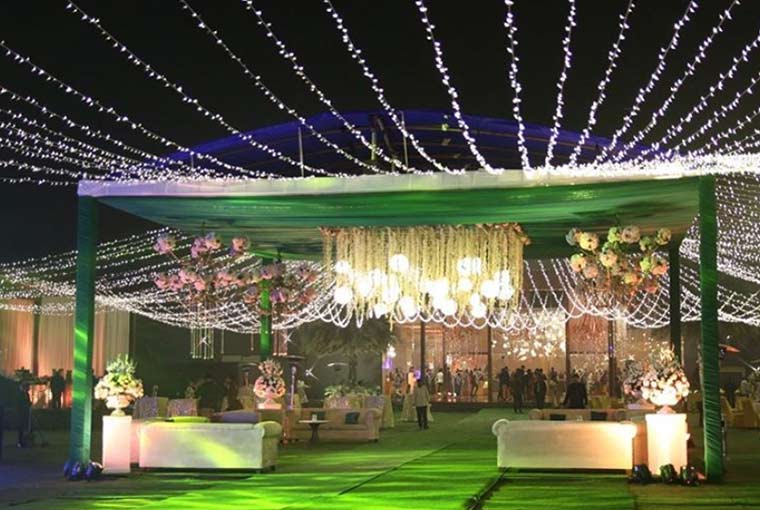 Apart from all the decorative floral and decorative installations, the most important element that peps up the wedding décor is the perfect lighting. Above all, it also helps to add a touch of intimacy while highlighting all the elements of tour wedding décor. Plus, don't forget they also help you have some glamorous shots of your wedding. There are various ways to light up the décor such as lamps, tea-lights, Christmas lights and breathtaking chandeliers that will make your wedding look all extravagant.
Eye-catching Bar Décor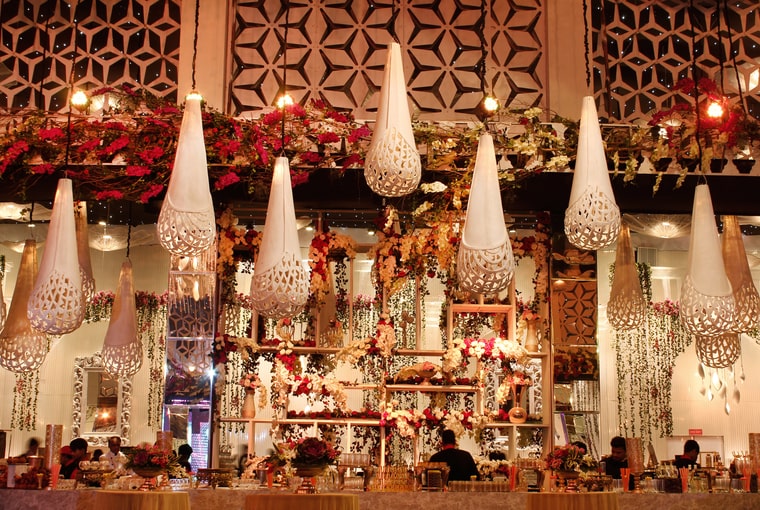 We all know, that the bar is the most visited section of your wedding celebration, therefore, it has to be attractive. You can make the talk of the celebration by adding some colour or some installations to make it look all glamorous. You can even add some signages of out of the box elements that will surely serve the purpose.
Don't forget the cake table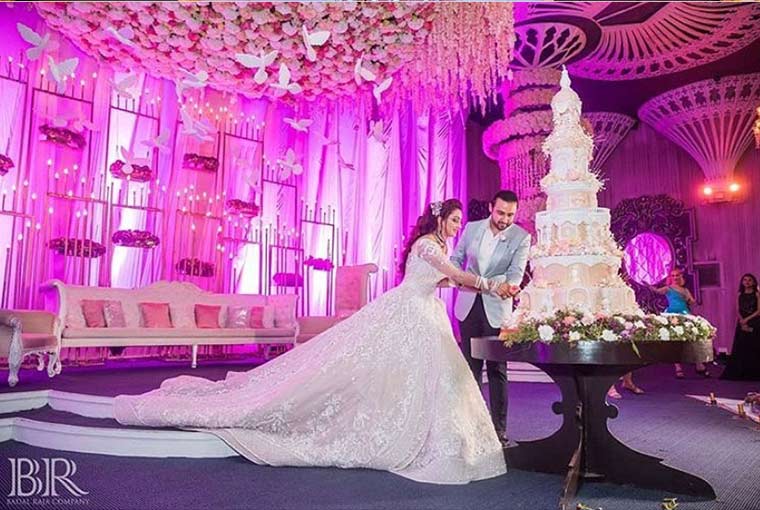 If you are an option for cake cutting at your wedding then trust us the cake table will be a centre of attraction for a while. Plus, there will be so many pictures clicked there during the cake-cutting ceremony therefore it has to look all perfect. You can go for something low-key yet elegant that it complements your breathtaking cake. You can even go for hanging 3-tier cake which is a rage nowadays.
Going for the right chairs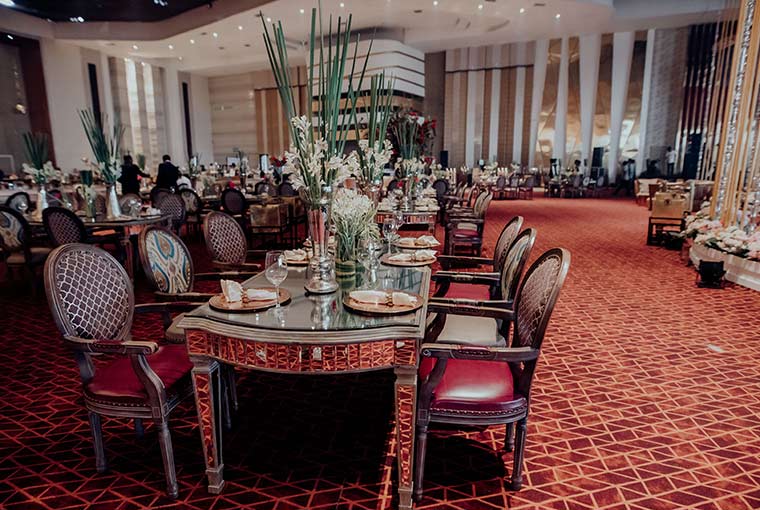 Believe it or not, the right chairs, as well as their arrangement, will add elegance as well as refinement to your wedding décor. Don't forget to match them as per the theme of the décor and wedding style. You can go for something velvety with wooden for a night wedding in a closed setting or wooden for an outdoor setup.
Breathtaking Couple Stage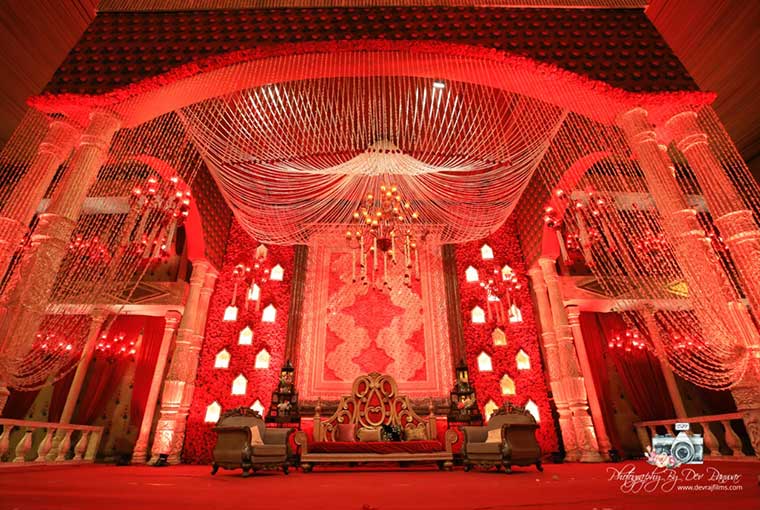 Couple stage should be the top priority while finalising your wedding décor. You need to give extra attention to the couple stage as it is the centre of attraction for the whole wedding. On top of it, you will be confined to the stage for the longest time and get some memorable wedding pictures clicked here. So, it has to look really spectacular. The best way to make it look really beautiful is by adding some colourful and vibrant flowers to it.
The most important- Vedi
It is the most important area of an Indian wedding as the vedi or mandap is the place where all the wedding rituals takes place. So hands down to the fact that it has to look all perfect. You can for a traditional or modern setup as per preference and beautify it in the best way.
Making an impeccable exit
You should end your wedding celebration with a stylish exit as it will be your last chance to drive home your personal style. So, do it like a total royalty! Book a vintage car as your getaway transportation and just drive away towards your new life!
We hope this will help!